"Reality isn't real."
"Reality is a holographic theater of the mind."
~ Ron Rattner, Sutra Sayings
Theory of Everything:
E = mc2 = Consciousness = Self.
~ Ron Rattner, Sutra Sayings
"We are what we think.
All that we are arises with our thoughts.

With our thoughts, we make the world."
~ Buddha
"Objective reality does not exist" ….
"the universe is fundamentally a gigantic … hologram"
~ David Bohm
"Every particle of the world is a mirror.
In each atom lies the blazing light of a thousand suns."
~  Mahmud Shabestari, Sufi Mystic, 15th century.
"We human beings consider ourselves to be made up of "solid matter."
Actually, the physical body is the end product, so to speak, of the subtle information fields, which mold our physical body as well as all physical matter. These fields are holograms which change in time (and are) outside the reach of our normal senses. This is what clairvoyants perceive as colorful egg-shaped halos or auras surrounding our physical bodies."
~ Itzhak Bentov -"Stalking the Wild Pendulum"
Q. Does Objective Reality Exist… Or Is The Universe A Phantasm?
A. "What is 'there' is actually a holographic blur of frequencies, and if the brain is also a hologram and only selects some of the frequencies out of this blur and mathematically transforms them into sensory perceptions, what becomes of objective reality? Put quite simply, it ceases to exist. As the religions of the East have long upheld, the material world is Maya, an illusion."
~ Michael Talbot – "The Holographic Universe"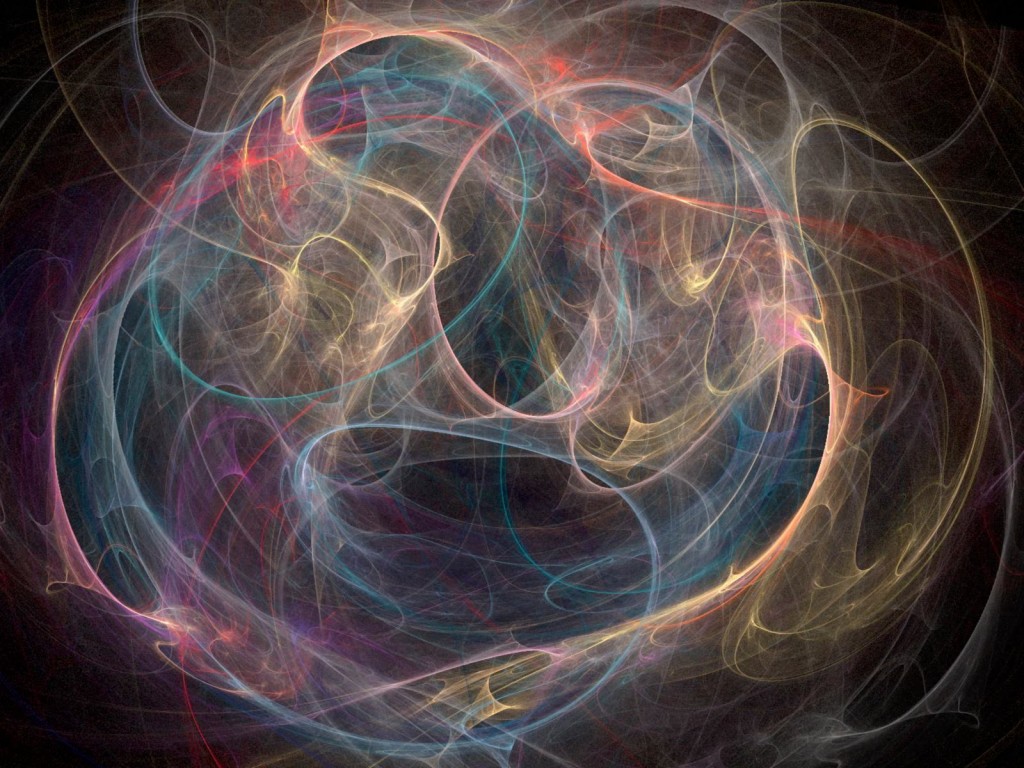 After the unforgettable inner experience of seeing my thoughts manifest as separate kaleidoscopic thought-forms outside my body or brain, [See Beginning a New Year and a New Life With a New Mystery] I deeply intuited that thought was the genesis of all phenomenal reality. But I had no idea of how that could happen, and became quite curious about any such "creation" process.

Ask and it shall be given, seek and ye shall find. Gradually and synchronistically I was given answers, which confirmed my initial intuition about the origin of manifest 'reality'. I had no computer then, or mathematical or scientific background or aptitude, so most of what I was learning came intuitively and from Eastern mystical writings, which previously were completely unknown to me.

And gradually I also became acquainted with 'cutting edge' scientific models of holistic reality.

In 1977, on recommendation of Dr. Lee Sanella – who later led me to Guruji – I attended lectures by unconventional Israeli engineer, inventor, adept inner explorer, and whimsical artist Itzhak Bentov who was then proposing a scientific approach to understanding consciousness in his wonderful book called Stalking the Wild Pendulum: On the Mechanics of Consciousness.

Bentov's talks and book proposed a scientific and holographic model of the universe consistent with his mystical insights, and with my mysterious psychic and clairvoyant experiences. Bentov suggested that all manifestation results from oscillating electronic fields; that humans are multi-dimensional electromagnetic holograms mentally generating interference patterns with all other manifest consciousness in the universe, and thereby holographically experiencing various apparent realities. Bentov proposed that the universe and thought are inseparable, and that the thoughts of all human beings affect each other and in turn the whole universe.

Until then, I had never heard of holograms and didn't clearly understand what Bentov was saying about them. But I had previously channeled that "This world is wrought with naught but thought", and I intuited Bentov's credibility and authenticity, and was inspired to better understand his ideas about holograms. And soon thereafter that happened.

With my children, I visited The Exploratorium, a wonderful San Francisco science museum, which "coincidentally" then had an exhibit explaining and demonstrating holography, including an amazingly lifelike three dimensional holographic display of Holstein cows. From that exhibit I began to understand holograms. And on viewing the lifelike holographic Holstein images I became intuitively and irreversibly convinced that Bentov's holographic hypothesis was correct; that our entire universe is an immense holographic informational field, a virtual consensual reality perceived and experienced by each of us – as Universal Awareness energy vortices – from infinite perspectives.

Later, in early 1981, I had an amazing "peek" experience in a meadow on Mount Shasta wherein with microscopic/x-ray vision I holographically beheld images of saintly beings in every atom of every cell of every blade of meadow grass. [See A Magic Mushroom in a Magic Meadow on a Magic Mountain]

Afterwards, I became acquainted with the cutting edge holographic theories of Dr. David Bohm, a foremost theoretical physicist, who had worked closely with Albert Einstein and had advised the Dalai Lama and J. Krishnamurti on theoretical physics. Though I did not read Dr. Bohm's books, I listened to him in masterful radio interviews by my friend Michael Toms, of New Dimensions Foundation, where I was a Board member for approximately twenty years.

In 1991, Michael Toms interviewed for New Dimensions Michael Talbot, author of an exciting new book entitled "The Holographic Universe" which eloquently described and augmented Dr. Bohm's holographic conception of reality with holographic brain theories of Stanford neurophysiologist Dr. Karl Pribram, of which I was previously unaware.

Working independently in the field of brain research, Pribram had also become persuaded by the holographic nature of reality. He theorized that the human brain can be modeled as a hologram wherein memories are encoded not in neurons, but in patterns of nerve impulses that crisscross the entire brain in the same way that patterns of laser light interference crisscross the entire area of a piece of film containing a holographic image.

As a sensitive and talented intuitive with a history of many paranormal and mystical experiences unexplained by conventional science, Michael Talbot's life experience enhanced his insight into the significance of the Bohm and Pribram scientific theories. Talbot concluded that holographic theory could scientifically explain psychic phenomena. *

Fascinated by Talbot's ideas*, I eagerly read "The Holographic Universe" and more than ever before was persuaded by holographic theories of "reality", both intuitively and scientifically.

Beyond my intuitive insights, the information in Talbot's book convinced me that universal consciousness projects space-time/causality "reality" holographically, and that holographic theory can largely explain 'paranormal' phenomena and mystical experiences, yet unexplained by conventional science. Since reading Talbot's book I have continued to explore cutting edge scientific explanations for our "universe" without discovering any idea that has changed my insight about the holographic nature of space/time reality.

In 1893, Swami Vivekananda came to the West from India and eloquently explained to Westerners how according to ancient Indian Advaita philosophy this impermanent and ever changing world is an unreal illusion called "maya" or "samsara"; he equated maya or samsara with "time, space, and causation", explicating that "Time, space and causation are like the glass through which the Absolute is seen. In the Absolute there is neither time, space nor causation."

And Vivekananda presciently predicted Western scientific confirmation of the ancient Vedic non-dual philosophy of One Infinite Existence beyond relative reality.

Thereafter, in 1916, Einstein revolutionized Western science with publication of his general relativity theory that "mass and energy are both but different manifestations of the same thing"; that there was an equivalence between all matter and energy in the universe, quantifiable by the simple equation e = mc2. But Einstein's non-mechanistic science has been very difficult for Western materialist minds to comprehend because his mystical view questioned the substantiality of matter and the ultimate reality of space, time and causality. Gradually, however, we are seeing the fulfillment of Vivekananda's prediction as more and more Western scientists like Einstein verify the accuracy of the ancient Vedic science.

Like Vivekananda and the ancient Vedic seers, Einstein questioned the substantiality of matter and the ultimate reality of space, time and causality. He said:

"Reality is merely an illusion, albeit a very persistent one."

"Our separation of each other is an optical illusion of consciousness."

"Space and time are not conditions in which we live, they are modes in which we think"
"Concerning matter, we have been all wrong. What we have called matter is energy, whose vibration has been so lowered as to be perceptible to the senses. There is no matter."




"There is no place in this new kind of physics for the field and matter, for the field is the only reality."



And like the ancient Vedic inner explorers, Einstein intuited and venerated an ultimate universal Reality beyond time, space, and causation, saying:

"That which is impenetrable to us really exists. Behind the secrets of nature remains something subtle, intangible, and inexplicable. Veneration for this force beyond anything that we can comprehend is my religion."

With deepest veneration of that ONE Infinite Existence beyond relative reality, these memoirs are offered with the heartfelt prayer that Humankind shall realize at long last that – as Swami Vivekananda eloquently observed –


"…this separation between man and man, between nation and nation, between earth and moon, between moon and sun . . does not exist, it is not real" ; and that "Your own will is all that answers prayer, only it appears under the guise of different religious conceptions to each mind. We may call it Buddha, Jesus, Krishna, but it is only the Self, the 'I'."

Footnote.


* Here is an excellent article, THE UNIVERSE AS A HOLOGRAM, written by Michael Talbot which summarizes his ideas about holographic reality. Also, you can now find on-line rare audio and video interviews of Talbot, who died at age 38 shortly after the 1991 publication of this book. And you can obtain mp3 interviews from New Dimensions Media.