"No problem can be solved from the same level of consciousness
that created it. "
~ Albert Einstein
"The release of atom power ..changed everything except our way of thinking…
the solution to this problem lies in the heart of mankind."
~ Albert Einstein
"Our separation of each other is an optical illusion of consciousness."

~ Albert Einstein
"A person starts to live when he can live outside himself."
~ Albert Einstein
"Humanity is evolving out of the box and into the light of creation."
~ Ellie Crystal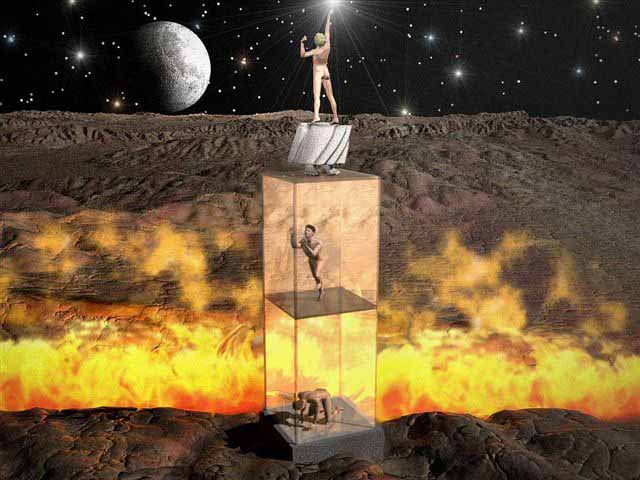 Individually and societally, humankind have been caught in a box –

a psychological box created by mistaken perceptions and ideas
of separation from Nature and each other.

We've mistakenly regarded ourselves and others as mere limited entities,

rather than as limitless souls – spirit drops in an infinite ocean of Eternal LIght.
 And, our world-views have been mostly based on such unrealistically limited ideas of who and what we are.

Thereby, individually we've been caught in a mistaken self-identity box;
and societally we've been "boxed in" by an outmoded Newtonian pre-quantum worldview. Though quantum science now knows that "reality" can't be reduced
 to objects or entities in space, we've kept acting as if this is so.


We've thus been self-limited by our mistaken ideas of reality and of our true identities, powers and possibilities –
 which are infinite, though yet largely unknown and unrealized.


But, spurred by critical inter-personal and planetary crises, 
and blessed with an evolutionary impetus in each us, 
more and more people are realizing their true spiritual nature
 and awakening with compassion from their imagined limitations.

From seeing everyone and everything as discrete and separated by apparently immutable boundaries, we are gradually realizing that everyone/everything is connected by their common essence:
ever-changing energy in a matrix of immutable awareness.

We are evolving from a Newtonian "reality" of polarized duality
to a quantum "reality" of holistic connectedness; from either this or that, to this and that are ONE. And so we are beginning to envision and implement
 'Out Of The Box' solutions to current crises.



And as we evolve 'Out Of The Box' and into the Light of creation,
we shall soon reach a critical mass tipping point which uplifts human consciousness to transcend and resolve crises created by outmoded and illusionary beliefs.



And so it shall be!