"Generations to come will scarce believe that such a one as this
ever in flesh and blood walked upon this earth."
~ Albert Einstein (after Gandhi's 1948 assassination)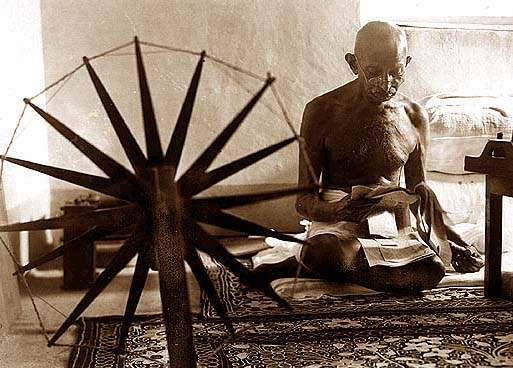 Since 9/11/2001, many people commemorate September 11 as a day that will live in infamy – a day of treachery, often cited disingenuously or duplicitously as pretense for a new era of war, violence and deprivation of civil liberties. (see eg. https://www.youtube.com/watch?v=IYUYya6bPGw)

But, paradoxically, few realize that – almost a century before the September 11, 2001 terrorist attacks on New York and Washington, DC – it was on a September 11 when Mahatma Gandhi launched his extraordinary "satyagraha" peace and justice movement through which Gandhi, and countless others inspired by him, have accomplished much good in the world by non-violently resisting and transforming widespread social injustice and oppression.

During and since his extraordinary lifetime, Mahatma Gandhi has been venerated worldwide as one of the greatest spiritual and political leaders not just of our time, but of all times. Because he walked his talk authentically, peacefully, and spiritually, his words and life have been exceptionally inspiring and powerful.

Gandhi changed the world by being the non-violent change he wanted see, particularly the end of the British Raj in India, followed by Indian independence and democracy. And Gandhi's life and words have inspired and actuated countless others worldwide. Eg., inspired by Gandhi, Rev. Martin Luther King, Jr. embraced "satyagraha" to oppose racial segregation in the USA; and Nelson Mandela used it to end apartheid in the South Africa, where the movement began.

Gandhi's legacy includes not just his campaign for Indian independence, but it began with his brilliantly waged struggle against institutionalized racism in South Africa, with ground-breaking inter-religious dialogue and cooperation.

On September 11, 1906, a young lawyer named Mohandas K. Gandhi organized and addressed a meeting of 3,000 people crowded into the Empire Theater in Johannesburg, South Africa. Members of the Indian community – both Moslem and Hindu – had gathered there in opposition to a proposed law that would require Indians to register, be finger-printed and carry special identity cards at all times, and which would further deprive them of civil liberties for failure to comply with the law.

Gandhi argued that the law be resisted, but warned that resisters realize that they could be jailed, fined, beaten and even killed. The assembly not only declared its opposition to the legislation; its members raised their right hands and swore, with God as their witness, that they would not submit to such a law.

Gandhi's legendary talk at the Empire Theater meeting is dramatically portrayed by academy award winning actor Ben Kingsley in this excerpt from the epic film "Gandhi":



The next day after the meeting, the Empire Theater was mysteriously destroyed by fire.

Following their September 11th meeting and pledge, Indians refused to register and began burning their ID cards at mass rallies and protests. Thus began the 9/11 non-violence movement that would literally change the world as the most powerful positive tool for salutary social change.

Because it sought more than just non-violent redress of social injustice, Gandhi called his movement "satyagraha", a Sanskrit neologism which he coined – meaning the "relentless pursuit of Truth". Since Gandhi was a spiritual man in search of God, he often equated "Truth" with "God" And he acknowledged that he had been influenced by the teachings of Jesus, the writings of Tolstoy, and Thoreau's famous essay, "Civil Disobedience." Thus, Gandhi's satyagraha movement was not just political. It was relentless pursuit of spiritual Truth through the practice of active, faith-based nonviolence.

May the seeds of political and spiritual "satyagraha" first sewn by Gandhi on September 11, 1906, at long last inspire current world leaders to abandon their woefully misguided efforts to address alleged terrorist violence with more terrorist violence; and to join democratically with their peace seeking citizens in the non-violent relentless pursuit of secular and spiritual Truth, to end social injustice and oppression everywhere.

And so it shall be!