What Is Freedom?
~ Question, Quotes and Comments
"You will know the truth,
and the truth will set you free."
~ John 8:32
"There is only one central issue, crisis, or challenge for man, which is, that he must be completely free. As long as the mind is holding on to a structure, a method, a system, there is no freedom."
~ J. Krishnamurti
"Freedom is not a reaction; freedom is not a choice.
Freedom is found in the choiceless awareness of our daily existence and activity."
~ J. Krishnamurti
"Bondage is of the mind; freedom too is of the mind.
If you say 'I am a free soul. I am a son of God who can bind me' free you shall be."
~ Sri Ramakrishna Paramahansa
"Be empty of worrying,

Think of Who Created Thought!

Why do you stay in prison

when the door is so wide open?"

~ Rumi
"The moment I have realized God sitting in the temple of every human body,
the moment I stand in reverence before every human being and see God in him –
that moment I am free from bondage, everything that binds vanishes, and I am free."
~ Swami Vivekananda
"All life is an effort to attain freedom from self-created entanglement;
it is a desperate struggle to undo what has been done under ignorance,
to throw away the accumulated burden of the past,
to find rescue from the debris left by a series of temporary achievements and failures."
~ Meher Baba
"Freedom is of the nature of the soul, it is its birthright:
.. real freedom of the soul shines through veils of matter in the form of the apparent freedom of man."
~ Swami Vivekananda
"To acquire freedom we have to get beyond the limitations of this universe;
it cannot be found here. ….
The only way to come out of bondage
is to go beyond the limitations of [natural] law,
to go beyond causation."
~ Swami Vivekananda
"Liberation is our very nature. We are that.
The very fact that we wish for liberation shows that freedom from all bondage is our real nature."
~ Ramana Maharshi
"The soul can grow only in freedom. Love gives freedom.
And when you give freedom, you are free, that's what detachment is.
If you enforce bondage on the other, you will be in imprisonment on your own accord.
If you bind the other, the other will bind you; if you define the other, the other will define you;
if you are trying to possess the other, the other will possess you."
~ Osho
"Spiritual freedom is freedom from all wanting. . . When the soul breaks asunder the shackles of wanting, it is emancipated from bondage to body, mind, and ego. This freedom brings realization of the unity of all life and puts an end to all doubts and worries."
~ Meher Baba
"True freedom and the end of suffering is living in such a way as if you had completely chosen whatever you feel or experience at this moment. This inner alignment with Now is the end of suffering."
~ Eckhart Tolle
"The most fundamental message of Gautama the Buddha is not God, is not soul… it is freedom: freedom absolute, total, unconditional. He does not want to give you an ideology, because every ideology creates its own slavery. He does not want to give you a religion, because religion binds you."
~ Osho

"We are shackled by illusory bonds of belief.
Freedom is beyond belief."
~ Ron Rattner – Sutra Sayings

"You are truly free when you are not a person."
~ Deepak Chopra – The Book of Secrets
When we let freedom ring, when we let it ring from every tenement and every hamlet, from every state and every city, we will be able to speed up that day when all of God's children, black men and white men, Jews and Gentiles, Protestants and Catholics, will be able to join hands and sing in the words of the old spiritual,

"Free at last, free at last. Thank God Almighty, we are free at last."
~ Martin Luther King, Jr. — "I Have a Dream" speech, August 28, 1963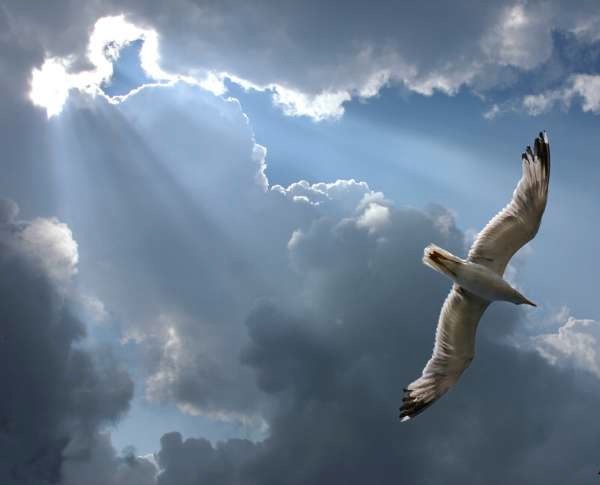 Q. What is "freedom", and how can we experience it?

A. "Freedom" is a word with different meanings.
Here we define "freedom" as an ultimate spiritual Reality beyond thought or ego – beyond human comprehension, imagination, description or belief –
which can only be known experientially, not rationally or mentally.

Ultimate "freedom" is our divine birthright, our nature and our destiny. Freedom is ever NOW, never then.

After mystically experiencing "freedom", great beings like Jesus, the Buddha and Krishna have encouraged us to aspire to this ultimate transcendent experience. Knowingly or unknowingly, all people – including atheists, non-theists, and agnostics – long for "freedom".

Mystics say that as long we self-identify only with our thoughts in ever changing space/time/causality reality we are inescapably 'imprisoned' in a state of psychological bondage, with inevitable suffering; that we experience ultimate "freedom" only in the present moment – the NOW – as we choicelessly self-identify with timeless universal awareness or spirit imminent in each of us.

Essential wisdom teachings of all enduring spiritual, mystical and mythic paths allude to spiritual "freedom".

Thus, the most important Hindu scripture, the Bhagavad Gita, is a teaching by Divine Avatar Krishna about the ultimate spiritual goal ("moksha") of liberation or "freedom" from the cycle of death and rebirth ("samsara").

Similarly, all of Gautama Buddha's teachings were aimed at ending human suffering through attainment of "freedom" from mental fetters or chains (samyojana) of mistaken self-identification with samsara.

When Jesus said: "You will know the truth, and the truth will set you free." (John 8:32) he meant that we will experience "freedom" on realizing our true self-identity as soul or spirit. And in declaring: "I and the Father are One" (John 10:30), Jesus showed that we can only find such freedom when we self-identify with ONE Divine spirit – the kingdom of heaven within – rather than as supposedly separate embodied personalities.

"Freedom" is the esoteric essence and mythical message of the biblical Passover story. Many Jews and Christians annually remember and ritually observe the biblical Exodus legend about God miraculously rescuing Jews from bondage as slaves in Egypt, with Christians recalling that a Passover seder dinner was Jesus' last supper.   Some Afro-American Christians celebrate by singing the popular spiritual song "Go Down Moses"

The Exodus story symbolizes humanity's eternal quest for spiritual freedom – for societal escape from enslavement by mistaken beliefs in false external Gods or goals to an inner 'promised land' of ONE eternal Divinity universally imminent within each of us, regardless of religious or spiritual beliefs, if any. So Passover rituals of lighting outer candles, can symbolically remind us of humanity's perpetual quest for the eternal inner light of universal freedom.

Conclusion.

We find and experience ultimate freedom only in choiceless awareness beyond our apparent subject/object separateness; beyond our beliefs, religions, ideologies or philosophies. By recognizing and transcending illusory belief barriers which seem to imprison us, we are –
"Free at last, free at last!"
~ Martin Luther King, Jr."

NOW – ever NOW, never THEN!


Ron's Commentary on Spiritual Freedom

Dear Friends,

Spiritual freedom is an ultimate goal of all perennial wisdom paths. Most people associate "freedom" with personal, political, and economic liberty.  But spiritual freedom is an extraordinarily rare psychological state which can be inwardly attained even by those who do not enjoy external freedoms, like felons imprisoned for life.  

I first deeply reflected on philosophical concepts of  "freedom" during the 1950's when I learned about Abraham Maslow's psychological analysis of 'self-actualizing' people, and when I read "Escape From Freedom" by then prominent author-psychotherapist Erich Fromm. But after becoming a San Francisco civil litigation  lawyer I rarely reflected about inner freedom until after a memorable exchange with my beloved Guruji, Shri Dhyanyogi Madhusudandas. 

While residing in my apartment just prior to his 1980 return to India, Guruji told me: 
 
"Rasik, a yogi's body is like a baby's body. Your body is like a prison. I am like a jailer with the prison key. I come and go as I please."

Thereupon, I became intensely curious about Guruji's revelation that my body was like a prison. And I wondered how and why 'I' was 'imprisoned', and how 'I' could get out of 'jail' – free like Guruji. 

So I began deeply exploring spiritual freedom, as distinguished from personal, political, and economic freedoms.  

Soon, I was reminded of Reverend Martin Luther King, Jr.'s legendary  "I Have a Dream" speech, and wondered why his words "Free at last, free at last. Thank God Almighty, we are free at last" were so deeply powerful. 

Ultimately, I realized that those words were rooted in the biblical Exodus Passover story; and I intuited that spiritual "freedom" is the esoteric essence and mythical message of that story.  I concluded that the Passover story symbolically emphasizes escape from outer bondage to a Divinely 'promised land' within – viz. escape from enslavement by mistaken beliefs in false external idols, Gods or goals to an inner 'promised land' of ONE eternal Divinity imminent in each of us.

"Hear, O Israel: The Lord our God, the Lord is ONE!"
~ Deuteronomy 6:4  

Later, I noted that Jesus powerfully alluded to spiritual freedom by prophesying:

"You will know the truth, and the truth will set you free."
~ John 8:32
 

So Jesus was teaching that we will find freedom (from self-imposed worldly slavery) only when we transcend entity identity and self-identify as ONE Divine spirit – the kingdom of heaven within – rather than as supposedly separate embodied personalities.

Ultimately, I concluded that our limited and limiting ego ideas about self-identity and reality confine each of us within a kind of psychological prison in which suffering is inevitable, and which restricts realization of our infinite potentialities.  

However, the masters teach and demonstrate that we can each mentally transcend that "prison" and emerge "free at last" from our self-woven karmic cocoons, no matter what our outer circumstances.  

Thus, Rumi reminded us:

"Be empty of worrying,

Think of Who Created Thought!

Why do you stay in prison

when the door is so wide open?"

~ Rumi

The encouraging possibility of getting out of jail FREE is explained in the foregoing quotations and essay.  May they help us evolve toward precious inner freedom, our divine birthright.

And so may it be!

Ron Rattner

 

"Go Down Moses"