Posts Tagged 'George W. Bush'

"We are what we think.
All that we are arises with our thoughts.
With our thoughts, we make the world."
~ Buddha

"A wise man, recognizing that the world is but an illusion,
does not act as if it is real, so he escapes the suffering."
~ Buddha

"Reality is merely an illusion, albeit a very persistent one."
"Our separation of each other is an optical illusion of consciousness."
~ Albert Einstein

"When I despair, I remember that all through history
the way of truth and love has always won.

There have been tyrants and murderers
and for a time they seem invincible,

but in the end they always fall — think of it. Always."

~ Mahatma Gandhi


"All is a play in consciousness.
All divisions are illusory.

You can know the false only.
The true you must yourself be."

~ Sri Nisargadatta Maharaj

"This earth is nothing but movies to me.
Just like the beam of a motion picture.
So is everything made of shadow and light. 
That's what we are. Light and shadows of the Lord.
Nothing else than that.
There's one purpose. To get to the beam." 

~ Paramahansa Yogananda-Autobiography of a Yogi, Chapter 30

"This whole creation is essentially subjective,
and the dream is the theater
where the dreamer is at once:
scene, actor, prompter, stage manager, author, audience, and critic." 

~ Carl Gustav Jung

"Cultivate compassion;
harvest happiness."
~ Ron Rattner, Sutra Sayings

Evolution is an endless process –
from nescience to gnosis to apotheosis;
from bestial to celestial.
We ever evolve as our boundaries dissolve.
~ Ron Rattner, Sutra Sayings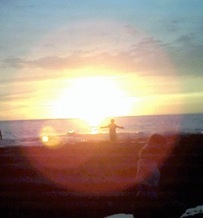 Introduction

Dear Friends,

For many years I wondered whether human ignorance was leading us to unavoidable 'end-times'; whether human evolution was inevitable, or just optional.  I observed greatly contrasting behavioral differences between people in various stages of evolution – from barbarians to Buddhas – and wondered whether those who were selfish, violent, or warlike would 'condemn' us all.
The following sutra verses (first composed many years ago) reflect a prior perspective, which is explained and augmented in my optimistic comments below about human potential in current "new normal" times.
Ron Rattner


Human Potential Differential?
Q.  Can humankind transform:

From bestial to celestial?

From infernal to supernal?

From barbarians to Buddhas?

From sinners to saints?

From selfishness to selflessness?

From immorality to immortality?

A.  YES, YES, YES, YES, YES, YES !!!!

As medieval alchemists transmuted lead into gold,
God inevitably transforms Humanity into Divinity –
transmutes suffering into LOVE.

Transformation is inevitable,
but pace of process is optional.

Depending on karmic causes and conditions,
we 'reap as we sow'.

As we cultivate compassion;
we harvest happiness, until
we melt and disappear timelessly –

Soul drops of Mystery
in an Ocean of Divinity –
as Eternal LOVE.


Ron's Human Potential Differential Commentary:

Dear Friends,

During many years of relative solitude, I deeply questioned and reflected on whether human ignorance was leading us to unavoidable 'end-times'; whether human evolution was inevitable, or just optional.  Ultimately, I concluded that human evolution is inevitable while our pace of progress is optional.

After George W. Bush, Jr. was selected as 43rd US President, I learned that he and the Dalai Lama shared the same July 6th birth date.  From my perspective at that time the Dalai Lama was a Buddha, whilst Bush was a barbarian.

Then I soon read with utter amazement, that despite Bush's patently dishonest warlike behaviors and responsibility for millions of Iraqi civilian deaths, (in a CNN TV interview) the Dalai Lama publicly pronounced his uncritical love and praise for Bush as a human being.

Until then I had admired the 14th Dalai Lama as a paragon of wisdom and compassion, but I could not reconcile his status as renowned spiritual leader of Tibetan Buddhism with his patently paradoxical endorsement of Bush. As a long time social justice attorney, based upon irrefutable factual evidence, I regarded Bush as legally responsible and culpable for various international war crimes and impeachable domestic "high crimes and misdemeanors".

The foregoing poetic verses were initially published as I reflected upon seeming paradoxical inconsistencies between the Dalai Lama's elevated spiritual status and his public political pronouncements.

Recognizing the fallibility of all incarnate humans (especially Ron Rattner), and convinced of the unerringly accurate law of karmic causes and conditions,  I have given to the highest Inner Authority (above any outer Ruler) my irrevocable 'power of attorney' to eternally judge and forgive all apparent human immorality. My power of attorney includes religious, secular, or political "leaders" who instigate, condone, or cover up official acts of aggression responsible for countless avoidable deaths and immense sufferings of innocent civilians, women and children.

Epilogue: Human potential in current "new normal" times.

In these crazy turbulent "new normal" times of unprecedented global suffering and turmoil, I steadfastly remain a dedicated spiritual optimist, despite dire predictions of the cataclysmic end of human life as we have known it. I'm optimistic because I've learned that Life is eternal and there is no death; that we are immortal souls who've temporarily forgotten our timelessly true Self-identity as Divine LOVE

For countless ages rare Avatars have revealed that with our thoughts we unknowingly create an illusory and dreamlike perceived duality "reality", which they call maya or samsara; that we are not what we think we are, but Infinite Eternal Awareness!

From what I've learned from these revelations and decades of life experience, I'm irreversibly optimistic about survival of Human life, for the following reasons:

1) We are not what we think we are, but Infinite Eternal Awareness!

2) What we call relative duality "reality" isn't really real; it's merely an illusory mental mirage of supposed separation from each other and Nature; just a persistent optical illusion and play in Cosmic consciousness.

3) Cosmically, there is no space or time, just Eternal NOW! Life is eternal and there is no death. What we call "death" is just eternal spirit vacating an illusory physical vehicle.

4) We are not our mortal physical bodies; their genders, features, colors, religions, beliefs, emotions, habits or stories – or the 'voices in our heads'.

5) We are immortal souls confused by ego, who've temporarily forgotten our true Self-identity as ONE eternal Divine LOVE, and are mistakenly believing ourselves to be separate physical mortals.

6) While confused by ego, we are unavoidably subject to inevitable karmic cause and effect suffering from the earthly illusion of space/time/duality. But the more we intentionally live fearlessly, lovingly and forgivingly, the more we will enjoy happy lives, and the less we'll suffer from karmic causes and conditions.

Invocation

May today's verses, quotations and explanations
help hasten our inevitable process
from nescience to gnosis to apotheosis.
 
Remembering that we reap as we sow,
may we ever more choose to cultivate compassion
and harvest happiness
for everyone everywhere.

And so shall it be!

Ron Rattner