"Hear O Israel the Lord our God, the Lord is ONE"
~ Deuteronomy 6:4; Mark 12:29
"There is one Cosmic Essence, all-pervading, all-knowing, all-powerful. This nameless formless essence can be approached by any name, any form, any symbol that suites the taste of the individual. Follow your religion, but try to understand the real purpose behind all of the rituals and traditions, and experience that Oneness."
~ Swami Satchidananda
"Mind and manifestation are ONE."
~ Mary Saint-Marie
"There is an endless net of threads throughout the universe. 
The horizontal threads are in space.
 The vertical threads are in time.
 At every crossing of the threads, there is an individual.
 And every individual is a crystal bead.
 And every crystal bead reflects not only the light
 from every other crystal in the net, 
but also every other reflection throughout the entire universe."
~ Indra's Net – from the Vedas of ancient India, 7000 years old

"God is a circle whose center is everywhere and whose circumference is nowhere."
~ Empedocles (500-430 B.C., Greek Poet)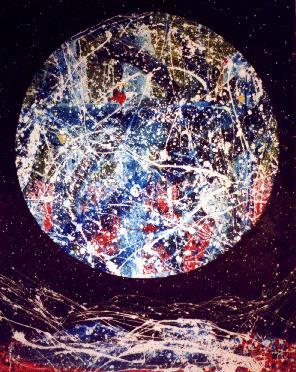 God is ONE:

God is All – manifest and unmanifest.
God is Infinite Potentiality.

God is ONE:

Divinity ain't divisible.
Visible and invisible are indivisible;
Perceptible and imperceptible are inseparable;
Material and immaterial are integral.
SELF subsumes ALL.

God is ONE:

God is non-denominational.

So, let us celebrate – not separate – the Whole;
Let us balance our differences on a fulcrum of
< LOVE >.

And may we ever remember that:

We're whole,
we're whole,
we're whole!

Nothing ever
can dissever our soul!


Ron's audio recitation of God is ONE




Ron's Comments on "God is ONE"
Dear Friends, 
The foregoing poem is comprised of intuitive insights about "God" which I received after midlife.
During my early Jewish acculturation as a pre-teen,  I learned that the most important and core Hebrew prayer, which was constantly recited and even kept (inside 'mezuzahs') at the door posts of observant Jews, was 
"Hear O Israel the Lord our God, the Lord is ONE"
~ Deuteronomy 6:4; Mark 12:29
But I never then deeply reflected on the meaning of that prayer.  Instead, as I grew into adulthood I began wondering why so many people religiously indoctrinated into Western monotheism – as Jews, Christians or Moslems – seemed to have quite disparate and disharmonious views of their "ONE God", and didn't get along with each other. For example I wondered
"If there is just one "God",

how can that one God

be a different "true God"

for Christians, Muslims, and Jews

and their diverse denominations?"
(e.g. see Monistic Musings – Reflections and Questions on "God" and Divinity)
After my midlife introduction to Hindu and Buddhist non-dualism teachings, which I intuitively accepted as valid, I realized that non-dualism seemed quite consistent with Western monotheism – but spiritually deeper. 
Whereupon I imagined ONE God as formless Universal spirit immanent in everyone and everything, not as a bearded old man in heaven, or other humanoid deity or divine symbol.  And consciously I began longing to explore inner divinity in my meditations and prayers, as a metaphoric child of THAT – ONE God.
During my long career as a litigation lawyer I had enjoyed professional fulfillment in helping civil clients get 'justice'.  But by the time I retired in 1992 I was so ' burned out' that I didn't want to spend any more precious time helping people fight over money.  Instead, I wanted to pray and meditate and delve deeply within, without worldly distractions. 
On retirement, I made a pilgrimage to India to pay respects to my beloved Guruji, Shri Dhyanyogi Madhusudandas.   On meeting with him, I told him:
 
"Guruji I am retiring from being a lawyer, and I now want to devote the rest of my days to thinking about God."
His simple encouraging reply was:  "Good!"  
As always, Guruji spoke little but said much.
Thereafter, on my return to San Francisco, for many years I lived a monk-like life in relative seclusion. Until 2003, I had no TV, computer, or newspaper to connect me to the "real world", and I spent much time alone in my 'condominium cloister' praying, meditating, crying, and experiencing various subtle energies and states of consciousness.
 
This post-retirement period of seclusion was a wonderfully gratifying life phase. But often I jokingly told others that the best part of my retirement was in not having to deal with lawyers every day.
Many of the poems and essays now posted on SillySutras.com were written during that reclusive post-retirement period. 
Initially in such writings I often used the "God" word. But gradually I began equating "God" with other words – like  "universal intelligence" or "Infinite Potentiality" or "Cosmic Consciousness", or "Emptiness", or "the Tao", or "Nature" – to denote THAT eternally ineffable omnipotent, omnipresent, and omniscient Divine Power which is the ONE unchanging substantial Reality underlying our permanently impermanent world of fleeting forms and phenomena.  
Also, I often began whimsically referring to divinity as "The Lone Arranger" – a term I coined to humorously communicate with skeptics. In recent insanely turbulent times I have metaphorically given "The Lone Arranger" my 'general power of attorney' to justly judge and rule the world, and to be my 'appointments secretary'.
Thus, paradoxically but necessarily, I have used "God", "The Lone Arranger" and various other words or phrases to point to THAT divine mystery which is beyond words.  
Today's "God is ONE!" post is offered to encourage exploration of our common inner divinity – in furtherance of our (conscious or subconscious) universal longing for a state of ONENESS with divinity – with God.
May these writings help hasten our inevitable evolution to THAT Absolute Reality.
And so may it be!
Ron Rattner