"Whence come I and whither go I?
That is the great unfathomable question,
the same for every one of us.
Science has no answer to it."
~ Max Planck
"The two most important days in your life

are the day you are born

and the day you find out why."

~ Mark Twain
"Death is truly part of life …
'what we called death is merely a concept'."

"This happens at the gross level of the mind.

But neither death nor birth exist at the subtle level of consciousness that we call 'clear light.'"

~ Dalai Lama
"Birth and death are virtual,

but Life is perpetual."

~ Ron Rattner, Sutra Sayings
"As we lose our fear of leaving life,

we gain the art of living life."

~ Ron Rattner, Sutra Sayings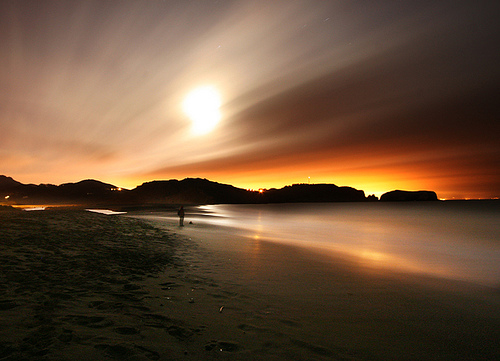 Introduction to When Does Life Begin?

Dear Friends,

The following mystical poem (composed many years ago) rhetorically questions our ideas of birth and death. It whimsically asks and answers the unanswerable question – When Does Life Begin?

Explanations and interpretations are included in comments which follow the verses. Please enjoy!

Ron Rattner

When Does Life Begin?

Q. When does life begin?

A. Never.

Life never begins,
because it never ends.

Life transcends time.
Life is timeless.

Human conception, birth and death are virtual,
but Life is perpetual.

So, the beginning of Life,
or the end of Life,
are self-contradictory ideas arising in,
and subsumed by –

Eternal Mystery.


Ron's audio recitation of "When Does Life Begin?"


Ron's Explanation of "When Does Life Begin?"
Dear Friends,
The word "Life" is an idea – a mental concept arising in human consciousness – with different meanings for different people. Definitions of "life" can differ when applied to space/time, to phenomenal realms beyond space/time, or to Ultimate Reality beyond conception, comprehension, imagination, or description.  (See e.g. my speculations about the meanings of "Life" at
https://sillysutras.com/what-is-life/
)
Throughout human history philosophers have wondered about the purpose or significance of "life" on Earth. And for millennia rare mystics and other inner explorers have reportedly discovered in deep meditation an infinitely potential Universal Awareness – which is the sole Source of all we call the "real world"; an indescribable ultimate and trancendant Reality beyond space/time', yet everywhere immanent in it.
In Buddhist and other enduring spiritual teachings birth and death are inherent in "life"; which at subtle mind levels metaphorically continues after physical death and before rebirth.   Thus the Dali Lama says that according to Tibetan Buddhism:
"Death is truly part of life …
'what we called death is merely a concept'."

"This happens at the gross level of the mind.

But neither death nor birth exist at the subtle level of consciousness that we call 'clear light.'"

~ Dalai Lama
Most humans self-identify as mortal beings, and fear inevitable physical death, believing it ends life. But fear of death deters our spiritual evolution and loving behaviors, and causes karmic suffering.

So today's poem and quotations are offered to enigmatically inspire our spiritual evolution beyond fear of death, and toward experiencing ever elevated levels "life", with ever growing happiness and fulfillment of our deepest aspirations.

Invocation

May these teachings about "life"
help us realize that physical death is normal and necessary,

and not to be feared;

that it opens us to ever expanding

new vistas of self-discovery and fulfillment

of our deepest aspirations as eternal souls;

that beyond physical birth and death

we are destined to discover and enjoy

ever increasing inner peace and happiness,

until we melt and merge with Mystery –
The mystery of Divinity.

And so shall it be!

Ron Rattner