But ask the animals, and they will teach you,
or the birds of the air, and they will tell you;
or speak to the earth, and it will teach you,
or let the fish of the sea inform you.
Which of all these does not know
that the hand of the LORD has done this?
~ Job 12:7-9
In this world of relativity, we are all relatives.
~ Ron Rattner, Sutra Sayings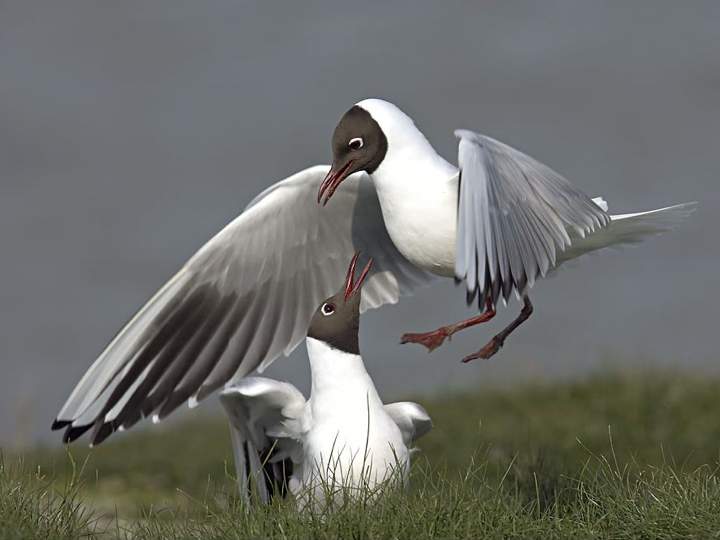 All sentient creatures feel in their own way;
feelings are not exclusive to humans.

Below … a barn swallow's female mate is injured and the condition is soon fatal. She was hit by a car as she swooped low across the road.



Here he brought her food and attended to her with love and compassion.



He brought her food again but was shocked to find her dead.
He tried to move her….a rarely-seen effort for swallows!



Aware that his sweetheart is dead and will never come back to him again,
he cries with adoring love.



He stood beside her, saddened of her death.



Finally aware that she would never return to him,
he
 stood beside her body with sadness and sorrow.



Supposedly, millions of people cried after watching this picture in 
America, Europe and Asia. It is said that the 
photographer sold these pictures for a nominal fee to the 
most famous newspaper in France; that all copies of that 
newspaper were sold out on the day these pictures were published.

And many people think animals don't have a brain or feelings???

You have just witnessed Love and Sorrow felt by God's creatures.

The Creator knows when a sparrow falls.

Live simply, love generously, care deeply and speak kindly.

Grace is the Creator reaching down.

Faith is humanity reaching back.

"And what is more important than knowledge?" asks the mind.

"Caring and seeing with the heart" answers the soul.


* Unknown author; edited and augmented by Ron Rattner

Ron's Commentary on How Birds Remind Us to Live The 'Golden Rule':