"Ignorance is the root of all evil."
~ Ron Rattner, Sutra Sayings
"Resist not evil."
~ Matthew 5:39
"Judge not, that you be not judged.
For with what judgment you judge, you will be judged; and with the measure you use, it will be measured back to you."
~ Matthew 7:1-5
"Judge not according to the appearance, but judge righteous judgment."
"Ye judge after the flesh; I judge no man."
~ John 7:24; 8:15
"We cannot change anything until we accept it.
Condemnation does not liberate, it oppresses."
~ Carl Jung
"Great Spirit, grant that I may not criticize my neighbor until I have walked a mile in his moccasins."
~ Native American prayer
"One ought to examine himself for a very long time before thinking of condemning others."
~ Moliere
"Judge not thy neighbor until thou comest into his place."
~ Rabbi Hillel
"But let justice roll on like a river,
righteousness like a never-failing stream!"
~ Amos 5:24 
"Only from the heart can you touch the sky."
"People of the world don't look at themselves, and so they blame one another."
"Your task is not to seek for love, but merely to seek and find
all the barriers within yourself that you have built against it."
~ Rumi
"If we could change ourselves, the tendencies in the world would also change. As a man changes his own nature, so does the attitude of the world change towards him. … We need not wait to see what others do."
~ Gandhi
"Evil cannot be overcome by more evil.
Evil can only be overcome by good.
It is the lesson of the way of love."

~ Peace Pilgrim
"Every action, every thought, reaps its own corresponding rewards. Human suffering is not a sign of God's, or Nature's, anger with mankind. It is a sign, rather, of man's ignorance of divine law. . . .
Such is the law of karma: As you sow, so shall you reap. If you sow evil, you will reap evil in the form of suffering. And if you sow goodness, you will reap goodness in the form of inner joy."
~ Paramahansa Yogananda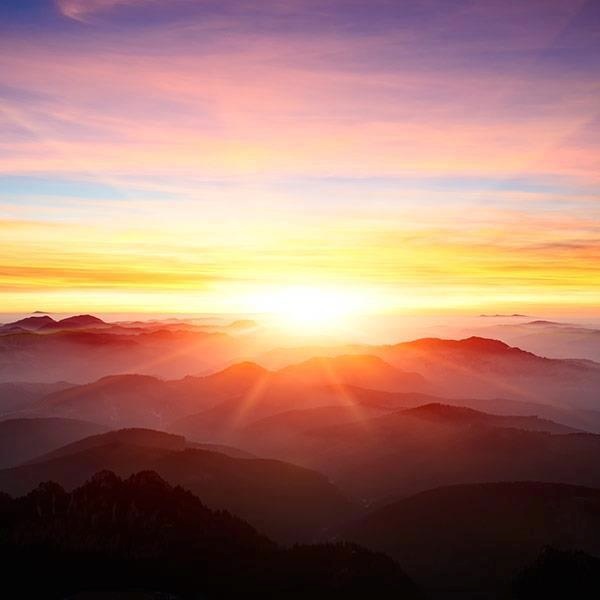 Q. In his sermon on the mount, Jesus counseled "Resist not evil." and "Judge not, that you be not judged." But the Bible encourages us to live righteously and seek justice. How is it possible for us to pursue justice and righteousness without judging and resisting "evil"?*

A. By following our sacred heart with love, forgiveness and empathy we can live with justice and righteousness in a manner consistent with Jesus' teachings – his words and life example.

Jesus was a rare Divine being who – like a Buddha or Krishna – transcended the illusion of separation from God. From his Divine perspective, Jesus realized and proclaimed that "I and the Father are one" [John 10:30] , and he perceived as "evil" only that which – from ignorance of Divine law – creates disharmony with Divine order and consequent suffering. But, as a loving Divine truth teller he did not condemn beings acting with the the illusion of separation from God – only their ignorant behaviors. [John:3:17]

Jesus knew that – until realizing our unity with Divinity – we reap as we sew. [e.g. Job 4:8; Galacians 6:7]; that we suffer the karmic consequences of our unconsciously unenlightened behaviors. Thus from his rare cosmic perspective he compassionately could see that our ignorant behaviors are karmically predestined, and do not arise from presumed free will.

As a Divine being, Jesus also knew that true Vision comes from intuitive insight, not eyesight; that our perceived separation from others and from Nature is an illusion of consciousness; and, that blind to our own repressed faults we often project them upon and detect them in others.

As Rumi observed: "People of the world don't look at themselves, and so they blame one another." [But,] "Only from the heart can you touch the sky."

So Jesus cautioned the Pharisee fundamentalists of his time to "Judge not according to the appearance, but judge righteous judgment." [John 7:24] And he taught: "Judge not, that you be not judged. For with what judgment you judge, you will be judged; and with the measure you use, it will be measured back to you." [Matthew 7:1-5]

Thus, when fundamentalist Pharisees brought to Jesus a woman allegedly caught in adultery, a capital crime, Jesus challenged any one of them who was without sin to cast the first stone at her. Speaking as non-judgmental Divine Love, Jesus explained his refusal to condemn her thusly:  "Ye judge after the flesh; I judge no man." [John 8:15]

Without judging beings but criticizing their disharmonious behaviors, Jesus was a passionate social reformer and redeemer who frequently decried hypocritical conduct and ethics by people who did not 'walk their talk' but practiced the very behaviors they decried – like those whose piety was on their tongue but not in their heart; those who claimed to love God but hated others. [John 4:20; Matthew 15:7-9]
And without judging the beings but their behaviors he cast out those hypocritically changing money and conducting commerce in the sacred temple courtyard, thereby demonstrating that we cannot serve both God and greed. [Matthew 6:24 and 21:12]

So, it appears that Jesus, who was a social reformer, did not intend to discourage us from living piously while seeking justice and righteousness for others and society. Bible passages against resisting "evil" or "judging" others are warnings against hypocritically and insensitively criticizing or opposing perceived faults or disharmonious behaviors in others which we cannot see in our own shadow selves.

Also, they are cautions against reflexive or revengeful resistance or opposition to perceived "evil", because when we see 'through a glass darkly' what we resist persists.

Jesus' admonition to not resist "evil" was given after his allusion to the Book of Exodus teaching about taking "An eye for an eye, and a tooth for a tooth" [Exodus 21:23-5] which was then misunderstood and strictly interpreted by Pharisees as encouraging revenge or retribution. But when we ignorantly act with reflexive revenge, we are disharmonious with divine law and must suffer the karmic consequences.

So rather than vindictively seeking retribution for wrongs, or reactively condemning others, or judgmentally attempting to change them, it is wise to first empathetically look within to see and change our own undesirable traits. Then like Gandhi we will "not cooperate with evil" but be the non-violent change we wish to see in the world and lovingly inspire others to do likewise.

And so it shall be!

Footnote.

*Because the New Testament gospels were all 'hearsay' written and translated from Aramaic into Greek and various other languages long after Jesus' death, we cannot know with certainty the meaning or accuracy of current translations of his sermon on the mount. So there are many differing interpretations of the words "Resist not evil." and "Judge not, that you be not judged." Their true meaning and intent can best be determined from their context and from Jesus' own Divine actions to uplift the world rather than condemn it. Our interpretation is intuitive, not scholarly, and based on perennial principles taught by most enduring religious, spiritual and ethical traditions, not just Christianity. You are free to question or reject it.

Ron's Commentary on violence begets violence, while love blesses all Life everywhere.

Dear Friends,

Recently I posted a nonpartisan response to the extraordinarily polarized political turbulence which has arisen worldwide since the election and inauguration of Donald J. Trump as 45th US president, and his initial executive nominations, appointments, and decrees. 

It suggested that regardless of our political propensities or beliefs we can best address our crucial political issues and challenges, from our unique perspectives with our unique talents, by first mindfully recognizing and calming our disturbed, judgmental and reactive states of mind.  That, thereby, with quiet minds and open hearts we can non-judgmentally honor the spiritual essence and equality of everyone everywhere – beyond our mentally illusory and superficially divisive designations.

As an ardent advocate of Gandhian nonviolence, I feel impelled by continuing protests to hereby augment my last message with further apt quotes and discussion of important spiritual principles encouraging peaceful means to bring about political or social change.   In my view, "nonviolence" entails more than absence or threat of physical force;  that  all thoughts, words and deeds which are disharmonious with Nature's divine plan are "violent". 

So "nonviolence" necessitates and arises from inner Harmony.   As eloquently explained by Paramahansa Yogananda:

"Harmony is born of love and wisdom.  These, in turn, are offspring of a heart that is pure and outreaching.  A pure heart is the result of pure thoughts." . . . . 
"The mind is nature's incinerator wherein you can burn to ashes all mental dross that is not worthy to be saved:  your waste thoughts and desires, your misconceptions and grievances, and your discords in human relationships.  There is not a single relationship, however estranged, you cannot reconcile, provided you do so first in your own mind.  There is not a single problem in life you cannot resolve, provided you first solve it in your inner world, its place of origin.  Be not intimidated by consequences, even though they be drastic.  Before you act, if you first harmonize the situation with the discriminative wisdom in your mind, the outcome will take care of itself.  A harmonized mind produces harmony in this world of seeming discord."
~  Paramahansa Yogananda – JOURNEY TO SELF-REALIZATION:Collected Talks And Essays On Realizing God In Daily Life, Volume III

Similarly we are told by Gandhi that:

"If we could change ourselves, the tendencies in the world would also change. 
As a man changes his own nature, so does the attitude of the world change towards him. … 
We need not wait to see what others do."
~ Gandhi

In the US and worldwide massive polarized political protests are continuing.  Though most protesters have refrained from using physical force, some protests have escalated to much more than a 'war of words'.  According to credible media reports and onsite videos, there have been numerous violent acts and words both supporting and opposing President Trump.  E.g.  Protesters have smashed windows, torched cars, and physically assaulted perceived adversaries.  There seem reasonable probabilities that agent provaocateurs have instigated and committed violence on both sides of the political divide.  Apart from calls for legitimate government checks and balances, and legal due process, some placards and social media have displayed violent imprecations and even suggestions or threats of assassination.  

Many protesters are motivated by fear, anger and other negative emotions disharmoniously inconsistent with true "nonviolence".   So in my view their actions are karmically contrary to the the widely accepted cautionary precept that "violence begets violence" – which is also scientifically supported by Newton's third law that: "For every action, there is an equal and opposite reaction".

That precept may have been inspired in the West by teachings of Jesus.  For example, in Matthew 26:50-52 we are told how Jesus instructed a disciple trying defend against his master's arrest to: "Put your sword back into its place. For all who take the sword will perish by the sword".  That scriptural passage has often been cited by nonviolent peace activists.

Thus, inspired by Jesus and Gandhi, Dr. Martin Luther King Jr. ardently preached non-violence: 

"We must learn to live together as brothers or perish together as fools." .."The choice is not between violence and nonviolence but between nonviolence and nonexistence."  .  . "Darkness cannot drive out darkness; only light can do that. Hate cannot drive out hate; only love can do that."

On accepting the Nobel Peace Prize in 1964, Dr King said:

"Violence as a way of achieving racial justice is both impractical and immoral . .  . Violence is impractical because it is a descending spiral ending in destruction for all. It is immoral because it seeks to humiliate the opponent rather than win his understanding: it seeks to annihilate rather than convert. Violence is immoral because it thrives on hatred rather than love. It destroys community and makes brotherhood impossible. It leaves society in monologue rather than dialogue. Violence ends up defeating itself. It creates bitterness in the survivors and brutality in the destroyers."

Nonviolence doesn't necessarily mean nonresistance.  As evidenced by Dr. King's exemplary life, powerfully effective resistance to injustice can be nonviolent.   He showed us how individually and societally we can we best resist the evils of  injustice with love and forgiveness; how by accentuating the positive we can transcend the negative.   

"Evil cannot be overcome by more evil.
Evil can only be overcome by good.
It is the lesson of the way of love."
~ Peace Pilgrim

Thus today millions are similarly inspired by nonviolent peace and prayer vigils of indigenous protectors at Standing Rock, North Dakota, nonviolently resisting extraordinarily violent corporate commercial desecrations of their sacred sites and treaty rights.

This commentary augments the foregoing posted quotations and essay and my previously posted commentary advocating stilling our minds to open our Hearts. May we be inspired thereby to first empathetically look within to see and change our own undesirable traits, rather than vindictively seeking retribution for wrongs, or reactively condemning others, or judgmentally attempting to change them.

Then like Dr. King and Gandhi we will "not cooperate with evil" but be the non-violent change we wish to see in the world and lovingly inspire others to do likewise.

And so may it be!

Ron Rattner