Posts Tagged 'Eknath Easwaran'
"My life is my message."
~ Mahatma Gandhi
"I consider myself a Hindu, Christian, Moslem, Jew, Buddhist and Confucian." ….. "My religion is based on truth and non-violence. Truth is my God. Non-violence is the means of realizing Him."
~ Mahatma Gandhi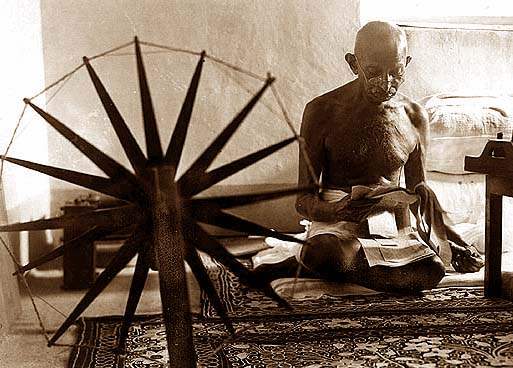 After my synchronistic "Rama" rainbow experience in Hawaii, I began feeling an affinity with "Rama" as a divine name, but didn't yet adopt a practice of regularly repeating that Divine name. Then synchronistically I met a new friend with a "Rama" name through whom I was further intrigued by the powerful potentiality of the Rama mantra.

Soon after discovering the Rama mantra in "Be Here Now" and then spontaneously reciting it in Hawaii, I met an American woman then named – "Veda Rama" – meaning "truth of God".* She had received that spiritual name from a teacher in New Mexico after first meeting Baba Ram Dass in New Hampshire when he was writing "Be Here Now", and following him to New Mexico where at the Lama Foundation she helped to produce and distribute the first hand-assembled and hand-bound editions of that wonderful book.

Veda Rama* became – and remains – a very important spiritual friend with whom I have continued to share synchronicity experiences, and with whom I then shared my story of how Mahatma Gandhi had appeared and counseled me as my first inner guide at Silva Mind Control. And I told her how I was quite curious about Gandhi's life story. Soon thereafter, as a birthday gift Veda Rama gave me a beautiful pictorial Gandhi biography called "Gandhi the Man" by Eknath Easwaran.

Upon reading that book I learned that reciting the Rama mantra had been Gandhi's principal spiritual practice; that in childhood Gandhi's beloved nurse Rambha taught him to repeat the name"Rama" whenever he felt afraid and so to worship God as Rama; and, that this Ram mantra became his most important spiritual practice throughout life.

And I learned that as an adult, Gandhi often walked constantly repeating his Rama mantra in rhythm with his steps; and that he wrote extensively about his repetition of the name "Rama" – viz. the Ramanama. E.g.:

"When a child, my nurse taught me to repeat Ramanama whenever I felt afraid or miserable, and it has been second nature with me with growing knowledge and advancing years. I may even say that the Word is in my heart, if not actually on my lips, all the twenty-four hours. It has been my saviour and I am ever stayed on it." "The mantram becomes one's staff of life and carries one through every ordeal…." "Each repetition … has a new meaning, each repetition carries you nearer and nearer to God."

Even as Gandhi fell to an assassin's pistol fired point-blank into his heart, in forgiveness he uttered nothing but "Rama, Rama …" his last words from the eternal depths of his heart.

From "Gandhi the Man" I also learned that Gandhi had been a British trained barrister who for over twenty years had practiced as an idealistic and extraordinarily effective civil rights attorney in South Africa before returning to India, where he became that nation's most beloved modern hero. And – like countless others – I became inspired by, and identified with, Gandhi's non-violent pursuit of justice.

In the absence of an apt existing word, Gandhi called this path "Satyagraha", a Sanskrit neologism which he coined – roughly meaning the non-violent and resolute pursuit of Truth; and, he often equated "Truth" with "God". Gandhi's non-violence [Ahimsa] was active – not passive – with steadfast remembrance that Divinity [viz. "Truth"] is immanent in all creation, including one's oppressors.  In addition to satyagraha and ahimsa, Gandhi, a vegetarian, lived a non-materialistic, simple life, and practiced aparigraha, non-attachment to possessions. This was significant for me since I, too, had become a vegetarian living with increasing non-attachment to worldly possessions.

The more I learned about Gandhi the more he inspired me, and the more I identified with him, both as a lawyer and as a spiritual truth-seeker. After Gandhi's inner appearance at Silva Mind Control, I had wondered why the universe had chosen him to counsel me. But, retrospectively, it is now evident that such choice was absolutely appropriate; that Gandhi has been a continuingly important inspiration for the unfolding of my spiritual mystery story.

Gandhi's history as a nonviolent civil rights lawyer and Rama devotee relentlessly pursuing secular and spiritual Truth has been especially inspiring and significant for me. As a lawyer I always had a strong devotion to the pursuit of justice. Spiritually, Gandhi's inner appearance began for me a synchronistic sequence of connections with Hindu teachings, and ultimately to a beloved Guru, emphasizing meditation upon and devotion to the Divine name "Rama". Initially inspired by Gandhi, "Rama" became – and remains – enshrined in my heart as a constant impetus to my ever evolving spiritual mystery story.

Even now, I frequently and spontaneously invoke that Divine name, sometimes in surprising ways and at completely unanticipated times. Thereby, since discovering Rama over thirty years ago, I have been blessed to self-experience ever less 'Ron' and ever more 'Ram'.

Thus, Gandhi synchronistically became and remains an important influence on my life, as well as on lives of countless others. He taught not so much by his words, but by his exemplary way of living.

Once when asked his teachings, he aptly replied: "My life is my message." Upon deeply realizing the universal wisdom of Gandhi's statement, I was inspired to write this "Silly Sutra" verse:

Living Life, Teaching Peace

On the Earth branch
of the great Cosmic University,

We are all students
and we are all teachers.

We are all learning love.
And, as Gandhi observed,
our lives are our teachings.

So, as we live
and as we learn,
we each may teach –
peace, love, and compassion.

And so it shall be!

May Gandhi's exemplary life, ever inspire and motivate ever more of us everywhere to live life peacefully and compassionately in constant remembrance of and harmony with Divinity.

*Later, Veda Rama was initiated by Shri Dhyanyogi, my beloved Guru, as "Ram Dassi" – the feminine equivalent of Ram Dass, meaning "servant of God".