"My life is my message"
~ Mahatma Gandhi
Introduction
Mohandas K. Gandhi was born in India on October 2, 1869, one hundred fifty one years ago. He came to be known and loved by the Indian people and worldwide as
"Mahatma"
, an honorary Sanskrit term meaning "Great Soul", like the term "Saint" in Christianity.
During his lifetime, he was recognized as father of Indian democracy, a monumental accomplishment achieved through non-violent relentless pursuit of Truth (
satyagraha
). Gandhi helped change the world by being the change he wanted see.
Though Mahatma Gandhi realized that his life was his message, he regularly wrote down his philosophical ideas on subjects of perennial importance. Because Gandhi walked his talk authentically, peacefully, and universally, his words – like his humble life – will be remembered for centuries, and will continue to inspire and actuate countless millions of people worldwide.
Gandhi's Words of Wisdom
So, in tribute to this great soul, let us recall some of his inspiring words of wisdom:
"You must be the change
you want to see in the world."


"In a gentle way you can shake the world.."


"An eye for eye only ends up making the whole world blind."

"A man is but the product of his thoughts; what he thinks, he becomes."

"Always aim at complete harmony of thought and word and deed. Always aim at purifying your thoughts and everything will be well."


"Happiness is when what you think, what you say,
 and what you do are in harmony."

"Nobody can hurt me without my permission."

"It is unwise to be too sure of one's own wisdom. It is healthy to be reminded that the strongest might weaken and the wisest might err."

"I do not want to foresee the future. I am concerned with taking care of the present. God has given me no control over the moment following."

"When I despair, I remember that all through history the way of truth and love has always won. There have been tyrants and murderers and for a time they seem invincible, but in the end they always fall — think of it. Always."

"Civil disobedience becomes a sacred duty when the state has become lawless or corrupt. And a citizen who barters with such a state shares in its corruption and lawlessness."

"There are many causes that I am prepared to die for but no causes that I am prepared to kill for."

"An ounce of practice is worth more than tons of preaching."

"Prayer is not an old woman's idle amusement. Properly understood and applied, it is the most potent instrument of action."

"Prayer has saved my life, without it I should have been a lunatic long ago. I feel that as food is indispensable for the body so was prayer indispensable for the soul. I find solace in life and in prayer. With the Grace of God everything can be achieved. When His Grace filled one's being nothing was impossible for one to achieve.

"Prayer is nothing else but an intense longing of the heart. You may express yourself through the lips; you may express yourself in the private closet or in the public; but to be genuine, the expression must come from the deepest recesses of the heart…

"It is my constant prayer that I may never have a feeling of anger against my traducers, that even if I fall a victim to an assassin's bullet, I may deliver my soul with the remembrance of God upon my lips."

"All the religions of the world, while they may differ in other respects, unitedly proclaim that nothing lives in this world but Truth."

"My religion is based on truth and non-violence. Truth is my God. Non-violence is the means of realizing Him."

"I consider myself a Hindu, Christian, Moslem, Jew, Buddhist and Confucian."

"Truth is by nature self-evident. As soon as you remove the cobwebs of ignorance that surround it, it shines clear."

"I look only to the good qualities of men. Not being faultless myself, I won't presume to probe into the faults of others."

"I claim to be a simple individual liable to err like any other fellow mortal. I own, however, that I have humility enough to confess my errors and to retrace my steps."

"Constant development is the law of life, and a man who always tries to maintain his dogmas in order to appear consistent drives himself into a false position."

"I cannot think of permanent enmity between man and man, and believing as I do in the theory of reincarnation, I live in the hope that if not in this birth, in some other birth I shall be able to hug all of humanity in friendly embrace."

"Nonviolence, which is the quality of the heart, cannot come by an appeal to the brain."

"Nonviolence is not a cloistered virtue to be practiced by the individual for his peace and final salvation, but it is a rule of conduct for society. To practice nonviolence in mundane matters is to know its true value. It is to bring heaven upon earth. I hold it therefore to be wrong to limit the use of nonviolence to cave dwellers [hermits] and for acquiring merit for a favored position in the other world. All virtue ceases to have use if it serves no purpose in every walk of life."

"It is no nonviolence if we merely love those that love us. It is nonviolence only when we love those that hate us. I know how difficult it is to follow this grand law of love. But are not all-great and good things difficult to do? Love of the hater is the most difficult of all. But by the grace of God even this most difficult thing becomes easy to accomplish if we want to do it." (From a private letter, dated 31-12-34.)

"To see the universal and all-pervading Spirit of Truth face to face, one must be able to love the meanest of all creation as oneself."

"Ahimsa is not the crude thing it has been made to appear. Not to hurt any living thing is no doubt a part of ahimsa. But it is its least expression. The principle of ahimsa is hurt by every evil thought, by undue haste, by lying, by hatred, by wishing ill to anybody. It is also violated by our holding on to what the world needs."

"I do not believe…that an individual may gain spiritually and those who surround him suffer. I believe in advaita, I believe in the essential unity of man and, for that matter, of all that lives. Therefore, I believe that if one man gains spiritually, the whole world gains with him and, if one man falls, the whole world falls to that extent."

"I do not believe that the spiritual law works on a field of its own. On the contrary, it expresses itself only through the ordinary activities of life. It thus affects the economic, the social and the political fields."

"Suffering, cheerfully endured, ceases to be suffering and is transmuted into an ineffable joy."

"The goal ever recedes from us. The greater the progress the greater the recognition of our unworthiness. Satisfaction lies in the effort, not in the attainment. Full effort is full victory."

"What do I think of Western civilization?
I think it would be a very good idea."

Conclusion

May we deeply reflect on Gandhi's enduring philosophy and exemplary life.  Thereby, like this Great Soul, may we be inspired "from the deepest recesses of the heart" to live in "in a gentle way" that nonviolently blesses all life everywhere as Truth and LOVE.  

And so shall it be!

Ron Rattner


"My life is my message."
~ Mahatma Gandhi
"I consider myself a Hindu, Christian, Moslem, Jew, Buddhist and Confucian." ….. "My religion is based on truth and non-violence. Truth is my God. Non-violence is the means of realizing Him."
~ Mahatma Gandhi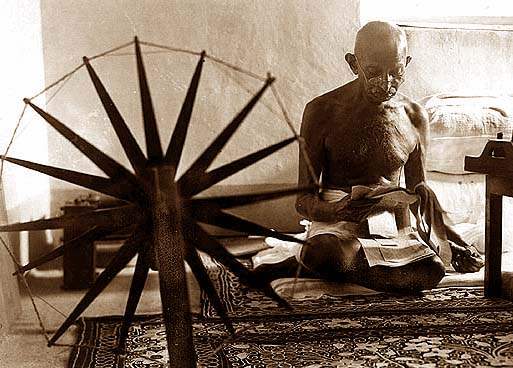 After my synchronistic "Rama" rainbow experience in Hawaii, I began feeling an affinity with "Rama" as a divine name, but didn't yet adopt a practice of regularly repeating that Divine name. Then synchronistically I met a new friend with a "Rama" name through whom I was further intrigued by the powerful potentiality of the Rama mantra.

Soon after discovering the Rama mantra in "Be Here Now" and then spontaneously reciting it in Hawaii, I met an American woman then named – "Veda Rama" – meaning "truth of God".* She had received that spiritual name from a teacher in New Mexico after first meeting Baba Ram Dass in New Hampshire when he was writing "Be Here Now", and following him to New Mexico where at the Lama Foundation she helped to produce and distribute the first hand-assembled and hand-bound editions of that wonderful book.

Veda Rama* became – and remains – a very important spiritual friend with whom I have continued to share synchronicity experiences, and with whom I then shared my story of how Mahatma Gandhi had appeared and counseled me as my first inner guide at Silva Mind Control. And I told her how I was quite curious about Gandhi's life story. Soon thereafter, as a birthday gift Veda Rama gave me a beautiful pictorial Gandhi biography called "Gandhi the Man" by Eknath Easwaran.

Upon reading that book I learned that reciting the Rama mantra had been Gandhi's principal spiritual practice; that in childhood Gandhi's beloved nurse Rambha taught him to repeat the name"Rama" whenever he felt afraid and so to worship God as Rama; and, that this Ram mantra became his most important spiritual practice throughout life.

And I learned that as an adult, Gandhi often walked constantly repeating his Rama mantra in rhythm with his steps; and that he wrote extensively about his repetition of the name "Rama" – viz. the Ramanama. E.g.:

"When a child, my nurse taught me to repeat Ramanama whenever I felt afraid or miserable, and it has been second nature with me with growing knowledge and advancing years. I may even say that the Word is in my heart, if not actually on my lips, all the twenty-four hours. It has been my saviour and I am ever stayed on it." "The mantram becomes one's staff of life and carries one through every ordeal…." "Each repetition … has a new meaning, each repetition carries you nearer and nearer to God."

Even as Gandhi fell to an assassin's pistol fired point-blank into his heart, in forgiveness he uttered nothing but "Rama, Rama …" his last words from the eternal depths of his heart.

From "Gandhi the Man" I also learned that Gandhi had been a British trained barrister who for over twenty years had practiced as an idealistic and extraordinarily effective civil rights attorney in South Africa before returning to India, where he became that nation's most beloved modern hero. And – like countless others – I became inspired by, and identified with, Gandhi's non-violent pursuit of justice.

In the absence of an apt existing word, Gandhi called this path "Satyagraha", a Sanskrit neologism which he coined – roughly meaning the non-violent and resolute pursuit of Truth; and, he often equated "Truth" with "God". Gandhi's non-violence [Ahimsa] was active – not passive – with steadfast remembrance that Divinity [viz. "Truth"] is immanent in all creation, including one's oppressors.  In addition to satyagraha and ahimsa, Gandhi, a vegetarian, lived a non-materialistic, simple life, and practiced aparigraha, non-attachment to possessions. This was significant for me since I, too, had become a vegetarian living with increasing non-attachment to worldly possessions.

The more I learned about Gandhi the more he inspired me, and the more I identified with him, both as a lawyer and as a spiritual truth-seeker. After Gandhi's inner appearance at Silva Mind Control, I had wondered why the universe had chosen him to counsel me. But, retrospectively, it is now evident that such choice was absolutely appropriate; that Gandhi has been a continuingly important inspiration for the unfolding of my spiritual mystery story.

Gandhi's history as a nonviolent civil rights lawyer and Rama devotee relentlessly pursuing secular and spiritual Truth has been especially inspiring and significant for me. As a lawyer I always had a strong devotion to the pursuit of justice. Spiritually, Gandhi's inner appearance began for me a synchronistic sequence of connections with Hindu teachings, and ultimately to a beloved Guru, emphasizing meditation upon and devotion to the Divine name "Rama". Initially inspired by Gandhi, "Rama" became – and remains – enshrined in my heart as a constant impetus to my ever evolving spiritual mystery story.

Even now, I frequently and spontaneously invoke that Divine name, sometimes in surprising ways and at completely unanticipated times. Thereby, since discovering Rama over thirty years ago, I have been blessed to self-experience ever less 'Ron' and ever more 'Ram'.

Thus, Gandhi synchronistically became and remains an important influence on my life, as well as on lives of countless others. He taught not so much by his words, but by his exemplary way of living.

Once when asked his teachings, he aptly replied: "My life is my message." Upon deeply realizing the universal wisdom of Gandhi's statement, I was inspired to write this "Silly Sutra" verse:

Living Life, Teaching Peace

On the Earth branch
of the great Cosmic University,

We are all students
and we are all teachers.

We are all learning love.
And, as Gandhi observed,
our lives are our teachings.

So, as we live
and as we learn,
we each may teach –
peace, love, and compassion.

And so it shall be!

May Gandhi's exemplary life, ever inspire and motivate ever more of us everywhere to live life peacefully and compassionately in constant remembrance of and harmony with Divinity.

*Later, Veda Rama was initiated by Shri Dhyanyogi, my beloved Guru, as "Ram Dassi" – the feminine equivalent of Ram Dass, meaning "servant of God".