Posts Tagged 'Matthew 7:7'
"The essence of all wisdom is to know the answers to 'who am I?'
and 'what will become of me?' on the Day of Judgment."
~ Rumi
"Knowing others is wisdom, knowing yourself is enlightenment."
~ Lao Tzu
"Know thyself – The unexamined life is not worth living."
~ Socrates
"Give up all questions except one: "Who am I?"  After all, the only fact you are sure of is that you are. The "I am" is certain. The "I am this" is not."
~ Nisargadatta Maharaj
"Ask and it shall be given; Seek and ye shall find."
~ Matthew 7:7
"You will know the truth,
and the truth will set you free."
~ John 8:32
"Who am I?
The quest is in the question.
 
The question is the answer."
~ Ron Rattner, Sutra Sayings
"An 'identity crisis' can be life's greatest opportunity,
because it raises life's most crucial question – "Who am I?"
~ Ron Rattner, Sutra Sayings
"That which permeates all, which nothing transcends and which, like the universal space around us, fills everything completely from within and without, that Supreme non-dual Brahman — that thou art."
~ Shankaracharya
"Sometimes the questions are complicated and the answers are simple."

~ Dr. Seuss
"What a liberation to realize that the "voice in my head" is not who I am. Who am I then? The one who sees that."
~ Eckhart Tolle
"So the question Who am I? is not an idle one.  How you answer the question will determine how you live the rest of your life.  It will determine the quality of your life."
~ Neale Donald Walsch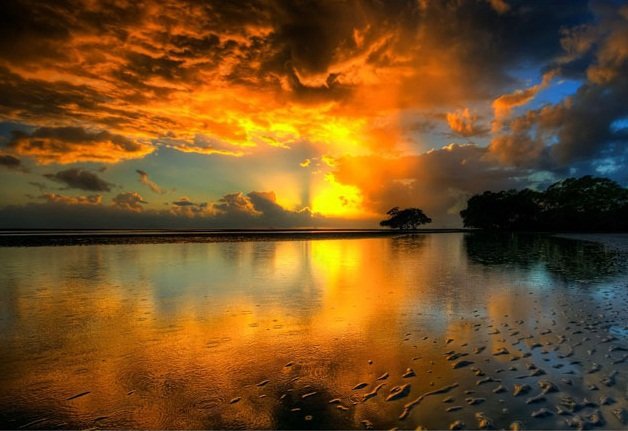 Asking The Ultimate Question: "Who Am I?"

Introduction.

Have you ever deeply wondered about your true self-identity or urgently asked yourself, "Who Am I"?

Most of us, never inquire about our true self-identity, but we assume ourselves to be mere mortal physical life-forms with unique histories, separate from everyone and everything else.

Not until age forty two, did I ever ask myself or wonder "Who Am I"? Until then, I assumed that I was only my physical body, its thoughts and its story; that I was a middle-aged secular Jewish litigation lawyer, married, with two kids, born in Chicago and living in San Francisco.

But on New Year's Eve 1974-5, these assumptions were severely shaken. At a 'pot luck' dinner party, after unwittingly eating a large piece of cake laced with marijuana, I had a dramatically unforgettable out of body experience.

From a bedroom ceiling, I saw my body lying face down on a pillow, and saw each of my thoughts originating outside the body as a vividly colored kaleidoscopic form.

These perceptions seemed very real – not dreamlike or hallucinatory. And they irresistibly raised for me an unprecedented urgent new question: "Who or what am I?"

I reasoned that if I was on the ceiling of the room, while my body was face-down on the bed, I couldn't be the body; and that if I was on the ceiling of the room, while my thoughts were appearing below me, I couldn't be the thoughts. And if not my body and not my thoughts, "Who or what am I?"

Thereafter, irresistibly and persistently I began pursuing this previously unexamined enquiry, with intense longing for an answer. This process proved an enormous blessing which changed my life forever. It convinced me that "Who Am I?" can be the most important question that anyone can ever ask; that by deeply reflecting on our true self-identity and persistently inquiring: "Who Am I?" we can ultimately experience a profound, life-enhancing psychological transformation process.
[See "At Mid-life, a Rebirth to a New Life ~ Ron's Memoirs"]

Historical overview.

Throughout history saints and sages of every tradition and culture – East and West – have counseled us to "Know thyself." In the West, this fundamental injunction was attributed to the Greek oracle consulted by Socrates and carved into the Temple of Apollo as: "Gnothi Seauton".

Eastern saints and mystics for millennia have taught that there is an ultimate goal of life – an 'enlightened' state of spiritual awareness bringing permanent happiness and freedom from all worldly bondage. Swami Yogananda Paramahansa, who brought Eastern wisdom to the West in the 20th century, called this spiritual goal "self-realization".

Who is this "Self" that we are counseled to know or realize?   How can we follow the advice of the saints and sages to "Know thyself", and so experience "self-realization"?

One of the principal methods to "Know thyself" suggested by mystics and sages is to inquire: "Who am I?" For example, ancient Indian sage Shankara said that spiritual "Knowledge cannot spring up by any other means than the inquiry: Who am I?".

In Hinduism, such self-inquiry is chiefly associated with Advaita-Vedanta, the oldest extant school of Indian Philosophy. Advaita means non-dualism and its teachings are essentially the same as those of Mahayana Buddhism. Both are aimed at experiencing non-dual Reality.

The ultimate answer to the question "Who Am I?" cannot come from intellect. We can know or realize our "self" only by intuitive experience of "Who Am I?". However, in the Hindu and Buddhist non-duality paths, powers of discrimination are used to transcend intellect and to reveal the Self via self-realization.

Conclusion.

In his Sermon on the Mount, Jesus said: "Ask and it shall be given; Seek and ye shall find." Thus, if we persistently ask "Who Am I?", the answer shall be given. And in seeking our true Self, we shall find our true Self – as Eternal Peace beyond understanding, and as timeless Joy beyond suffering.

And so it shall be!


Ron's explanation and dedication of "Asking the Ultimate Question".

Dear Friends,

For millennia, seers, saints and sages have counseled us to "Know thyself"; and, to ask persistently the supremely crucial question – "Who am I?".

But few Westerners have been inspired to pursue this perennially advised investigation.  

Until mid-life, like most other Westerners, I unthinkingly self-identified only with my physical body, its thoughts and aggregate experiences. Then, following an extraordinary out of body experience, I irresistibly began wondering "Who am I?".  Finally, at age forty two, (unaware of any apt spiritual teachings) I was given the answer to that question, and realized my true self-identity as pure awareness, rather than as my physical body, its thoughts and aggregate experiences.  Whereupon I experienced a profound and unforgettable mid-life spiritual awakening and rebirth.

Thereafter, I began having numerous unprecedented mystical or psychic subtle energy experiences, and became infused with so much vital energy that for several months I hardly needed to sleep. Only then did I begin learning about teachings of Eastern mysticism, including non-duality. 

Afterwards, I synchronistically met my beloved teacher, Shri Dhyanyogi Madhusudandas, a venerable Hindu Guru then 100 years old, from whom I received shaktipat initiation.  Guruji lived until age 116, and has remained my teacher since his mahasamadhi transition in 1994.  After shaktipat initiation, I learned from Guruji and others that the evolutionary purpose of spiritual 'practice' is to reveal experientially that there is no separate 'practitioner'; not that the practitioner is in some way a separate, special person with special powers.

But I also learned that – unlike  Guruji and other rare Buddha-llke beings – on realizing my true self-identity as pure awareness, I had not yet become 'instantly enlightened'.  Rather, that this realization had triggered an evolutionary process of awakened kundalini life-force energies which were manifesting via  spontaneous physical, mental, or emotional experiences [ called kriyas]  and thereby purifying the body and nervous system, thus allowing increasing experience of subtler states of consciousness.

Ultimately, I realized that this evolutionary kundalini purification process was gradually undoing or eliminating eons of accumulated subtle karmic impressions or seeds [samskaras or vasanas]  causing unconscious habitual behaviors and emotional patterns, and precluding or inhibiting spontaneously skillful behaviors.   

Soon after this revelatory discovery I declared myself to be an 'uncertain Undo' [rather than 'born-again Hindu'] and began writing whimsical sutras like:

"On the path of undo we'll never be through
'til we're an undone ONE."


Today, over forty years since realizing my true self-identity as pure awareness  (rather than as my physical body, its thoughts and aggregate experiences),  I'm still not fully 'undone', and ego attrition continues.  But as I continue to more and more self-identify as spirit rather than as physical body there seems to be ever more Ram than Ron in my life. 

Thereby after many years of questioning, I've found faith beyond belief, beyond dogmas or theology.    And I'm happier and more grateful for this precious lifetime than ever before.  (See https://sillysutras.com/ive-found-a-faith-based-life/)

Thus, from inner and outer experience, more than ever before I regard "Who Am I?" as a  supremely crucial question to be persistently investigated for those with spiritual aspirations.  So today I have posted the above  important quotations and brief essay.

If ever you have wondered or aspired about spiritual evolution, I encourage your deep consideration of today's posting.

May it help us live  happier lives by consciously participating in an irresistible evolutionary process which is leading us to expression of one Life – one LOVE – amidst the infinite diversity of ever changing ephemeral energy forms.

And so may it be!

Ron Rattner


In this world of relativity, we are all relatives.
~ Ron Rattner, Sutra Sayings
"We are born and reborn countless number of times, and it is possible that each being has been our parent at one time or another.  Therefore, it is likely that all beings in this universe have familial connections."
~ H. H. Dalai Lama, from 'The Path to Tranquility: Daily Wisdom".
"When you meet anyone, remember it is a holy encounter. As you see him, you will see yourself. As you treat him, you will treat yourself. As you think of him, you will think of yourself. Never forget this, for in him you will find yourself or lose sight of yourself."
~ A Course in Miracles (ACIM)
"If you could only sense how important you are to the lives of those you meet; how important you can be to the people you may never even dream of. There is something of yourself that you leave at every meeting with another person."
~ Fred Rogers
"For whoever does the will of my Father in heaven
is my brother and sister and mother."
~ Matthew 12:50
Ask and it shall be given; Seek and ye shall find.
~ Matthew 7:7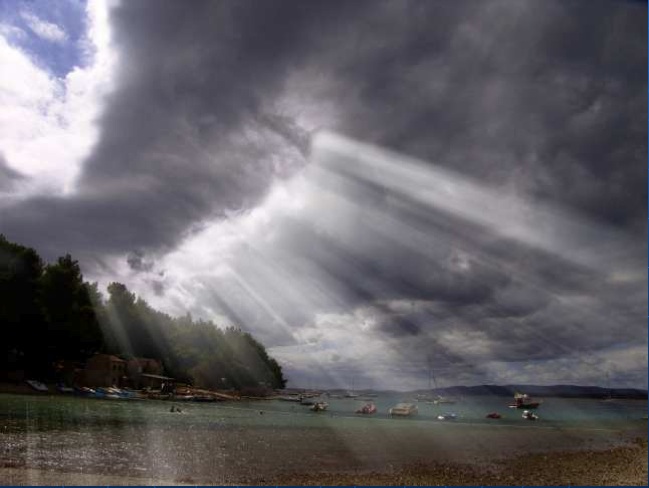 A "Holy Encounter" – Synchronicity Story
Have you ever met a stranger who seemed familiar, or with whom you felt an effortless instant rapport?     If so, did you wonder why?

Buddhists might explain such meetings as reencounters with people we've known in other lifetimes. They say that our mind-stream incarnates so many times that we may have familial connections with all other beings.

In all events, however we may explain such encounters, we can view them as synchronistic evolutionary opportunities. A Course in Miracles (ACIM) teaches that every encounter can be a "Holy Encounter", enabling us find "salvation" by transcending our illusionary self identification with seeming separation and by discovering our true wholeness and Holiness – our true self identity with Universal Spirit.

In recent years I have had many synchronistic meetings with strangers which have become "holy encounters". One such meeting happened on a late September afternoon.

While walking by the Bay, I stopped and sat at a picnic table in a beautiful Fort Mason nature place. Soon a stranger named Nick appeared, and we engaged in an extraordinary and extended dialogue about perennial spiritual questions, the kinds of questions that motivated me to launch Silly.Sutras.com. While we talked, Nick's energy seemed familiar, even though we'd never before met.

The next day Nick sent me an email asking to be added to the SillySutras circulation list. Also, he expressed appreciation for our meeting (in which he had asked many questions), and he asked one more question, which he said he'd forgotten to previously ask, viz:

"Throughout the days, there is a witness who watches all the events of my life; whether in calmness or through the most frantic events he remains unperturbed. Who is this observer?"

I replied to Nick, an observant Christian, as follows:

"The answer to your question is – like the Kingdom of Heaven – within.  Seeking it you shall find it.

Do you equate your word "witness" with "awareness" or "consciousness"?  If so, here is an apt quotation from Ramana Maharshi, a renowned mystic master from the past century:

'Consciousness is always Self-Consciousness. If you are conscious of anything, you are essentially conscious of yourself.'
~ Ramana Maharshi"

More than six months after our synchronistic encounter and exchange of messages, I was surprised by an email from Nick, telling about his experience when we met.

In reply, I asked Nick's permission to share his letter on-line. He agreed, and explained:

"I wrote because I felt the need to express my gratitude, to you, of course, but above all to our celestial Father, for this blessing."

Here is Nick's letter:

Hi Ron,

My name is Nick; I don't know if you remember me. We met last fall. I had just lost my beloved mother. I was walking along the shore in dazed despair. At one point, near the Municipal Pier, I thought: "If there were just one person, one soul in this whole city that I could talk to!"

I think it an odd paradox that it's precisely death, the ultimate "limiting factor", that should, perhaps more than any event, bring humans face-to-face with the Infinite.  It was precisely this quandary, more than immediate injury and loss, that pained and perplexed me that day.

When I got to the top of Fort Mason, at Black Point, I walked toward the picnic tables. There, at the spot where my mother and I used to gaze out upon the Bay, I saw a small figure, sitting silently at a table; it reminded me of a heron or some other seabird I had spied, in stillness on the shore.

At that point, I felt I had "arrived" and had the urge to speak. But, at a loss on how to engage the conversation, I remember instead awkwardly staring out at the water. You broke the ice with these words:

"It's good to be here!"

A little startled, I asked whether this was intended as a geographical or metaphysical statement. Your answer, I believe, was that it could be understood as either (I rather agreed with the first; less with the second interpretation; though, of course, the two seem difficult to separate).

I don't remember too many of the particulars of the wide-ranging conversation that followed across the picnic table (St. Francis, Buddha, the Kaddish, suicide, the apocalypse..) . What I do recall is that it precisely addressed all the points that caused me such perplexity that day, and that in its course my wounds seemed to get bandaged up, my pains assuaged.

Most vividly, I remember you asking me whether I knew the meaning of the term "synchronicity", which, in answer to my avowed ignorance, you proceeded to define. In truth, I required few explanations: a while earlier, down by the Maritime Museum, when I'd exclaimed "God, if there were just someone in the world to talk to!", this hadn't been a prayer in any formal sense, not even a request with any expectation of fulfillment, but a simple cri du coeur.* [*cry from the heart; heartfelt appeal]

Now I understood what synchronicity meant.

I'm afraid I detained you longer than reasonable, as twilight settled over the trees.

You gave me your card, I checked out your website and signed up for your episodic postings.

Whether freezing my ass off in my mother's drafty old farmhouse in Burgundy in the dead of last winter, hiking some warm canyon in the Southwest, or just sitting in my room here in San Francisco, scratching my head and wondering what's next,  these have proved a reliable source of comfort and elevation.  Most often, as I read them, I can't help but repeat "Yes, yes, yes!" ; sometimes I disagree, or don't understand. They've made a difference for the better in my life, and I eagerly look forward to them.  All and all, they have the effect of a gentle voice enjoining me to wake up from an overlong nightmare. Which brings to mind [this verse from Pedro Calderon De La Barca's play La vida es sueño – Life is a Dream ]:

¿Qué es la vida? Un frenesí.
¿Qué es la vida? Una ilusión,
una sombra, una ficción,
y el mayor bien es pequeño;
que toda la vida es sueño,
y los sueños, sueños son.*

I'm still confused ; still sorely miss my mother, angel of beauty; but I'm very grateful to have made your acquaintance. And when I take a walk at Fort Mason, I always hope I'll find you sitting at the table. No luck, so far. I reckon you just can't force synchronicity…

Cheers,

Nick

*
[ English translation:

What is life? A frenzy.
What is life? An illusion,
A shadow, a fiction,
And the greatest profit is small;
For all of life is a dream,
And dreams, are nothing but dreams.]

Moral of this story:

Heartfelt calls to the Divine will  be answered and rewarded.

Every encounter with others; especially each synchronistic encounter, can be a "Holy Encounter".


"Synchronicity is an ever present reality for those who have eyes to see."
~ Carl Jung

"Our deepest fears hide our highest potentials."
~ Ron Rattner, Sutra Sayings
Ask and it shall be given; Seek and ye shall find.
~ Matthew 7:7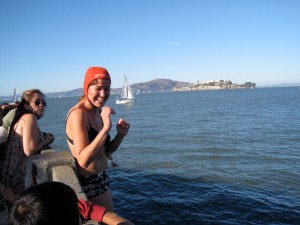 During my frequent walks to Aquatic Beach, I occasionally met there a lovely young woman swimmer, Simone, who found time to swim. while attending school and working to support herself. Several times we talked before or after her swims. During one of our chats, Simone remarked to me that some day she'd like to swim out at the opening of the harbor where it was deep with different tides than those closer to the beach where she was then swimming. But she said that she was afraid to swim there alone, and wouldn't try to do so without others accompanying her.

Later, in November on a beautiful sunny Sunday afternoon, I took one of my frequent walks out onto the San Francisco Municipal Pier. The pier juts far into the Bay and is a breakwater for the Aquatic Beach harbor. The deep waters at the end of the pier had enticed Simone as a new place to swim, but her fears had precluded that experience.

As I walked toward the very end of the pier, I saw a large crowd gathered there. Never before in many such walks onto the pier had I ever seen such a crowd. So I was quite curious as I neared them. And when I arrived at the end of the pier, I discovered that the people were gathered around and observing a young woman in a swimsuit who had climbed over the wall of the pier, and was standing on the ledge above the water, poised but afraid to dive into the water. It was Simone, fearfully hesitating for a long time before jumping off the pier to swim back to Aquatic Beach.

As we recognized each other, Simone asked for my encouragement.  I obliged and, motivated by my reassurance, Simone finally jumped into the water, as the large crowd of well-wishing onlookers cheered her on. Just as Simone finally 'took the plunge' I gave her a "namaste" salute. Thereafter, she swam back to Aquatic Beach with Ned, another regular swimmer with whom I also was having synchronistic encounters and chats. Responding to Simone's wish for a deep water swimming companion, Ned had walked with Simone onto the pier and had been treading water awaiting her dive to join him in swimming back to the beach.  

As Simone and Ned swam together back to the beach, I wondered how Simone would feel after overcoming her fear of swimming in such deep waters. So, I intended to quickly walk back to the beach and greet them when they arrived there. But that didn't happen.

Instead, I had a very long and lovely synchronistic and spiritual chat with one of the other onlookers, Janice, a long-time Buddhist practitioner who had observed with curiosity my "namaste" salute to Simone. So I didn't again see Simone or Ned that day as wished, and wondered thereafter about Simone's experience of breaking her fear barrier about deep water swimming.

More than four months passed before I again saw either Simone or Ned. Then, on a Sunday afternoon in March, just as I began walking onto the sand at the West end of Aquatic Beach, I encountered Ned who was walking in his swim suit toward the Municipal Pier, where he planned to jump into the Bay and swim back to the beach.  We chatted for a while about that November day and about Simone.  He told me that he had seen pictures of Simone taken on the pier that day by an onlooker, but didn't have them.  As we parted, at my request, he offered to try getting me the pictures via email exchange with Simone, with whom he'd continued to communicate.  And I asked him to give Simone my regards, expressing a desire to see her soon. We thereupon parted and I continued walking toward the East end of Aquatic Beach, as Ned walked to the pier.

A few minutes later, just as I arrived at the East end of the beach, a female swimmer emerged from the water and began drying off.   It was Simone.  My wish to see her again was almost instantly fulfilled.   Then I told her about my encounter with Ned, and wish to see pictures of that memorable November happening.   She took my email address, and later sent them.

Though neither Ned nor Simone was aware of each other's "coincidental" presence that day on the beach, the Lone Arranger knew, and staged those quick consecutive encounters fulfilling my wish to see Simone and the November pictures of her.