Posts Tagged 'self actuated'
"Life will give you whatever experience is most helpful for the evolution of your consciousness."
~ Eckhart Tolle
"Though we can't always see it at the time,
if we look upon events with some perspective,
we see things always happen for our best interests.
We are always being guided in a way
better than we know ourselves."
~ Swami Satchidananda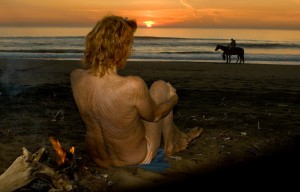 When I was growing up, my parents subscribed to the Reader's Digest magazine, where I sometimes read a continuing feature called: "The Most Unforgettable Person I've Known". It mostly told stories about people who were unusual because they were inner – not outer – directed; people who were 'self-actuated' and authentic. And I began to appreciate and respect such people.

Particularly since my mid-life spiritual awakening, I have come to recognize and especially appreciate people who follow their heart and not the herd. Of all such people I've met, my friend Carol Schuldt is one of the most extraordinary – an amazingly free spirit with great intuitive wisdom.  We met long ago while sitting at Aquatic Beach on San Francisco Bay (across from Ghirardelli Square), where she often comes to escape ocean fog and swim in the sun. Since then, we've had innumerable synchronistic encounters and exchanged many "miracle" stories about our lives. [Other synchronicity stories about our magical meetings are linked below.]

Carol is such an extraordinary person that, she's become well-known throughout and beyond her San Francisco neighborhood; so newspaper and magazine stories have been written about her. An excellent and recommended story: "A Benevolent Queen of the Beach" appeared in the San Francisco Chronicle on September 25, 2000.

It tells of Carol's exceptional inner directness even from childhood, when she adamantly refused to attend obligatory church services at Catholic school and was the only student exempted therefrom by the nuns, who recognized her extraordinary inner wisdom. The article also tells that Carol has been dedicating her life to helping troubled souls – especially young people – but that paradoxically Carol has had great family tragedy with all of her three children: her two daughters whose lives were lastingly impacted by drug addiction, and her son who was permanently brain damaged in a childhood car accident.

During the many years I've known Carol, she's almost always been in good spirits whenever we've met. But when I saw her on a recent foggy June afternoon at Aquatic Beach, Carol seemed uncharacteristically melancholy and taciturn. And even though she had come to the beach to swim, Carol decided to stay out of the water because she was cold – a rare occurrence. As we parted that afternoon I wondered what was troubling Carol. The next night my question was answered.

Carol excitedly phoned to tell me this story, about a "miraculous" incident that had just happened:

First she explained that she had been in a deeply melancholy state for several days because of an apparent staph infection and because she'd just had great difficulty with her mentally ill daughter Simone who was then living with her. So Carol began feeling very sorry for herself and was nostalgically dwelling on happier family days when her daughters were growing up, and before their lives had gone amiss with drugs and mental illness.

Unable to shake off her deep melancholy and nostalgia, that evening Carol had just impulsively jumped into the fog-enshrouded ocean across the street from her house. Carol told me that she couldn't recall ever before doing that, rather than swimming earlier in quieter, clearer and more secluded places. After a brief swim she emerged from the water, crossed the street in front of her house and was just about to retrieve some things from her car parked there when another car stopped beside her. A handsome man – about her daughters' age – got out and addressed Carol.

He asked: "Are you Celeste and Simone's mother?"
"Yes", she replied.
Thereupon he said:
"I was in love with Celeste. I've never seen such beautiful girls. You raised them to be beautiful and strong."
Then looking directly in Carol's eyes, he said: "Mom, it's not your fault."

Whereupon he got into his car and drove off, leaving Carol in a state of amazement.

On entering her house, Carol excitedly called me to report this "miraculous" incident while it was fresh in her memory. As Carol spoke she seemed lifted out of the dark melancholy miasma which had enveloped her. And as we talked I typed the above quotes (on my iMac) with tears in my eyes and chills up my spine – psychic signals of the deep importance to Carol of this meaningful miraculous "coincidence".

For Carol, this incident confirmed that she has been a good mother, and is blessed with Divine protection. How do you interpret it? How did the Universe arrange it?

Ron's moral of the story: Look for the hidden blessing in every difficult experience.