Awakening to Ever Present Synchronicity
~ Ron's Memoirs
"Synchronicity is an ever present reality for those who have eyes to see."
~ Carl Jung
"According to Vedanta, there are seven states of consciousness.
Each of the seven states of consciousness represents an increase in our experience of synchronicity, and each progressive state moves us closer to the ideal of enlightenment."
~ Deepak Chopra, SynchroDestiny
"As I look back upon my own life, I see how many events – which at the time appeared horribly painful or unnecessary – contained remarkable lessons which I sometimes did not understand until many years later. Now life appears to me – more and more – as a gorgeous Persian rug. Seen from underneath (that is, from the ordinary human viewpoint), it may be a mess of loose strands, knots, pieces of wool hanging in a disorderly manner; but seen from above – from another level of perspective – what perfect order, harmony and beauty!"
~ Pierre Pradervand
Introduction.

Dear Friends,

Many people experience and wonder about amazing coincidences that can't be explained rationally or statistically. Those "coincidences" have opened some of us to reflect upon their possible spiritual or psychical causes. And such reflection and investigation has advanced our spiritual evolution.

The following memoirs stories tell about an amazing "coincidence" (almost forty years ago) which awakened me to the immense spiritual importance of synchronicity and helped me find unimagined happiness through spiritual evolution.

The stories were originally published soon after the SillySutras website was launched, when the second noteworthy synchronicity reminded me of the original one. As explained in 2021 epilogue comments below, both the original and later synchronicity memoirs stories are again recounted to further our appreciation of the spiritual importance of synchronicities, and to help us find happiness through spiritual evolution.

Therefore, I hope you'll enjoy and find inspiration from the stories.

And so may it be!

Ron Rattner

Awakening to Ever Present Synchronicity

In "Channeling" for Joseph Campbell I recounted how in October, 1983 I began realizing that at times I was receiving ideas from higher dimensions when – as Board Chairman of CIIS, an academic institution – I bestowed on Dr. Joseph Campbell an honorary PhD. degree.

Four months after the Campbell investiture ceremony, in January, 1984, I participated in two more important investiture ceremonies involving an amazing "coincidence" which proved especially significant for me because it sparked my initial awareness of and curiosity about synchronicities. Before that pivotal "coincidence", I had been largely unaware of synchronicities or their evolutionary importance. Since then synchronicities have become ever more meaningful in my spiritual life.

I originally wrote about that 1984 "coincidence" experience because twenty nine years later I was reminded of it by another noteworthy synchronicity at the identical place where the first one happened.

In January 2013, my daughter Jessica, a professional photographer, asked me – and I agreed – to accompany her to Temple Emanu-El, San Francisco's largest Jewish synagogue. She had been engaged to do a photo shoot there of a Bar Mitzvah "coming of age" ceremony, and asked me to act as a focal point so she could check out lighting and lens requirements at various places where photos might be appropriate.

So, at the synagogue I stood for Jessica at various places, including the raised platform or 'bimah' at the front of the vast synagogue sanctuary, so she could focus on the place where the Bar Mitzvah honoree would be standing. Thereupon, I nostalgically recalled how twenty nine years ago I stood at that very place at the Bar Mitzvah of my then thirteen year old son Joshua.

That Bar Mitzvah ceremony on Saturday morning, January 28th, 1984, began an extraordinarily synchronistic day for me, which was preceded by the following circumstances.

Joshua was then living with his mother, Naomi, who had remarried after our divorce. She and her husband Bruce were observant Jews and had arranged for Josh's Jewish education and Bar Mitzvah at Temple Emanu-El. As Josh's father, I was asked and happy to participate in the Bar Mitzvah ceremony.
To learn my ceremonial role I met with one of the Emanu-El rabbis. He informed me that I was to accompany Joshua to the raised platform or 'bimah' at the front of the sanctuary, where I would introduce him to the congregation and place on his shoulders a prayer shawl or tallit, as a 'coming of age' mantle. Whereupon he would recite a portion of the Torah (Jewish bible) and give a talk. Then the rabbi gave me mimeographed templates of suggested introductory remarks, but encouraged me to offer my own.
Soon thereafter, an 'inner voice' dictated and I quickly wrote the following words:
"Lord God, Divine Master, we remember Thee with deepest devotion and reverence;
with unshakable faith in Thee and the perfection of Thy Way;
and, with unspeakable gratitude for Thy blessings
which are beyond comprehension or imagination.

"On this blessed day, we affirm to Thee our devotion, faith and gratitude
by presenting for initiation into the congregation of Israel
our beloved son Joshua David Rattner.

We pray that his life may be a Divine blessing
in the ancient and holy tradition of Israel
of service to all people and to all of Thy creation."*

A few days later, on Saturday morning I recited those words at the Bar Mitzvah, with a prescribed opening prayer and then placed a prayer shawl (or tallit) on Josh's shoulders.
That very evening, I was "coincidentally" scheduled (by The Lone Arranger) to make another investiture presentation at the San Francisco Unitarian Church, also one of city's largest religious sanctuaries.
CIIS was publicly inaugurating there a new President, Dr. John Broomfield. And as CIIS Board Chairman I was to officially welcome him.
Upon arriving early Saturday evening at the Unitarian Church, I was informed for the first time that I was to place a shawl around Dr. Broomfield's shoulders as a symbolic mantle of authority. Thereupon, I quickly "channeled" and wrote down the following words:
"Dr. Broomfield I invest in you, with this mantle,
the authority of President and the position of Professor of History and Comparative Studies of the California Institute of Integral Studies.
The entire CIIS community welcomes you with support and love.
We look forward to many fruitful and auspicious years under your leadership."
Soon thereafter I addressed those words to Dr. Broomfield and placed the mantle on his shoulders as we stood at the Church pulpit.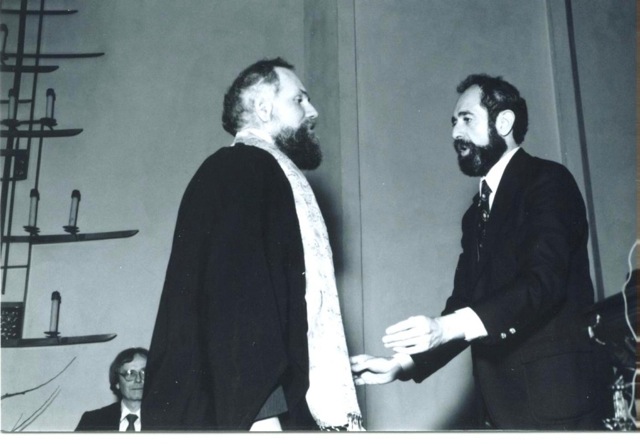 Dr. John Broomfield and Ron Rattner, 1/28/84
Courtesy of California Institute of Integral Studies archives


Then, Dr. Broomfield gave his evening acceptance address while wearing the mantle of authority I'd placed on his shoulders, just as Josh had recited a Torah bible portion and given a talk while wearing the prayer shawl 'coming of age' mantle I placed on his shoulders.
Never before and never yet again, have I placed a shawl or mantle of symbolic authority on anyone's shoulders. Why did it happen twice on January 28, 1984? Why in January 2013 was I asked by my daughter to stand at the same sanctuary place where I stood twenty nine years earlier?


*Postscript.

A few days after the Bar Mitzvah ceremony one of the Congregation Emanu–El rabbis, called to ask, and received from me, permission for the synagogue to print my "channeled" words to Josh as a template for other parents' use. I don't know if others have used those words in other Bar Mitzvah ceremonies. But upon awakening from sleep every morning I continue to greet each day by gratefully remembering the Divine with the opening words given to me for Josh, while always remembering that the universal Divinity addressed with these words is my own Self – Infinite Potentiality spiritually immanent in – and as – all manifestation.


Ron's 2021 epilogue  comments 

Dear Friends,

As my 89th birthday approaches, I am gratefully enjoying much greater happiness than ever before imagined, with continuing harmonious earth-life synchronicities. But this life-stage came only after many years of spiritual evolution.

Prior to my midlife spiritual awakening, I was unfamiliar with the word "synchronicity" (coined by C.G. Jung in the 1950's) However, like many others I occasionally noted unusual "coincidences" in linear time which could not be explained rationally or statistically. Then, following a 1977 miraculous week of pre-cognitive events in New York City, I began questioning the reality of "coincidences" in linear time.

But it was not until the foregoing amazing 1984 "coincidence" events that I was first awakened to the immense spiritual significance of synchronicities, suggesting that "There are no mistakes, no coincidences, that "all events are blessings given to us to learn from." [Elisabeth Kubler-Ross]

Since the SillySutras website was later launched, I've considered Synchronicity one of its most important spiritual categories. (So there has always been a tab-highlighted "Synchronicity" category link at the top of every website page.)

Thus I published both the above original 1984 "coincidence" story the second noteworthy synchronicity story which reminded me of the first story because it happened at the same place where the first one happened.

Because of their spiritual significance both stories have again been told today, to further our awareness and appreciation of synchronicities, and thereby to help us find happiness through spiritual evolution.

And so may it be!

Ron Rattner