Becoming a Faith-Based Optimist
~ Ron's Memoirs
"When I despair, I remember that all through history
the way of truth and love has always won.
There have been tyrants and murderers and for a time they seem invincible;
but in the end they always fall—think of it. Always."
~ Mahatma Gandhi
"Faith is intuitive conviction, a knowing from the soul,
that cannot be shaken even by contradictions."
~ Paramahansa Yogananda
"Optimism is the faith that leads to achievement.
Nothing can be done without hope and confidence."
"Faith is the strength by which a shattered world shall emerge into the light."
~ Helen Keller
"Steady faith is stronger than destiny.
Destiny is the result of causes, mostly accidental,
and is therefore loosely woven.
Confidence and good hope will overcome it easily."
~ Nisargadatta Maharaj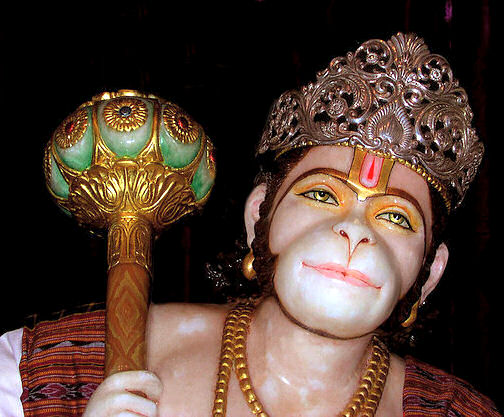 Hanuman

Becoming a Faith-Based Optimist
Dear Friends,

In prior postings I've told how "I've Found A Faith-Based Life", and defined faith as distinguished from belief. And I've explained that inner faith in the Divine, is the same as faith in one's Self, and that such inner faith can bring us previously unimagined happiness.

Today I'll tell how I found faith in Divine Self in a midlife transition from self-reliant secular litigation lawyer to devotional "born-again Hindu"; and how that faith became an optimistically unshakable conviction that everything happens for the best, until we transcend the ego illusion of existing separately in space/time.

Soon after receiving 1978 shaktipat initiation from my beloved Guruji, I began daily Sanskrit recitations of a Ram mantra and the Hanuman Chalisa – a rhymed poetic ode to the mythological Vedic 'monkey-god' Hanuman (pictured above). The Chalisa metaphorically venerates Hanuman, who faithfully served avatar Rama, as the epitome of faith in God. It was composed by poet-saint and philosopher Tulsidas.

Shri Ramakrishna Paramahansa (with whom I feel devotional affinity) often cited an epic Ramayana story about Hanuman heroically leaping over the sea between South India and Shri Lanka (Ceylon) to serve Rama, as illustrating the epitome of divine faith. In the Gospel of Ramakrishna, he taught:

"You must have heard about the tremendous power of faith. It is said . . that Rama, who was God Himself – the embodiment of Absolute Brahman – had to build a bridge to cross the sea to Ceylon. But Hanuman, trusting in Rama's name, cleared the sea in one jump and reached the other side. He had no need of a bridge." . . . . "Once a person has faith he has achieved everything. There is nothing greater than faith."

While repeatedly reciting Ram mantras and the Hanuman Chalisa, I felt their devotional energy while unconcerned about the precise meaning of their Sanskrit words. And I became instinctively harmonious with Ram, as Divinity. Even today (at age 87), I still often spontaneously call out to Rama in remembering and devotionally honoring the Divine. And Hanuman became and remains for me symbolic of both faith and optimism.

After I became an instinctive Rama devotee, I deeply reflected on "faith". and realized that my initial self-confidence and optimism had gradually grown to unconditional intuitive faith in God; that I'd evolved from being a pragmatic secular optimist into living a devotional faith-based life, with both conviction and optimism.

Also, I realized that with faith it's always best follow one's conscience in all behaviors, and to surrender outcomes of such conscientious behaviors to Divine Self (or Tao) – to let go and go with the flow; because karmically whatever happens could not be otherwise. So, to clear our karma, we must nonjudgmentally accept whatever IS NOW with forgiveness and love of one's Self, and all others who are the same as one's Self.

My reflections revealed that our earthly sufferings arise from fearful and illusory ego-mind thoughts because we forget our true Divinity and immortality. But that as omnipotent immortal spirit we have nothing to fear from anything that seems to happen in space/time. Moreover, our transcendence of ego is inevitable, and advanced by our loving behaviors, which are becoming ever more prevalent in current "new normal" times.

Thus I've become optimistically convinced that in the dawning Age of Aquarius humans now have unprecedented opportunities (as a global family) to co-create an infinitely more compassionate world.

Moreover, I feel that much of humanity will (in this lifetime) experience an unprecedented evolutionary quantum-leap; that we are about to ascend (as Biblically prophesied) to an idyllic and fearless New Earth reality which is beyond ego-mind illusion; beyond seeming separation; beyond limitation; beyond imagination.

Conclusion

I've become and irreversibly remain a faith-based optimist, despite dire threats against survival of human life as we've known it.  And I equate my instinctive optimism with inner faith, in remembering that faith in the Divine is the same as faith in one's SELF.

Therefore I'm especially grateful to be able to now share these memoirs with you to help us realize and enjoy supreme fulfillment and happiness from optimistic faith in Divine SELF.

And so may it be!

Ron Rattner

"Cockeyed optimist" epilogue

On first realizing the blessings of optimism I composed sutra sayings like: "Be an optimist: Optimism optimizes opportunity." And I was inspired by these lyric lines from 'cockeyed optimist', a "South Pacific" song, by Oscar Hammerstein II:

"I hear the human race
Is falling on its face
And hasn't very far to go,
But ev'ry whippoorwill
Is selling me a bill,
And telling me it just ain't so."
I'm "stuck like a dope with a thing called hope, and I can't get it out of my heart!"

So to further encourage our heartfelt faith-based optimism, I've embedded for your enjoyment a YouTube video performance of that Rodgers and Hammerstein's 'cockeyed optimist' song from "South Pacific".