"We are shackled by illusory bonds of belief.
Freedom is beyond belief."
~ Ron Rattner, Sutra Sayings
"The heart has its reasons that reason does not know."
~ Blaise Pascal
"Faith is a knowledge within the heart,
beyond the reach of proof."
~ Kahlil Gibran
"Faith is intuitive conviction,
a knowing from the soul,
that cannot be shaken even by contradictions."
~ Paramahansa Yogananda
"This above all, to thy own Self be true."
~ William Shakespeare

"In religion and politics people's beliefs and convictions are in almost every case gotten at second-hand, and without examination, from authorities who have not themselves examined the questions at issue but have taken them at second-hand from other non-examiners, whose opinions about them were not worth a brass farthing."
~ Mark Twain
"Faith is much better than belief.
Belief is when someone else does the thinking."
~ Buckminster Fuller
"On a long journey of human life,
faith is the best of companions;
it is the best refreshment on the journey;
and it is the greatest property."
~ Buddha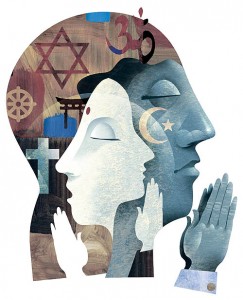 Belief or Faith?
Q. What is "belief" and what is "faith"; and, how are they synonymous or different?

A. "Belief" and "faith" are words used by different people to communicate different ideas about trust or confidence in Divinity or Nature. In each instance their meaning depends on the intention of the person using each word, and the context of such use.

Sometimes the words are used synonymously. For example, English language bible translations (from original Aramaic} sometimes equate belief in Divinity with faith.

Thus in Matthew 17:20 Jesus says:

"I tell you the truth, if you have faith as small as a mustard seed,
you can say to this mountain, "Move from here to there" and it will move."

While in Mark 9:23 alluding to faith in Divinity he says:

"All things are possible for him that believes."

But because there can be a significant difference between experiential intuitive trust in Nature or Divinity and ideological trust in religious dogma or secular ideas, for clarity in addressing these questions we here distinguish between "belief" and "faith" and do not use them synonymously.

Both belief and faith may be founded on discrimination or rationality.
But, though faith may be balanced with reason, faith transcends reason. Belief follows ideas from the past which may or may not support faith – but can never negate it, for faith is beyond belief. So,

"Faith is transcendental,
while belief mental.
Faith is NOW;
belief is then.
~ Ron Rattner, Sutra Sayings

"Faith" means intuitive trust or confidence in Life, especially in the miraculous unknown,
whereas "belief" means adopting or accepting ideas of others that something or someone is true or exists.

Faith arises from experience, discrimination and intuition and promotes our life journey, while blind belief deters it.

"On life's journey faith is nourishment,
virtuous deeds are a shelter,
wisdom is the light by day and
right mindfulness is the protection by night.
If a man lives a pure life, nothing can destroy him."
~ Buddha

Dogmatic religious or other beliefs limit or preclude openness, spontaneity and authenticity;
and, they often follow and mask doubt and uncertainty.

"Irrevocable commitment to any one religion is not only intellectual suicide;
it is positive unfaith because it closes the mind to any new vision of the world.
Faith is, above all, open-ness—an act of trust in the unknown."
~ Alan Watts
"The constant assertion of belief is an indication of fear"
~ J. Krishnamurti

Doubt and fearfulness preclude openness, spontaneity and authenticity.
Fearlessness is openness. Fearfulness is closeness.

"Faith—in life, in other people, and in oneself—is the attitude of
allowing the spontaneous to be spontaneous, in its own way and in its own time."
~ Alan Watts

Faith in transcendental Power or Divinity, named or unnamed, follows the Heart,
while belief follows fear of the unknown. Fear and Faith cannot co-exist.

Faith follows That which benefits everyone and everything, but belief may be inconsistent with universal good.

Do not believe in anything simply because you have heard it.
Do not believe in anything simply because it is spoken and rumored by many.
Do not believe in anything simply because it is found written in your religious books.
Do not believe in anything merely on the authority of your teachers and elders.
Do not believe in traditions because they have been handed down for many generations.
But after observation and analysis, when you find that anything agrees with reason and is conducive to the good and benefit of one and all,
then accept it and live up to it.
~ Buddha
Faith follows intuition;
Faith follows the Way;
Faith follows the Self;
Faith follows the Heart.
~ Ron Rattner, Sutra Sayings

Dedication

This essay is deeply dedicated to inspiring us to find ever growing happiness, as we

Follow our Heart, and
Follow our Faith –

As LOVE!

And so it shall be!

Ron Rattner