"When I despair, I remember that all through history
the way of truth and love has always won.
There have been tyrants and murderers and for a time they seem invincible;
but in the end they always fall—think of it. Always."
~ Mahatma Gandhi

"Faith is intuitive conviction, a knowing from the soul,
that cannot be shaken even by contradictions."
~ Paramahansa Yogananda

"I'm only a cockeyed optimist . . .
stuck like a dope
With a thing called hope,
And I can't get it out of my heart!"
~ Oscar Hammerstein II, South Pacific, lyrics

"Optimism is the faith that leads to achievement.
Nothing can be done without hope and confidence."
"Faith is the strength by which a shattered world shall emerge into the light."
~ Helen Keller

"The highest thinkers of the ages,
the seers of the tribes and the nations,
have been optimists."
~ Helen Keller

"An optimist is a person who sees a green light everywhere, while a pessimist sees only the red stoplight… the truly wise person is colorblind."
~ Albert Schweitzer

"Steady faith is stronger than destiny.
Destiny is the result of causes, mostly accidental,
and is therefore loosely woven.
Confidence and good hope will overcome it easily."
~ Nisargadatta Maharaj

"Even faith in God is only a stage on the way.
Ultimately you abandon all, for you come to something so simple that there are no words to express it."
~ Sri Nisargadatta Maharaj

Optimism optimizes opportunity.
~ Ron Rattner, Sutra Sayings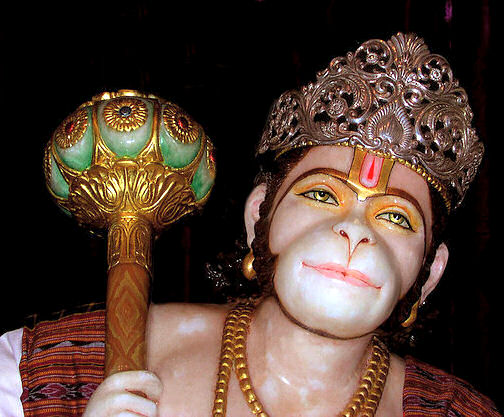 Hanuman

Becoming a Faith-Based Optimist ~ Ron's Memoirs

Introduction to "Becoming a Faith-Based Optimist"

Dear Friends,

In prior postings I've told how "I've Found A Faith-Based Life", and defined faith as distinguished from belief. And I've explained that inner faith in the Divine, is the same as faith in one's Self, and that such inner faith can bring us previously unimagined happiness.

Today I'll tell how I found faith in Divine Self in a midlife transition from self-reliant secular litigation lawyer to devotional "born-again Hindu"; and how that faith became an optimistically unshakable conviction that everything happens for the best, until we transcend the ego illusion of existing separately in space/time.

And because these memoirs are published on commencement of important Equinox religious holy days, I'm including a 2022 Equinox Epilogue.

Memoirs of "Becoming a Faith-Based Optimist"

Soon after receiving 1978 shaktipat initiation from my beloved Guruji, I began daily Sanskrit recitations of a Ram mantra and the Hanuman Chalisa – a rhymed poetic ode to the mythological Vedic 'monkey-god' Hanuman (pictured above). The Hanuman Chalisa (composed by poet-saint and philosopher Tulsidas) metaphorically venerates Hanuman, who faithfully served Hindu avatar Rama, as the epitome of faith in God.

Shri Ramakrishna Paramahansa (with whom I feel deep devotional affinity) often cited an epic Ramayana story about Hanuman heroically leaping over the sea between South India and Shri Lanka (Ceylon) to serve Rama, as illustrating the epitome of divine faith. In the Gospel of Ramakrishna, he taught:

"You must have heard about the tremendous power of faith. It is said . . that Rama, who was God Himself – the embodiment of Absolute Brahman – had to build a bridge to cross the sea to Ceylon. But Hanuman, trusting in Rama's name, cleared the sea in one jump and reached the other side. He had no need of a bridge." . . . . "Once a person has faith he has achieved everything. There is nothing greater than faith."

While repeatedly reciting Ram mantras and the Hanuman Chalisa, I felt their devotional energy while unconcerned about their precise Sanskrit meaning. And I became instinctively harmonious with Ram, as Divinity. Even today (at almost age ninety), I still often instinctively call out to Rama in devotionally honoring the Divine. And Hanuman energy became and remains for me symbolic of both enduring Faith and immutable optimism.

After I became an instinctive Rama devotee, I realized that my initial secular self-confidence and optimism had gradually grown to heartfelt Faith in God; that I'd evolved from being a pragmatic secular optimist into living a devotional faith-based life, with both conviction and optimism.

Also, I realized that with Faith it's always best follow one's conscience in all behaviors, and to surrender outcomes of such conscientious behaviors to Divine Source (or Tao) – to let go and go with the flow; because karmically whatever happens could not be otherwise. So, to clear our karma, we must non-judgmentally and forgivingly accept and bless everything and everyone NOW, as ephemeral and illusory appearances in ever impermanent space and time of our sole Divine Source – ineffable, immutable, and Eternal LOVE.

My insights revealed that our earthly sufferings arise from fearful and illusory ego-mind thoughts because we forget our true Divinity and immortality.
But that as omnipotent immortal spirit we have nothing to fear from anything that seems to happen in always illusory ego-mind space, time, and duality. Moreover, that our transcendence of ego-mind is inevitable, and always advanced by our loving behaviors.

2022 Equinox Epilogue

These memoirs are published concurrent with commencement of the Jewish High Holy Days, and the Hindu Navaratri shraddha period. In prior times I participated in both Jewish and Hindu religious ritual observances of these important holidays.

But in recent years, I've stopped attending all scheduled religious ritual services. As an innately faith-based optimist, I now continuously honor God every day and everywhere with Divine intentions, behaviors, and prayers, and with the SillySutras spiritual poetry and philosophy website.

Yet, I've instinctively realized that beyond ego-mind's persistent "optical illusion" of a space, time, and duality worldly "reality", all that is, was, or will be is NOW. Thus, that being a worldly faith-based optimist (with hope for the future) is like aspiring to an "impossible dream" of a never-attainable mental mirage – a time-based dreamlike fantasy "reality" that can never exist.

Optimists instinctively hope for the best. But "hope" is always "then" while Life is only NOW, ever NOW, never then.

However, since inception of the current historically unprecedented post-pandemic "new normal" era, I've become optimistically convinced, and foresee, that a "critical mass" of energetically elevated humans will soon co-create (as a cooperative global family) an infinitely more compassionate world, without fearful ego-mind deprivations and sufferings.

And these faith-based equinox memoirs are deeply dedicated to inspiring and hastening our imminent fulfillment of that optimistic prediction.

Conclusions

I've become and irreversibly remain a faith-based optimist, despite apparent cataclysmic threats against survival of human life as we've known it.  And I equate my instinctive optimism with inner Faith in our sole Divine Source – ineffable, immutable, and Eternal LOVE.

Therefore I'm especially grateful to be able to now share these memoirs with you to help us realize and enjoy supreme fulfillment and happiness from ever optimistic faith in Divine LOVE, until we ascend and transcend all ego-mind perception-deception illusion.

Invocation
"May we ever ascend –
as LOVE and Light,

Beyond-all suffering,
from ego-mind fright."

And so may it be!

Ron Rattner


"Cockeyed optimist" video

To further encourage our heartfelt faith-based optimism, I've embedded below a YouTube video performance of the Rodgers and Hammerstein 'cockeyed optimist' song from "South Pacific".

Please optimistically enjoy it as we energetically ascend as Love and Light,
beyond all suffering from ego-mind fright.




"You should love everyone because God dwells in all beings."

"Have love for everyone, no one is other than you."
~ Sri Ramakrishna Paramahansa
"One day, it was suddenly revealed to me that everything is pure spirit."
~ Sri Ramakrishna Paramahansa
"I have now come to a stage of realization in which I see that God is walking in every human form and manifesting Himself alike through the sage and the sinner, the virtuous and the vicious. Therefore when I meet different people I say to myself, "God in the form of the saint, God in the form of the sinner, God in the form of the righteous, God in the form of the unrighteous."
~ Sri Ramakrishna Paramahansa
"Yes, all one's confusion comes to an end if one only realizes that it is God who manifests Himself as the atheist and the believer, the good and the bad, the real and the unreal; that it is He who is present in waking and in sleep; and that He is beyond all these." …. "God alone is the Doer. Everything happens by His will."
~ Sri Ramakrishna Paramahansa
How can the divine Oneness be seen?
In beautiful forms, breathtaking wonders, awe-inspiring miracles?
The Tao is not obliged to present itself in this way.
If you are willing to be lived by it, you will
 see it everywhere,
even in the most ordinary things.
~ Lao Tzu
"True yogis, uniting their consciousness with God, see with equal eye,
all living beings in God and God in all living beings." . . .
"For those who see me everywhere and see all things in me,
I am never lost, nor are they ever lost to me."
~ Bhagavad Gita, Chapters 6:29-30, Krishna to Arjuna

"The supreme purpose and goal for human life
is to cultivate love."

"He is born in vain, who having attained the human birth, so difficult to get, does not attempt to realize God in this very life."

"Try to cultivate love of God. You are born as a human being only to attain divine love."

"Unalloyed love of God is the essential thing. All else is unreal."

~ Sri Ramakrishna Paramahansa

Ron's Introduction to "Seeing GOD"

Dear Friends,

This memoirs posting about "Seeing God" is inspired by the timeless teachings of famed 19th Century Indian holy man and Avatar, Sri Ramakrishna Paramahansa, which have helped me and countless others.
(See key quotations above and at "Sri Ramakrishna's Timeless Wisdom")

Sri Ramakrishna often experienced communion with the Divine, and from this rare perspective taught that God is immanent in all Earth-entities, while Cosmically transcendent as Infinite LOVE.

Beginning with the following essay-poem about "Seeing God", this memoirs posting explains why I've long experienced great inspiration and felt affinity with Sri Ramakrishna as a Supreme ascetic exemplar of Divine devotion; and it recounts my post-awakening history of gradually perceiving everything as Divine and Holy. The posting includes an attached appendix pdf, about Ramakrishna's history and his teachings.

Sri Ramakrishna's spiritual Truth teachings have already helped millions of people transcend fearful mental sufferings. And in the current unprecedented post-pandemic polarized and fearful era these teachings can help countless more humans find peace of mind by realizing that everyone and everything is Divine and Holy.

Thus today's posting about "Seeing God" is deeply dedicated to helping us fearlessly realize – and possibly perceive – that everyone and everything is Divine LOVE! 

And so may it be!


Seeing GOD
Q. What is God?

A. What isn't God?

Q. Is it possible to see God?

A. Is it possible to not see God?

God is ONE: God is All –
God is immanent in and manifest as
everything and everyone everywhere.

So, everyone sees God everywhere.

But few know it.
Ron's audio recitation of "Seeing GOD"
Ron's explanation of "Seeing GOD"
Dear Friends,
Before my mid-life spiritual awakening I'd never imagined seeing God, nor wondered whether that was possible. But after the awakening (and previously unimagined mystical experiences) I've gradually realized that everyone and everything we perceive is pure spirit, Divine and Holy; that God as Universal Awareness is immanent in all Earth-entities, while Cosmically transcendent as Infinite LOVE. And because of that realization, though physically limited I'm psychologically happier now than ever before in this almost 90 year lifetime.
Encouraged by my Guruji to share spiritual learning experiences, I'm hereafter chronologically outlining the high-points of my history of gradually finding growing happiness by seeing everything as Divine and Holy.
Before midlife
.
Beginning during my pre-adult Jewish acculturation, I accepted the core monotheistic Bible proclamation:
"Hear, O Israel: The LORD our God, the LORD is ONE."
~ Deuteronomy 6:4 

Whereupon, I instinctively conceived of "God" as formless and invisible, and assumed it impossible to perceive God. And, until after my mid-life awakening, I didn't understand Jesus' esoteric pronouncement that "I and the Father are ONE"  [John 10:30]. But after the awakening, that gradually happened.

Beginning after midlife.

In summer 1976, while crying for God with total surrender on a Yosemite mountain top, I beheld within (but did not merge with) the previously unimagined Divine light of ten thousand suns. Thereafter I believed I'd inwardly seen God as formless luminescence, but continued to assume it impossible to outwardly perceive God.

Then, following my 1982 'trip of a lifetime' pilgrimage to India, I discovered the teachings of Sri Ramakrishna Paramahansa, and began wondering about possibly "seeing God" outwardly. I hadn't yet learned about Sri Ramakrishna before traveling to India. But that happened when our tour group visited Dakshineshwar, his long-time residence place outside Calcutta (now Kolkata).  There – almost a hundred years after Sri Ramakrishna's mahasamadhi – I experienced his presence as shakti life-force with an amazingly intense feeling of déjà vu, while visiting a room where he had lived; a place which felt so harmoniously familiar to me that it seemed I could happily remain there forever.

On returning from India to the U.S., I began reading with curiosity and fascination about Ramakrishna's amazing life and his teachings.  I learned that like Saint Francis of Assisi, he too was an ascetic mystic who completely renounced worldly pleasures and lived in utter simplicity.  Ultimately, of all the saints whose stories I'd reflected on, I came to feel most intuitive affinity with Sri Ramakrishna as well as with Saint Francis of Assisi, both of whom were extraordinary ascetic exemplars of non-dual Divine Love and devotion, blessed with 'the gift of tears'.  Though Francis had lived in a vastly different age and culture seven hundred years before Sri Ramakrishna, they had similar devotional traits with which I've felt great rapport.

Ramakrisha's history and teachings about God and Love.
See: Ramakrisha biography and teachings

Sri Ramakrishna's amazingly unique spiritual life experiences and his timeless teachings are chronologically summarized in the attached biographical pdf file linked above and here. That biography recounts how his spiritual life-path began as a devotional Hindu bhakta rather than as a wisdom path jnani, like Sri Ramana Maharshi.

At first he scrupulously and successfully practiced traditional Hindu devotional paths.  Thereafter, with intense aspiration, he quickly realized the non-dual, transcendental or Brahman aspect of God which is Divine communion beyond human description. Then, with persistent and amazing aspiration, he took initiations into Islam and Christianity. And he assiduously followed their sadhanas, which culminated in his realization of God by each monotheistic religious path. From then on he mostly remained in blissful samadhi.

While continuously existing in states of spiritual ecstasy, Sri Ramakrishna affirmed (to his principal disciple Swami Vivekananda and others) that he had indeed "seen God".   And ultimately he taught that God is All – immanent in all Earth-entities, while Cosmically transcendent as Infinite LOVE.

My Hindu devotional practices before and after "shaktipat".

Before and after my 1978 "shaktipat" initiation, I instinctively began and later followed only one of the various Hindu devotional paths which Ramakrishna successively practiced; I worshipped God as "Rama", like my beloved Guruji.

In previous memoirs I have explained the importance of the Rama mantram in my transformational process; how spontaneously I began reciting "Rama" before receiving shaktipat initiation from Guruji, who synchronistically gave me a Ram mantra. And I've told why I believe that the power of my Ram mantra helped my miraculous survival and recovery from near death taxicab rundown injuries eight years ago.

Also, I've told how Mahatma Gandhi – my hero and first inner spiritual guide – recited "Rama" from childhood until his assassination; that even as Gandhi fell to an assassin's pistol fired point-blank into his heart, in forgiveness he uttered nothing but "Rama, Rama …" his last words from the eternal depths of his heart.

After my 1978 "shaktipat" initiation, as instructed by Guruji I began worshipping God as "Rama". And as foreseen by Guruji, I became (and remained) constantly "engrossed in devotion" and blessed with the 'gift of devotional tears'.

Ultimately I long ago irreversibly accepted Sri Ramakrishna's timeless teachings, but couldn't follow the many other devotional paths which Ramakrishna successively practiced, except worshiping God as "Rama".

As sometimes recommended by Ramakrishna, I daily worshiped God as Rama with the attitude of Hanuman, by repeatedly reciting the Hanuman Chalisa, and Ram mantras for many years. Hanuman became and remains symbolic of my Supreme devotion and Faith in God. And I became instinctively and spontaneously harmonious with "Rama", as God.

Although, I eventually stopped reciting the Hanuman Chalisa, the Rama mantram has remained as an inherent and autonomic essence of my existence. Like my hero Mahatma Gandhi, the name "Rama" is constantly "in my heart, if not actually on my lips".

Even now at almost age ninety, I often spontaneously tearfully call out "Rama" gratefully remembering that I'm feeling and seeing God in everyone and everything everywhere.

Dedication of "Seeing GOD"

May the foregoing quotations, verses, and teachings encourage us all to ever remember – and perhaps perceive – that everyone and everything is Divine!

And so may it be!

Namasté!

Ron Rattner