Posts Tagged 'Ramakrishna'
"There is no liquid like a tear from a lover's eye."
~ Rumi
"When the tears course down my cheeks,
they are a proof of the beauty and grace of my beloved."
~ Rumi
"There is a sacredness in tears.
They are not the mark of weakness, but of the Power.
They speak more eloquently than ten thousand tongues.
They are messengers of overwhelming grief and unspeakable love."
~ Rumi
"Do you want deliverance from the bonds of the world?
Then weeping profusely, you will have to cry out from the bottom of your heart:
Deliver me, Great Mother of the World, deliver me!….
When by the flood of your tears the inner and outer have fused into one, you will find her whom you sought with such anguish, nearer than the nearest, the very breath of life, the very core of every heart…."
~ Anandamayi Ma

Tears are the solution
for dissolution
of other into Mother –
Mother of All,
Mother of Mystery.
~ Ron Rattner, Sutra Sayings

Ron's Introduction to The Emotion Of Devotion – Crying For God

Dear Friends,

Before my midlife spiritual awakening (over forty years ago), I didn't cry as an adult. But ever since then I've frequently wept for God. And this 'gift of tears' has been fundamental to my still unfolding spiritual evolution.

So this posting emphasizes the potentially immense importance of a teary devotional spiritual path, with quotations from spiritual texts and masters, and a brief memoirs summary of my devotional crying experiences.

In other postings I've explained that I've accepted Eastern nondualism wisdom teachings as fundamental, while remaining primarily spiritually devotional. Also explained, is that we have unique karmic and spiritual paths and perspectives. So each of us must follow our hearts for spiritual evolution.

Whatever our unique path, these SillySutras postings are dedicated to helping us find ever growing happiness in life, as we lovingly evolve (individually and collectively) to ultimate Truth beyond ego-mind illusion.

And so may it be!

Ron Rattner


Quotation Collection on The Emotion Of Devotion – Crying For God

"He who loves me is made pure; his heart melts in joy. He rises to transcendental consciousness by the rousing of his higher emotional nature. Tears of joy flow from his eyes, his hair stands on end, his heart melts in love. The bliss in that state is so intense that, forgetful of himself and his surroundings, he sometimes weeps profusely, or laughs, or sings, or dances; such a devotee is a purifying influence upon the whole universe."
~ Srimad Bhagavatam 11.8 (Lord Krishna to His disciple Uddhave)

"The fruits of the inner man begin only with the shedding of tears. When you reach the place of tears, then know that your spirit has come out from the prison of this world and has set its foot upon the path that leads towards the new age."
~ Isaac of Nineveh, 7th C. Orthodox Saint and Persian Mystic

"There comes a holy and transparent time
when every touch of beauty 
opens the heart to tears.
This is the time the Beloved of heaven 
is brought tenderly on earth.
This is the time of the opening of the Rose."
~ Rumi

"Jesus wept."
~ John 11:35

"The soul would have no rainbow if the eye had no tears."
~ Native American proverb

What soap is for the body, tears are for the soul.
~Jewish Proverb

"There is a palace that opens only to tears."
~ Zohar (source of Kabbalah)

"They that sow in tears shall reap in joy."
~ Psalms 126:5

"Weeping may endure for the night,
but joy cometh in the morning"
~ Psalms 30:5

"Man is like an onion.
When you peel away the layers,
all that is left is tears."
~ Rabbi Nachman of Bratslav, Hasidic master

Q. "Under what conditions does one see God?"
A. "Cry to the Lord with an intensely yearning heart and you will certainly see Him. People shed a whole jug of tears for wife and children. They swim in tears for money. But who weeps for God? Cry to Him with a real cry."
~ Sri Ramakrishna Paramahansa

"When the child refuses to be comforted by anything except the mother's presence, she comes. If you want to know God, you must be like the naughty baby who cries till the mother comes."
~ Paramahansa Yogananda

"Crying to God for five minutes is equal to one hour of meditation."
"The state that we attain by calling and crying to God is equal to the bliss that the yogi experiences in samadhi."
~ Mata Amritanandamayi  (Ammachi)

"As a [thirsty] stag longs for flowing streams,
so longs my soul for thee, O God.
My soul thirsts for God,
for the living God.
When shall I come and behold
the face of God?
My tears have been my food
day and night.
~ Psalm 42.1-3

"You know, if you weep before the Lord, your tears wipe out the mind's impurities of many births, and his grace immediately descends upon you. It is good to weep before the Lord."
~ Sri Ramakrishna (to Sivananda)

"When, hearing the name of Hari or Rama once,
you shed tears and your hair stands on end,
then you may know for certain that you do not
have to perform such devotions as the sandhya any more.
Then only will you have a right to renounce rituals;
or rather, rituals will drop away of themselves."
~ Sri Ramakrishna

'Where does the strength of an aspirant lie? It is in his tears. As a mother gives her consent to fulfill the desire of her importunately weeping child, so God vouchsafes to His weeping son whatever he is crying for"
~ Sri Ramakrishna

"Devotional practices are necessary only so long as tears of ecstasy do not flow at hearing the name of Hari. He needs no devotional practices whose heart is moved to tears at the mere mention of the name of Hari."
~ Sri Ramakrishna

"The waves belong to the Ganges, not the Ganges to the waves. A man cannot realize God unless he gets rid of all such egotistic ideas as 'I am such an important man' or 'I am so and so'. Level the mound of 'I' to the ground by dissolving it with tears of devotion."
~ Sri Ramakrishna

"Even avatars have to desire to be in God in every moment. And when avatars die, they desire with all their being to be united with God. ….. Look at Ramakrishna. How much he wept and prayed for the Divine Mother."
~ Mother Meera to Andrew Harvey, "Hidden Journey", Page 236

Ron's experiences with The Emotion Of Devotion – Crying For God

I cried for twenty four hours upon my profound mid-life Self identity realization. It was first time in my entire adult life that I remember crying. But ever since that unforgettably transformational event, I have often shed profuse tears.

While wondering why I was crying so much, I soon realized that with intense longing I was crying for God. (See Beholding The Eternal Light Of Consciousness.)

Then after meeting my beloved Guruji, Shri Dhyanyogi Madhusudandas, I gradually learned that I had been immensely blessed with a pronounced predisposition for the spiritual path of Divine devotion – the path of Love. And that my continual longing and crying for God was an extraordinary blessing recognized in all enduring devotional paths; known in Hinduism as Bhakti, and in Christianity as the "gift of tears".


Though never a frequent flyer, for many years I became – and remain – a frequent crier. Tears have helped purify my body and nervous system permitting 'peek experiences' of higher states of consciousness. And I have regularly experienced numerous other spontaneous and unpremeditated actions, feelings and sensations which have helped advance my spiritual evolution.
For example, when not crying I often had what I now call 'alternative LSD experiences' of spontaneous – and sometimes ecstatic – Laughing, Singing, and Dancing. Though with advanced age singing and dancing have been curtailed, I still often privately experience spontaneous outbursts of laughing, crying, and calling to God.
Because crying spells and other spontaneous devotional behaviors have happened so often for over forty years, they are mentioned many times in my Memoirs; for example, in an introductory chapter about crying for god and in chapters about déjà vu experiences during pilgrimages to India and Assisi.
Dedication
May the foregoing quotations and teachings from spiritual texts and masters help us all understand the importance of longing for God with the emotion of devotion.
Also may these writings encourage and inspire us to open our hearts with deep respect, empathy and compassion for all people and all Life everywhere – as Divinity manifest.
And so may it be!
Ron Rattner

"I have now come to a stage of realization in which I see that God is walking in every human form and manifesting Himself alike through the sage and the sinner, the virtuous and the vicious. Therefore when I meet different people I say to myself, "God in the form of the saint, God in the form of the sinner, God in the form of the righteous, God in the form of the unrighteous."
~ Ramakrishna Paramahansa
"Yes, all one's confusion comes to an end if one only realizes that it is God who manifests Himself as the atheist and the believer, the good and the bad, the real and the unreal; that it is He who is present in waking and in sleep; and that He is beyond all these." …. "God alone is the Doer. Everything happens by His will."
~ Ramakrishna Paramahansa
How can the divine Oneness be seen?
In beautiful forms, breathtaking wonders, awe-inspiring miracles?
The Tao is not obliged to present itself in this way.
If you are willing to be lived by it, you will
 see it everywhere,
even in the most ordinary things.
~ Lao Tzu
"The self, harmonized by yoga,
sees the Self abiding in all beings,
all beings in the Self, everywhere he sees the same."
~ Bhagavad Gita, Chapter 6, Krishna to Arjuna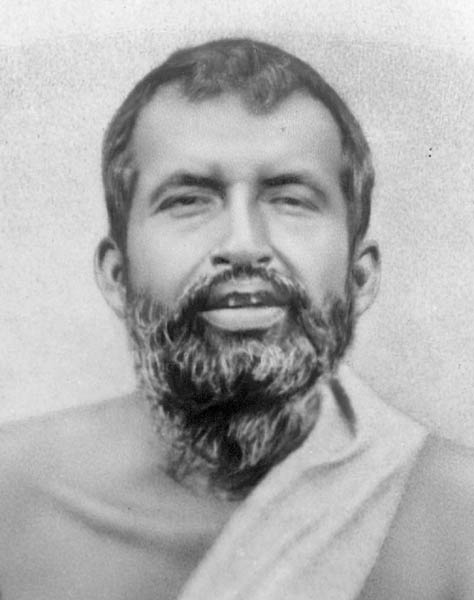 Sri Ramakrishna Paramahamsa
Seeing GOD?
Q. What is God?

A. What isn't God?

Q. Is it possible to see God?

A. Is it possible to not see God?

God is ONE: God is All –
God is immanent in and manifest as
everything and everyone everywhere.

So, everyone sees God everywhere.

But few know it.
Ron's audio recitation of "Seeing GOD?"
Ron's explanation of "Seeing GOD?"
Dear Friends,
Have you ever imagined seeing God?  Or wondered whether that was possible? Or heard of anyone claiming to see God?
During my early Jewish acculturation, I accepted the core Bible proclamation:

"Hear, O Israel: The LORD our God, the LORD is ONE."
~ Deuteronomy 6:4 
Thereafter, I consistently conceived of "God" as formless and invisible and assumed it impossible to perceive or to be enfolded in God. So I never understood Jesus' esoteric pronouncement that "I and the Father are ONE"  [John 10:30].
But after my mid-life awakening, while crying for God with total surrender on a Yosemite mountain top, I beheld within (but did not merge with) the Divine light of ten thousand suns. Thereafter I began wondering about "seeing God", especially after reading the Gospel and teachings of Sri Ramakrishna Paramahansa – famed 19th century Indian holy man who often experienced communion with the Divine.
I first learned about Sri Ramakrishna while at Dakshineshwar, his long-time residence place outside Calcutta (now Kolkata) during my 1982 'trip of a lifetime' pilgrimage to India.  There – almost a hundred years after Sri Ramakrishna's death – I experienced his life-force presence with an intense feeling of déjà vu while visiting a room where he had lived; a place which felt so comfortably familiar to me that it seemed I could happily remain there forever.
On returning to the US I began reading with fascination about Ramakrishna's life and his teachings.  I learned that like Saint Francis of Assisi, he too was an ascetic mystic who completely renounced worldly pleasures and lived in utter simplicity.  Ultimately, of all the saints whose stories I'd reflected on, I came to feel most intuitive affinity with Sri Ramakrishna as well as with Saint Francis of Assisi, both of whom were extraordinary ascetic exemplars of Divine devotion and blessed with 'the gift of tears'.  Though Francis had lived in a vastly different age and culture seven hundred years before Sri Ramakrishna, they had similar devotional traits with which I've felt great rapport.
As an enlightened mystic Sri Ramakrishna affirmed to his principal disciple Swami Vivekenanda and others that he had indeed seen God during states of spiritual ecstasy.  At first he worshiped God through a personal deity as the compassionate Mother, or the all-loving Father.  Thereafter, he aspired to and quickly realized the transcendental or Brahman aspect of God which is Divine communion beyond human description.
Ultimately he taught that God is All – omnipresent as all manifestation, while timelessly transcendent as unmanifest Infinite Potentiality.
Thus the foregoing whimsical verses about seeing GOD were inspired by Sri Ramakrishna and his teachings.
May those verses and teachings encourage us all to ever remember – and perhaps perceive – that everyone and everything is Divine!
And so may it be!
Namasté!
Ron Rattner



"Kundalini is the cosmic power in individual bodies.
It is not a material force like electricity, magnetism, centripetal or centrifugal force.
It is a spiritual potential, Shakti, or cosmic power.
In reality it has no form."
~ Sri Swami Sivananda

"Kundalini – Psychosis or Transcendence?"

While gradually becoming interested in Eastern spiritual ideas, I persisted in trying to understand scientifically my continuing unexplained metaphysical experiences.

So I subscribed to Psychic Magazine and looked for other possibly relevant writings. Then, synchronistically, I found and read with tremendous interest and fascination a medical case study book by Lee Sannella, MD, entitled: "Kundalini-Psychosis or Transcendence" about an esoteric psychophysiological transformation process long known to Indian yogis and adepts but not to Western medicine; a process initiated by awakening of dormant 'kundalini' life force energy at the base of the spine.

The book defined the kundalini process as an "evolutionary process taking place in the human nervous system". As I read therein medical case studies of fifteen different people undergoing the kundalini process, I realized that I too had been experiencing that process since my April 1976 spontaneous rebirth episode; and, that the kundalini process might explain some of my 'weird' new experiences.

Some of the many extraordinary psychic phenomena which I was then experiencing, I associated with India. Perhaps the most surprising and memorable of these experiences happened one night while I was fast asleep in my studio apartment.

In the middle of the night, I was suddenly awakened and sat up in bed with open eyes in the completely dark room. Before me, I beheld in startled amazement the clear image of a woman's face and upper torso, wearing a head scarve common to Hindu women. But instead of appearing in life-like colors the woman's image was all luminous gold. Next, the golden female image was replaced by another amazing image; in its stead, I beheld my own clear image also in luminous gold, as if the Indian woman's golden image had morphed into mine, or as if my image had emanated from that of the Indian woman.

It was especially startling for me to be viewing in front of my physical body, my own luminous image. Since beholding those extraordinary golden images, I have wondered why they appeared and their significance, if any.

I can not yet say why I so beheld my own image. But ensuing events seemed to resolve the puzzle of why I had seen an image of an Indian woman when I then knew no Indian woman and hardly anything about Indian culture.

I later learned of the importance in Hinduism of the Divine Mother conception and of various deity forms representing it. Foremost of those deities was Shakti – believed to manifest through female embodiment and fertility – while also existing in males as unmanifest infinite potentiality. In ensuing years, I met various well known adept Indian female spiritual teachers considered embodiments of Divine Mother. And I learned that Vedic scriptures declare Shiva and Shakti to be inextricably associated with each other in this phenomenal world, as the male and female aspects of the Divine.

The goal of the kundalini yoga transformative process is ascent of activated Shakti life force energy from the base of the spine to the highest energy vortex (or chakra) atop the cranium where – in the pinnacle of human experience – Siva and Shakti merge in Divine illumination.

Renowned 19th century mystic saint Ramakrishna Paramahamsa – with whom I later felt great affinity – legendarily worshiped Divine Mother as Kali, who revealed Herself to him as a "a limitless, infinite, effulgent Ocean of Consciousness" only after he threatened suicide if She did not appear. Thereafter, Ramakrishna taught that God is both formed and formless and can appear to the devotee either way.

Apart from these unforgettable golden image visions, also suggestive of India had been my spontaneous and continuous recitation in Hawaii of "Rama", an Indian name of God, and the unexpected appearances of Mahatma Gandhi as my first spirit guide.

Later I had repeated inner appearances of an elderly man with a beard who didn't look like a modern Westerner, but like an Indian. I had not yet begun any meditation practice. But, before retiring I would often close my eyes in quiet contemplation and sometimes see 'inner pictures'. One of those inner pictures which kept recurring was the somewhat blurred form of the same elderly bearded Indian man.

To satisfy my curiosity about why I was having these inner experiences, and about the esoteric kundalini process, I wanted to meet Dr. Sannella, who practiced in the Bay Area as both a psychiatrist and ophthalmologist. So, on learning that he was a principal officer of the California Society For Psychical Study, I joined the society and began attending its bi-monthly meetings, where I met him.

One evening in early April 1978, I attended a regular meeting of the San Francisco Psychic Society. As I entered the room, I saw a poster announcing a forthcoming series of meditation programs at the University Christian Church in Berkeley. The poster featured a prominent picture of an elderly man with a gray beard. (See photo below.) As the meeting progressed, I irresistibly kept looking at the poster. Something about the picture of the old man fascinated me.

After the formal meeting concluded, I asked Dr. Lee Sannella about the the pictured meditation teacher and announced meditation programs. He told me that this would be a very rare opportunity for "darshan" of an Indian master yogi, Shri Dhyanyogi Madhusudandas, with power to activate and guide the Kundalini transformation process. I took a printed flyer with details of the schedule and decided to attend the first of the announced meditation programs.

A crucially pivotal new life phase was about to begin. I was about to evolve spiritually from being a secular Hebrew, to becoming a "born-again Hindu".