"I have now come to a stage of realization in which I see that God is walking in every human form and manifesting Himself alike through the sage and the sinner, the virtuous and the vicious. Therefore when I meet different people I say to myself, "God in the form of the saint, God in the form of the sinner, God in the form of the righteous, God in the form of the unrighteous."
~ Ramakrishna Paramahansa
"Yes, all one's confusion comes to an end if one only realizes that it is God who manifests Himself as the atheist and the believer, the good and the bad, the real and the unreal; that it is He who is present in waking and in sleep; and that He is beyond all these." …. "God alone is the Doer. Everything happens by His will."
~ Ramakrishna Paramahansa
How can the divine Oneness be seen?
In beautiful forms, breathtaking wonders, awe-inspiring miracles?
The Tao is not obliged to present itself in this way.
If you are willing to be lived by it, you will
 see it everywhere,
even in the most ordinary things.
~ Lao Tzu
"The self, harmonized by yoga,
sees the Self abiding in all beings,
all beings in the Self, everywhere he sees the same."
~ Bhagavad Gita, Chapter 6, Krishna to Arjuna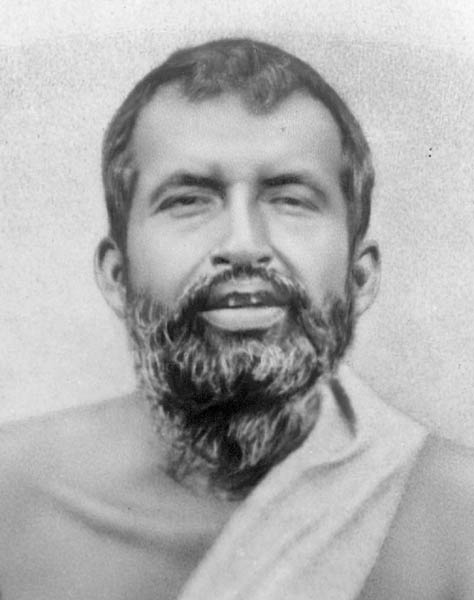 Sri Ramakrishna Paramahamsa
Seeing GOD?
Q. What is God?

A. What isn't God?

Q. Is it possible to see God?

A. Is it possible to not see God?

God is ONE: God is All –
God is immanent in and manifest as
everything and everyone everywhere.

So, everyone sees God everywhere.

But few know it.
Ron's audio recitation of "Seeing GOD?"
Ron's explanation of "Seeing GOD?"
Dear Friends,
Have you ever imagined seeing God?  Or wondered whether that was possible? Or heard of anyone claiming to see God?
During my early Jewish acculturation, I accepted the core Bible proclamation:

"Hear, O Israel: The LORD our God, the LORD is ONE."
~ Deuteronomy 6:4 
Thereafter, I consistently conceived of "God" as formless and invisible and assumed it impossible to perceive or to be enfolded in God. So I never understood Jesus' esoteric pronouncement that "I and the Father are ONE"  [John 10:30].
But after my mid-life awakening, while crying for God with total surrender on a Yosemite mountain top, I beheld within (but did not merge with) the Divine light of ten thousand suns. Thereafter I began wondering about "seeing God", especially after reading the Gospel and teachings of Sri Ramakrishna Paramahansa – famed 19th century Indian holy man who often experienced communion with the Divine.
I first learned about Sri Ramakrishna while at Dakshineshwar, his long-time residence place outside Calcutta (now Kolkata) during my 1982 'trip of a lifetime' pilgrimage to India.  There – almost a hundred years after Sri Ramakrishna's death – I experienced his life-force presence with an intense feeling of déjà vu while visiting a room where he had lived; a place which felt so comfortably familiar to me that it seemed I could happily remain there forever.
On returning to the US I began reading with fascination about Ramakrishna's life and his teachings.  I learned that like Saint Francis of Assisi, he too was an ascetic mystic who completely renounced worldly pleasures and lived in utter simplicity.  Ultimately, of all the saints whose stories I'd reflected on, I came to feel most intuitive affinity with Sri Ramakrishna as well as with Saint Francis of Assisi, both of whom were extraordinary ascetic exemplars of Divine devotion and blessed with 'the gift of tears'.  Though Francis had lived in a vastly different age and culture seven hundred years before Sri Ramakrishna, they had similar devotional traits with which I've felt great rapport.
As an enlightened mystic Sri Ramakrishna affirmed to his principal disciple Swami Vivekenanda and others that he had indeed seen God during states of spiritual ecstasy.  At first he worshiped God through a personal deity as the compassionate Mother, or the all-loving Father.  Thereafter, he aspired to and quickly realized the transcendental or Brahman aspect of God which is Divine communion beyond human description.
Ultimately he taught that God is All – omnipresent as all manifestation, while timelessly transcendent as unmanifest Infinite Potentiality.
Thus the foregoing whimsical verses about seeing GOD were inspired by Sri Ramakrishna and his teachings.
May those verses and teachings encourage us all to ever remember – and perhaps perceive – that everyone and everything is Divine!
And so may it be!
Namasté!
Ron Rattner