"Every feature of the Porziuncola lifts the heart and mind to God"
~ St. Padre Pio
"The winds of grace are always blowing, but you have to raise the sail."
~ Sri Ramakrishna
Above all the grace and the gifts that Christ gives to his beloved is that of overcoming self.
~ Francis of Assisi
"The deeds you do may be the only sermon some persons will hear today"
~ Francis Of Assisi
Remember with gratitude,
Life is beatitude –
Even its sorrows and pain;
For we're all in God's Grace,
Every time, every place, and
Forever (S)HE will reign!
~ Ron Rattner, Sutra Sayings

A Day of Grace: Rediscovering the Porziuncola

When I moved from Chicago to San Francisco in 1960, I was largely uninformed about religions other than Judaism, and knew virtually nothing about saints. Even though Saint Francis of Assisi was patron saint of my new home, I remained ignorant of his life story until after my profound spiritual opening in 1976.
Then, through a series of synchronistic inner visions and outer events I developed a deep inner rapport with Saint Francis. And his prayer became – and remained – an important part of my daily spiritual practice.
On retirement from law practice in 1992, I made pilgrimages to India and Italy to pay my respects both to my spiritual master Dhyanyogi Madhusudandas and to Saint Francis.
On arriving in Italy in Springtime 1992, I rented a car at the Rome airport and drove northward to the Umbrian town of Assisi, where Francis was born and resided for most of his extraordinary life. As I arrived at the outskirts of Assisi, I immediately experienced a remarkable feeling of déjà vu, and was so overcome with emotion that I had to pull over to the side of the road as I began crying deeply and intensely for a long time.
My subsequent stay in Assisi and excursion to Mount La Verna in Tuscany – where Francis became the first saint to receive the crucifixion stigmata of Christ – proved magical, with unforgettable spiritual experiences.
One of the most profound of those experiences happened as I visited a tiny frescoed chapel called Porziuncola ["the little portion"]. It had been restored from a ruined condition by Francis and his early followers to become first home of the Franciscan order. Here, Francesco lived, wrote his rule, created his order of friars minor and consecrated his friend Clara (Chiara), who became Santa Clara, founder of a female order dedicated to Franciscan ideals of holiness and poverty. Francis so loved this little place that he chose to die there.
As I entered the Porziuncola at Assisi, I experienced a palpable aura of love and was overcome with emotion, cried deeply and intensely and lost track of time. Ever since then, a memory of that exquisitely simple little chapel and its aura of supernal Love has remained enshrined in my heart. Although I have never since returned that holy Assisi place, which Saint Francis named and loved, my cherished memory of the Porziuncola was revived following a surprising and synchronistic 'holy encounter' in San Francisco, almost twenty years later. Here's what happened.
After retirement many years ago, it became my practice to walk almost daily along San Francisco Bay. Most often I walked to the Bay following pedestrian paths beside the Fort Mason Great Meadow, which is part of the Golden Gate National Recreation Area (GGNRA), our nation's newest National Park.
As I arrived at Fort Mason on a beautiful and sunny June morning, I was obliged to detour from my usual path to the Bay. The National Park Service had closed the pedestrian paths around the Great Meadow for repaving. So to reach the Bay I had to walk across the grassy meadow. There I saw a very unusual sight. Perhaps hundreds of children, attended by mostly senior adults, many dressed in white, were gathered in the meadow. Many tents were set up for children's activities, such as face painting and fortune telling. Sweet music was playing on loud speakers.
I was quite impressed by this charming scene, of sweet children and caring adults, and I sensed an especially loving atmosphere pervading the meadow. Curious, I asked the first chaperone I encountered, "what's happening?". A lovely senior lady told me that this was a children's fair sponsored by the Meher School of Lafayette (a San Francisco suburb) for its students and for children from less affluent San Francisco neighborhoods, who had also been invited. [*see footnote]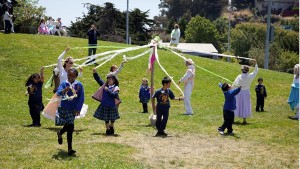 Inspired by the love I perceived and felt there, I continued walking through the meadow and toward the Bay. After hiking out to the end of San Francisco Municipal Pier, I began returning home. Soon, I noticed an unopened bottle of spring water apparently dropped by a cyclist. I picked up the water bottle, determined to give it to someone at the children's festival in the Great Meadow.
As I arrived again at the meadow, I was met by a tall friendly (and thirsty) man named Peter, who seemed to be watching out at the perimeter of the children's gathering. Though we'd never met, he somehow seemed familiar. In greeting me Peter asked, "would you like to know what's happening?" After I recounted what I already knew about the festival and gladly gave Peter the bottle of spring water, he told me more details of this event.
Peter explained that this gathering was like a mini-Umbrian children's festival inspired by universal values of Saint Francis of Assisi which are similar to those of the Meher School; and, that periodically the school sponsors a play about the life of Francis performed at various venues, including at The National Shrine of Saint Francis of Assisi, located in San Francisco's oldest church in the North Beach district.
I was very surprised when Peter mentioned a national shrine of Saint Francis of Assisi located in San Francisco. Though I'd then lived in San Francisco more than fifty years, I don't remember ever before hearing about such a national shrine. Moreover as Peter described the shrine, I was amazed to learn that it included an almost exact replica of the Porziuncola at Assisi, recently constructed at the instance of former San Francisco supervisor Angela Alioto.
Peter and I then exchanged stories about our respective springtime visits to Assisi and our heartfelt affinity with Saint Francis. On parting we shared contact information.
A few days later, I received an email invitation from Peter's friend and colleague, Terry, to tour the San Francisco Porziuncola shrine, which I quickly accepted. Terry, was both music director of the Meher School's sponsoring non-profit organization, Sufism Reoriented, and a member of the Knights of St. Francis, a volunteer organization which helps safeguard the national shrine.
The tour proved magical for me. With Terry and Peter as guides, I beheld for the first time the San Francisco "Porziuncola Nuova". Before entering, I noticed carved in Italian on the second marble step a quote from Francesco: "Vi voglio tutti in Paradiso" ["I want you ALL in Paradise"]. On learning what those words meant, I experienced instant heart-felt emotion and tears.
As I entered the sanctuary that emotion deepened, and soon overcome by it I was obliged to sit silently in a pew, just as I did in Assisi. And, as in Assisi, profuse tears flowed. Unable to talk, I sat and cried for a while as Peter compassionately attempted to comfort me. In the San Francisco Porziuncola I didn't lose track of time as I did in Assisi, and after crying for a while resumed conversation with Terry and Peter.
But I continued feeling so emotional in that sacred space that I was unable to focus on details of the beautiful pictorial art and artifacts around me, which I later observed on other visits.
I did however notice a prominently displayed letter Tau, the last letter of the Hebrew Alphabet which in biblical times closely resembled the letter T. [See below.] The Tau was adopted by Francesco as his own symbol or logo which he painted on the walls and doors of places where he stayed, and used in his writings as his only signature. (Synchronistically, I had a few days earlier been discussing with a friend possible use of a Tau as a logo for The Perennial Wisdom Foundation, the new non-profit corporation which I was then forming.)
Before exiting the "Porziuncola Nuova" I gazed upon and gently touched one of the holiest Franciscan relics in the world, a beautifully displayed rock believed to have been used by Francis as a crude tool in his reconstruction of the Porziuncola.
After departing the shrine, Terry and Peter and I adjourned for lunch in a nearby restaurant, where we shared stories of how Divine Grace has continuously blessed our lives, as it did on that magical day.
And in now reflecting on that wonderful day of rediscovery, I realize that it couldn't have happened but for my synchronistic detours through the grassy Great Meadow and desire to share a bottle of spring water which I happened to find while walking by the Bay.
It seems that Divine Grace often works through synchronicity, and that the more alert we become to such synchronicity the more it happens.
What do you think?
* I later learned that this children's fair was part of an ongoing national program called Francis in the Schools founded in 2010 by Dr. Carol Weyland Conner, spiritual director of Sufism Reoriented.
" 'Reality' is a holographic theater of the mind."
~ Ron Rattner, Sutra Sayings
"This world is wrought with naught but thought."
~ Ron Rattner, Sutra Sayings

In The Luckiest Day of My Life ~ Meeting My Spiritual Master, I shared with you that in 1978 I serendipitously met and and received shaktipat initiation from my spiritual master, Sri Dhyanyogi Madhusudandas; and that afterwards I was fortunate to see and be with him on various memorable occasions before he returned to India in 1980. Here I will describe the first of those meetings which was especially revelatory and memorable.

Soon after the shaktipat initiation, I received a phone call from Kusuma, then one of Guruji's translators and cooks, who had moved to the East Bay from Bombay. Guruji was then staying with Kusuma and her family in an Oakland apartment.

She informed me: "Guruji would like to go to San Francisco to see Grace Cathedral and Saint Mary's Cathedral", and she asked if I would come there the next day to show him these significant shrines. Since I had no conflicting office or court appointments I readily agreed, considering it a great privilege.

At that time I owned an almost new two door Volvo sedan [with license #108-MQJ] which I had purchased on separation from my ex-wife (who kept our one family car). The Volvo had numerous problems which had caused me considerable annoyance and buyer's remorse, and many extra trips to the Volvo dealer. I had even purchased "The Lemon Book" by Ralph Nader, and was considering a manufacturer take-back request.

The next day, in my Volvo, I arrived punctually at Kusuma's Oakland apartment and rang the doorbell. Soon Guruji emerged accompanied by his American successor, Anandi Ma, and by Saskia, a doctor and acupuncturist from Holland.

After the women got into the back of the car, I helped Dhyanyogi into the front 'bucket' passenger seat, and asked him: "Guruji, can I fasten your seat belt?" To which he responded: "That won't be necessary."

This reply was the beginning of a very surprising and extraordinary day for me. And as an 'up-tight' lawyer concerned about complying with California's seat belt law, it was the unsettling first time that anyone in my car hadn't fastened their seat belt.

Yet, he was the Guru. So for the first time, I began driving feeling a bit "unhinged" with an unbuckled front seat passenger. Within a few minutes, I had another unprecedented, extraordinary experience.

As we arrived at the Bay Bridge toll gate plaza, I lowered the car window and grabbed three quarters to pay the 75 cent toll. I extended my open hand with the coins toward the toll taker, who reached out to receive them. But suddenly he looked at Guruji and stopped reaching. Instead of taking the quarters, he waived us on, saying: "You look like nice people. Go ahead!"

So, for the first time in my life, with an unbuckled front seat passenger, I crossed the Bay Bridge toll bridge toll free. On the San Francisco side of the bridge, I turned off the freeway and drove toward the Grace Cathedral atop Nob Hill. En route we passed the International Building, where I then had my law office on the 21st floor. So, I exclaimed spontaneously: "Guruji, my office is at the top of that building". "Very good," he responded. And we drove on.

Soon thereafter, I had another extraordinary and unprecedented experience. As we approached Grace Cathedral, I began my then customary inner dialogue with the "voice in my head", thinking about where I'd park, what I'd show Guruji, what might interest him, and other similar thoughts. But as this inner dialogue was happening Dhyanyogi would regularly make some 'casual' comment relevant to my thoughts – as if to answer or comment on that "voice in my head". Subtly he was letting me know that he could read my thoughts. And I soon 'got' that message.

Prior to that day, and following my rebirth experience, I had experienced unwitting moments of knowing thoughts of others. So, I realized that such 'mind reading' was possible. But this was the first time that I had ever been with someone who could read minds at will.

Guruji's most dramatic and memorable demonstration of his clairvoyant powers that day, happened on conclusion of our sight seeing trip to San Francisco. After visiting Grace Cathedral and Saint Mary's Cathedral, I drove us back to Oakland, parked in front of Kusuma's apartment building, and quickly got out of the Volvo so I could open the passenger side door and help Guruji exit the car.

As I opened his door, I asked: "Can I help you Guruji?" Instead of answering that question, he said: "This is a very nice car. Would you like me to bless it?" Stunned, I replied, "Yes". So he blessed the Volvo and got out without my help. Then I pushed forward his vacated seat and helped Anandi Ma and Saskia exit from the back seat.

On driving across the Bay Bridge back to San Francisco, I used the unspent quarters saved in my earlier crossing. Returning home, I realized that Dhyanyogi was not only able to read my thoughts as they happened in serial time, but that he apparently knew my past thoughts about the Volvo "lemon". And I wondered if he had influenced the mind of the Bay Bridge toll taker to let us pass without paying.

The next morning, I experienced a "miraculous" epilogue to that unforgettable "sightseeing trip" with Guruji. On entering my twenty first floor office, the office was completely suffused with the ambrosial fragrance of roses. But, its windows were sealed, and there were no roses to be seen anywhere in the entire law office suite. So, how did that happen?

Soon afterwards I told Anandi Ma about the rose fragrance episode and asked if she could explain it. Smilingly she replied: "Oh, that's Guruji's calling card, when he makes astral visits". Later, I had repeated experiences of rose fragrance 'visits' by Guruji and other living mystics. And in 1992 I experienced the scent of violets while meditating in Italy at the tomb of St. Padre Pio, who during his lifetime was known for that "miracle", amongst others. Padre Pio's posthumous 'visit' then, reminded me of the survival of our subtle bodies, after demise of the physical form.

Oh yes, there was still another amazing epilogue to that unforgettable "sight-seeing" trip. Miraculously after Guruji blessed the Volvo, I drove it for many more years before encountering another problem. "The Lemon Book" by Ralph Nader became an unnecessary possession, as I enjoyed trouble-free Volvo driving.

Spurred by that experience, I began wondering how a powerful person's mind could so influence apparently inanimate matter. Gradually, I came to the conclusion that all forms in this "reality" are manifestations of "congealed" consciousness; that focussed mystic minds from subtle causal planes could mentally affect gross forms in denser planes with powerful thoughts. This new-found consciousness paradigm arose from continuing experiences with Guruji and other mystics, and from other inner and and outer experiences, some of which I will share with you.