Beginning a New Year and a New Life With a New Mystery: "Who Am I?" ~ Ron's Memoirs
An "identity crisis" can be life's greatest opportunity,
because it raises life's most crucial question – "Who am I?"
~ Ron Rattner, Sutra Sayings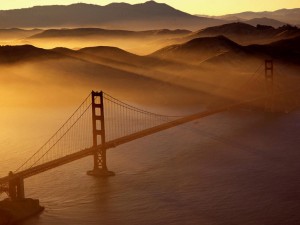 Upon graduation from the University of Chicago law school in 1958, I became a Chicago lawyer. Two years later I was married and moved to San Francisco, rather than settling into married life in Chicago. An idealist then, I had quickly become disillusioned with the Cook County Illinois court system and felt that there must be another place where courts administered justice more consistent with truth, law and equity than politics. And because I previously had a very positive experience of the San Francisco ambiance and "vibes", I thought the Bay Area might be such a place. Also, my new wife, Naomi, and I both believed that starting married life might be easier if there was a two thousand mile distance between us and our parents. So adventurously we moved to San Francisco after our marriage in June, 1960.

Unlike many others, I didn't move to California to participate in significant Bay Area social ferment and transformation of that era. I wasn't interested in Beatniks, Hippies, Flower Children, the Haight-Ashbury scene, or Eastern spirituality (of which I was then totally ignorant). As a San Francisco lawyer, I just wanted to – and often did – help unjustly exploited or downtrodden people with legal problems. But I felt compelled to work within the legal system on cases which came to me, and not pro-actively – except for certain civil liberties issues. Though as an idealistic lawyer I abhorred the tragic injustice and insanity of the Viet Nam war, and the authoritarian suppression of free speech at U.C. Berkeley, I wasn't politically active in those causes, or in the feminist revolution with which I ambivalently sympathized. And I was quite 'uptight' about breaking any social 'norms' or doing anything illegal, like using psychedelics.

While keeping distance between us and our parents may have initially been helpful for Naomi and me, it wasn't enough to prevent irreconcilable differences from ending our marriage fifteen years later. While we had long been stressed by our incompatibilities, for me the psychological seeds of our parting and of a new life beyond married life, were first sown at a 1974-5 New Year's Eve party, at the Clarendon Heights home of doctor friends who weren't as uptight about certain social norms as their lawyer friend Ron Rattner.

As we embarked for the party I felt inexplicably happy – happier than I had felt for a long time. And at the party this happiness kept growing as the evening progressed. So by the time that the new year arrived, I was very high in Clarendon Heights. All evening I had been sipping champaign and singing old Broadway songs around an upright piano played by a pianist with an unending repertoire of Tin Pan Alley favorites. The singing brought me back to happier times in high school and college when Dave Weiner, my multi-talented friend since kindergarten, would often lead similar singing from the piano.

After mid-night and customary "happy new year" proclamations, we ate a 'pot luck' buffet dinner. I enjoyed the food very much, especially the desert – a home baked cake. But soon after eating it, I began feeling very strange – like I'd never felt before. My brain felt anesthetized, so that I could hardly think. Believing that I was becoming quite ill, I asked Madlyn, the hostess, for a place to lay down. She showed me into a very small, dark utility room furnished with little more than a bed, upon which I quickly fell face down, after removing my eyeglasses.

Then, after lying face down on a pillow for a short time, I had an unprecedented and unforgettable out of body experience (OOB). It seemed that I floated out of my body and up to the ceiling of that small dark room. And from the ceiling, with my glasses on a bedside table, I clearly saw my body lying face down on the pillow. Then, with difficulty I thought: "How can I be up here, when my body's down there?" And with every thought, I beheld a vividly colored kaleidoscopic form – a surreal thought form, which appeared below the ceiling (where I was) and above the bed (where my body was lying face-down).

All these perceptions seemed very real – not dreamlike or hallucinatory. And for the first time in my life they irresistibly raised an urgent new question: "Who or what am I?"

In later reflecting on my OOB experience, I reasoned that if I was on the ceiling of the room, while my body was face-down on the bed, I couldn't be the body; and, that if I was on the ceiling of the room, while my thoughts were appearing below me, I couldn't be the thoughts. Then, if not my body and not my thoughts, who and what am I?

Until then, I had always assumed that I was only my mortal physical body, its thoughts and its story; that I was a middle-aged secular Jewish litigation lawyer, married, with two kids, born in Chicago and living in San Francisco. But with 'pot luck' on New Year's Eve 1974-5, those assumptions were forever shaken.

Thereupon, irresistibly and persistently I began asking the question "Who Am I", intensely longing for an answer. This self-inquiry process proved an enormous blessing which changed my life forever.