"Everything is determined, the beginning as well as the end, by forces over which we have no control. It is determined for the insect, as well as for the star. Human beings, vegetables, or cosmic dust, we all dance to a mysterious tune, intoned in the distance by an invisible piper."
~ Albert Einstein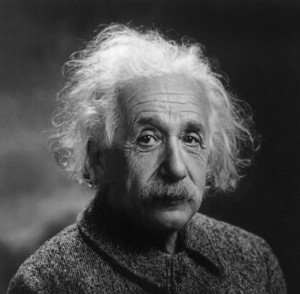 Many of my silly sutras were first written on bits of paper during an extended period of solitude, when I had no computer, TV, or daily paper. My attitude then about the 'digital revolution' was expressed in this sutra:


INNER NET, NOT INTERNET
Ron's going off-Line,
out-of-line, out of linearity.
While the world wants ever more information,
Ron seeks infinite inspiration:
in the Unknown, in the Mystery –
the Mystery of Divinity.

But finally, despite my reluctance to go on-line, I was obliged to get a computer after my son had significant problems requiring my legal help. Only then did I discover Albert Einstein's wise quotations on many subjects other than theoretical physics. I was amazed to learn that Einstein had expressed many of the same ideas which were conveyed in my sutras. Thereafter, in trying to discuss those ideas with others I often used Einstein quotes, rather than sutras, since Einstein's credibility as a "genius" is infinitely more than mine, as an unknown no-one.

A few years ago, I wanted to discuss one of these ideas with my friend "KJ" a retired medical doctor and computer 'genius', who I met after going on-line, and who generously has helped me learn how to use my iMac and to resolve my many inevitable digital dilemmas. So, I asked KJ "what do you think of Albert Einstein?" I expected him to acknowledge Einstein's genius, and then anticipated quoting Einstein to him to initiate a conversation about the quotation. But his answer surprised me.

He said: "If it wasn't for Albert Einstein, I wouldn't be here."
At first, I thought he was joking and asked him to explain, expecting some humorous story. Instead KJ told me how a graphologist's analysis of Albert Einstein's signature sychronistically began a friendship which saved the lives of KJ and his parents.

Both of KJ's parents were European medical doctors from Czechoslovakia. In the late 1920's, before he was born they temporarily moved to Freiburg, Germany where his father was a surgical resident. KJ's mother was then informally studying (and practicing) handwriting analysis, then recognized and taught as a scientific discipline in Germany and other advanced European countries.

One evening, KJ's mother attended a lecture in Freiburg by a noted handwriting analysis expert. As part of the lecture, the graphologist asked audience members to place their signatures on small bits of paper, which were collected in a container and randomly picked by him for instant anonymous analysis. In so analyzing audience member's signatures, the expert described one of them as "a quite average person, but with a flare for one particular field". Thereupon a little man with bushy hair got up from the rear of the room and rushed up to the lecturer, proclaiming "That is the best analysis of my personality that I have ever heard." He was so pleased, that he spontaneously rewarded the lecturer with a one hundred mark note – which was then a significant amount of German currency.

It was Albert Einstein, who by then was well known and acclaimed world-wide as a "genius" of theoretical physics for which he had received a Nobel prize. [*see footnote] But it was not then generally known that in addition to physics, Einstein was quite interested in graphology. After the lecturer's spontaneous signature readings, there ensued conversations about handwriting analysis amongst the audience members. And KJ's mother, who had never before met Einstein, discussed with him graphology issues of mutual interest. This 'chance' meeting began a long friendship between Einstein and KJ's mother, focused on their common interests and expertise in graphology. So, in the 1930's after KJ's parents left Freiburg and returned to Prague, his mother kept in touch with Einstein.

In Prague, KJ's father became quite prominent and was appointed Surgeon to the President of the country. He was also a very outspoken political liberal. So, when the Nazis invaded and occupied Czechoslovakia, KJ's father was listed by them as an "undesirable" person. And his life was thus jeopardized.
By this time (1939), Einstein had renounced his German citizenship and emigrated to the USA, residing in Princeton, NJ. Via correspondence with KJ's mother he learned of her family's jeopardy, and managed to obtain for them an emigration visa, permitting them to come to the USA when KJ was nine years old.
So, but for Einstein KJ wouldn't be here. And perhaps without KJ, I wouldn't have learned enough about computers to have digitally recorded and published on-line my silly sutras and apt Einstein quotes. And I wouldn't have been able to share with you this synchronicity story.

According to Einstein, as quoted above, all this was pre-determined "by forces over which we have no control". Do you agree? What do you think?


* [Footnote] Einstein's enthusiastic reaction to the graphology reading was consistent with his historical persona. Historians say that Einstein was a very humble man who remained simple and self-effacing despite the world's immense flattery and "genius" label, using his great prestige to advocate for social justice and controversial causes, like pacifism. So he regarded himself as just an ordinary person, with certain abilities in theoretical physics.

Ron's Epilogue

Readers of SillySutras.com are aware of my great interest in and experience with synchronicity as a spiritual phenomenon. Only recently, I learned that there is a synchronistic connection between Albert Einstein and Carl Gustav Jung's seminal work in developing the concept of "synchronicity".

According to Harper's Encyclopedia of Mystical and Paranormal Experience, "The concept of synchronicity was developed largely by Carl G. Jung, who credited Albert Einstein as his inspiration."
Einstein and Jung had met for a series of dinners in Zurich while Einstein was clarifying his theory of relativity. Long later in a 1953 letter to Carl Seelig, Jung wrote:
"Professor Einstein was my guest on several occasions at dinner… These were very early days when Einstein was developing his first theory of relativity, [and] it was he who first started me off thinking about a possible relativity of time as well as space, and their psychic conditionality. More than thirty years later, this stimulus led to my relation with the physicist Professor W. Pauli and to my thesis of psychic synchronicity." … "It was above all the simplicity and directness of [Professor Einstein's] genius as a thinker that impressed me mightily and exerted a lasting influence on my own intellectual work."