"In the beginning God created the heaven and the earth
And the earth was without form and void
And darkness was upon the face of the deep
And the Spirit of God moved upon the face of the waters
And God said 'Let there be light'; and there was light
And God saw the light, that it was good
And God divided the light from the darkness"
~ Genesis 1:1-4
"We never cease to stand like curious children
before the great Mystery into which we were born."
~ Albert Einstein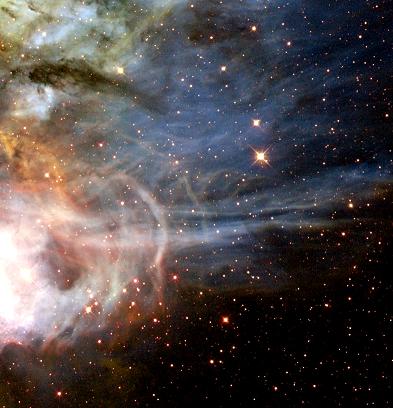 Introduction

Posted below with mp3 recitation is an imaginative poem 'channeled' during my reclusive post-retirement period, "Cosmology Mythology ~ From Beyond The Beginning, To The Beginning And Beyond". The poem intuitively speculates on how and why our cosmic reality might have originated. For reasons hereafter explained, I hope you'll reflect on it.

Cosmology Mythology ~
From Beyond The Beginning,
To The Beginning And Beyond

Eternal Mystery:
Pure potentiality;
Infinite intelligence;
Plenum void, pregnant with cosmological constancy,

Matrix intending to manifest,
To realize and actualize infinite potentiality.

Aum thought –
Creation vibration:
Bursting brilliance of brightest light,
Ending endlesss night.

Silence sounding in
Ever resounding
Symphony of spheres.

Spiraling stardust:
Agglomerating and growing,
Glowing and flowing,
Cosmically, consciously,
Systemically, siderealy,
Galactically, fractally, spherically.

Mystery manifest
as life-formed multiplicities:
Rotating, revolving and
Ever evolving —
To complexities from simplicities.

Infinite Intelligence
Exploring, and communing –
With Itself,

In an autogyral
Endless spiral
Flowing up and beyond
The beyond.

In an autogyral
Endless spiral
Flowing up and beyond
The beyond.


Ron's audio recitation of "Cosmology Mythology ~
From Beyond The Beginning, To The Beginning And Beyond"



Ron's explanation of "Cosmology Mythology ~
From Beyond The Beginning, To The Beginning And Beyond"

Dear Friends,

Until his death Albert Einstein remained in reverential awe about "the great Mystery into which we were born." He had spent much of his adult life vainly searching for a simple and provable "theory of everything" that might resolve that cosmic mystery. And theoretical scientists have continued to search for such a formula.   Hopefully, they may some day fulfill Swami Vivekananda's prediction that "Science and religion will meet and shake hands".

Have you – like Einstein – ever wondered how our space/time universe began?   I have.

After my midlife spiritual awakening to Self-identity as Awareness, I began questioning and rejecting previously accepted concepts about Reality.    And I became very curious – scientifically and  philosophically – about how and why our space/time universe had appeared.   Though I've had no scientific training or aptitude, I felt philosophically impelled to pursue cosmic creation questions.

So introspectively I began raising many questions about this great mystery.  For example, I wondered

"Did space/time just appear from nothing?  What was its source – its matrix?  Was it intelligently designed?  Was it divinely created?  If so, why?  Did it begin with a "big bang"?  How? When?  What if anything existed beyond its beginning?  Will it ever end?  If so, will it begin again?  What is its purpose, if any?  Is it really 'real', or just an illusionary, simulated or virtual reality?  Is it a holographic, fractal projection of Universal Awareness – our common Cosmic Consciousness?   Can it ever be explained?   Can we ever discover a scientific theory explaining everything about space/time –  a "T.E.O"?"

As a lawyer I emphasized factual evidence, and tried to avoid speculative opinions unless rendered by qualified 'experts'.  But as a 'born again' intuitive I have increasingly pursued experiential and inner insights rather than relying on worldly 'expert' knowledge. So I've often philosophically speculated and sometimes written about the meaning or purpose of earth life.

For example, during a ten year post-retirement 'hibernation' period I composed  this verse:

Life is a metaphoric metamorphosis process.

Gleaning meaning in matter,

we learn all that matters —

we learn all that matters is

LOVE!
Whether or not my Cosmology Mythology intuited verses ring true for you, perhaps they can inspire your wonder and amazement about our precious lives on this precious planet.  Such a state of wonder and awe can help us transcend long outdated conceptual world-views about supposedly material reality: mistaken beliefs which impede reverential realization of ONE timeless spiritual Reality beyond materiality – a Universal Intelligence beyond, imagination, conception, comprehension or description.

As I have often reflected and speculated about meaning and purpose life, gradually I have concluded that many perennial philosophical questions about our cosmic mystery are ever unanswerable Mystery. And from Buddhist teachings I've begun to wonder whether to continue publishing such cosmic speculations.

Buddha's teachings centered on ending human suffering, and were mostly devoid of speculation. In esoteric sutras the Buddha discouraged speculation not leading to edification about ending inevitable suffering in samsara. So he reportedly mostly refused to discuss metaphysics. And in spite of frequent urging, he continued his "noble silence" without indulging in needless theorizing which "tends not to edification". (See e.g. The Buddha's Silence)

So now I often feel it best to emphasize simple perennial precepts that pragmatically may help us lead happier lives rather than to speculate on conceptually unanswerable philosophical questions about the eternal mystery of Divinity, realizable only through rare mystical experience.

Thus, as a project of The Perennial Wisdom Foundation, SillySutras.com is dedicated to elevating awareness of universal wisdom principles at the heart of all enduring religious, spiritual and ethical traditions – such as the Golden Rule – without emphasis on any particular path or person.

Nonetheless I have published today's poetic reflections on unanswerable cosmic questions, because they may help some of us experience life-changing awe and wonder at our miraculous causality reality about which Albert Einstein observed:  

"We never cease to stand like curious children before the great Mystery into which we were born."
Dedication

May the above poem and mp3 recitation encourage and inspire our deepest awe and gratitude for our lives on this precious planet, bringing us ever expanding fulfillment and happiness, until our ultimate transcendence of this permanently impermanent world of time and space. 



And so may it be!


Ron Rattner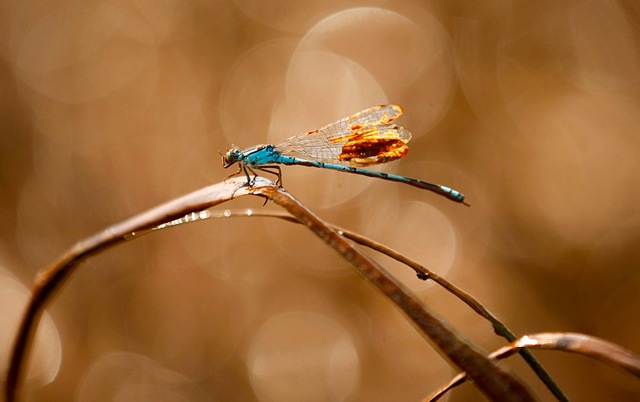 Kiss of Death

A poem by Richard Schiffman, after dragon fly image
by photojournalist Gerald Herbert

That little tragedian, the dragon fly,
wings smeared with earth's black blood,
stands glued to its stem like an orator.
It will never leave this soapbox now.
Just hangs there spread-eagled, a wee-Jesus
on a crucifix of grass. Some undertaker
draped its rainbow in a shroud of pitch,
shined its tar-ball shoes, closed those onyx
eyes for good. Now it stands an effigy
of itself. It wants to tell us that it died
for our sins. But its lips are sealed.
This orator is without a speech.
One of the meek, so busy inheriting
the earth, it never noticed the evil tide
bubbling up from earth's slit jugular,
it never saw that glistening drop of oil
on Judas's lip.