Posts Tagged 'Genesis 1:1-4'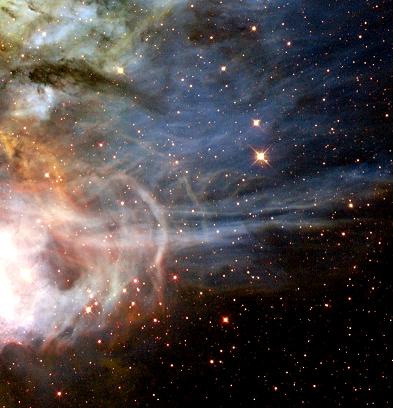 "In the beginning God created the heaven and the earth
And the earth was without form and void
And darkness was upon the face of the deep
And the Spirit of God moved upon the face of the waters
And God said 'Let there be light'; and there was light
And God saw the light, that it was good
And God divided the light from the darkness"
~ Genesis 1:1-4
"We never cease to stand like curious children before the great Mystery into which we were born."
~ Albert Einstein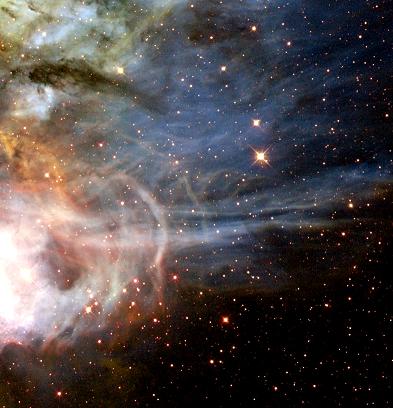 Cosmology Mythology: From Beyond The Beginning To The Beginning And Beyond

Eternal Mystery:
Pure potentiality;
Infinite intelligence;
Plenum void, pregnant with cosmological constancy,

Matrix intending to manifest,
To realize and actualize infinite potentiality.

Aum thought –
Creation vibration:
Bursting brilliance of brightest light,
Ending endlesss night.

Silence sounding in
Ever resounding
Symphony of spheres.

Spiraling stardust:
Agglomerating and growing,
Glowing and flowing,
Cosmically, consciously,
Systemically, siderealy,
Galactically, fractally, spherically.

Mystery manifest
as life-formed multiplicities:
Rotating, revolving and
Ever evolving —
To complexities from simplicities.

Infinite Intelligence
Exploring, and communing –
With Itself,

In an autogyral
Endless spiral
Flowing up and beyond
The beyond.

In an autogyral
Endless spiral
Flowing up and beyond
The beyond.


Ron's audio recitation of "Cosmology Mythology-From Beyond The Beginning To The Beginning And Beyond"

Ron's explanation and dedication of "Cosmology Mythology: From Beyond The Beginning To The Beginning And Beyond"

Dear Friends,

Until his death Albert Einstein remained in reverential awe about "the great Mystery into which we were born." He had spent much of his adult life vainly searching for a simple and provable "theory of everything" that might resolve that cosmic mystery. And theoretical scientists have continued to search for such a formula.   Hopefully, they may some day fulfill Swami Vivekananda's prediction that "Science and religion will meet and shake hands".

Have you – like Einstein – ever wondered how our space/time universe began?   I have.

After my midlife spiritual awakening to Self-identity as Awareness, I began questioning and rejecting previously accepted concepts about Reality.    And I became very curious – scientifically and  philosophically – about how and why our space/time universe had appeared.   Though I've had no scientific training or aptitude, I felt philosophically impelled to pursue cosmic creation questions.

So introspectively I began raising many questions about this great mystery.  For example, I wondered

"Did space/time just appear from nothing?  What was its source – its matrix?  Was it intelligently designed?  Was it divinely created?  If so, why?  Did it begin with a "big bang"?  How? When?  What if anything existed beyond its beginning?  Will it ever end?  If so, will it begin again?  What is its purpose, if any?  Is it really 'real', or just an illusionary, simulated or virtual reality?  Is it a holographic, fractal projection of Universal Awareness – our common Cosmic Consciousness?   Can it ever be explained?   Can we ever discover a scientific theory explaining everything about space/time –  a "T.E.O"?"

As a lawyer I emphasized factual evidence, and tried to avoid speculative opinions unless rendered by qualified 'experts'.  But as a 'born again' intuitive I have increasingly pursued experiential and inner insights rather than relying on worldly 'expert' knowledge. So I've often philosophically speculated and sometimes written about the meaning or purpose of earth life.

For example, during a ten year post-retirement 'hibernation' period I composed  this verse:

Life is a metaphoric metamorphosis process.

Gleaning meaning in matter,

we learn all that matters —

we learn all that matters is

LOVE!
Posted above with mp3 recitation is another theoretical poem 'channeled' during my reclusive post-retirement period, "Cosmology Mythology: From Beyond The Beginning To The Beginning And Beyond".  The poem intuitively speculates on how and why our cosmic reality might have originated.  For reasons hereafter explained, I hope you'll reflect on it.

Whether or not my intuited verses ring true for you, perhaps they can inspire your wonder and amazement about our precious lives on this precious planet.  Such a state of wonder and awe can help us transcend long outdated conceptual world-views about supposedly material reality: mistaken beliefs which impede reverential realization of ONE timeless spiritual Reality beyond materiality – a Universal Intelligence beyond, imagination, conception, comprehension or description.

As I have often reflected and speculated about meaning and purpose life, gradually I have concluded that many perennial philosophical questions about our cosmic mystery are ever unanswerable Mystery. And from Buddhist teachings I've begun to wonder whether to continue publishing such cosmic speculations.

Buddha's teachings centered on ending human suffering, and were mostly devoid of speculation. In esoteric sutras the Buddha discouraged speculation not leading to edification about ending inevitable suffering in samsara. So he reportedly mostly refused to discuss metaphysics. And in spite of frequent urging, he continued his "noble silence" without indulging in needless theorizing which "tends not to edification". (See e.g. The Buddha's Silence)

So now I often feel it best to emphasize simple perennial precepts that pragmatically may help us lead happier lives rather than to speculate on conceptually unanswerable philosophical questions about the eternal mystery of Divinity, realizable only through rare mystical experience.

Thus, as a project of The Perennial Wisdom Foundation, SillySutras.com is dedicated to elevating awareness of universal wisdom principles at the heart of all enduring religious, spiritual and ethical traditions – such as the Golden Rule – without emphasis on any particular path or person.

Nonetheless I have published today poetic reflections on unanswerable cosmic questions, because they may help some of us experience life-changing awe and wonder at our miraculous causality reality about which Albert Einstein observed:  

"We never cease to stand like curious children before the great Mystery into which we were born."
Conclusion



May the above poem and mp3 recitation encourage and inspire our deepest awe and gratitude for our lives on this precious planet, bringing us ever expanding fulfillment and happiness until our ultimate transcendence of this permanently impermanent world of time and space. 



And so may it be!


Ron Rattner


"In the beginning God created the heaven and the earth
And the earth was without form and void
And darkness was upon the face of the deep
And the Spirit of God moved upon the face of the waters
And God said 'Let there be light'; and there was light
And God saw the light, that it was good
And God divided the light from the darkness"
~ Genesis 1:1-4
"There is a light that shines beyond all things on Earth, …
beyond the highest, the very highest heavens.
This is the light that shines in your Heart."
~ Chandogya Upanishad 3.13.7
"There is an endless net of threads throughout the universe. 

The horizontal threads are in space.
 The vertical threads are in time.

At every crossing of the threads, there is an individual.

And every individual is a crystal bead. 

And every crystal bead reflects not only the light 
from every other crystal in the net,

but also every other reflection throughout the entire universe."
~ Indra's Net – from the Vedas of ancient India, 7000 years old

Into my heart's night

Along a narrow way
 I groped;
and lo! the light,

An infinite land of day.

~ Rumi
"Reality's essence is Divine luminescence."
~ Ron Rattner, Sutra Sayings
Every particle of the world is a mirror.
In each atom lies the blazing light of a thousand suns.
~  Mahmud Shabestari, Sufi Mystic, 15th century.
"If the radiance of a thousand suns
Were to burst at once into the sky
That would be like the splendor of the Mighty One –."
~ Bhagavad Gita, Chapter 11, Verse 12
Life Is A Light Show

From big-bang to black-hole,
the "reality" we think we know –

Is but a light show:

The Eternal light of Awareness
projecting and displaying itself to Itself
on the mirror of the mind.

A kaleidoscopic holographic theater of the mind
– an endless vibratory holo-flow –

A play of congealed Consciousness,

Ever flowing thought-forms
Imagining the universe.

Ever appearing and disappearing –
As above, so below.

Implicate – explicate – implicate –
Ever emerging from and melting into Mystery

Infinitely experiencing
Infinite potentialities
From infinite perspectives.

An ever flowing, ever growing vibratory virtuality –
called space/time polarity/causality "reality".

Eternal Awareness
Ever intending to Know Itself.

From big-bang to black-hole,
the "reality" we think we know –

Is but a light show.



Ron's audio recitation of Life Is A Light Show.


Ron's Commentary on Seeing the World as Nothing But Movies.

Dear Friends,

Is it possible to live in this impermanent world of inevitable suffering, without responding emotionally and compassionately to the immense miseries and apparent injustices experienced everywhere by countless sentient beings? Apart from being "spaced out" or in deep meditative states, or being psychopathic or sociopathic, can anyone who has awakened from the illusion of our apparent separateness live detached from ubiquitous misery and suffering?

Recently I was reminded that even Indian Holy Man and Avatar, Sri Ramakrishna Paramhansa, suffered bereavements on deaths of a nephew, older brother, and beloved attendant, even while experiencing elevated states of consciousness. Similarly Swami Paramahansa Yogananda experienced significant emotional trauma following a betrayal and lawsuit by his former trusted childhood best friend and assistant, Dhirananda.

Yet, Yogananda explained in Autobiography of a Yogi, Chapter 30, his view that:

"This earth is nothing but movies to me. Just like the beam of a motion picture. So is everything made of shadow and light. That's what we are. Light and shadows of the Lord. Nothing else than that. There's one purpose. To get to the beam."

But aren't we often autonomically emotional on viewing movies and plays?

I have been blessed with unforgettable fleeting 'peek' spiritual experiences demonstrating that earth life is a 'light show' – an illusory play of consciousness. Yet, I am often deeply moved by the insanity and suffering now rife on our precious planet.

In my student days I learned of maniacs like Hitler in Nazi Germany, Mao in Communist China, Stalin in the U.S.S.R., Pol Pot and the Khmer Rouge in Cambodia and numerous other dictators who were then bestially causing untold murders and misery. Naively, I then believed that my country the USA, and its Western allies, represented only virtues of good and democratic decency, and that after the demise of World War II era psychopaths, the world would be restored to a utopian age of peace and prosperity. But I was wrong.

Especially beginning with the legally unprecedented Supreme Court selection of George W. Bush as 43rd US President following patently flawed elections, I realized that the USA had become a new kind of dictatorship – a corporate "fascist" state, as first defined in Italian by Benito Mussolini who said:

"Fascism should more properly be called corporatism because it is the merger of state and corporate power."
[See e.g. http://www.informationclearinghouse.info/article7260.htm and "The 14 Defining Characteristics of Fascism." ]

Like Professor Howard Zinn, I began feeling that I was living in an occupied country; that the so called "American dream" of Ronald Reagan, et.al. had become a global nightmare of a rapacious empire threatening all life on Earth.

But not even during the Bush, Jr. regime did I ever imagine a 'serious' US presidential candidate like Donald Trump. Nor did I realize that even a Democratic status quo candidate like Hillary Clinton foreshadowed perpetuation of merely a different kind of corporate fascism.
It is difficult for me to imagine what will happen to the world under US leadership and domination with another corporate imperialist president.

But lest that happens, I have posted the foregoing poetic reminder that Life is a Light Show; that everything we see or seem is but a dream within a dream.

May it inspire us to insightfully see – like Yogananda – that this world as "nothing but movies".

Whatever happens in this impermanent illusory world of inevitable suffering, may we never forget our oneness with all earth-life, and may we ever aspire for world peace and happiness for everyone everywhere.

And so may it be!

Ron Rattner