Posts Tagged 'Bhagavad Gita 11:12'
"In the beginning God created the heaven and the earth
And the earth was without form and void
And darkness was upon the face of the deep
And the Spirit of God moved upon the face of the waters
And God said 'Let there be light'; and there was light
And God saw the light, that it was good
And God divided the light from the darkness"
~ Genesis 1:1-4
"There is a light that shines beyond all things on Earth, …
beyond the highest, the very highest heavens.
This is the light that shines in your Heart."
~ Chandogya Upanishad 3.13.7
"There is an endless net of threads throughout the universe. 

The horizontal threads are in space.
 The vertical threads are in time.

At every crossing of the threads, there is an individual.

And every individual is a crystal bead. 

And every crystal bead reflects not only the light 
from every other crystal in the net,

but also every other reflection throughout the entire universe."
~ Indra's Net – from the Vedas of ancient India, 7000 years old

Into my heart's night

Along a narrow way
 I groped;
and lo! the light,

An infinite land of day.

~ Rumi
"Reality's essence is Divine luminescence."
~ Ron Rattner, Sutra Sayings
Every particle of the world is a mirror.
In each atom lies the blazing light of a thousand suns.
~  Mahmud Shabestari, Sufi Mystic, 15th century.
"If the radiance of a thousand suns
Were to burst at once into the sky
That would be like the splendor of the Mighty One –."
~ Bhagavad Gita, Chapter 11, Verse 12
Life Is A Light Show

From big-bang to black-hole,
the "reality" we think we know –

Is but a light show:

The Eternal light of Awareness
projecting and displaying itself to Itself
on the mirror of the mind.

A kaleidoscopic holographic theater of the mind
– an endless vibratory holo-flow –

A play of congealed Consciousness,

Ever flowing thought-forms
Imagining the universe.

Ever appearing and disappearing –
As above, so below.

Implicate – explicate – implicate –
Ever emerging from and melting into Mystery

Infinitely experiencing
Infinite potentialities
From infinite perspectives.

An ever flowing, ever growing vibratory virtuality –
called space/time polarity/causality "reality".

Eternal Awareness
Ever intending to Know Itself.

From big-bang to black-hole,
the "reality" we think we know –

Is but a light show.



Ron's audio recitation of Life Is A Light Show.


Ron's Commentary on Seeing the World as Nothing But Movies.

Dear Friends,

Is it possible to live in this impermanent world of inevitable suffering, without responding emotionally and compassionately to the immense miseries and apparent injustices experienced everywhere by countless sentient beings? Apart from being "spaced out" or in deep meditative states, or being psychopathic or sociopathic, can anyone who has awakened from the illusion of our apparent separateness live detached from ubiquitous misery and suffering?

Recently I was reminded that even Indian Holy Man and Avatar, Sri Ramakrishna Paramhansa, suffered bereavements on deaths of a nephew, older brother, and beloved attendant, even while experiencing elevated states of consciousness. Similarly Swami Paramahansa Yogananda experienced significant emotional trauma following a betrayal and lawsuit by his former trusted childhood best friend and assistant, Dhirananda.

Yet, Yogananda explained in Autobiography of a Yogi, Chapter 30, his view that:

"This earth is nothing but movies to me. Just like the beam of a motion picture. So is everything made of shadow and light. That's what we are. Light and shadows of the Lord. Nothing else than that. There's one purpose. To get to the beam."

But aren't we often autonomically emotional on viewing movies and plays?

I have been blessed with unforgettable fleeting 'peek' spiritual experiences demonstrating that earth life is a 'light show' – an illusory play of consciousness. Yet, I am often deeply moved by the insanity and suffering now rife on our precious planet.

In my student days I learned of maniacs like Hitler in Nazi Germany, Mao in Communist China, Stalin in the U.S.S.R., Pol Pot and the Khmer Rouge in Cambodia and numerous other dictators who were then bestially causing untold murders and misery. Naively, I then believed that my country the USA, and its Western allies, represented only virtues of good and democratic decency, and that after the demise of World War II era psychopaths, the world would be restored to a utopian age of peace and prosperity. But I was wrong.

Especially beginning with the legally unprecedented Supreme Court selection of George W. Bush as 43rd US President following patently flawed elections, I realized that the USA had become a new kind of dictatorship – a corporate "fascist" state, as first defined in Italian by Benito Mussolini who said:

"Fascism should more properly be called corporatism because it is the merger of state and corporate power."
[See e.g. http://www.informationclearinghouse.info/article7260.htm and "The 14 Defining Characteristics of Fascism." ]

Like Professor Howard Zinn, I began feeling that I was living in an occupied country; that the so called "American dream" of Ronald Reagan, et.al. had become a global nightmare of a rapacious empire threatening all life on Earth.

But not even during the Bush, Jr. regime did I ever imagine a 'serious' US presidential candidate like Donald Trump. Nor did I realize that even a Democratic status quo candidate like Hillary Clinton foreshadowed perpetuation of merely a different kind of corporate fascism.
It is difficult for me to imagine what will happen to the world under US leadership and domination with another corporate imperialist president.

But lest that happens, I have posted the foregoing poetic reminder that Life is a Light Show; that everything we see or seem is but a dream within a dream.

May it inspire us to insightfully see – like Yogananda – that this world as "nothing but movies".

Whatever happens in this impermanent illusory world of inevitable suffering, may we never forget our oneness with all earth-life, and may we ever aspire for world peace and happiness for everyone everywhere.

And so may it be!

Ron Rattner


"There is a light that shines beyond all things on Earth, …
beyond the highest, the very highest heavens.
This is the light that shines in your Heart."
~Chandogya Upanishad 3.13.7
"Beholding the higher light beyond the darkness
we came to the divine light Sun in the Godhead,
to the highest light of all."
~ Rig Veda
"You are the light of the world."
~ Matthew 5:14
Every particle of the world is a mirror.
In each atom lies the blazing light of a thousand suns.
~  Mahmud Shabestari, Sufi Mystic, 15th century.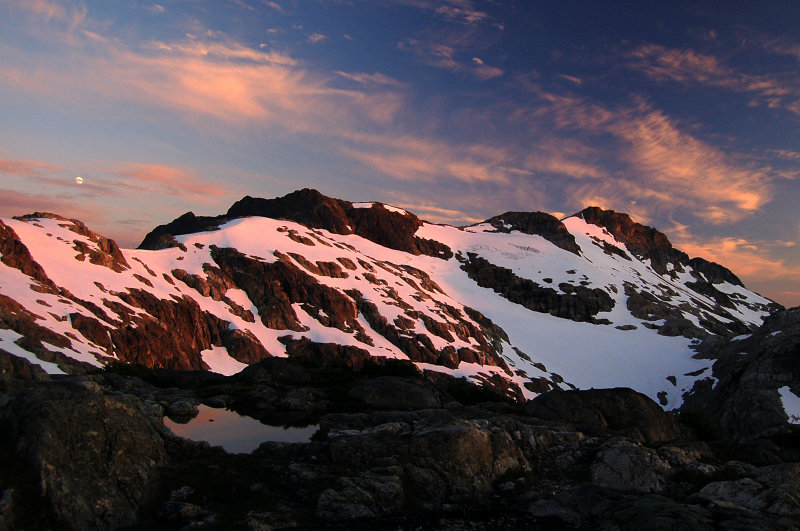 Beholding The Eternal Light Of Consciousness

Though I've always loved walking in nature, such walks rarely happened during my married years, as it was not an interest shared by my wife. But soon after our divorce, in summer 1976 I vacationed at Yosemite National Park, where for the first time I spent days hiking in the Sierra Nevada high country, while sleeping and eating at various park tent camps at differing elevations.

I arrived at Yosemite with many new questions arising from recent re-awakening and high energy experiences, and left with even more new experiences and new questions. But an amazing, unforgettable and unforeseen answer to one question – "Why I am crying so much?" – was soon bestowed.

After spending my first night at Merced Lake, the lowest elevation Yosemite tent camp, the next day I hiked over ten miles and more than two thousand feet upward to one of the highest camps, Sunrise, where I arrived just before sunset. I was assigned a bunk where I deposited my backpack, and then decided to ascend to the summit of a ten thousand foot granite dome adjoining the camp.

As I climbed up I felt unusually invigorated yet tired from hours of hiking. On reaching the summit of the granite dome, it seemed as if I was on top of the world. It was the end of a glorious clear summer day in Sierra Nevada high country. Turning southward, I beheld a magnificent mountain vista of the Cathedral Range.

The extraordinary beauty of that alpine panorama at sunset seemed unworldly, and evoked for me strange feelings of déjà vu – of being in the Himalyas – and of entering 'God's cathedral'. Spontaneously I began sobbing and crying intensely torrential tears.

Then, completely overcome with emotion, suddenly and instinctively I threw my body to the ground and with crying eyes closed, silently importuned a momentous request. Earnestly addressing the Highest Power with utmost urgency, I implored: "Take me. Take me now. I want nothing more; there is nothing more left for me in this life!".

Whereupon, I beheld within an unimaginably intense and ethereal effulgence, which I can only now describe as the 'light of ten thousand suns'. Ancient Vedic scriptures have thus alluded to this inner light:

"If the radiance of a thousand suns
Were to burst at once into the sky
That would be like the splendor of the Mighty One –."
Bhagavad Gita, Chapter 11, Verse 12

Until that transformative inner light revelation at Yosemite, I had been puzzled about why I had continued crying so much since the realization that I was pure Awareness – not my body, my thoughts or my story. Sadness at the divorce was not an adequate explanation for what was happening to me. But the puzzlement began resolving with that unforgettable Yosemite inner light revelation.

Before Yosemite my intense crying had begun with the realization that I was pure Awareness. And at Yosemite while suddenly and intensely crying and yearning to end my 'imagined' sojourn in this world, I beheld the transcendental Light of that Awareness.

My tears then were not tears of sadness, but tears of intense longing to merge with that Light, and so to end the illusion of separation from it. I had beheld Divinity in that magnificent panorama of God's cathedral, and with all my Heart intensely yearned to be eternally merged with it.

But this realization of why I was crying, raised a new mystery: "How could it be that a secular lawyer who hadn't cried or fervently prayed during his entire adult life, was now intensely crying and praying for God?"

Ultimately, I learned that I had been graced with "the gift of tears" – a blessed spiritual path of longing and crying for the Divine associated for millennia with devotional mystics in Catholicism, Sufism, Sikhism, Hinduism and other paths. The Universe gradually provided answers to that question, and other questions about my many mystical experiences, through a series of extraordinary synchronistic happenings and experiences which were bestowed after the Yosemite experience.

Though these happenings and experiences were too numerous for me to now recall and recount, I shall share some of the most memorable ones with you.