"Reality is merely an illusion, albeit a very persistent one."
~ Albert Einstein
"Our separation of each other is an optical illusion of consciousness."
~ Albert Einstein
"There is no place in . . [Quantum] physics both for the field and matter, for the field is the only reality."
~ Albert Einstein
"Consciousness is always Self-Consciousness.
If you are conscious of anything, you are
essentially conscious of yourself."
~ Ramana Maharshi
"This whole creation is essentially subjective, and the dream is the theater where the dreamer is at once: scene, actor, prompter, stage manager, author, audience, and critic."
~ Carl Gustav Jung
"The world, indeed, is like a dream
and the treasures of the world are an alluring mirage!"
~ Buddha
"A wise man, recognizing that the world is but an illusion,
does not act as if it is real, so he escapes the suffering."
~ Buddha
"What appears to be a stable, tangible, visible, audible world, is an illusion.
It is dynamic and kaleidoscopic — not really "there".
What we normally see is the explicit, or unfolded, order of things, rather like watching a movie.
But there is an underlying order that is mother and father to this second-generation reality."

~ David Bohm, Quantum Physicist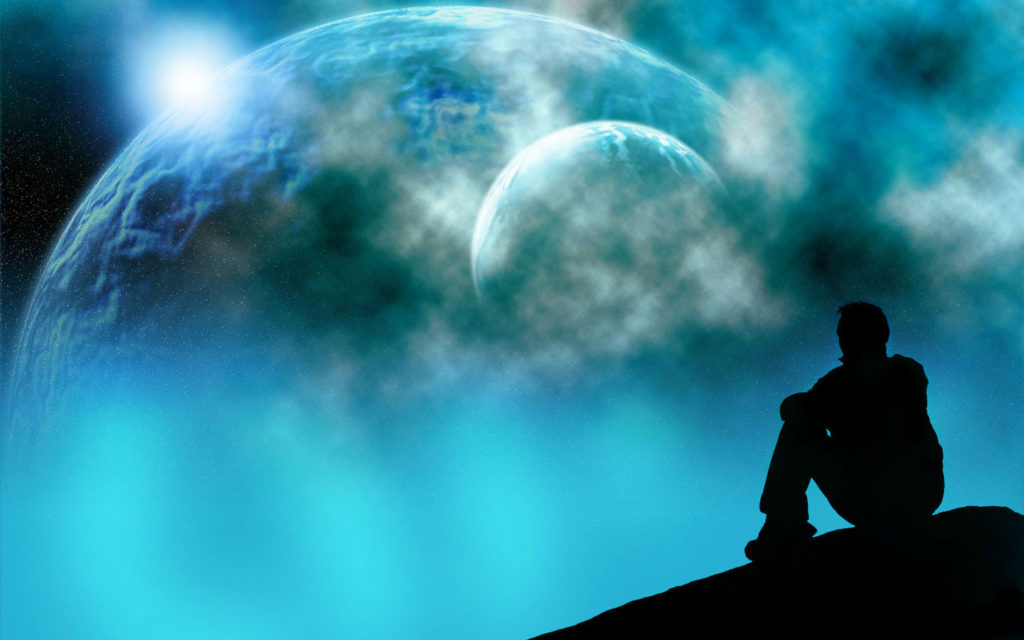 What is "Reality"?

"Reality" isn't REAL!

"Reality" – like beauty –
is in the eye of the beholder.

It is a mental concept arising in consciousness,
and projected by the beholding self-awareness
onto certain perceived objects.

As rays of sunlight are in essence
the same as the emitting sun source,
perceived "reality" is in essence
the same as the Awareness
from which it originates.

But, because of the "magic mirror" of mind,
"reality" is mistakenly perceived
and objectified as separate and distinct
from the perceiving subject.

So, isn't it NOW
time to really realize
that "reality" isn't really real;

That only Awareness is REAL?


Ron's Reflections on What is "Reality"?

Dear Friends,

Have you ever wondered what is really  "Real"? –  or "unreal"?

"Reality" and "the real world" are  common concepts; frequently used but rarely deeply considered.

According to dictionary definitions, "reality" is that which actually exists as distinguished from that which is merely apparent.   So what in this world actually exists?  And what in this world may be merely apparent, like a non-existent mirage or a nocturnal dream? – or a virtual or simulated reality?

Through Einstein's discovery that everything is energy – e=mc2 – he realized that cosmically what we call reality, with our apparent separation from other life-forms, is an "optical illusion of consciousness".  
Similarly, the Buddha tells us that this world is not actually real, but an 'unreal' illusion: 
"The world, indeed, is like a dream
and the treasures of the world are an alluring mirage!"
"A wise man, recognizing that the world is but an illusion,
does not act as if it is real,

so he escapes the suffering."

~ Buddha

Quantum scientists now confirm that the supposedly 'solid' reality of our limited perceptions is an ever impermanent energetic illusion – only a virtual, simulated, or relative reality.

For millennia, mystics have told us that our perceived world of countless impermanent forms is a manifestation of ONE eternal and immutable Awareness, which is the only actual existence; that  therefore this  world of apparent multiplicity is merely an ever impermanent dream-like mental projection of That ONE Awareness, often called samsara or maya.

The quotes and verses above  focus on mystical perspectives of "Reality".  They can help explain how in our world of duality – of apparent opposites – our projected mental perspectives determine our perception of "reality".  

Shakespeare tells us that
"there is nothing either good or bad,
but thinking makes it so". 
[ Hamlet, Act 2, Scene 2]

Similarly, what appears to us as "real" or "unreal" or as "the real world" depends upon our thinking – the projected mental perspectives of those invoking those concepts.
 
The realization that our "reality" is merely an impermanent  mental projection of immutable universal Awareness can greatly benefit spiritual aspirants.  It can help us more and more to self-identify as abiding Awareness – as Eternal spirit, rather than only as mortal physical body/minds.  Thereby, we can lead ever happier and fulfilled lives with growing compassion for all other life-forms, and with  less and less suffering from unhelpful worldly desires and attachments.

Realization that our precious planet is only a virtual or relative or simulated 'reality' need not in any way diminish our awe and gratitude for its immense perfection as part of Nature's miraculous magnificence, well beyond our comprehension or imagination.  Nor need it detract from our wonder about the creation of this magnificence, and our unspeakable gratitude for and appreciation of our precious human body/minds as potentially harmonious life-form manifestations of Nature, to be lovingly and skillfully nurtured by us.
 
So I offer these posted quotations and poetic suggestions about "reality" versus "unreality" to encourage our deep reflection on those common concepts and, hopefully, to help us find growing happiness and fulfillment in this precious human lifetime on our precious planet Earth.

And so may it be!