"All the darkness in the world can't extinguish the light from a single candle."
~ Francis Of Assisi (The Little Flowers of St. Francis of Assisi)
"If you have men who will exclude any of God's creatures from the shelter of compassion and pity, you will have men who will deal likewise with their fellow men."
~ Francis of Assisi
"The deeds you do may be the only sermon some persons will hear today"
~ Francis Of Assisi
"Vi volglio tutti in paradisio!" [ "I wish all in heaven!"]
~ Francis of Assisi
"Above all the grace and the gifts that Christ gives to his beloved is that of overcoming self."
~ Francis of Assisi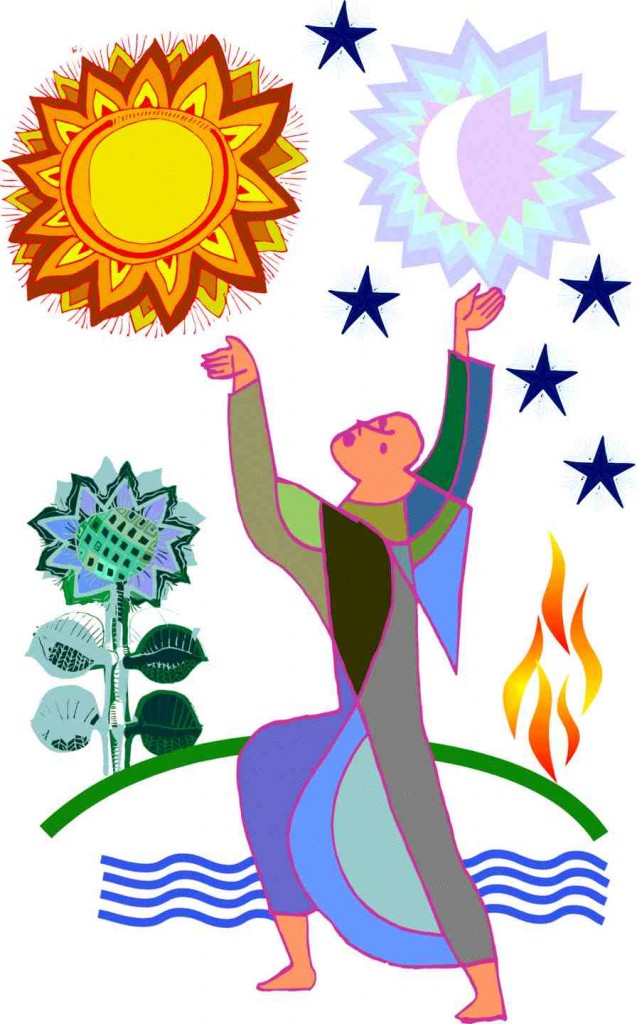 Saint Francis of Assisi
[September 26, 1181 - October 3, 1226]

Saint Francis of Assisi is one of history's most beloved saints. For almost eight hundred years since his canonization by the Catholic Church (in the year 1228), he has been remembered and revered not only by Christian denominations, but by countless others world-wide, who have been inspired by his life, his teachings, and his oneness with Nature. He is patron saint of Italy and of many other places, like San Francisco, a city blessed with his name, his spirit, and a national shrine including the Porziuncola Nuova, the only papally declared holy place in the USA. Also, he is patron saint of birds, animals and ecology. Francis loved peace, communed with all living creatures, and lived a life of simplicity and poverty in contrast to the wealth and apparent corruption of the Church. He was the founder of the Franciscan order of the Catholic Church.

After living a life of youthful revelry for the first half of his short lifespan, Francis suffered a period of protracted illness. During this time, after fervent prayer, deep introspection, and profuse tears, he decided that money and worldly pleasures meant nothing to him. Thereafter, he devoted his life to solitude, prayer, and helping the poor. He lived in absolute poverty, dedicating himself to God and patterning his life after the life of Jesus.

On returning from a pilgrimage to Rome, where he begged at Church doors for the poor, Francis received a mystical message from Jesus while praying in the ruined church at San Damiano outside of Assisi. Francis was praying there when a voice emanating from the painted wooden crucifix instructed him: "Francis, Francis, go and repair My house which, as you can see, is falling into ruins." Thereafter, he devotedly began rebuilding San Damiano and other ruined churches.

Though Saint Francis took literally that mystical message from the crucifix, its true meaning was metaphoric and profound. And by the end of his short lifespan, Saint Francis and his order had by their example inspired a renaissance of the Catholic Church from its then apparent corruption by worldly wealth.

Francis' exemplary lifestyle inspired and attracted followers who joined with him in his in his Divine mission and life of poverty. Clad in ragged, gray robes with rope belts, they went out barefoot in pairs to spread the Gospel. When they needed food or shelter, they asked someone for it. It was against their rules to "own" anything. Thus, they were known as the "begging brothers".

In 1209 Francis received permission from Pope Innocent III to form a brotherhood, a religious order of the Church called the "Friars Minor," (littlest brothers). As "friars" they worked in communities, actively preaching and helping residents, as distinguished from "monks" who then usually lived alone in isolated places. They soon acquired the name "Franciscans", proliferated and today remain important international symbols and instruments of Francis' legacy.

The Franciscans' first headquarters was a simple, tiny chapel near Assisi which Francis received from the Benedictines, and personally restored and named "Porziuncola" ["a small portion of land"]. The Porziuncola became Francis' most beloved and favorite place. Because of his presence and prayers there, it was and continues to be one of the world's rare holy places.

In 1216, while Francis was fervently praying in the Porziuncola, a light filled the chapel and he beheld above the altar a vision of Christ, the Virgin Mary and a company of angels. They asked him what he wanted for the salvation of souls. Francis replied: "Vi volglio tutti in paradisio!" [I wish all in heaven!] And Francis then asked that all those persons who shall come to this church, may obtain a full pardon and remission of all their faults, upon confessing and repenting their sins. The request was granted based on Francis' worthiness, and the indulgence was later officially confirmed by Pope Honorius III, and became known as "The Pardon of Assisi".

Francis was extremely democratic and humble. He referred to himself as "little brother Francis" and called all creatures "brothers" and "sisters". He loved Nature and pantheistically considered it to be the "mirror of God on earth." He spoke of "Sister Water" and "Brother Tree" and in one of his writings, he referred to "Brother Sun" and "Sister Moon". There are legends about sermons he preached to trees full of "Sister Birds" in which Francis urged them to sing their prayers of thanks to God. And it is said that rabbits would come to him for protection.

In another legendary story, Francis spoke to a wolf which had been terrifying the entire village of Gubbio, scolding "Brother Wolf" for what he was doing. That wolf not only stopped his attacks but later became a village pet, and was fed willingly by the same villagers, who missed "brother wolf" after he died.

Near the end of his earthly life, Francis became the first saint in history to miraculously receive crucifixion stigmata. It happened after he had been taken to Mount Alverna, a wild nature place in Tuscany, to be in solitude for a forty day retreat.

Though already in a very feeble state, he fasted and prayed intensely with deepest longing for God. In the midst of his fast, while he was so praying he beheld a marvelous vision: an angel carrying an image of a man nailed to a cross. When the vision disappeared, Francis felt sharp pains in various places on his body.

In locating the source of these pains, Francis found that he had five marks or "stigmata" on his hands, feet, and sides—like the wounds inflicted with nails and spears on Jesus during His crucifixion. Those marks remained and caused Francis great pain until his death two years later.

On October 3, 1226 A.D. Francis died in a humble cell next to the beloved Porziuncola, his favorite holy place where the Franciscan movement began. He was blind, ill, emaciated and racked with pain from the "stigmata" wounds. As he lay dying, the brothers came for his blessing. They sang "Song to the Sun", a song which Francis had composed. Sometime before he drew his last breath, he said, "Let us sing the welcome to Sister Death." Francis welcomed 'Sister Death' knowing that "it is in dying that we are reborn to eternal life", the concluding line of a beautifully inspiring and best known prayer attributed to him, perhaps mistakenly.*

In conclusion, we offer that prayer in grateful tribute to his blessed life and legacy. May he ever inspire countless beings to become instruments of Divine peace and love, in perfect harmony with Nature and the kingdom of heaven.

"Vi vogliamo tutti in Paradiso"; "We wish ALL in Heaven".


And so it shall be!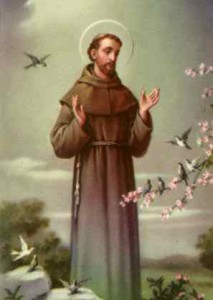 Prayer Of St. Francis Of Assisi *

Beloved, we are instruments of Thy peace.

Where there is hatred, let us sow love;
Where there is injury, pardon;
Where there is doubt, faith;
despair, hope;
darkness, light;
discord, harmony;
sadness, joy;

Divine Mother/Father, grant
that we may seek not so much
to be consoled as to console;
to be understood as to understand;
to be loved as to love.

For it is in giving, that we receive;
It is in pardoning, that we are pardoned;
And it is in dying – to ego life –
that we are reborn to Eternal Life.
*This inspiring prayer does not appear in any of Saint Francis' known writings. According to researchers, the first appearance of this prayer was in a French language magazine, La Clochette, in 1912; it was probably then first written by a forgotten Catholic Priest, Father Bouquerel. Later, the prayer was translated into English and widely distributed on cards with a reverse side picture of Saint Francis, without any claim that he wrote the prayer. But, because of his picture and because it invokes his spirit, the prayer thereafter became commonly known as the Prayer of Saint Francis. The foregoing version of the prayer has been edited by Ron Rattner


Ron's audio recitation of the Prayer of Saint Francis Of Assisi