Posts Tagged 'Prayer of Saint Francis'
"All the darkness in the world can't extinguish the light from a single candle."
~ Francis Of Assisi (The Little Flowers of St. Francis of Assisi)
"If you have men who will exclude any of God's creatures from the shelter of compassion and pity, you will have men who will deal likewise with their fellow men."
~ Francis of Assisi
"The deeds you do may be the only sermon some persons will hear today"
~ Francis Of Assisi
"Vi volglio tutti in paradisio!" [ "I wish all in heaven!"]
~ Francis of Assisi
"Above all the grace and the gifts that Christ gives to his beloved is that of overcoming self."
~ Francis of Assisi
"When we pray to God we must be seeking nothing — nothing."
"We should seek not so much to pray, but to become prayer."
~ Francis of Assisi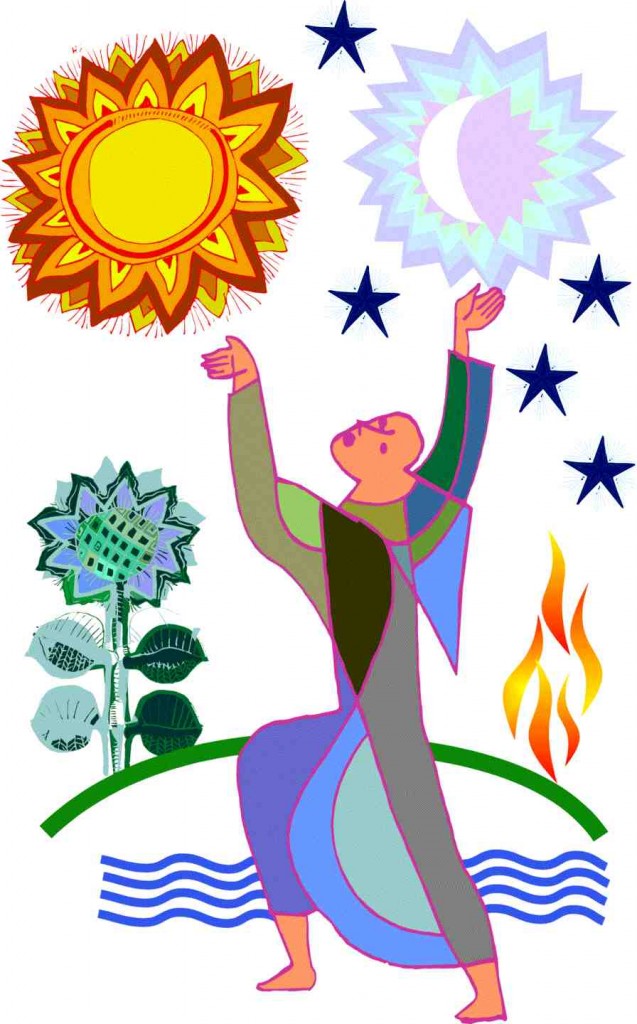 Saint Francis of Assisi
September 26, 1181 – October 3, 1226 [*See footnote]


Saint Francis of Assisi is one of history's most beloved saints. For almost eight hundred years since his canonization by the Catholic Church (in the year 1228), he has been remembered and revered not only by Christian denominations, but by countless others world-wide, who have been inspired by his life of universal love, his teachings, and his oneness with Nature. More than three million people come every year to his tomb in Assisi.

He is patron saint of Italy and of many other places, like San Francisco, a city blessed with his name, his spirit, and a national shrine including the Porziuncola Nuova, the only papally declared holy place in the USA. Also, he is patron saint of birds, animals and ecology and is so remembered on his annual October 4th Feast Day celebration.

Francis loved peace, communed with all living creatures, and lived a life of kindness, simplicity and poverty in contrast to the wealth and apparent corruption of the Church. He was the founder of the Franciscan order of the Catholic Church, and inspired founding of the Poor Clares order for women, and a third secular order for laity sworn to peace.

After living a worldly life of youthful revelry for the first half of his short lifespan, Francis volunteered to fight in a war between Assisi and neighboring Perugia. He was captured during a bloody battle at Collestrada, and was imprisoned and chained in solitude for a year in a dark Perugian dungeon, until ransomed by his wealthy father. Beginning during this time, and thereafter, he suffered a period of protracted physical and psychological illness, remorse and reflection. After fervent prayer, deep introspection, and profuse tears, Francis ultimately decided that money and worldly pleasures meant nothing to him, and as a traumatized battle survivor he came to abhor war. Whereupon, he devoted his life to solitude, prayer, helping the poor, caring for lepers, and promoting peace. Seeing himself as God's troubadour or fool, he lived in absolute poverty, patterning his life after the life of Jesus and dedicating himself to God.

On returning from a pilgrimage to Rome, where he begged at Church doors for the poor, Francis received a mystical message from Jesus while praying in the ruined church at San Damiano outside of Assisi. There while he was enchantedly gazing at the painted wooden crucifix – a Byzantine image of the crucified Christ still alive on the cross – the silent voice of Jesus telepathically 'spoke' to Francesco, instructing him: "Francesco, Francesco, go and repair my house which, as you can see, is falling into ruins." Thereafter, he devotedly began rebuilding San Damiano and other ruined churches.

Though Saint Francis took literally that mystical message from the crucifix, its true meaning was metaphoric and profound. And by the end of his short lifespan, Saint Francis and his orders had by their example inspired a renaissance of the Catholic Church.


Francis' exemplary lifestyle inspired and attracted followers who joined with him in his in his Divine mission and life of poverty. Clad in ragged, gray robes with rope belts, they went out barefoot in pairs to spread the Gospel. When they needed food or shelter, they asked someone for it. It was against their rules to "own" anything. Thus, they were known as the "begging brothers".

In 1209 Francis received permission from Pope Innocent III to form a brotherhood, a religious order of the Church called the "Friars Minor," (littlest brothers). As "friars" they worked in communities, actively preaching and helping residents, as distinguished from "monks" who then usually lived alone in isolated places. They soon acquired the name "Franciscans", proliferated and today remain important international symbols and instruments of Francis' legacy.

The Franciscans' first headquarters was a simple, tiny chapel near Assisi which Francis received from the Benedictines, and personally restored, naming it "Porziuncola" ["a small portion of land"]. The Porziuncola became Francis' most beloved and favorite place. Because of his presence and prayers there, it was and continues to be one of the world's rare holy places. Here, Francis lived, fervently prayed, wrote his rule, created his order of friars minor and consecrated his friend Clara (Chiara), who became Santa Clara, founder of "the poor Clares", a female religious order dedicated to Franciscan ideals of holiness and poverty. Francis so loved this little place that he chose to die there.

In 1216, while Francis was fervently praying in the Porziuncola, a light filled the chapel and he beheld above the altar a vision of Christ, the Virgin Mary and a company of angels. They asked him what he wanted for the salvation of souls. Francis replied: "Vi volglio tutti in paradisio!" [I wish all in heaven!] And Francis then asked that all those persons who shall come to this church, may obtain a full pardon and remission of all their faults, upon confessing and repenting their sins. The request was granted based on Francis' worthiness, and the indulgence was later officially confirmed by Pope Honorius III, and became known as "The Pardon of Assisi".

Francis was extremely democratic and humble. He referred to himself as "little brother Francis" and called all creatures "brothers" and "sisters". He loved Nature and pantheistically considered it to be the "mirror of God on earth." He spoke of "Sister Water" and "Brother Tree" and in one of his writings, he referred to "Brother Sun" and "Sister Moon". There are legends about sermons he preached to trees full of "Sister Birds" in which Francis urged them to sing their prayers of thanks to God. And it is said that rabbits would come to him for protection.

In another legendary story, Francis spoke to a wolf which had been terrifying the entire village of Gubbio, scolding "Brother Wolf" for what he was doing. That wolf not only stopped his attacks but later became a village pet, and was fed willingly by the same villagers, who missed "brother wolf" after he died.

Francis was determined to live the gospels and was strongly influenced and motivated by Jesus' teachings. "Give to others, and it shall be given to you. Forgive and you shall be forgiven" were his frequent teachings.

Also as a traumatic battle survivor and war hostage Francis cherished peace. So, "Blessed are the peacemakers, for they will be called children of God." ~ Matthew 5:9 and "love your enemies and pray for those who persecute you." ~ Matthew 5:44 were often recited by him.

According to a recent biography, Francis was "the first person from the West to travel to another continent with the revolutionary idea of peacemaking." On a mission of peace, Francis journeyed to Egypt in 1219 idealistically hoping to end the 5th Crusade by converting the Egyptian leader – Sultan Malik al-Kamil – to Christianity. Though his visionary peace mission did not succeed, it proved nonetheless a miraculous portent and important symbol of potential reconciliation between Christians and Muslims and others.

At a time when most Christians demonized Muslims as enemy "infidels", Francis regarded and treated Muslims with respect, never echoing the negative comments or conduct of his contemporary Christians. Moreover, in Egypt Francis – a devout and gentle peacemaker – was appalled by the crusaders' sacrilegious brutality.

Francis arrived in Egypt during an ongoing violent and bloody conflict at Damietta, an important city on the Nile, besieged by the Crusaders. There, in the midst of horrible bloodshed, Francis miraculously crossed battle lines totally unarmed and vulnerable, and was able to reach the Sultan's encampment unharmed and welcomed. Moreover, Francis was admitted to the august presence of the sultan, who was nephew of the great Saladin who had defeated the forces of the ill-fated Third Crusade.

The Sultan was a wise and pragmatic devout Sunni Muslim, influenced by Sufi mystical teachings. He was ready to make peace, and reciprocated Francis' peaceful and respectful attitude. For at least several days Kamil hosted and dialogued with Francis as an honored guest, before having him safely escorted back to the Crusader encampment. The Sultan – who was amenable to philosophical conversation, but not to conversion – probably noted and honored Francis' sufi-like appearance and peaceful demeanor, and his regular greeting – "may the Lord give you peace" – uncommon for Christians, but similar to the Arabic "salam aleykum" greeting.

Reciprocally, Francis was deeply impressed by the religious devotion of the Muslims, especially by their fivefold daily call to prayer – call of the muezzin.

On returning to the crusader camp Francis desperately tried to convince Cardinal Pelagio, whom the pope had authorized to lead the 5th Crusade, that he should make peace with the Sultan. But the cardinal who was certain of victory would not listen. His eventual failure, amidst terrible loss of life, brought the barbaric age of the crusades to an ignominious end.

In 1224, near the end of his earthly life, according to legend, Francis became the first saint in history to miraculously receive crucifixion stigmata. It happened after he had been taken to Mount Alverna, a wild nature place in Tuscany, to be in solitude for a forty day retreat.


Though already in a very feeble state, he fasted and prayed intensely with deepest longing for God. In the midst of his fast, while he was so praying he beheld a marvelous vision: an angel carrying an image of a man nailed to a cross. When the vision disappeared, Francis felt sharp pains in various places on his body.

In locating the source of these pains, Francis found that he had five marks or "stigmata" on his hands, feet, and sides—like the wounds inflicted with nails and spears on Jesus during His crucifixion. Those marks remained and caused Francis great pain until his death two years later.

On October 3, 1226 A.D. Francis died in a humble cell next to the beloved Porziuncola, his favorite holy place where the Franciscan movement began. He was blind from trachoma, suffering from malaria and other illnesses, emaciated and racked with pain from the stigmata and other wounds. As he lay dying, the brothers came for his blessing. They sang "Song to the Sun", a song which Francis had composed.

Sometime before he drew his last breath, he said, "Let us sing the welcome to Sister Death." Francis welcomed 'Sister Death' knowing that "it is in dying that we are reborn to eternal life", the concluding line of a beautifully inspiring and best known peace prayer mistakenly attributed to him. (**See Footnote)

In conclusion, we offer that prayer in grateful tribute to his blessed life and legacy. May he ever inspire countless beings to become instruments of Divine peace and love, in perfect harmony with Nature and the kingdom of heaven.

"Vi vogliamo tutti in Paradiso"; "We wish ALL in Heaven".


And so it shall be!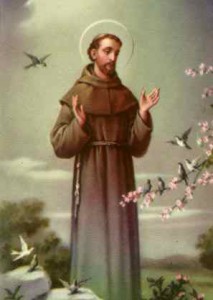 Prayer Of St. Francis Of Assisi **

Beloved, we are instruments of Thy peace.

Where there is hatred, let us sow love;
Where there is injury, pardon;
Where there is doubt, faith;
despair, hope;
darkness, light;
discord, harmony;
sadness, joy;

Divine Mother/Father, grant
that we may seek not so much
to be consoled as to console;
to be understood as to understand;
to be loved as to love.

For it is in giving, that we receive;
It is in pardoning, that we are pardoned;
And it is in dying – to ego life –
that we are reborn to Eternal Life.



Footnotes

* This narrative is based on Ron Rattner's intuitive interpretation of many disparate and sometimes conflicting historical accounts of the life of Francis of Assisi. The reader is free to accept or reject any part of it.

**This inspiring peace prayer does not appear in any of Saint Francis' known writings. According to researchers, the first appearance of this prayer was in a French language magazine, La Clochette, in 1912; it was probably then first written by a forgotten Catholic Priest, Father Bouquerel. Later, the prayer was translated into English and widely distributed on cards with a reverse side picture of Saint Francis, without any claim that he wrote the prayer. But, because of his picture and because it invokes his spirit, the prayer thereafter became commonly known as the Prayer of Saint Francis. The foregoing version of the prayer has been edited by Ron Rattner.


Ron's audio recitation of the Prayer of Saint Francis Of Assisi
"Our prayers should be for blessings in general,

for God knows best what is good for us."

~ Socrates
"When we pray to God we must be seeking nothing — nothing."

"We should seek not so much to pray, but to become prayer."

~ Saint Francis of Assisi
"[Our] own will is all that answers prayer,
only it appears under the guise of different religious conceptions to each mind.
We may call it Buddha, Jesus, Krishna,
but it is only the Self, the 'I'."

~ Swami Vivekananda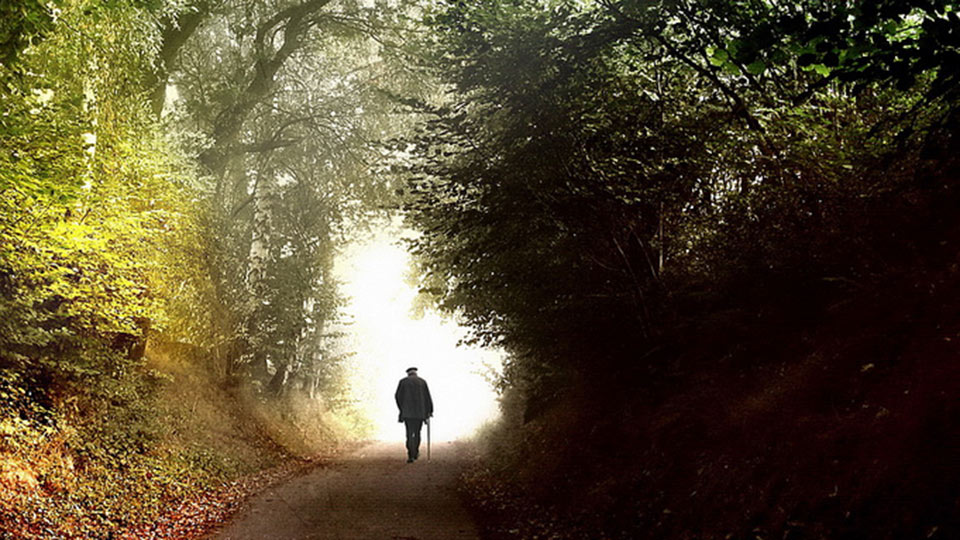 Ron's Introduction to My Life of "Prayer"

Dear Friends,

Since my mid-life spiritual awakening at age forty three, I have experienced a previously unimagined transformative new life-phase of growing inner-awareness in which spontaneous prayer has become fundamental.

So these spiritual memoirs appropriately include the following recollections and explanations of "prayer" in my life, both before and since the midlife awakening. In them I recount how I began this lifetime only praying rarely in organized religious programs, but how after years of evolutionary process I now instinctively pray constantly and spontaneously, with an unprecedented and all encompassing concept of "prayer".

These memoirs are written and dedicated to help spiritually "inspire many people", as requested and foreseen by my beloved Guruji, Shri Dhyanyogi Madhusudandas. 


And so may it be!

Ron Rattner

My history with "prayer"

I don't recall spontaneously praying or crying to God prior to midlife.  But I do remember feeling emotionally moved while singing collective prayers, and on hearing chanted cantorial prayers, at organized Jewish high holy day services. Even though I didn't understand the words, I was especially affected by "Kol Nidre" ("All Vows"), an emotively powerful prayer with a hauntingly beautiful melody which is chanted and recited in ancient Aramaic, to begin Yom Kippur services.

Only after the midlife awakening did I synchronistically begin regularly praying with daily recitations of the "make me an instrument of Thy peace" prayer attributed to Saint Francis of Assisi – heartfelt recitations which have continued for over forty years.

Before the midlife awakening I hadn't shed tears as an adult. But thereupon, I cried for twenty four hours, and soon realized with amazement that I was crying with intense longing for God. (See Beholding The Eternal Light Of Consciousness.) And that prayerful 'gift of tears' still persists.

Two years after the midlife awakening, I met my beloved Guruji, Shri Dhyanyogi Madhusudandas, and received shaktipat initiation into the path of kundalini yoga. Thereupon I was given a sacred "Rama" mantra and spiritual name "Rasik: one engrossed in devotion". Afterwards, as Guruji presciently had foreseen, I became and have ever since remained "engrossed in devotion", intensely yearning for the Divine, and often spontaneously calling and weeping for "Rama" with deep longing.

Also, in addition to the Saint Francis prayer, I began regularly reciting prayers and mantras recommended by Guruji, and soon became a "born-again Hindu". Though some Hindu prayers were directed to mythological Hindu deities – including the legendary monkey-god Hanuman – in calling, crying or praying to the Divine, I consistently conceived of "God" as formless and invisible. Ultimately, on my acceptance of Advaita non-duality philosophy, "God" as ultimate Reality became (and remains} for me an inconceivable Mystery.

Especially during my extended post-retirement reclusive period, I daily prayed for particular people, envisioning them as enveloped by divine light, while silently praying for everyone everywhere. Sometimes I prayed for specific outcomes, like healing or wellbeing, while continuing to pray for all Life everywhere.


Now, although all specific loving prayers are beneficial, I instinctively pray with faith for best outcomes, without specifying desired results. Especially since miraculously surviving and recovering from a June, 2014 near-death taxicab rundown, I have gratefully given my 'irrevocable power of attorney' to The Lone Arranger to determine appropriate outcomes for all Life everywhere.

What is "prayer"?

On first meeting Guruji I simply thought of prayer as 'talking to God', and meditation as listening. So I didn't then even consider calling and crying for God or reciting mantras as "prayers". But since then my view of "prayer" gradually widened to include those and many other behaviors not previously regarded as "prayer". Thus my concept of prayer now includes all heartfelt longings for eternal communion with the Divine. And I accept Mahatma Gandhi's statement that "prayer is nothing else but an intense longing of the heart". Also, I believe it possible for us to prayerfully open our hearts to all Life, without excluding anyone or anything, even vile enemies. (See e.g. https://sillysutras.com/how-st-francis-of-assisi-inspires-pope-francis/)

How shall we pray?

Prayer is universal – a concept recognized worldwide by all cultures and people. But it is understood and practiced in different ways at different times.

In perceived dire sudden emergencies or threats most humans spontaneously pray for help, even if they haven't previously prayed and their instinct to pray is subliminal. Thus, once before becoming a "born-again Hindu", I suddenly began calling and crying out to God as "Rama, Rama, Rama", upon fearfully being lost in a jungle-like Hawaiian nature preserve. And I remember instinctively exclaiming "Jesus" when twice almost run down by crazy car drivers, though I'd never before prayed to Jesus.

All humans share a common instinct to return to our Divine Source. But, as unique beings with uniquely conditioned karmic perspectives and limitations, we each experience different evolutionary challenges and different theoretical spiritual paths. So, as we evolve toward realization of our common spiritual Source and Self identity, different practices and behaviors are most appropriate for each of us – including whether, when or how we pray. (See e.g. https://sillysutras.com/different-person-different-path/ ) In my experience, our inner insights and instincts best help us determine our unique evolutionary paths.

Thus, though I began this lifetime only praying rarely in organized religious programs, after years of evolutionary process I now instinctively pray constantly and spontaneously, with an unprecedented and all encompassing concept of "prayer".

I am unqualified to tell others how, when or whether to pray. But it is my aspiration that SillySutras readers may find guidance about prayer and other spiritual practices from these memoirs and cited spiritual quotations. So I will hereafter share my opinions and observations about prayer in our lives.

Observations and quotations about "prayer"

Praying is instinctive. Throughout recorded human history prayers have been offered by countless saints and sages, and by ordinary people of every religious denomination. Even Buddhists who don't believe in a Creator God recite many mantras and pray a lot. 

Different people have differing ideas about meanings and methods of "prayer". Most often prayer involves asking for divine help or expressing gratitude to God or other higher power. But "prayer" can be broadly considered as all spontaneous, heartfelt, or worshipful longing for or communion with Universal Intelligence, Nature, or Divinity.   And all such selfless loving prayer may be magically powerful.  For example, I've become gratefully convinced that heartfelt prayers of others helped my miraculous survival and healing from a 2014 near-death taxi rundown. And that all our compassionate prayers are often answered. Mahatma Gandhi has said that prayer "is the most potent instrument of action"; that "with the Grace of God everything can be achieved."

"Everything we think, do or say changes this world in some way". So we are all co-creating our earthly mental reality. As Universal Spirit, we are ONE, and we 'contagiously' influence one another, positively or negatively. Every thought affects our collective consciousness. We have infinite potentiality to lovingly and prayerfully bless this world. But our fearful and worrisome thoughts and behaviors are tantamount to negative prayers, which can unknowingly afflict the world.  So mental mindfulness helps us avert such worrisome thoughts.

Beyond historically helpful traditional prayer customs and practices, even Western scientific double-blind "placebo effect" studies, now support efficacy of prayer.  A 2006 Washington Post article even asserted that "prayer is the most common complement to mainstream medicine, far outpacing acupuncture, herbs, vitamins and other alternative remedies."

The stiller and more focused our minds, the more opened our hearts, and the deeper our harmony with Nature, the more impactful are our prayers. And, whether or not we intentionally "pray", our focused awareness of conditioned mental propensities can be key to fulfilling our deepest evolutionary aspirations.

It's best to be givers, not getters. For it is in giving that we receive. So, it's preferable to pray selflessly for peace and welfare of all others, rather than for perceived self-interests; to 'pray for God to do through us – not for us'.
"When we pray to God we must be seeking nothing — nothing."
~ Saint Francis of Assisi to his Order of Friars Minor


And it's best to leave to Supreme Authority details of how to accomplish all our prayerful wishes, rather than to specify them.
"Our prayers should be for blessings in general,
for God knows best what is good for us."

~ Socrates


As we evolve beyond our illusionary perceptual/conceptual separation of each other, and all our other mistaken beliefs which theoretically divide ONE Reality, those illusions gradually melt into mystery. And increasingly we realize that we are THAT eternal Self to which we which we pray, and to which we intensely aspire to return. We see that

"[Our] own will is all that answers prayer,
only it appears under the guise of different religious conceptions to each mind.
We may call it Buddha, Jesus, Krishna,
but it is only the Self, the 'I'."

~ Swami Vivekananda – Jnana Yoga

Becoming "prayer"

There are now, and always have been, rare Avatars, Saints and Buddha-like beings who are completely devoted to blessing all Life, without exception or exclusion. Hence, it is possible to live life as continual prayer, not just with continual prayer. So it can be evolutionarily feasible that ultimately

"We should seek not so much to pray, but to become prayer."
~ Saint Francis of Assisi to his Order of Friars Minor


Realization of humanity's shared evolutionary aspiration.

Realization of such a perpetually prayerful saintly state is humanity's deepest aspiration. Knowingly or unknowingly, consciously or subconsciously, no matter who or where we are, no matter our age, gender or culture, all humans share a universal and irresistible instinct and desire to return to a soul-remembered original state of Divine Love, Peace and Oneness – a transcendent state beyond words or thoughts, so marvelous that its subliminal memory magnetically attracts every sentient being to merge and be At-One with THAT.

Conclusion

SELF Realization of THAT to which we pray, and for which we deeply aspire, is our ultimate destiny. May these writings on "prayer" help advance us toward that destiny.

And so may it be!

Ron Rattner


"In order to know through experience what happens beyond death,
you must go deep within yourself.
In meditation, the truth will come to you."
~ Shri Dhyanyogi Madhusudandas
"As we lose our fear of leaving life,
we gain the art of living life."
~ Ron Rattner, Sutra Sayings
"Face death to live life."
~ Ron Rattner, Sutra Sayings
"Death is a vacation –
Eternal Life-force vacating a transient vehicle –
"a space-time soul suit"
~ Ron Rattner, Sutra Sayings
"It is in dying to ego life,
that we are reborn to Eternal Life."
~ Prayer of St. Francis of Assisi (edited by Ron Rattner)


Introduction

Physical death is inevitable and natural. But when I grew up it was largely a taboo subject in American society. Most Americans feared death, believing it ended life. They usually died in hospitals or other institutions, and not at home surrounded by family. And mostly they used euphemistic language to describe death.

Though the mystery of inevitable bodily death has long been a central religious and philosophical issue, my childhood Jewish and public school education did not encompass that mystery – nor did my non-liberal arts college curriculum.

Both my grandmothers had died before I was born. My paternal grandfather who I hardly knew died while I was quite young and I was not brought to his funeral. Not until later adulthood did I suffer loss of any other dear person or pet, or think much about death.

Until my mid-life spiritual awakening, I self-identified only with my mortal body, its thoughts and its story, and I assumed that death of the physical body ended life. So I had no knowledge, opinion or belief concerning reincarnation or afterlife in 'heaven' or 'hell', or of an immortal "soul".

Like most other Americans, I had an innate but largely subconscious fear of death, which I discovered during college days in Madison, Wisconsin. While imprudently and unskillfully swimming too far from shore in Lake Mendota, I nearly drowned and unforgettably experienced my usually subconscious fear of death. Fortuitously, in the nick of time, I was sighted and rescued by boaters. For many years thereafter, as a (non-swimming) relatively young and healthy person, I never again consciously confronted or philosophically explored that innate fear of death.

Then in my early forties, I had irreversibly transformative experiences of spiritual self-identity and afterlife: I realized that I was not merely my body, its thoughts and story, but eternal and universal awareness. And I began seeing visions of apparent past lives, and inner and outer appearances of deceased people, including my maternal grandfather and Mahatma Gandhi, my first perceived inner spiritual guide.

So, I began accepting Eastern ideas of reincarnation and transmigration of an eternal soul, while gradually losing fear of inevitable physical death. Then, on meeting my beloved Guru, Shri Dhyanyogi Madhusudandas (on the luckiest day of my life), I learned that from childhood he had been preoccupied with two perennial puzzles: "Who am I?" and "What is death?"; that at age thirteen, inspired by irresistible inner longing, Guruji had run away from home in search of experiential answers to those eternal questions.

Inspired by Guruji, I became religiously transformed from "secular Hebrew" to "Born-again Hindu". And I developed a deep curiosity and philosophical interest in the spiritual significance of death and dying, reincarnation and karma.

Elsewhere, on SillySutras.com I have shared many experiences, essays and poems on these subjects. (See, for example, https://sillysutras.com/category/afterlife/; also https://sillysutras.com/death-afterlife-rebirth-easter-reflections-on-resurrections/)

Ultimately I concluded from experience, intuition and intellect that cosmically there is no death; that "birth and death are virtual, while Life is perpetual". (See e.g. https://sillysutras.com/know-death-to-know-life-know-death-to-know-that-there-is-no-death/ )

Consequently, I became ever more detached and less fearful about my own inevitable (and perhaps imminent) bodily death. But, my detachment about my own demise did not negate my compassionate concern for loss of others – especially dear ones – and my wish for their auspicious transitions. This became evident when at age sixty-one I was, at long last, confronted with my dear father's last illness and passing.

Here is what happened.

Dealing with my father's last illness and death

My dear father, Harry, came into this world on December 14, 1904, with a very strong body which served him well and without serious disease or disability until age 88. Then beginning in 1993 he had a series of ailments which proved terminal.

First he suffered an extremely painful and protracted case of herpes shingles for which he was treated with Prednisone, a powerful immune system depressant, which weakened him. Soon after recovering from that affliction, while already debilitated he had an intestinal hernia injury, so painful that he was hospitalized and suffered greatly before and after emergency abdominal surgery. Then he soon developed congestive heart disease with lungs filling with liquid and mucus. And finally he was diagnosed with lung cancer – a terminal disease which he had averted despite being a three pack a day cigarette chain smoker from teen age until age sixty. Amazingly, he had will power to immediately quit smoking cigarettes on publication of the 1964 US Surgeon General's report confirming cigarette carcinogenicity and toxicity.

My Dad had enthusiastically enjoyed his long life, especially after his retirement and move from Chicago to the California Bay Area, near his children. But he was not anxious to prolong that life while he suffered painful terminal disease. Once, when I visited him in the John Muir Hospital, sadly he confided in me: "Ron, they put dogs and cats out of misery, but make people suffer. If Doctor Kevorkian was in this area and not Michigan, he'd be my doctor."

Though, as a law-abiding "born-again Hindu" I had mixed emotions about euthanasia, I felt great compassion for my father and wanted to do whatever would be spiritually appropriate to mitigate his suffering and assure his most auspicious possible transition. So, I consulted my Brahmin Vedic pundit-astrologer friend Pravin Jani, father of Guruji's successor, Shri Anandi Ma.

Pravinji recommended that I recite certain Sanskrit mantras and that I make two extraordinary charitable donations dedicated to my father: first, that I give to a chosen charity a gift of actual gold – not money; and second, that I purchase and give a holy cow to an Indian ashram. So, with heartfelt compassion for my father, I began reciting the mantras and arranged the unusual donations in his honor.

First, I donated rare American eagle gold coins to New Dimensions Foundation, where I was a Board member. Then, through arrangements by my daughter Jessica who was then living on Ammachi's Kerala ashram, I acquired and donated to the ashram a holy cow, where it was gratefully received.

"Why" you may ask "is it considered propitious to donate a cow to an Indian ashram?" Because in India cows are are revered as sacred animals by millions of Hindus. Hindus believe that their Divine Avatar Krishna incarnated 5,000 years ago as an enchanting cowherd. He is often described as Bala-Gopala, "the child who protects the cows." and as Govinda, "one who brings satisfaction to the cows."

I learned about holy cows during my 1982 sacred pilgrimage to India. One of my most memorable images of that trip, was of stray cows roaming free and obstructing traffic on busy Calcutta streets as our tour bus approached the downtown hotel where we were staying. Later, in the holy city of Rishikesh, I communed with and kissed one of the sacred small cows on the Sivananda, Divine Life Ashram.


Many Indian ashrams and rural Indian families have at least one dairy cow, using it for milk, curds, butter, ghee and dung as fuel for pujas (ritual ceremonies). Thus, the cow remains a protected animal in Hinduism today, revered by most Hindus, who do not eat beef.

When I stayed at Ammachi's ashram in 1992, the ashram had one cow. It's limited dairy products were used mostly for feeding Ammachi and some swamis, but were insufficient to supply other ashram residents. However, with special dispensation, for a few days Jessica obtained for me one morning cup of curd (yoghurt) which helped heal the severe intestinal upset with which had I arrived at the ashram, suffering food poisoning from a Brahmin wedding feast in Ahmedabad. So the following year I was especially happy to repay that ashram cow's blessing by donating another sacred cow to be its companion.

Apparently my bovine and gold donations and prayers did not prolong my father's life. But I have faith that they helped his transition to a heavenly afterlife. When it became evident that Dad's days here were numbered, at his request he was released from hospital to hospice care at home in March 1994.

To help, I started sleeping at my parents' Walnut Creek apartment. On the night of March 10, 1994, sensing that Dad's death was imminent, I stayed awake reciting Sanskrit mantras, especially a mantra recommended by Guruji for auspicious transitions of those destined to die. As I fervently recited mantras, I felt enhanced subtle energies and entered a clairsentient state. Then, though Dad was sleeping in another room, I felt the departure of his spirit. The next morning he was gone, and I helped my mother with required post-death arrangements.

After-death Afterlife Epilogue

That night, exhausted by the stress of prior days, I returned to San Francisco where I slept soundly in my 'high-rise hermitage'. Just before awakening, and while I was in a semi-sleep state, my father fleetingly appeared in a vivid inner vision. He looked as he did during the prime of his life, rather than as a debilitated old man. He assured me he was fine and then disappeared. When I reported that sighting to Indian friends, they informed me that Dad had died on Maha Shivaratri (the 'Great Night of Shiva') considered the most auspicious holy night of the year by millions of Hindus.

Soon afterwards I received another extraordinary assurance of Dad's favorable transition as I was driving to Shri Anandi Ma's home in Antioch for a weekend meditation program. En route, I had picked up as passengers Anandi Ma's parents and brother Umesh at their Berkeley apartment. Like his revered sister, Umesh then spent many hours daily in deep meditation often communing with Guruji's ishta devata, Hindu monkey-God Lord Hanuman, considered an incarnation of Shiva.

As we traveled to Antioch, Umesh said to me: "Ron, I have a message for you from Hanumanji." With extreme curiosity, I asked about that message. Whereupon, Umesh replied: "Hanumanji says, don't worry about your father, we're taking care of him."

Six months later, on August 29, 1994, Guruji took mahasamadhi at age one hundred sixteen, and joined the heavenly host caring for my father and countless others. So, heeding Hanumanji's assurance, I'm not worrying about my father. Instead, as I too approach the end of this precious lifetime, it is my heartfelt aspiration to help through self-purification and compassion not only family dear ones but all other suffering sentient beings with whom we remain inseparably connected.

And so may it be!