"The past is gone,
the future is not yet here,
and if we do not go back to ourselves in the present moment,
we cannot be in touch with life."
~ Thich Nhat Hanh
Introduction and Explanation.
With deep gratitude for his teachings, this posting honors Buddhist Master Thich Nhat Hanh – renowned Vietnamese Buddhist monk, peace advocate, teacher, poet, and author.
Master Thich Nhat Hanh was particularly known in the West for teaching Buddhist mindfulness and active social and political pursuit of Truth, known as "Engaged Buddhism".
This article includes below a culled collection of representative quotations from his voluminous writings, and an embedded recent Plumb Village documentary film – "A Cloud Never Dies", narrated by actor Peter Coyote, a Zen Buddhist practitioner and priest.
The Plumb Village collective organization is the best online source for further information about Master Thich Nhat Hanh. And for your convenience a Wikipedia biography is both linked and attached as a pdf document.
May Master Thich Nhat Hanh's long lifetime in the 20th and 21st centuries, continue blessing countless future generations, until we realize (as He observed) that "Reality transcends both birth and death."
And so may it be!
Namasté!
Ron Rattner


"A Cloud Never Dies"



Quotations From Master Thich Nhat Hanh

"We are here to awaken from our illusion of separateness."

"The notion of a separate self is like a tunnel that you keep going into. When you practice meditation, you can see that there is the breathing but no breather can be found anywhere; there is the sitting but no sitter can be found anywhere. When you see that, the tunnel will vanish, and there will be a lot of space, a lot of freedom."

"Today is the most important day of our lives."

"Waking up this morning, I smile. Twenty-four brand new hours are before me. I vow to live fully in each moment and to look at all beings with eyes of compassion."

"If you think that peace and happiness are somewhere else and you run after them, you will never arrive."

"In mindfulness one is not only restful and happy, but alert and awake. Meditation is not evasion; it is a serene encounter with reality."

"Meditation is not to avoid society; it is to look deep to have the kind of insight you need to take action. To think that it is just to sit down and enjoy the calm and peace, is wrong."

"Meditation is not meant to help us avoid problems or run away from difficulties. It is meant to allow positive healing to take place. To meditate is to learn how to stop—to stop being carried away by our regrets about the past, our anger or despair in the present, or our worries about the future."

"Feelings come and go like clouds in a windy sky. Conscious breathing is my anchor."

"Silence is essential. We need silence just as much as we need air, just as much as plants need light. If our minds are crowded with words and thoughts, there is no space for us."

"Guarding knowledge is not a good way to understand. Understanding means to throw away your knowledge."

"People normally cut reality into compartments, and so are unable to see the interdependence of all phenomena. To see one in all and all in one is to break through the great barrier which narrows one's perception of reality."

"Birth is okay and death is okay, if we know that they are only concepts in our mind. Reality transcends both birth and death."

"There is no birth, there is no death; there is no coming, there is no going; there is no same, there is no different; there is no permanent self, there is no annihilation. We only think there is."

"The heart of the matter is always our oneness with divine spirit, our union with all life."

"You are what you want to become. Why search anymore? You are a wonderful manifestation. The whole universe has come together to make your existence possible. There is nothing that is not you. The kingdom of God, the Pure Land, nirvana, happiness, and liberation are all you."

"Be Yourself. Life is precious as it is. All the elements for your happiness are already here. There is no need to run, strive, search, or struggle. Just Be."

"To be beautiful means to be yourself. You don't need to be accepted by others. You need to accept yourself. When you are born a lotus flower, be a beautiful lotus flower, don't try to be a magnolia flower. If you crave acceptance and recognition and try to change yourself to fit what other people want you to be, you will suffer all your life. True happiness and true power lie in understanding yourself, accepting yourself, having confidence in yourself."

"The most precious gift we can offer anyone is our attention. When mindfulness embraces those we love, they will bloom like flowers."

"When you love someone, the best thing you can offer is your presence. How can you love if you are not there?"

"If love is in our hearts, every thought, word, and deed can bring about a miracle. Because understanding is the very foundation of love, words and actions that emerge from our love are always helpful."

"The essence of love and compassion is understanding, the ability to recognize the physical, material, and psychological suffering of others, to put ourselves "inside the skin" of the other. We "go inside" their body, feelings, and mental formations, and witness for ourselves their suffering. Shallow observation as an outsider is not enough to see their suffering. We must become one with the subject of our observation. When we are in contact with another's suffering, a feeling of compassion is born in us. Compassion means, literally, "to suffer with.""

"When another person makes you suffer,
it is because he suffers deeply within himself,
and his suffering is spilling over.
He does not need punishment; he needs help.
That's the message he is sending."

"You do not suffer because things are impermanent. You suffer because things are impermanent and you think they are permanent."

"People have a hard time letting go of their suffering. Out of a fear of the unknown, they prefer suffering that is familiar."

"Fear keeps us focused on the past or worried about the future. If we can acknowledge our fear, we can realize that right now we are okay. Right now, today, we are still alive, and our bodies are working marvelously. Our eyes can still see the beautiful sky. Our ears can still hear the voices of our loved ones."

"Letting go gives us freedom, and freedom is the only condition for happiness. If, in our heart, we still cling to anything – anger, anxiety, or possessions – we cannot be free."

"The desire to be a free person is very worthwhile. To be free means you are no longer the victim of fear, anger, craving, or suspicion."

"Anger is like a storm rising up from the bottom of your consciousness. When you feel it coming, turn your focus to your breath. Breathe in deeply to bring your mind home to your body. Then look at, or think of, the person triggering this emotion: with mindfulness, you can see that they are unhappy and suffering. You can see their wrong perceptions. You'll feel motivated by a desire to say or do something to help the other person suffer less. This means compassionate energy has been born in your heart. And when compassion appears, anger is deleted."

"Around us, life bursts with miracles–a glass of water, a ray of sunshine, a leaf, a caterpillar, a flower, laughter, raindrops. If you live in awareness, it is easy to see miracles everywhere. Each human being is a multiplicity of miracles. Eyes that see thousands of colors, shapes, and forms; ears that hear a bee flying or a thunderclap; a brain that ponders a speck of dust as easily as the entire cosmos; a heart that beats in rhythm with the heartbeat of all beings. When we are tired and feel discouraged by life's daily struggles, we may not notice these miracles, but they are always there."

"People usually consider walking on water or in thin air a miracle. But I think the real miracle is not to walk either on water or in thin air, but to walk on earth. Every day we are engaged in a miracle which we don't even recognize: a blue sky, white clouds, green leaves, the black, curious eyes of a child — our own two eyes. All is a miracle."

"The greatest of all miracles is to be alive."

"Because you are alive, everything is possible."

"The buddha called suffering a holy truth, because our suffering has the capacity of showing us the path to liberation. Embrace your suffering and let it reveal to you the way to peace."

"When you plant lettuce, if it does not grow well, you don't blame the lettuce. You look for reasons it is not doing well. It may need fertilizer, or more water, or less sun. You never blame the lettuce. Yet if we have problems with our friends or family, we blame the other person. But if we know how to take care of them, they will grow well, like the lettuce. Blaming has no positive effect at all, nor does trying to persuade using reason and arguments. That is my experience. No blame, no reasoning, no argument, just understanding."

"Some people live as though they are already dead. There are people moving around us who are consumed by their past, terrified of their future, and stuck in their anger and jealousy. They are not alive; they are just walking corpses."

"Often we tell ourselves, "Don't just sit there, do something!" But when we practice awareness, we discover that the opposite may be more helpful: "Don't just do something, sit there!""

"Human beings are not our enemy. Our enemy is not the other person. Our enemy is the violence, ignorance, and injustice in us and in the other person. When we are armed with compassion and understanding, we fight not against other people, but against the tendency to invade, to dominate, and to exploit."

"At any moment, you have a choice, that either leads you closer to your spirit or further away from it."

"The organic gardener does not think of throwing away the garbage. She knows that she needs the garbage. She is capable of transforming the garbage into compost, so that the compost can turn into lettuce, cucumber, radishes, and flowers again…With the energy of mindfulness, you can look into the garbage and say: I am not afraid. I am capable of transforming the garbage back into love."

"When we change our daily lives – the way we think, speak and act – we change the world."

"Because of your smile, you make life more beautiful."

"Sometimes your joy is the source of your smile, but sometimes your smile can be the source of your joy."

"When fear becomes collective, when anger becomes collective, it's extremely dangerous. It is overwhelming… The mass media and the military-industrial complex create a prison for us, so we continue to think, see, and act in the same way… We need the courage to express ourselves even when the majority is going in the opposite direction… because a change of direction can happen only when there is a collective awakening… Therefore, it is very important to say, 'I am here!' to those who share the same kind of insight." The Art of Power

"We are determined not to take as the aim of our life fame, profit, wealth, or sensual pleasure, nor to accumulate wealth while millions are hungry and dying. We are committed to living simply and sharing our time, energy, and material resources with those who are in need."

~ Thich Nhat Hanh


Dedication 

This posting is shared with the deep aspiration and dedication that its spiritual teachings will inspire and help us live happily and compassionately – even during the current extraordinary era of warfare, deprivation, turmoil, violence and suffering.

And so may it be!

Namasté!

Ron Rattner


"The more you talk and think about it,
the further astray you wander from the truth.
Stop talking and thinking,
and there is nothing you will not be able to know."
~  Seng-Ts'an, The Third Patriarch Of Zen
"My teaching is like a finger pointing to the moon.
Do not mistake the finger for the moon"
~ Thich Nhat Hanh, quoting the Buddha's Teachings
"There's nothing to say,
but words point the way."
~ Ron Rattner, Sutra Sayings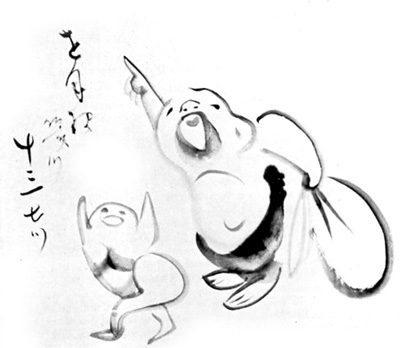 HSIN HSIN MING:
VERSES ON THE FAITH MIND



by Seng-Ts'an,
The Third Patriarch of Zen*
The Great Way is not difficult
for those who have no preferences.
When love and hate are both absent
everything becomes clear and undisguised.
Make the smallest distinction, however,
and heaven and earth are set infinitely apart.

If you wish to see the truth
then hold no opinions for or against anything.
To set up what you like against what you dislike
is the disease of the mind.
When the deep meaning of things is not understood,
the mind's essential peace is disturbed to no avail.

The Way is perfect like vast space
where nothing is lacking and nothing in excess.
Indeed, it is due to our choosing to accept or reject
that we do not see the true nature of things.

Live neither in the entanglements of outer things,
nor in inner feelings of emptiness.
Be serene in the oneness of things and such
erroneous views will disappear by themselves.

When you try to stop activity by passivity
your very effort fills you with activity.
As long as you remain in one extreme or the other
you will never know Oneness.

Those who do not live in the single Way
fail in both activity and passivity,
assertion and denial.
To deny the reality of things
is to miss their reality;
To assert the emptiness of things
is to miss their reality.

The more you talk and think about it,
the further astray you wander from the truth.
Stop talking and thinking,
and there is nothing you will not be able to know.

To return to the root is to find meaning,
but to pursue appearances is to miss the source.
At the moment of inner enlightenment
there is a going beyond appearance and emptiness.
The changes that appear to occur in the empty world
we call real only because of our ignorance.

Do not search for the truth;
only cease to cherish opinions.
do not remain in the dualistic state.
Avoid such pursuits carefully.
If there is even a trace of this and that,
of right and wrong,
the mind-essence will be lost in confusion.

Although all dualities come from the One,
do not be attached even to this One.
When the mind exists undisturbed in the Way,
nothing in the world can offend.
And when a thing can no longer offend,
it ceases to exist in the old way.

When no discriminating thoughts arise,
the old mind ceases to exist.
When thought objects vanish,
the thinking-subject vanishes:
As when the mind vanishes, objects vanish.

Things are objects because of the subject (mind):
the mind (subject) is such because of things (object).
Understand the relativity of these two
and the basic reality: the unity of emptiness.
In this Emptiness the two are indistinguishable
and each contains in itself the whole world.
If you do not discriminate between coarse and fine
you will not be tempted to prejudice and opinion.

To live in the Great Way is neither easy nor difficult.
But those with limited views are fearful and irresolute:
the faster they hurry, the slower they go.
And clinging (attachment) cannot be limited:
Even to be attached to the idea of enlightenment
is to go astray.
Just let things be in their own way
and there will be neither coming nor going.
Obey the nature of things (your own nature)
and you will walk freely and undisturbed.

When the thought is in bondage the truth is hidden
for everything is murky and unclear.
And the burdensome practice of judging
brings annoyance and weariness.
What benefit can be derived
from distinctions and separations?

If you wish to move in the One Way
do not dislike even the world of senses and ideas.
Indeed, to accept them fully
is identical with enlightenment.

The wise man strives to no goals
but the foolish man fetters himself.

There is one Dharma, not many.
Distinctions arise
from the clinging needs of the ignorant.
To seek Mind with the (discriminating) mind
is the greatest of all mistakes.

Rest and unrest derive from illusion;
with enlightenment
there is no liking and disliking.
All dualities come from ignorant inference.
They are like dreams or flowers in air –
foolish to try to grasp them.
Gain and loss, right and wrong,
such thoughts must
finally be abolished at once.

If the eye never sleeps,
all dreams will naturally cease.
If the mind makes no discriminations,
the ten thousand things are as they are,
of single essence.
To understand the mystery of this One-essence
is to be released from all entanglements.
When all things are seen equally
the timeless Self-essence is reached,
No comparisons or analogies are possible
in this causeless, relationless state.
Consider movement stationary
and the stationary in motion,
both movement and rest disappear.
When such dualities cease to exist
Oneness itself cannot exist.
To this ultimate finality
no law or description applies.

For the unified mind in accord with the way
all self-centered striving ceases.
Doubts and irresolutions vanish
and life in true faith is possible.
With a single stroke we are freed from bondage:
Nothing clings to us and we hold to nothing.

All is empty, clear, self-illuminating,
with no exertion of the mind's power.
Here thought, feeling,
knowledge and imagination are of no value.

In this world of suchness
there is neither self nor other-than-self.
To come directly into harmony with this reality
just say when doubt rises "not two".
In this "not two" nothing is separate,
nothing is excluded.

No matter when or where,
enlightenment means entering this truth.
And this truth is beyond extension
or diminution in time and space:
In it a single thought is ten thousand years.

Emptiness here, emptiness there,
but the infinite universe
stands always before your eyes.
Infinitely large and infinitely small;
no difference, for definitions have vanished
and no boundaries are seen.

So too with Being and non-Being.
Don't waste time in doubts and arguments
That have nothing to do with this.

One thing, all things,
move among and intermingle without distinction.
To live in this realization
is to be without anxiety about non-perfection.
To live in this faith is the road to non-duality,
because the non-dual is one with the trusting mind.

Words!
The Way is beyond language,
for in it there is
no yesterday
no tomorrow
no today.
*Footnote re "
Hsin Hsin Ming"

The Hsin-Hsin Ming is a profound 6th Century non-dualistic perennial wisdom poem, first in the Ch'an (Chinese Zen) Buddhist tradition, attributed to the legendary third Zen patriarch, Seng Ts'an. Long regarded as a masterpiece by Zen practitioners, its essential non-dualistic message (influenced by Taoism) is that "When all things are seen equally the timeless Self-essence is reached. No comparisons or analogies are possible in this causeless, relationless state". Thus any attachment, mental exertion or conceptual effort to characterize or distinguish impermanent perceptions precludes living an enlightened life – The Great Way, since words and concepts arise from illusion of duality and cannot describe timeless non-dual Truth, but merely point the way.



Skillfully translated from Chinese to English by Roshi Dr. Richard B. Clarke (1933-2013), founder and First Teacher of The Living Dharma Center near Amherst, MA. this version is available elsewhere on-line and in print. (Currently it is featured in "Teachings of the Buddha", edited by Jack Kornfield, Shambala 2012, at pp. 143-9).
YouTube recitation of "
Hsin Hsin Ming" by Ben Bigelow:
"Reality is merely an illusion, albeit a very persistent one."
~ Albert Einstein
Ron's Introductory Comments.
Is "reality" absolute or relative?
And how should the answer to that question influence our worldly ways?
Our phenomenal Universe is miraculous, marvelous, and meaningful.  But it is ever changing and impermanent – a "relative reality" of space, time and causality which some mystics call illusion,
samsara
, or
maya
.
It arises and appears in an unchanging mysterious matrix of Infinite Potentiality, which some call "Absolute Reality".
When aware or awakening to this distinction between Absolute and relative reality, we may realize that while we are apparent entities in this world, our Source and ultimate identity transcends this world;  that we are 'in this world but not of this world'.
Thus realizing the impermanence and relativity of our phenomenal reality, we may ponder on its meaning and purpose and, accordingly, on how to best behave herein: viz. what thoughts, words or deeds (if any) are most appropriate and skillful?
SillySutras.com is dedicated to raising perennial questions about how to  best be in this world.   Even spiritual masters and great scholars can disagree on answers to such questions.
So, ultimately, each of us must intuitively answer such questions for ourselves.
In the opening chapter of
"Thoughts Without a Thinker"
, concerning psychotherapy from a Buddhist perspective, author psychotherapist Mark Epstein recounts this apt anecdote about a meeting at the home of a Harvard University psychology professor of two prominent teachers of Buddha-dharma with different ideas about dharma.
"Thoughts Without a Thinker", by Dr. Mark Epstein – Excerpt From Chapter One.
"In the early days of my interest in Buddhism and psychology, I was given a particularly vivid demonstation of how difficult it was going to be to forge an integration between the two.  Some friends of mine had arranged for an encounter between two prominent visiting Buddhist teachers at the house of a Harvard University psychology professor.  These were teachers from two distinctly different Buddhist traditions who had never met and whose traditions had in fact had very little contact over the past thousand years.  Before the worlds of Buddhism and Western psychology could come together, the various strands of Buddhism would have to encounter one another.  We were to witness the first such dialogue.

The teachers, seventy-year-old Kalu Rinpoche of Tibet, a veteran of years of solitary retreat, and the Zen master Seung Sahn, the first Korean Zen master to teach in the United States, were to test each other's understanding of the Buddha's teachings for the benefit of the onlooking Western students.  This was to be a high form of what was being called  'dharma' combat (the clashing of great minds sharpened by years of study and meditation), and we were waiting with all the anticipation that such a historic encounter deserved.  The two monks entered with swirling robes — maroon and yellow for the Tibetan, austere grey and black for  the Korean — and were followed by retinues of younger monks and translators with shaven heads.  They settled onto cushions in the familiar cross-legged positions, and the host made it clear that the younger Zen master was to begin.  The Tibetan lama sat very still, fingering a wooden rosary (mala) with one hand while murmuring, "Om mani padme hum" continuously under his breath.

The Zen master, who was already gaining renown for his method of hurling questions at his students until they were forced to admit their ignorance and then bellowing, "Keep that don't know mind!" at them, reached deep inside his robes and drew out an orange. "What is this?" he demanded of the lama.  "What is this?"  This was a typical opening question, and we could feel him ready to pounce on whatever response he was given.

The Tibetan sat quietly fingering his mala and made no move to respond.

"What is this?" the Zen master insisted, holding the orange up to the Tibetan's nose.

Kalu Rinpoche bent very slowly to the Tibetan monk near to him who was serving as the translator, and they whispered back and forth for several minutes.  Finally the translator addressed the room: "Rinpoche says, 'What is the matter with him?  Don't they have oranges where he comes from?"

The dialog progressed no further."