Doing Time
~ Ron's Memoirs and Sutra-Poem
"Be empty of worrying,
Think of Who Created Thought!

Why do you stay in prison
when the door is so wide open?"
~ Rumi
"True freedom and the end of suffering is living in such a way as if you had completely chosen whatever you feel or experience at this moment. This inner alignment with Now is the end of suffering."
~ Eckhart Tolle
"There is only one time when it is essential to awaken.
That time is now."
~ Buddha
"That which is timeless is found now."
~ Buddha
Ron's Introduction to "Doing Time"
Dear Friends,
Today's posting, on my ninetieth birthday, is a sutra-poem with memoirs, paradoxically titled "Doing Time". Instead of being about the colloquial English idiom meaning serving a prison sentence, today's posting is about the psychological imprisonment of almost all 8 billion humans, except for rare Buddhas and Bodhisattvas who intentionally incarnate to help others.
Spiritually most humans are unknowingly imprisoned in time by illusionary ego/mind ideas of self-identity and "reality". We are mass acculturated and psychologically 'programmed' to mistakenly believe ourselves to be separate physical entities in space and time apart from each other, Nature, and Eternal Divinity.
Today's quotations, sutra-poem, and memoirs remind us that in Truth we are the unseen spiritual Source of the world we see – ONE Eternal Spirit; ONE Life; ONE Light; ONE LOVE!
After my midlife spiritual awakening I experienced many years of intense longing for the Divine, beyond the inevitable suffering of this world. It began with the amazing experience on a
Yosemite mountain-top of beholding inner luminescence of "ten thousand suns"
. But only after another unforgettable experience with my beloved Guruji, did I begin considering myself imprisoned and condemned to suffer in a human body.
While massaging Guruji in my San Francisco apartment, I exclaimed at the flexibility and softness of his then hundred year old body. Whereupon Guruji unforgettably responded:
"Rasik, a yogi's body is like a baby's body.
Your body is like a prison.
I am like a jailer with the prison key. I come and go as I please."

Thereafter, during many years of seclusion, prayer and meditation, I considered myself metaphorically 'imprisoned' in a space/time human body. It was then that I was given the following sutra-poem, which I called "Doing Time".

In comments following the written and recited verses, I will summarize my evolution from longing to escape incarnate worldly suffering to aspiring to be in this world but not of this world, so as to help others transcend suffering.

A more detailed description and explanation of that transition is recounted in my prior memoirs chapter Human Body – A Precious 'Prison'.

Here is the "Doing Time" poem. Please, enjoy it.


Doing Time
Time is how
"I" Measure "Now",

And space
Is for places

Where I'm –
Entangled here in time.

But I long to be – FREE
Where there is no "ME"-

Nowhere,

Out of time,

Beyond I'm,

Beyond hereness/thereness-

As just Awareness –

NOW!


Ron's audio comments and recitation of Doing Time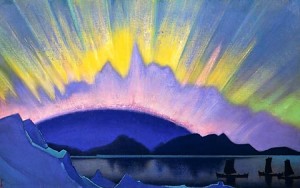 Ron's Explanation of "Doing Time"

After birth in a human body and until physical death, we are compelled to be in this world of inevitable pain and suffering. But we are not obliged to be here mentally. With focused awareness and self-control of our thoughts, emotions and attitudes, we can remain mentally peaceful, grateful and joyful.

Thereby we can 'be in this world' physically, but 'not of this world' mentally, attitudinally or spiritually.

While "tuning in" to our ever present worldly problems, we can "tune out" from much worldly suffering by non-judgmentally and forgivingly focusing on our Eternal and infinite inner Essence, which is LOVE and Light.

Background

Eastern spiritual paths identify human incarnation as an extraordinarily precious opportunity to evolve – beyond that of any other life-form; Buddhist and Hindu teachings say that for enlightenment it is better to be born human than even in a heavenly realm.

Before my mid-life spiritual awakening, I self-identified only with my body/mind and its story. Though I cherished my health, I was totally unaware of esoteric evolutionary perspectives about preciousness of human incarnation. But, since realizing that I was and am much more than my body and its story, I have deeply reflected on the significance and purpose of a human lifetime.

After previously unimagined spiritual awakening experiences, I began wondering about the nature and importance of the human body. I realized that my initial intense rebirth experience had temporarily released a previously unimaginable flow of vital energies (chi or prana), which gradually had abated as I returned to 'normal' consciousness.

So, I became highly motivated to again access that hidden reservoir of vital energy.

This motivation greatly intensified and was deeply inspired after I met Guruji and observed his amazing physical prowess, even as a centenarian, and experienced his extraordinarily intense and powerful cosmic life-force energy ("shakti").

I received confirmation of Guruji's exceptional energy upon an unforgettable synchronistic experience with him. While massaging Guruji in my San Francisco apartment, I exclaimed at the flexibility and softness of his then hundred year old body. Whereupon Guruji unforgettably responded:

"Rasik, a yogi's body is like a baby's body. Your body is like a prison.
I am like a jailer with the prison key. I come and go as I please."

I became and remained intensely curious about Guruji's revelation that my body was like a prison. I wondered how and why 'I' was 'imprisoned', and how 'I' could get out of 'jail' – free like Guruji.

Was I imprisoned by body stiffness from subconsciously stored traumas?
It was apparent that my body was not supple like Guruji's body. Though half his age, I couldn't even sit with crossed legs, much less stand on my head or perform the other advanced yogic postures (asanas) that Guruji showed us.

As I remembered the extraordinary vitality which temporarily followed my spiritual rebirth "peek" experience, I intuited that it was a glimpse of a potentially achievable bodily state well beyond anything I had theretofore imagined. But how could I restore that state? And even if possible, would the restoration of such a state allow me to get out of prison at will, like Guruji? That remained a mystery.

Gradually and synchronistically, I've been given insights about the bodily 'prison' mystery, but haven't yet 'solved' it.

I discovered an important clue, in Paramahansa Yogananda's "Autobiography of a Yogi", Chapter 43, wherein Yogananda's master Yukteswar resurrected to reveal the genesis of human physical, astral, and causal bodies, saying:

"The mere presence of a body signifies that its existence is made possible by unfulfilled desires." "The power of unfulfilled desires is the root of all man's slavery…"
"Physical desires are rooted in egotism and sense pleasures."
"So long as the soul of man is encased in one, two, or three body-containers,
sealed tightly with the corks of ignorance and desires, he cannot merge with the sea of Spirit."

~ Sri Yukteswar


Upon reading Sri Yuktewar's esoteric explanations of human 'bondage', I intuitively accepted them as true. And I remembered that Guruji had revealed in San Francisco lectures on "Death, Dying and Beyond" that during a 1971 'near death experience' he had been sent back by Lord Rama from a heavenly realm to his physical body because of his unfulfilled desires to help people.



I realized that all phenomena and forms – including human forms – that appear in this space/time reality interdependently originate in subtle energy planes pursuant to mysterious laws of causality. And I remembered that even though Guruji had evolved beyond limits of ordinary human consciousness, he had remained in a human body, but with amazing ability to transcend ordinary physical limitations, only because of his unselfish desires to help others.

Whereas it was obvious that I was 'imprisoned' by bonds of ego desire and ignorance mentioned by Sri Yukteswar.
 
So, thereafter, I became highly motivated to transcend all such egotistic bonds, and to get out of 'prison' – free like Guruji. Expressing these aspirations, I soon composed the above "Doing Time" verses.

Evolutionary Insights

During the forty year period since then, I have been blessed with an ongoing evolutionary process. Now, instead of longing to escape incarnate worldly suffering, I am unspeakably grateful for the immense privilege of encouraging others to transcend suffering by publishing memoirs insights about "Reality" and Self-identity, as requested by Guruji, which are consistent with those expressed for millennia by non-dualist Mystics.

And by so helping others it has helped me find previously unimagined happiness and peace of mind, which I aspire for everyone everywhere.

Conclusion and Dedication

Most humans are unknowingly imprisoned in time by illusionary ego/mind ideas of self-identity and "reality". 

However we are exceptionally privileged to live in an era with unprecedented opportunities for spiritual awakening and evolutionary elevation to a wonderful new ascended Earth-age, forever beyond "doing time" 'imprisonment' with fear and suffering, and concern about future earth-life.

These "Doing Time" writings are deeply dedicated to helping everyone everywhere soon awaken to such a wonderful new Earth-age.

And so may it be!

Ron Rattner