Human Potential Differential?
"The winds of grace are always blowing, 
but you have to raise the sail."
~ Sri Ramakrishna
"Every action, every thought, reaps its own corresponding rewards. 
Human suffering is not a sign of God's, or Nature's, anger with mankind. 
It is a sign, rather, of man's ignorance of divine law. . . .
Such is the law of karma: As you sow, so shall you reap. 
If you sow evil, you will reap evil in the form of suffering. 
And if you sow goodness, you will reap goodness in the form of inner joy."
~ Paramhansa Yogananda
"Cultivate compassion; harvest happiness."
~ Ron Rattner, Sutra Sayings
Evolution is an endless process –
from nescience to gnosis to apotheosis;
from bestial to celestial.
We ever evolve as our boundaries dissolve.
~ Ron Rattner, Sutra Sayings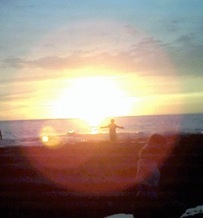 Human Potential Differential?

Q. Can humankind transform:

From bestial to celestial?

From infernal to supernal?

From barbarians to Buddhas?

From atrocities to altruism?

From selfishness to selflessness?

From sinners to saints?

From immorality to immortality?




A. YES, YES, YES, YES, YES, YES, YES!!!!

As medieval alchemists transmuted lead into gold, God inevitably transmutes suffering into Love; Humanity into Divinity.

Transformation is inevitable, but progress depends on karmic causes and conditions.

We 'reap as we sow'. As we cultivate compassion; we harvest happiness.


Ron's Human Potential Differential Commentary:

Dear Friends,

In these crazy turbulent times I steadfastly remain a 'cockeyed optimist' despite dire predictions of cataclysmic end of human life as we have known it.  

During many years of relative solitude, I deeply questioned and reflected on whether human ignorance was leading us to unavoidable 'end-times'; whether human evolution was inevitable, or just optional.  Ultimately, I concluded that human evolution is inevitable while our pace of progress is optional.

Soon after George W. Bush, Jr. became 43rd US President, I learned with amazement that Bush shared the same July 6th birth date with HH The Dalai Lama of Tibet.   Whereas I tremendously admired his Holiness as a paragon of wisdom and compassion, my view of Bush's behaviors was exceptionally antithetical.  From my perspective the Dalai Lama was a Buddha, while Bush was a barbarian. 

The foregoing poem was inspired by the apparently paradoxical behavioral differences between George Bush, Jr. and the Dalai Lama, who has praised Bush as a human being though not as President.
Inspired by the Dalai Lama and convinced by the unerring law of karma,  I have given to The Lone Arranger my eternally irrevocable 'power of attorney' for judging Bush and other "leaders" who instigate or condone official acts of aggression responsible for countless avoidable deaths and immense sufferings of innocent civilians, women and children.

May today's poem and quotations help inspire us to hasten inevitable human progress from gnosis to apotheosis.  Remembering that we reap as we sow, let us ever more cultivate compassion and harvest happiness for everyone everywhere.

And so may it be!

Ron Rattner