"Be melting snow. Wash yourself of yourself."
~ Rumi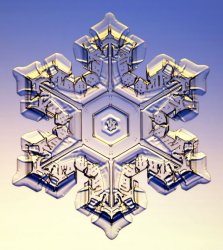 Spiritual teachers say we can learn about ourselves by closely observing all of Nature's manifestations and processes. As above, so below.

So, what can we learn about ourselves by studying snowflakes and hydrologic processes?

Science tells us that though countless trillions of snowflakes have fallen on earth each has a unique form; that each snowflake is an hexagonally symmetrical crystalline form which begins around a tiny speck of dust – as each pearl forms around a sand particle – but that no two snowflakes are exactly alike.

How amazing!!! http://www.its.caltech.edu/~atomic/snowcrystals/faqs/faqs.htm

Yet, despite this wondrous and unimaginable diversity of forms, all snowflakes have a common essence — frozen water, H20.

When a snowflake melts, it returns to and merges with its watery source, which is perpetually recycled. So, each snowflake's essence is the same – recycled water, which has formed countless unique prior snowflakes.

Not only are snowflakes unified in amazing physical diversity by their common watery essence, but science says that their common essence is indestructible. Water – a liquid – is a form of matter. Matter is merely manifest energy – E=mc2 – and energy can't be destroyed. It just cycles from formlessness to differing forms and phenomena. So, in their essence, snowflakes are immortal energy.

Like snowflakes, each of the billions of humans who have inhabited Earth has had an individually unique form and genetic makeup. And like snowflakes, human physical bodies are composed of common elemental constituents, including mostly H20. People's physical bodies – like snowflakes – appear for a twinkling of time, die and physically 'melt' back into the Earth.

But, unlike snowflakes, each of us is aware of our environment and of our life's experiences; and this awareness is our entire existence. So, while unique snowflakes are united in glorious diversity by their common watery essence, physically unique human beings, are unified not only by their common elemental constituents but, also, by their by their common essence – awareness, which is the sole matrix and context of human beingness.

Snowflakes appear in Nature and, apparently, are peacefully at one with Nature until they disappear. Humans appear in Nature but – unlike snowflakes – we have great intelligence and we think. And through thought we identify ourselves with our perceived separate forms. Thus, we think that we are entities "condemned" by nature to inevitable bodily death. But we don't know what will happen to us upon such death.

So, we become afraid of dying; of giving up the known for the unknown. And, through thought, we try psychologically to "protect" and preserve our ephemeral physical forms and to deter or deny their inevitable demise. Accordingly, our lives are often marked by mental afflictions causing conflicts, problems and suffering, which disturb our peace and our awareness of at-one-ment with Nature.

Q. So, what can people learn from snowflakes?

A. To 'cool it' and to not worry about our inevitable disappearance; to let go and go with the flow.

We can realize that we are much more than our unique physical forms or our thoughts; that – like snowflakes – our common essence is immortal.

Realizing this, we can begin more and more to self-identify with our immortal awareness, rather than our ephemeral forms and thoughts; and gradually we can expand our perceived boundaries, so to ever evolve 'til these boundaries dissolve.

Thus, we can more and more live with less and less anxiety, fear and worry. Though in this life we may never totally transcend ephemeral entity identity, often we can just be at peace – as immortal awareness.

And so,

"As we lose our fear, Of leaving life, We shall gain the art of living life."

And – like snowflakes – maybe some day we'll be 'recycled' some way. e.g. http://www.victorzammit.com/Whenwedie/whatdoeshappen.htm

Or maybe not. e.g. http://tinyurl.com/mlw6erq

In all events, – like snowflakes – we need not worry about leaving. For

"It is in dying [to ego life] that we are reborn to Eternal Life." ~ Saint Francis of Assisi

Here's what Paramahansa Yogananda says:

"The dewdrop belongs to the sea. Separated, it is vulnerable to the sun and wind and other elements of nature; but when the droplet returns its source, it becomes magnified in oneness with the sea. So it is with your life. United to God you become immortal."

So – like snowflakes – don't worry, be happy!

Namaste!