Posts Tagged 'Dr. Masaru Emoto'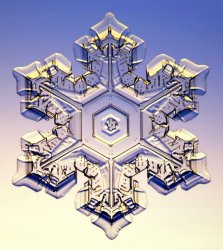 "Be melting snow.
Wash yourself of yourself."
~ Rumi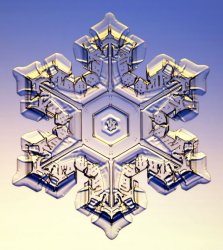 Hydrologic Logic: What People Can Learn From Snowflakes
Spiritual teachers say we can learn about ourselves by closely observing all of Nature's manifestations and processes.
"As above, so below; as below, so above."

So, what can we learn about ourselves by studying snowflakes and hydrologic processes?

Science tells us that though countless trillions of snowflakes have fallen on earth each has a unique form; that each snowflake is an hexagonally symmetrical crystalline form which begins around a tiny speck of dust – as each pearl forms around a sand particle – but that no two snowflakes are exactly alike.

How amazing!!! http://www.its.caltech.edu/~atomic/snowcrystals/faqs/faqs.htm

Yet, despite this wondrous and unimaginable diversity of forms, all snowflakes have a common essence — frozen water, H20.

When a snowflake melts, it returns to and merges with its watery source, which is perpetually recycled. So, each snowflake's essence is the same – recycled water, which has formed countless unique prior snowflakes.

Not only are snowflakes unified in amazing physical diversity by their common watery essence, but science says that their common essence is indestructible. Water – a liquid – is a form of 'matter' which is merely manifest energy – E=mc2. And energy can't be destroyed. It just recycles endlessly from formlessness to differing forms and phenomena. So, in their essence, snowflakes are immortal energy.

People are like snowflakes
Like snowflakes, each of the billions of humans who have inhabited Earth has had an individually unique form and genetic makeup. Like snowflakes, human physical bodies are composed of common elemental earth constituents, including mostly water. People's physical bodies – like snowflakes – appear for a twinkling of time, die and physically 'melt' back into the watery Earth.

But, presumably unlike snowflakes, each of us is aware of our environment and of our life's experiences; and this awareness is our entire existence. So, while unique snowflakes are united in glorious diversity by their common watery essence, physically unique human beings, are unified not only by their common elemental earthly constituents but, also, by their by their common essence – consciousness, which is the sole context of human beingness.

Snowflakes appear in Nature and, apparently, are peacefully at one with Nature until they disappear. Humans appear in Nature but – unlike snowflakes – we have great intelligence and we think a lot. And through thought we identify ourselves as our perceived separate forms. Thus, we think that we are entities "condemned" by nature to inevitable bodily death. But we don't know what will happen to us upon such death.

So, we become afraid of dying; of giving up the known for the unknown. And, through thought, we try psychologically to "protect" and preserve our ephemeral physical forms and to deter or deny their inevitable demise. Accordingly, our lives are often marked by mental afflictions causing conflicts, problems and suffering, which disturb our peace and awareness of at-one-ment with Nature.

What people can learn from snowflakes
Q. So, what can people learn from snowflakes?

A. To let go and 'go with the flow'; to 'cool it' and to not worry about our inevitable disappearance.

We can realize that we are much more than our unique physical forms or our thoughts. That like snowflakes we are inextricably interdependent essential elements of Nature; that Nature is our nature, until we melt into Mystery and disappear into Nature's Eternal Essence.

Realizing this, we can begin more and more to self-identify with Nature as our immortal Essence rather than our ephemeral forms and thoughts; and, gradually, we can expand our perceived boundaries, to ever evolve as these boundaries dissolve.
Thus, we can more and more live with less and less anxiety, fear and worry. Though in this life we may never totally transcend entity identity, often we can just be at peace – as immortal awareness.

And so,

"As we lose our fear, Of leaving life, We shall gain the art of living life."

And – like snowflakes – maybe some day we'll be 'recycled' some way. e.g. http://www.victorzammit.com/Whenwedie/whatdoeshappen.htm

Or maybe not. e.g. http://tinyurl.com/mlw6erq

In all events, – like snowflakes – we need not worry about leaving. For
"It is in dying [to ego life] that we are reborn to Eternal Life."
~ Saint Francis of Assisi, peace prayer
Conclusion
Here's what Paramahansa Yogananda says:
"The dewdrop belongs to the sea. Separated, it is vulnerable to the sun and wind and other elements of nature; but when the droplet returns its source, it becomes magnified in oneness with the sea. So it is with your life. United to God you become immortal."
So let us remember as elements of Nature to not worry, and to be happy – like snowflakes!

Namaste!
Ron Rattner


Hydrologic Logic Epilogue, November 2017.
The foregoing essay was inspired by the pioneering research of Dr. Masaru Emoto whose astonishing discoveries, documented photographically, led to awakened awareness about water – Earth's most precious resource. According to NASA, "Water is the fundamental ingredient for life on Earth."
Dr. Emoto discovered that molecules of water are affected by our thoughts, words, and feelings, so that that humans can positively impact the earth and our personal health through positive and harmonious attitudes and actions, especially with attention to water; that since the Earth is 70 percent water and people are 70 percent water, he theorized that we can heal our planet and ourselves by consciously expressing love and goodwill to and through water.
He explained that crystals formed in frozen water reveal changes when specific, concentrated thoughts are directed toward them; that water from clear springs and water that has been exposed to loving words shows brilliant, complex, and colorful snowflake patterns, whereas polluted water, or water exposed to negative thoughts, forms incomplete, asymmetrical patterns with dull colors.
Also Dr. Emoto described the ability of water – like a liquid computer – to absorb, hold, and even retransmit human feelings and emotions. Using high-speed photography, he found that crystals formed in frozen water reveal changes when specific, concentrated thoughts are directed toward them. Music, visual images, words written on paper, and photographs also have an impact on the crystalline structures. Emoto theorized that since water has the ability to receive a wide range of frequencies, it can also reflect the universe in this manner.
Especially in this Thanksgiving season when insanely delusional human behaviors imminently threaten life on Earth as we have known it, let us gratefully cherish and harmoniously heal our precious watery world – eloquently described by Carl Sagan as a "pale blue dot" in this vast universe.
And let us be guided by these wise words from Paramahansa Yogananda:
"Every day should be a day of Thanksgiving for all the gifts of Life — sunshine, water, the luscious fruits and greens, which we receive as indirect gifts from the Great Giver."
And so may it be!
"The Secret Life of Water"
Embedded below is a beautiful nine minute video with healing music, watery photography, and with words from Dr. Emoto titled "The Secret Life of Water"