Posts Tagged '"Pale Blue Dot"'
"Be melting snow.
Wash yourself of yourself."
~ Rumi
"Love is the water of life,
jump into this water."
~ Rumi
"To understand water is to understand the cosmos,
the marvels of nature, and life itself."
~ Masaru Emoto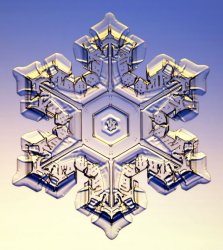 Hydrologic Logic: What People Can Learn From Snowflakes
Perennial wisdom says we can learn about ourselves by closely observing all of Nature's manifestations and processes.
"As above, so below; as below, so above."
~ The Kybalion, Hermetic axiom

"Look deep into nature, and then you will understand everything better."
~ Albert Einstein

So, what can we learn about ourselves by studying snowflakes and hydrologic processes?

Science tells us that though countless trillions of snowflakes have fallen on earth each has a unique form; that each snowflake is an hexagonally symmetrical crystalline form which begins around a tiny speck of dust – as each pearl forms around a sand particle – but that no two snowflakes are exactly alike.

How amazing!!! http://www.its.caltech.edu/~atomic/snowcrystals/faqs/faqs.htm

Yet, despite this wondrous and unimaginable diversity of forms, all snowflakes have a common essence – frozen water – H20.

When a snowflake melts, it returns to and merges with its watery source, which is perpetually recycled. So, each snowflake's essence is the same – recycled water, which has formed countless unique prior snowflakes.

Not only do miraculously unique snowflakes originate from their common watery essence, but science says that such essence is indestructible. Water – a liquid – is a form of 'matter' which is merely manifest energy: E=mc2. And energy can't be destroyed. It just recycles endlessly from formlessness to differing forms and phenomena. So, in their essence, snowflakes are immortal energy.

People are like snowflakes
Like miraculously unique snowflakes, each of the countless humans who has inhabited Earth has had a unique form and genetic makeup. Like snowflakes, human physical bodies are composed of common elemental earth constituents, including mostly water. People's physical bodies – like snowflakes – appear for a twinkling of time, die and 'melt' back into the watery Earth.

But, presumably unlike snowflakes, each of us is aware of our environment and of our life's experiences; and this awareness is our entire existence. So, while unique snowflakes are united in glorious diversity by their common watery essence, physically unique human beings, are unified not only by their common elemental earthly constituents but, also, by their by their common essence – consciousness, which is the sole context of human beingness.

Snowflakes appear in Nature and, apparently, are peacefully at one with Nature until they disappear. Humans appear in Nature but – unlike snowflakes – we have great intelligence and we think a lot. And through thought we identify ourselves as our perceived separate forms. Thus, we think that we are entities "condemned" by nature to inevitable bodily death. But we don't know what will happen to us upon such death.

So, we become afraid of dying; of giving up the known for the unknown. And, through thought, we try to "protect" and preserve our ephemeral physical forms and to deter or psychologically deny their inevitable demise. Accordingly, our lives are often marked by mental afflictions causing conflicts, problems and suffering, which disturb our peace and awareness of at-one-ment with Nature.

What people can learn from snowflakes
Q. So, what can people learn from snowflakes?

A. To let go and 'go with the flow'; to 'cool it' and to not worry about our inevitable disappearance.

We can realize that we are much more than our unique physical forms, or our thoughts. That like snowflakes we are inextricably interdependent essential elements of Nature; that Nature is our nature, until we melt into Mystery and disappear into Nature's Eternal Essence.

Realizing this, we can begin more and more to self-identify with Nature as our immortal Essence rather than with our ephemeral forms and thoughts; and, gradually, we can expand our perceived boundaries, to ever evolve as these boundaries dissolve.

Thus, we can more and more live with less and less anxiety, fear and worry. Though in this life we may never totally transcend entity identity, often we can just be at peace – as immortal awareness.

And so,

"As we lose our fear, Of leaving life, We shall gain the art of living life."

And – like snowflakes – maybe some day we'll be 'recycled' some way. e.g. http://www.victorzammit.com/Whenwedie/whatdoeshappen.htm

Or maybe not. e.g. http://tinyurl.com/mlw6erq

In all events, – like snowflakes – we need not worry about leaving. For
"It is in dying [to ego life] that we are reborn to Eternal Life."
~ Saint Francis of Assisi, peace prayer


Conclusion
People can learn from snowflakes to let go and go with Nature's flow, until we become immortal; we can learn that
"Life is a series of natural and spontaneous changes. Don't resist them; that only creates sorrow. Let reality be reality. Let things flow naturally forward in whatever way they like."
~ Lao Tzu

And that:
"The dewdrop belongs to the sea. Separated, it is vulnerable to the sun and wind and other elements of nature; but when the droplet returns its source, it becomes magnified in oneness with the sea. So it is with your life. United to God you become immortal.'
~ Paramahansa Yogananda

So, as elements of Nature, we need not worry, and can be happy and peaceful as we melt into our immortal Source – like snowflakes!

Namaste!
Ron Rattner


Hydrologic Logic Epilogue, May, 2020, Honoring Dr. Masaru Emoto .
Dear Friends,
In recent messages and postings I've optimistically opined that the current coronavirus pandemic emergency has given us an unprecedented opportunity to co-create a new and wonderful world of happiness, harmony and health for everyone everywhere.  And I've tried to suggest how that can happen, if we follow our hearts, instead of being paralyzed by propaganda provoked fear and panic.
Did you know that the Earth is 70 percent water, and that people are 70 percent water; and, that according to NASA, "Water is the fundamental ingredient for life on Earth" ?
The foregoing essay was originally inspired by the ancient hermetic axiom, 'as above, so below' and by advice of my Guruji and other wisdom teachers to learn from Nature. Later in 2004, via the film "What the Bleep Do We Know?", I was deeply impressed on discovering the pioneering research of Dr. Masaru Emoto whose astonishing discoveries, documented photographically, have led to awakened awareness about water as Earth's most precious resource.
Dr. Emoto discovered that molecules of water are affected by our thoughts, words, and feelings, so that that humans can positively impact the earth and our personal health through loving, grateful and harmonious attitudes and actions, especially with attention to water; that since the Earth is 70 percent water and people are 70 percent water, he theorized that we can heal our planet and ourselves by consciously expressing love and goodwill to and through water.
He explained and demonstrated that crystals formed in frozen water reveal changes when specific concentrated thoughts are directed toward them; that water from clear springs and water that has been exposed to loving words shows brilliant, complex, and colorful hexagonal snowflake patterns, whereas polluted water, or water exposed to anger or other negative thoughts, forms incomplete, asymmetrical patterns with dull colors.
Also Dr. Emoto described the ability of water – like a liquid computer – to absorb, hold, and even retransmit human feelings and emotions. Using high-speed photography, he found that crystals formed in frozen water reveal changes when specific, concentrated thoughts are directed toward it. Music, visual images, words written on paper, and photographs also have an impact on the crystalline structures. These methods even experimentally worked on asymmetrical Tokyo tap water. Dr. Emoto theorized that since water has the ability to receive a wide range of frequencies, it can also reflect the universe in this manner.
Especially in these unprecedented times of worldwide pandemic panic when insanely delusional human behaviors imminently threaten Earth-life as we have known it, we have unprecedented opportunity to gratefully and lovingly cherish and harmoniously heal our precious watery world, which appears blue from outer space, and was thus eloquently described by legendary astronomer Carl Sagan as a "pale blue dot" in this vast universe.
Invocation
Instead of being paralyzed by fear and panic, may we follow our hearts, rather than unfounded official edicts, to collectively and cooperatively realize an abiding "new normal" era of cooperation, harmony and peace on our precious planet.
So let us gratefully and lovingly be guided by these wise words from Paramahansa Yogananda:
"Every day should be a day of Thanksgiving for all the gifts of Life — sunshine, water, the luscious fruits and greens, which we receive as indirect gifts from the Great Giver."

"Affirm divine calmness and peace, and send out only thoughts of love and goodwill if you want to live in peace and harmony.
Never get angry, for anger poisons your system."


And so shall it be!

Ron Rattner


"The Secret Life of Water"
Embedded below are three brief videos:
A memorable two minute scene from "What the Bleep Do We Know?";
A one minute+ video showing hexagonal crystals forming in Tokyo tap water;
And a beautiful nine minute video with healing music, watery photography, and with words from Dr. Emoto titled "The Secret Life of Water" . ENJOY!








"There is perhaps no better demonstration of the folly of human conceits than this distant image of our tiny world. To me, it underscores our responsibility to deal more kindly with one another, and to preserve and cherish the pale blue dot,
the only home we've ever known."
~ Carl Sagan
"We must learn to live together as brothers or perish together as fools." .. "The choice is not between violence and nonviolence but between nonviolence and nonexistence."
~ Dr. Martin Luther King, Jr.
"Sit, be still, and listen,
because you're drunk
and we're at the edge of the roof."
~ Rumi
"Cherish or Perish.
Co-exist cooperatively, or
Co-expire catastrophically."
~ Ron Rattner, Sutra Sayings
"LAUDATO SI', mi' Signore" – "Praise be to you, my Lord".

In the words of this beautiful canticle, Saint Francis of Assisi reminds us that our common home is like a sister with whom we share our life and a beautiful mother who opens her arms to embrace us.

"Praise be to you, my Lord, through our Sister, Mother Earth, who sustains and governs us, and who produces various fruit with colored flowers and herbs". . .

"This sister now cries out to us because of the harm we have inflicted on her by our irresponsible use and abuse of the goods with which God has endowed her."
~ Pope Francis – Climate encyclical message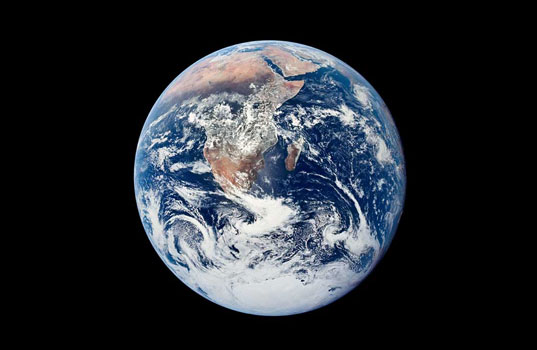 Introduction.

In 1990, when the Voyager space craft was nearly four trillion (4,000,000,000,000) miles from Earth, beyond the orbit of Pluto, NASA finally acceded to legendary astronomer Carl Sagan's desperate pleas, and turned Voyager's camera back toward Earth to photograph our precious planet as no human had ever before seen it.

From that distance, the Earth appears as just a tiny blue speck illuminated by sunlight.

Video Recitation of Carl Sagan's "Pale Blue Dot" message.

In this video, called "Pale Blue Dot", Carl Sagan eloquently recites a poignant ode to our precious planet, Mother Earth, which he composed while humbly reflecting on that unique NASA photo (text below):




Text of Carl Sagan's "Pale Blue Dot" message:

"From this distant vantage point, the Earth might not seem of particular interest. But for us, it's different. Look again at that dot. That's here, that's home, that's us. On it everyone you love, everyone you know, everyone you ever heard of, every human being who ever was, lived out their lives. The aggregate of our joy and suffering, thousands of confident religions, ideologies, and economic doctrines, every hunter and forager, every hero and coward, every creator and destroyer of civilization, every king and peasant, every young couple in love, every mother and father, hopeful child, inventor and explorer, every teacher of morals, every corrupt politician, every "superstar," every "supreme leader," every saint and sinner in the history of our species lived there – on a mote of dust suspended in a sunbeam.

The Earth is a very small stage in a vast cosmic arena. Think of the rivers of blood spilled by all those generals and emperors so that, in glory and triumph, they could become the momentary masters of a fraction of a dot. Think of the endless cruelties visited by the inhabitants of one corner of this pixel on the scarcely distinguishable inhabitants of some other corner, how frequent their misunderstandings, how eager they are to kill one another, how fervent their hatreds.

Our posturings, our imagined self-importance, the delusion that we have some privileged position in the Universe, are challenged by this point of pale light. Our planet is a lonely speck in the great enveloping cosmic dark. In our obscurity, in all this vastness, there is no hint that help will come from elsewhere to save us from ourselves.

The Earth is the only world known so far to harbor life. There is nowhere else, at least in the near future, to which our species could migrate. Visit, yes. Settle, not yet. Like it or not, for the moment the Earth is where we make our stand.

It has been said that astronomy is a humbling and character-building experience. There is perhaps no better demonstration of the folly of human conceits than this distant image of our tiny world. To me, it underscores our responsibility to deal more kindly with one another, and to preserve and cherish the pale blue dot, the only home we've ever known."

Concluding Comment and Invocation.

Especially in these critical "new normal" times, it is imperative that Humankind honor, preserve and cherish Earth Mother and all life she births and sustains; never forgetting that her Nature is our nature; that we are inextricably interconnected with mother Earth, so what we do to her we do to ourselves; and that it is only our human species which is responsible for, and must urgently redress, all crises and conflicts which now imminently threaten Earth-life as we've known it.

Thus we must relentlessly resist and vigilantly redress all insanely unsustainable pillaging, plundering and poisoning of Nature's bountiful resources and miraculous life support systems, which are our only true wealth.

Invocation

As a united global family, may we thereby –
each from our unique perspective and in our unique way –
lovingly restore, preserve and protect our beloved planet,
the only home we've ever known.

And so shall it be!

Ron Rattner


"Our destiny is Divinity."
~ Ron Rattner, Sutra Sayings
"Life is a round trip metaphoric journey,
on which we are destined to return to point of origin.
On return, we learn – we never left."
~ Ron Rattner, Sutra Sayings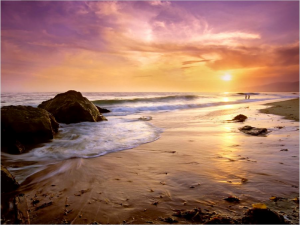 Divine Time Release Capsules
Our destiny is Divinity.

Our human body/minds are like

Divine time release capsules 


Of 'congealed' consciousness
 encapsulated by karma –



Enveloped by eons of illusory thoughts, words, and deeds

of imagined separation from others, from Nature
and from our ever immanent inner Essence.

But our optical illusion of separation is being released in time,
As our imagined karmic coatings are inevitably dissolving into
The eternal inner Ocean of Universal Awareness.

So, with ever increasing awareness,
In time we are slowly melting
into the mystery of our inner Divinity,
and merging with our eternal Self.

Thus, beyond time –
Beyond ego's optical illusion of separation –
Our common destiny is Divinity.

And so shall it Be!


Ron's audio recitation of "Divine Time Release Capsules"




Ron's Explanation of "Divine Time Release Capsules"

Dear Friends,

Metaphorically we are fellow spiritual space travelers – like "astronauts on a little spaceship called Earth."

As seemingly mortal humans we are journeying on a planetary "pale blue dot" through a vast and mysterious space/time universe beyond scientific comprehension. Thus our ultimate destiny as space/time travelers is unknown.

So often we're fearful, anxious, or stressed about our uncertain future. To help assuage inevitable anxieties, I have posted the foregoing "Divine Time Release Capsule" verses which metaphorically reveal why we never need to fear or worry. They explain that:

Until now, we have mistakenly perceived, believed and behaved as if we are somatically separated from each other and Nature, and from our sole spiritual essence – which is Infinite Awareness. Consequently, to learn our true Reality and deepest non-dual Self identity, our eternal souls have become unconsciously encapsulated in "self-woven karmic cocoons", in which we are exploring the Cosmos in mortal human bodies on 'spaceship Earth'.

Our human bodies are like "space/time soul suits" (comparable to astronauts' space suits or deep sea divers' suits). As we so explore this seemingly vast space/time universe (while encapsulated in karmic cocoons), we gradually learn that the Cosmos is but an ever impermanent mental illusion (like an ephemeral mirage).

And as we thus realize that time and space are illusory, our karmic cocoons are gradually but inevitably dissolving and melting (like time release capsules), and merging into an Eternal ocean of Infinite Awareness, which is our ultimate destination. Like beautiful butterflies we are evolving as living metaphors for metamorphosis to emerge totally transformed from self woven cocoons, and fated for ascension to a wonderful new Reality.(https://sillysutras.com/butterflies/)

Thus, we are assured to safely survive our mysterious metaphoric journey, because "Our destiny is Divinity" – eternal Reality, beyond this illusory phenomenal world of ever passing appearances.

May these metaphoric time release assurances bring us ever less stress and ever more happiness as we inevitably fulfill our destiny of divine discovery on "spaceship Earth".

And so it shall be!

Ron Rattner