"We are shackled by illusory bonds of belief.
Freedom is beyond belief.
So, seek relief from belief."
~ Ron Rattner, Sutra Sayings
"Follow dharma, not dogma."
~ Ron Rattner, Sutra Sayings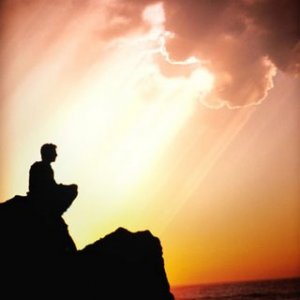 Q. What is religion?
A. "Religion" is a word with many meanings.
Here we define it as "any belief system about Divinity or immortality often including rules, rituals, codes of ethics, and philosophies of life."
Q. Why do we have religions?
A. There is a subtle Cosmic law of 'supply and demand.' Religions have arisen in response to our perennial quest for lasting peace and happiness, and our desire to transcend inevitable earthly psychological sufferings.
Knowingly or unknowingly, everyone seeks Happiness, Wholeness, and Love. Consciously or subliminally, we intuit and long for a state of Being which transcends inevitable Earthly cares and suffering. Knowingly or unknowingly we seek timeless Truth.
Religious belief is a form of attempted life guidance, and psychological self-protection from fear of inevitable physical death and uncertain life experience before death. Though many find transient consolation in accepting religious beliefs about divinity and immortality, such beliefs can't permanently provide such protection. We can't find freedom from fear of death and from life's uncertainties through theories, thoughts or beliefs, but only through direct experiential Knowledge.
Thus, the Buddha who realized such freedom while meditating beneath a Banyan tree, counseled:
"Do not believe in anything simply because you have heard it.
Do not believe in anything simply because it is spoken and rumored by many.
Do not believe in anything simply because it is found written in your religious books.
Do not believe in anything merely on the authority of your teachers and elders.
Do not believe in traditions because they have been handed down for many generations.
But after observation and analysis, when you find that anything agrees with reason and is conducive to the good and benefit of one and all, then accept it and live up to it."
~ Buddha
When twentieth century Indian sage, J. Krishnamurti, was asked
"Is belief in God necessary or helpful?"   he said:
"[B]elief in any form is a hindrance. A man who believes in God can never find God. If you are open to reality, there can be no belief in reality. If you are open to the unknown, there can be no belief in it. … belief is a form of self-protection…" … "When the mind is completely empty – only then is it capable of receiving the unknown." …… "Only when the mind is wholly silent, completely inactive, not projecting, when it is not seeking and is utterly still – only then that which is eternal and timeless comes into being."
Similarly the Yoga Sutras of Patanjali, a sacred Hindu scripture, state:

"Yoga is the control of thought-waves in the mind."
"The witness is Self, pure awareness, which, though boundless and unchanging, appears to perceive creation through the construct of mind."
"The identification of pure awareness with the mind and its creations
causes the [mistaken] apprehension of both an objective world and a perceiver of it."
~ Patanjali – Yoga Sutras
Q. Why is a silent mind important?
A. Through thought we self identify as entities separate from the Whole – as separate perceivers of a supposedly objective world. But this is an ego illusion. So, attempted psychological self-preservation through perpetuation of an illusionary self-image is futile. What never was can never be preserved. Thus, religious beliefs that seek psychological self protection from identification with an illusion of separateness from Self are ultimately futile.
The object of all spiritual practice is to transcend such illusionary ego identity. Such transcendence happens only when thought ceases and the universal intelligence which has been mistakenly regarded as a separate experiencer of sensations and emotions, and a separate performer of actions, exists by itself and as itself, and is not mentally divided.
Q. What about instinctive physical acts of self-protection, as distinguished from religious beliefs aimed at psychological self-preservation?
A. According to J.Krishnamurti:
"Physical self-protection is sane, normal and healthy but every other form of self-protection, inwardly, is resistance and it always gathers, builds up strength which is fear."
Q. Are religious beliefs important?
A. Our behaviors – not our beliefs – are most important.
As the Dalai Lama has said, our religion is not important:
"There is no religion higher than the Truth. … What really is important is our behavior with peers, family, work, community, and in the world. …. Whether or not we follow a religion, what is important is that we become more compassionate, more sensible, more detached, more loving, more humanitarian, more responsible, more ethical." https://sillysutras.com/your-religion-is-not-important/