Posts Tagged 'Thomas à Kempis'

"Harmony is the secret principle of life."
~ Paramahansa Yogananda
"When there is harmony between the mind, heart and resolution
then nothing is impossible."
~ Rig Veda
"Happiness is not a matter of intensity but of balance and order and rhythm and harmony."
~ Thomas Merton
"Your hand opens and closes, opens and closes. If it were always a fist or always stretched open, you would be paralyzed. Your deepest presence is in every small contracting and expanding, the two as beautifully balanced and coordinated as birds' wings."
~ Rumi, The Essential Rumi
"As long as you live, you will be subject to change, whether you will it or not – now glad, now sorrowful; now pleased, now displeased; now devout, now undevout; now vigorous, now slothful; now gloomy, now merry. But a wise man who is well taught in spiritual labor stands unshaken in all such things, and heeds little what he feels, or from what side the wind of instability blows."
~ Thomas à Kempis, The Imitation of Christ
"As it acts in the world, the Tao is like the bending of a bow. The top is bent downward; the bottom is bent up. It adjusts excess and deficiency so that there is perfect balance. It takes from what is too much and gives to what isn't enough. Those who try to control, who use force to protect their power, go against the direction of the Tao. They take from those who don't have enough and give to those who have far too much. The Master can keep giving because there is no end to her wealth. She acts without expectation, succeeds without taking credit, and doesn't think that she is better than anyone else."
~ Lao Tzu *



Life's in the Balance
Our life is in the balance,
Ever < NOW >,

'Twixt our hopes
and our history,

On a fulcrum of Mystery,

Our life is in the balance,
Ever < NOW > !


Ron's audio recitation of "Life's in the Balance"




* Lao Tzu, translation by Stephen Mitchell


Ron's explanation and dedication of "Life's in the Balance"

Dear Friends,

The foregoing quotes and sutra poem address an important philosophical and practical question: "How can we live a "balanced life"?"

Have you ever considered what it means to live a "balanced life"?  If so, what did you decide?  Have you considered eating a balanced diet, or balancing and prioritizing your time spent with work, recreation, meditation, relationships, rest, etc.?

Each of us is unique with a unique earth life history and perspective.  So there can be no specific answer or definition for each of us about what constitutes "a balanced life".  Moreover, everything is in constant flux, precluding any unchanging answer.  Yet this is an issue of considerable importance for all of us, individually and societally – pragmatically and spiritually – on which I have reflected since my mid-life inner awakening. 

Since then, I have learned that – just as our bodies naturally tend toward maintaining a state of homeostasis – there is a strong tendency throughout Nature to maintain homeostatic equilibrium, and to energetically compensate for any disruptions or deviations from that balanced state.  And that "Interdependence is a fundamental law of nature."

Yet it appears that we Humans are the only earthly species responsible for significant ecological imbalances. Forgetting that Nature is our nature; that we are interdependently ONE with Nature; and, that Nature 'bats last', we have mistakenly believed and behaved as if we are separated from each other and from Nature.
 
This behavior has resulted in disharmonious cruelty, wars, and insanely unsustainable exploitation of our precious planet, with widespread psychological suffering and unhappiness. Our mistaken self-identification as supposedly separate entities is what spiritual teachers call "ego".  And most spiritual teachings are intended to help us transcend such limited ego consciousness. They remind us that


"Interdependence is a fundamental law of nature. Not only higher forms of life but also many of the smallest insects are social beings who, without any religion, law, or education, survive by mutual cooperation based on an innate recognition of their interconnectedness. The most subtle level of material phenomena is also governed by interdependence. All phenomena, from the planet we inhabit to the oceans, clouds, forests, and flowers that surround us, arise in dependence upon subtle patterns of energy. Without their proper interaction, they dissolve and decay."

~ Dalai Lama

Because we have forgotten the interconnectedness and interdependence of all life everywhere, we have degenerated into insanity – unconsciously committing mass suicide by ecocide, and threatening nuclear catastrophe. So these are critical times of immense jeopardy and suffering, yet immense opportunity.

The human species has developed amazing new technologies, which if wisely and unselfishly used could foster a wonderful new enlightened age. And paradoxically we can advance toward such a new age by emulating past pre-industrial societies.

Isn't it now crucial that we learn from the wisdom of indigenous people who have lived sane and happy lives by prioritizing sustainable harmony with Nature over it's unsustainable exploitation; cooperation over competition; respect for prophets over lust for profits; democracy over authoritarianism?

Since Nature is our nature and is in charge of our lives, to live a "balanced life" we must self-identify with Nature, and consciously cooperate with our precious planet's interdependent ecosystem.  We must behave mindfully without disrupting the crucial homeostatic harmony of our body-minds with our environment.

The foregoing "Life's in the Balance" sutra poem was composed during an extended period of post-retirement hibernation. May the poem and preceding quotations help us discover innate happiness in our interdependent ONENESS with Nature and all of its lifeforms, and encourage us to give 'power of attorney' to Nature as The Lone Arranger of our lives.
 
Realizing that Nature is in charge of our lives, may we learn to leave it to The Lone Arranger in order to live interdependently with all life everywhere in homeostatic balance and harmony. 

And so may it be!

Ron Rattner

Faith is the highest passion in a human being.
Many in every generation may not come that far, but none comes further.
~ Soren Kierkegaard
"On a long journey of human life,
faith is the best of companions;
it is the best refreshment on the journey;
and it is the greatest property."
~ Buddha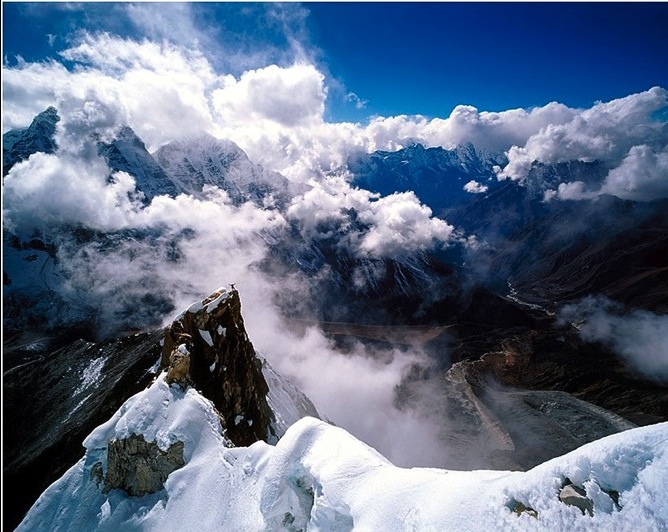 "Faith is a knowledge within the heart,
beyond the reach of proof."

"Faith is an oasis in the heart which can never be reached by the caravan of thinking"

~ Khalil Gibran
"The heart has its reasons that reason does not know."

"Faith is different from proof;
the latter is human, the former is a Gift from God."

"Faith embraces many truths which seem to contradict each other."

~ Blaise Pascal
"The most beautiful and most profound experience is the sensation of the mystical. …
To know that what is impenetrable to us really exists, manifesting itself as the highest wisdom and the most radiant beauty which our dull faculties can comprehend only in their primitive forms this knowledge, this feeling is at the center of true religiousness."
~ Albert Einstein
"Faith is much better than belief.
Belief is when someone else does the thinking."
~ Buckminster Fuller
"Faith means living with uncertainty –
feeling your way through life,
letting your heart guide you like a lantern in the dark"
~ Dan Millman
"My faith runs so very much faster than my reason that I can challenge the whole world and say, 'God is, was and ever shall be'."

~ Mahatma Gandhi
"This above all, to thy own Self be true."
~ William Shakespeare
"The greatest religion is to be true to your own nature. Have faith in yourselves!"
~ Swami Vivekananda
"Intelligence must follow faith, never precede it, and never destroy it."
~ Thomas Kempis
"Faith is a light of such supreme brilliance that it dazzles the mind and darkens all its visions of other realities,
but in the end when we become used to the new light, we gain a new view of all reality transfigured and elevated in the light itself."
~ Thomas Merton
"I tell you the truth, if you have faith as small as a mustard seed,
you can say to this mountain, "Move from here to there" and it will move."
~ Matthew 17:20


Ron's Commentary on Mystical Faith.

Dear Friends,

In reviewing and revising previous SillySutras postings, as preparation for ebook publication of memoirs and other postings, I've been wondering about the subtle circumstances which have seemed most important in furthering my spiritual evolution from age forty two to age eighty four.

Forty two years ago, I was self-identifying as an uptight and unhappy middle-aged secular litigation lawyer on the brink of divorce, when I had an unforgettable "out of body" experience [OOB] which sparked four decades of spiritual exploration and evolution – so far.

Now I mostly self-identify as eternal spirit enjoying a brief "in a body experience" as an 84 year old retired lawyer and spiritual writer. And I feel blessed with great happiness and gratitude for this precious fleeting lifetime, despite its inevitable ups and downs.

In wondering why this has happened, I've decided that continuing deep faith in the mystical mystery of Divinity has been crucial to my spiritual opening with ever increasing happiness. Previously, I have explained in essays how "I've Found A Faith-Based Life" and defined faith as distinguished from belief.

Today I have posted the foregoing profound quotations about faith to help inspire us. Please read and reflect on them.

Also I've embedded hereafter a beautiful youtube video performance of Rodgers and Hammerstein's inspiring song "You'll Never Walk Alone" as excerpted from the film version of their classical musical play "Carousel". The emotions we feel from that performance can also help inspire our deep realization that with faith and hope in our heart we'll never walk alone.

And so may it be!

Ron Rattner

Rodgers and Hammerstein's "You'll Never Walk Alone" from "Carousel".