Posts Tagged 'Tao Te Ching'
"Setting aside all noble deeds,
just surrender completely to the will of God.
I shall liberate you from all sins.
Do not grieve."
~ Bhagavad Gita 18:66






Introduction

Dear Friends,

As explained in my recent Faith-Based Surrender posting, I've become dedicated to inspiring a newly elevated societal view of spiritual concepts (previously separated) as interconnected appearances of Divine Grace, Faith, Humility, and Love, which are beyond all ego illusions. We need to see, from a "New Earth" perspective, that: "What is the root of all these words? One thing: LOVE." (Hafiz)

So I've gathered and offer for our edification, upliftment, and enjoyment the following collection of profound and interrelated quotations on these spiritual subjects.

To help illuminate their meaning, repeated quotations from the same spiritual teachers, poets or authors are included. I apologize for these redundancies, but deem it very important that we now realize why we must let go of and transcend past ego illusions that have precluded our elevated understanding of these key concepts.

Thereby may we be inspired by unconditional and irreversible intuitive Faith, to completely surrender to the will of God – to the infinite power of LOVE.

And so may it be!

Ron Rattner


Faith-Based Surrender ~ Quotes and Sayings



"In the end these things matter most:

How well did you love?

How fully did you love?

How deeply did you learn to let go?"

~ The Buddha

"Love conquers all; let us surrender to Love."
~ Virgil

"Surrender is faith that the power of Love
can accomplish anything,
even when you cannot foresee the outcome."

~ Deepak Chopra

"Love is simply creation's greatest joy."
"We have not come here to take prisoners
But to surrender ever more deeply
To freedom and joy."
~ Hafiz

"Join me in the pure atmosphere of gratitude for life."
~ Hafiz

"What is the root of all these words? One thing: Love.
But a love so deep and sweet it needed to express itself with scents, sounds, colors that never before existed."
~ Hafiz

"Even after all this time, the sun never says to the earth, 'you owe me.'
Look what happens with a love like that!
It lights up the whole sky."
~ Hafiz

"Looking at my life
I see that only Love
Has been my soul's companion
From deep inside
My soul cries out:
Do not wait, surrender
For the sake of Love."
~ Rumi


"How did you get here?

Close your eyes and surrender."

"The hurt that we embrace becomes joy."

"There is no reality but God,

says the completely surrendered sheik,

who is an ocean for all beings."

~ Rumi


"They are the chosen ones who have surrendered."

~ Rumi

"Love is the sacrifice of will.

If you cannot leave will behind

You have no will at all."

~ Rumi

"Be crumbled.
So wild flowers will come up where you are.
You have been stony for too many years.
Try something different.
Surrender."
~ Rumi


"Faith is different from proof;

the latter is human,

the former is a Gift from God."

"Faith embraces many truths

which seem to contradict each other."

~ Blaise Pascal

"Faith is a knowledge within the heart,

beyond the reach of proof."

"Faith is an oasis in the heart

which can never be reached by the caravan of thinking."

~ Khalil Gibran

"Steady faith is stronger than destiny.

Destiny is the result of causes, mostly accidental,

and is therefore loosely woven.

Confidence and good hope will overcome it easily."

~ Nisargadatta Maharaj

Grace is ever present. All that is necessary is that you surrender to it."
"Surrender is to give oneself up to the original cause of one's being."
"Abide in the heart and surrender your acts to the Divine."
"Self surrender is synonymous with eternal happiness."
~ Sri Ramana Maharshi

"Place your burden at the feet of the Lord of the universe
who is ever victorious and accomplishes everything.
Remain all the time steadfast in the heart,
in the Transcendental Absolute.
God knows the past, present and future.
He will determine the future for you and accomplish the work.
What is to be done will be done at the proper time.
Don't worry. Abide in the heart and surrender your acts to the Divine."
~ Sri Ramana Maharshi

"Willpower should be understood to be the strength of the mind, which makes it capable of meeting success or failure with equanimity. It is not synonymous with certain success. Why should one's attempts always be attended by success? Success breeds arrogance and man's spiritual progress is thus arrested. Failure, on the other hand, is beneficial, inasmuch as it opens his eyes to his limitations and prepares him to surrender himself. Self surrender is synonymous with eternal happiness."
~ Sri Ramana Maharshi

"By whatever path you go,
you will have to lose yourself in the one.
Surrender is complete only when you reach the stage
`Thou art all' and `Thy will be done'."
~ Sri Ramana Maharshi

"Father, if it is Your will, take this cup away from Me;

nevertheless not My will, but Thy will, be done."

~ Luke 22:42.



"Thy kingdom come. Thy will be done
in earth, as it is in heaven"

~ Matthew 6:10

"And Jesus said unto them, Because of your unbelief: for verily I say unto you,
If ye have faith as a grain of mustard seed, ye shall say unto this mountain, Remove hence to yonder place; and it shall remove; and nothing shall be impossible unto you."
~ Matthew 17:20



"Trust in the LORD with all thine heart;
and lean not unto thine own understanding.

In all thy ways acknowledge him,
and he shall direct thy paths."

~ Proverbs 3:5-6


"Surrender your self-interest.
Love others as much as you love yourself.
Then you can be entrusted with all things under heaven."
~ Lao Tzu


"When I let go of what I [think] I am,

I become what I might be."

~ Lao Tzu


"By letting it go it all gets done.

The world is won by those who let it go.

But when you try and try,
the world is beyond the winning."

~ Lao Tzu

"Accept disgrace willingly… Accept being unimportant…
Surrender yourself humbly;
then you can be trusted to care for all things.
Love the world as your own self;
then you can truly care for all things."
~ Lao Tzu

"Fame or integrity: which is more important?

Money or happiness: which is more valuable?

Success or failure: which is more destructive?

If you look to others for fulfillment,
you will never truly be fulfilled.

If your happiness depends on money,
you will never be happy with yourself.

Be content with what you have; rejoice in the way things are.

When you realize there is nothing lacking, the whole world belongs to you."

~ Lao Tzu


"In the pursuit of learning every day something is gained.

In the pursuit of Tao, every day something is dropped."

~ Lao Tzu

"The words of truth are always paradoxical.
To the mind that is still, the whole universe surrenders."
~ Lao Tzu

"Knowledge is learning something every day.

Wisdom is letting go of something every day."

~ Zen Proverb

We have nothing to surrender

But the idea

That we're someone,

With something

To surrender.

~ Ron Rattner, Sutra Sayings

Q. How much "ego" do you need?

A. Just enough so that you don't step in front of a bus.

~ Shunryu Suzuki Roshi

"Absolute surrender to God is the criterion of faith. This surrender is not laziness, expecting God to do everything for you – your utmost effort to bring about the desired result is also necessary – rather, it is a surrender through love for God and veneration of His supremacy."
~ Paramahansa Yogananda

"Faith is intuitive conviction,

a knowing from the soul,

that cannot be shaken even by contradictions."

~ Paramahansa Yogananda

"It is so wonderful to be good and to be humble.
Egotism repulses, humility attracts. When man behaves in a humble way, he strikes a beautiful chord in the hearts of others. A man of humility easily exercises a spiritual influence on others. Such a one has the satisfaction that he has done his best on this- earth.
The more humble you are, the stronger you will be in Spirit.
~ Paramahansa Yogananda

"Blessed are the meek,
for they shall inherit the earth."
~ Matthew 5.5

"Spirituality automatically leads to humility. 
When a flower develops into a fruit,
 the petals drop off on its own.
 When one becomes spiritual,
 the ego vanishes gradually on its own.
 A tree laden with fruits always bends low. Humility is a sign of greatness."

~ Sri Ramakrishna Paramahamsa

"[The Master's] constant practice is humility.";
"Humility means trusting the Tao,
thus never needing to be defensive."
~ Lao Tzu

"Humility is the solid foundation of all the virtues."
~ Confucius

"Two things are necessary for the realization of God;
faith and self-surrender."
~ Sri Ramakrishna Paramahamsa

"Have faith. Depend on God. Then you
will not have to do anything yourself.
Mother Kali will do everything for you."
~ Sri Ramakrishna Paramahamsa

"God has put you in the world. What can you do about it?
Resign everything to Him. Surrender yourself at His feet.
Then there will be no more confusion.
Then you will realize that it is God who does everything."
~ Sri Ramakrishna Paramahamsa

"Surrender everything at the feet of God.
What else can you do?
Give Him the power of attorney.
Let Him do whatever He thinks best."
~ Sri Ramakrishna Paramahamsa

"Truth will never come into our minds
so long as there will remain
the faintest shadow of Ahamkâra (egotism).
All of you should try to root out this devil from your heart.
Complete self-surrender is the only way to spiritual illumination."
~ Swami Vivekananda

"The greatest religion is to be true to your own nature.

Have faith in yourselves!"

~ Swami Vivekananda

"Without an unreserved surrender to His grace,
complete mastery over thoughts is impossible."
~ Mahatma Gandhi

"Don't seek God in temples.
He is close to you. He is within you.
Only you should surrender to Him,
and you will rise above happiness and unhappiness."
~ Leo Tolstoy

"When you surrender to what is and so become fully present, the past ceases to have any power. You do not need it anymore. Presence is the key. Now is the key."
~ Eckhart Tolle

"To some people, surrender may have negative connotations, implying defeat, giving up, failing to rise to the challenges of life, becoming lethargic, and so on. True surrender, however, is something entirely different.
It does not mean to passively put up with whatever situation you find yourself in and to do nothing about it.
Nor does it mean to cease making plans or initiating positive action. Surrender is the simple but profound wisdom of yielding to, rather than opposing, the flow of life."
~ Eckhart Tolle

"Sometimes surrender means giving up trying to understand
and becoming comfortable with not knowing."
~ Eckhart Tolle

"Always say "yes" to the present moment.
What could be more futile, more insane, than to create inner resistance to what already is?
What could be more insane than to oppose life itself, which is now and always now?
Surrender to what is. Say "yes" to life —
and see how life suddenly starts working for you, rather than against you."
~ Eckhart Tolle

"Not until you surrender does the spiritual dimension become a living reality in your life.
When you do, the energy you emanate and that then runs your life is of a much higher vibrational frequency than the mind energy that still runs the world."
~ Eckhart Tolle

"Surrender is surrender to this moment,
not to a story through which you interpret this moment
and then try to resign yourself to it."
~ Eckhart Tolle

"Surrender comes when you no longer ask, '
Why is this happening to me?'"
~ Eckhart Tolle

"Always say 'yes' to the present moment…
Surrender to what is. Say 'yes' to life –
and see how life starts suddenly to start working for you,
rather than against you."
~ Eckhart Tolle

"The moment of surrender is not when life is over.
It's when it begins"
~ Marianne Williamson

"Something very beautiful happens to people when their world has fallen apart: a humility, a nobility, a higher intelligence emerges at just the point when our knees hit the floor. Perhaps, in a way, that's where humanity is now: about to discover we're not as smart as we thought we were, will be forced by life to surrender our attacks and defenses which avail us of nothing, and finally break through into the collective beauty of who we really are."
~ Marianne Williamson

"Spiritual Work is not easy. It means the willingness to surrender feelings that seem, while we're in them, like our defense against a greater pain. It means that we surrender to God our perceptions of all things."
~ Marianne Williamson

"Spiritually, no action is more important than surrender.
Surrender is the tenderest impulse of the heart, acting out of love to give whatever the beloved wants. Surrender is being alert to exactly what is happening now, not imposing expectations from the past. Surrender is faith that the power of love can accomplish anything, even when you cannot foresee the outcome of a situation."
~ Deepak Chopra

"At the level of spirit, everything is always unfolding perfectly, and you don't have to struggle or force situations to go your way. It is only your ego mind that is fearful. When you surrender to spirit and listen to the voice of your deeper intelligence, you free yourself from fear and release the obstacles your ego has created."
~ Deepak Chopra

"In detachment lies the wisdom of uncertainty…
in the wisdom of uncertainty lies the freedom from our past,
from the known, which is the prison of past conditioning.
And in our willingness to step into the unknown, the field of all possibilities, we surrender ourselves to the creative mind that orchestrates the dance of the universe."
~ Deepak Chopra

"The deeper you surrender to existence, life, nature,
the more loving, more understanding, more insightful you become."
~ Rajneesh

"I surrender my anxiety and my sense of urgency. I allow God to guide me in the pacing of my life. I open my heart to God's timing. I release my deadlines, agendas, and stridency to the gentle yet often swift pacing of God. As I open my heart to God's unfoldings, my heart attains peace. As I relax into God's timing, my heart contains comfort. As I allow God to set the tone and schedule of my days, I find myself in the right time and place, open and available to God's opportunities."
~ Julia Cameron

"Every genuine expression of love grows out of a consistent and total surrender to God."
"In a real sense faith is total surrender to God ."
~ Martin Luther King, Jr.

"The more you struggle to live, the less you live.
Give up the notion that you must be sure of what you are doing. Instead, surrender to what is real within you, for that alone is sure….you are above everything distressing."
~ Baruch Spinoza


"This above all, to thy own Self be true."

~ William Shakespeare

"Our real journey in life is interior;
It is a matter of growth, deepening, and of an ever greater surrender to the creative action of love and grace in our hearts. Never was it more necessary to respond to that action."
~ Thomas Merton

"Faith is a light of such supreme brilliance 
that it dazzles the mind
and darkens all its visions of other realities, 
but in the end when we become used to the new light, 
we gain a new view of all reality
 transfigured and elevated in the light itself."

~ Thomas Merton

"The person who surrenders absolutely to God,
with no reservations, is absolutely safe.
From this safe hiding-place he can see the devil,
but the devil cannot see him."
~ Soren Kierkegaard

"Surrender means accepting this moment, this body, and this life with open arms.
Surrender involves getting out of your own way and living in accord with a higher will,
expressed as the wisdom of the heart.
Far more than passive acceptance, surrender uses every challenge as a means of spiritual growth and expanded awareness."
~ Dan Millman

"May you find grace as you surrender to life. May you find happiness, as you stop seeking it. May you come to trust these laws and inherit the wisdom of the Earth. May you reconnect with the heart of nature and feel the blessings of Spirit."
~ Dan Millman


Invocation

May we be inspired by unconditional and irreversible intuitive Faith, to completely surrender to the will of God – to the infinite power of LOVE.

And so may it be!

Ron Rattner


"Life is a series of natural and spontaneous changes.
Don't resist them – that only creates sorrow.
Let reality be reality.
Let things flow naturally forward in whatever way they like."
~ Lao-Tzu
"How can the divine Oneness be seen? 

In beautiful forms, breathtaking wonders, awe-inspiring miracles? 

The Tao is not obliged to present itself in this way.

If you are willing to be lived by it, you will 
see it everywhere,
even in the most ordinary things."

~ Lao Tzu
"Those who flow as life flows,
know they need no other force."
~ Lao Tzu
"By letting it go it all gets done.
The world is won by those who let it go.

But when you try and try, the world is beyond the winning."

~ Lao Tzu
"If you correct your mind,
the rest of your life will fall into place."
~ Lao Tzu
"Tao is Now,
Tao is One,
Tao is Doer,
Tao will be done. –
Tao will be done,
So let Tao do it."
~ Ron Rattner, Sutras Sayings



Introduction to "Go With The Flow!"

Dear Friends,

The following whimsically poetic sutra verses and explanatory comments are about 'common wisdom' advising us to "go with the flow". Together with posted quotations from Taoist Master Lao Tzu, these writings reveal esoteric insights into fundamental principles promoting spiritual evolution. Please enjoy and deeply reflect upon them.

May these writings inspire us to honor and yield to Nature's flow, which will inevitably carry us back beyond ego-mind to our spiritual Source – an indescribably joyous and eternal Infinite ocean of Universal Awareness.

And so shall it be!

Ron Rattner

Go With The Flow!

Go with the flow!
Go with the flow!

Everyone says
to go with the flow.

Go with the flow!
Go with the flow!

But nobody knows
where the flow goes.

So, where will we go,
if we go with the flow?

Nobody says;
Nobody knows.

Ron's audio recitation of "Go With The Flow"




Ron's explanation of "Go With The Flow"

After much reflection and observation, I've concluded that being "in the flow", or "in the zone", or "in the Tao", are all salutary and substantially similar spiritual states. So with poetic license I've often equated or conflated them in spiritual writings – where "Flow" and "Tao" and "zone" are often used synonymously.

From a poetic perspective all of these concepts point to non-dualistic Universal Intelligence or Infinite Potentiality which is the mysterious Source of the universe and all energy patterns that cosmically keep it harmonious, balanced and ordered.

Definition

I've defined going with the "flow" or the "Tao" – or being in the "zone" – as thought-free, effortless, and focused merging of intention, action, and awareness – consciously letting Life happen through us, to harmlessly harmonize with Nature and achieve effortless action. 

Contrary to some interpretations, "Going with the "flow" or the "Tao" is the antithesis of being passive, apathetic or indolent. Or of just letting things happen without rational response.

When "in the flow" we skillfully and spontaneously respond to ever changing conditions or stimuli, like accomplished athletes, artists or stand-up performers who are "in the zone". Such responses help us harmoniously co-create this ever impermanent world while maintaining homeostatic equilibrium and balance. And it is a sign of our spiritual progress in the evolutionary process of ultimately merging with Mystery.

Taoist Perspectives

Some of the wisest reflections on these perennial questions are in Lao Tzu's enduring masterpiece the Tao Te Ching, including those preceding the above "Go With The Flow" verses.

And here are some further Tao Te Ching verses which have especially interested me:

"Stop thinking and end your problems."



"To a mind that is still the whole universe surrenders."



"Become totally empty

Quiet the restlessness of the mind

Only then will you witness everything unfolding from emptiness"



"Be still. Stillness reveals the secrets of eternity."



"Free of ego, living naturally, working virtuously,
you become filled with inexhaustible vitality
and are liberated forever from the cycle of death and rebirth.

"

"Understand this if nothing else:
spiritual freedom and oneness with the Tao
are not randomly bestowed gifts,
but the rewards of conscious self-transformation and self-evolution."

Invocation

May these "go with the flow" writings
inspire us to honor and yield to Nature's flow,
which will inevitably carry us back
beyond ego-mind to our spiritual Source –
an indescribably joyous and eternal
Infinite ocean of Universal Awareness.

And as we awaken to harmlessly harmonize with Nature,
may we consciously and cooperatively
co-create an ever better world –
as we intend, intuit, and imagine it to be.

And so shall it be!

Ron Rattner


Related Post:
Like A Waterfall


"Man is the only animal for whom his own existence is a problem which he has to solve."
~ Erich Fromm
"Love is the only sane and satisfactory answer to the problem of human existence."
~  Erich Fromm
"The need for love lies at the very foundation of human existence. It results from the profound interdependence we all share with one another."
~ Dalai Lama
"Love and compassion are necessities, not luxuries.

Without them humanity cannot survive."

~ Dalai Lama
"We can't solve problems by using the same kind of thinking we used when we created them."
~ Albert Einstein
"Intellectuals solve problems, geniuses prevent them."
~ Albert Einstein
"Freedom from the desire for an answer
is essential to the understanding of a problem."
~ J. Krishnamurti
"If we can really understand the problem,
the answer will come out of it, because
the answer is not separate from the problem."
~ J. Krishnamurti
"The quest is in the question.
The question is the answer."
~ Ron Rattner, Sutra Sayings
"Life is not a problem to be solved,
but a reality to be experienced."
~ Soren Kierkegaard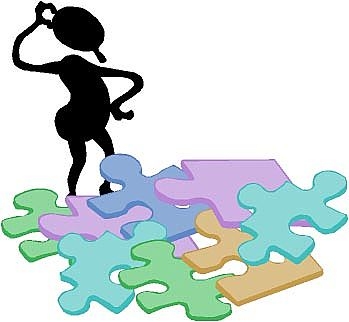 Problems?
Q. 
What causes problems?
And how can we solve them?

A.  
Ignorance spawns them;

Intelligence solves them;

Wisdom averts them;

Truth transcends them.


Ron's audio recitation of "Problems?":
Ron's Comments about seeing and solving "Problems"
Dear Friends,
As sentient beings on planet Earth, we share innate yearning for uninterrupted happiness. But there aren't utopian Earthly societies inhabited by perfectly happy people without problems.
Thus, individually and societally, all humans inevitably experience problems and limitations which interfere with their happiness – no matter who we are or how we are self-identified or categorized.
Though – like snowflakes – each of us is physically unique with a unique story and history, we are all inextricably interconnected and interdependent – existentially sharing a common spiritual Self identity and common cosmic matrix.
Problems preclude lasting happiness
So solving our societal and interpersonal problems is crucial to fulfillment of our inborn wish for lasting happiness. And just as curing disease normally requires diagnosis of its cause, to solve Earthly problems we need to see their source.
To help us "diagnose" our problems I have posted the foregoing quotations and enigmatic sutra poem – composed many years ago – about seeing, solving and transcending "problems".
Seeing and solving psychological problems
This poem mainly addresses mental – rather than physical – "problems", since physical pain is inevitable, while mental suffering is optional.
As to such psychological problems, His Holiness the Dalai Lama teaches that
"The greatest degree of inner tranquility comes from the development of love and compassion" because "the need for love lies at the very foundation of human existence;" and because without "love and compassion . . .humanity cannot survive".
Psychological problems and suffering inevitably arise when we are ignorant of our true spiritual self-identity – which is LOVE – but futilely seek happiness from ephemeral worldly satisfactions. So the poem identifies "ignorance" as the source of "problems".
Thus Rumi tells us:
"Your task is not to seek for love,

but merely to seek and find

all the barriers within yourself

that you have built against it."

~ Rumi
Mental Problems are Ego Problems
Those mental 'barriers' which we have 'built within' all arise from ego, to which Buddhist teachings often refer as 'self-cherishing thought'.
Through ego we mistakenly mentally self-identify as entities separate from the Whole – as separate perceivers of a supposedly objective world.
But this is an unreal ego illusion – samsara. And our self-cherishing beliefs and behaviors seeking psychological self-preservation and protection of that ego illusion of separateness are ultimately futile.
What never was, can never be preserved.
To promote lasting happiness and compassion, most spiritual practice has been aimed for millennia at transcending illusionary ego identity. For example this intention has been mentioned in ancient Vedic and Taoist texts such as Rig Veda and Tao Te Ching, as well as in Buddhist scriptures:
Ego is the biggest enemy of humans. "

~ Rig Veda

"The ego is a monkey catapulting through the jungle: Totally fascinated by the realm of the senses, it swings from one desire to the next, one conflict to the next, one self-centered idea to the next. If you threaten it, it actually fears for its life. Let this monkey go. Let the senses go. Let desires go. Let conflicts go. Let ideas go. Let the fiction of life and death go. Just remain in the center, watching. And then forget that you are there."

~ Lao Tzu

"The foundation of the Buddha's teachings lies in compassion, and the reason for practicing the teachings is to wipe out the persistence of ego, the number-one enemy of compassion."

~ Dalai Lama
Thus, according to perennial spiritual teachings, ego must be recognized, renounced and transcended.
No thought, no ego.
Ultimate overcoming of ego happens only when thought ceases NOW, and Universal Intelligence which has been mistakenly regarded as a separate experiencer of sensations and emotions, and a separate performer of actions, exists by itself and as itself, and is not mentally divided and projected.
Happiness grows as ego goes
Only very rare 'awakened' Buddha-like beings have completed the metamorphosis from Humanity to Infinite Intelligence – from human consciousness to superconsciousness. So the overwhelmingly vast majority of Humankind are incarnate because we are limited by illusionary ego entity-identity, and we inevitably suffer "problems" in space/time causality/duality.
But all of us can gradually evolve and achieve ever growing happiness by seeing and solving our ego problems from ever elevated mental states of consciousness, subtler than those which created them.
Initially we may use our instinctive intelligence to "diagnose" and abandon the beliefs and behaviors causing our experience of such problems. Later, with wisdom we may avert problems by observing mistakes of others and not emulating such mistakes.
Invocation/Conclusion
May we overcome our sufferings from earthly 'problems', and experience ever growing happiness, compassion and fulfillment of our deepest aspirations, by gradually recognizing, renouncing and transcending ego-beliefs and behaviors.
And so may it be!
Ron Rattner