Posts Tagged 'Matthew 7:7; Luke 11.9-13'
"He is born in vain,
who having attained the human birth,
so difficult to get,
does not attempt to realize God
in this very life."
~ Sri Ramakrishna
"Seek first the kingdom of heaven,
which is within."
~ Matthew 6:33; Luke 17:20-21
"Seek and ye shall find."
Matthew 7:7; Luke 11.9-13
"What you seek is seeking you."
~ Rumi
"What we are looking for is what is looking."
~ St. Francis of Assisi
By letting it go it all gets done.
The world is won by those who let it go.
But when you try and try,
the world is beyond the winning.
~ Lao Tzu
"Remember God; forget the rest.
Forget who you think you are,
to remember what you really are."
~ Ron Rattner, Sutra Sayings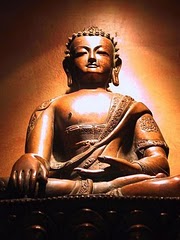 Introduction

This posting asserts and explains, with quotations and comments, that consciously or unconsciously we are all spiritual seekers.

Should We Be Seekers?

Q. Should we be seekers?

A. Knowingly or unknowingly everyone's a seeker.
Knowingly or unknowingly everyone seeks Self.

But seeking's then,
while Self is NOW.

So, to find Self,
BE Self –

NOW!


Ron's audio recitation of "Should We Be Seekers?"


Ron's comments and explanation of "Should We Be Seekers?"

Dear Friends,

Are you a spiritual seeker – a seeker of Eternal Truth?

Nowadays, few humans consciously seek spiritual Truth. Almost everyone wants to be happy. But most people seek happiness in worldly pursuits and pleasures, not within.

For millennia mystics, saints and sages have counseled us to focus on spiritual rather than worldly goals. They tell us that worldly pleasures and attainments can merely bring transient satisfactions, whereas lasting happiness can only be found within.

Thus Jesus advised:
"Seek first the kingdom of heaven, which is within."
"Seek and ye shall find."

~ Matthew 6:33; Luke 17:20-21; Matthew 7:7; Luke 11.9-13


Similarly, 19th century Indian holy man Sri Ramakrishna Paramahansa said:

"He is born in vain, who having attained the human birth, so difficult to get, does not attempt to realize God in this very life."
~ Sri Ramakrishna
From my experience, knowingly or unknowingly, everyone is a spiritual "seeker" because everyone longs for a state of being which transcends inevitable Earthly cares and suffering, bringing eternal happiness as LOVE. But rare are those who attain it.

Background

In memoirs titled "Transcending Transcendence" I've told how soon after becoming a "born-again Hindu", I learned that that the object of Sanskrit Hindu practices given by my Guruji was to achieve "mukti" or "moksha", a state of Divine illumination, where the Self, soul, or "Atman" would experience its Oneness with "Brahman" [Supreme Reality] – the pinnacle of human experience.

Thereafter, I began considering and seeking "self realization", or "enlightenment" as a spiritual goal, until gradually I abandoned goal oriented spiritual seeking, and – as "An Uncertain Undo" – intuitively began surrendering to the Infinite, with ever expanding heartfelt faith in God.

Explanation

Mystics say that by resolutely looking within we can discover ultimately that we are imprisoned by illusionary mental tendencies and mistaken beliefs about self identity and reality which wrongly reify our limited perceptions of ephemeral forms, in an ever impermanent illusory reality, where mortality and suffering are karmically inevitable.

So, how can we find divine happiness within?

Non-dualist masters tell us that effortlessly – with resolute intention, intense aspiration and focused observation we can discover our eternal Self, as a joyous state of spiritual freedom beyond belief.

"What is the worth of a happiness for which you must strive and work?
 Real happiness is spontaneous and effortless."

~ Sri Nisargadatta Maharaj

"Happiness is the absence of the striving for happiness."

~ Chuang-Tzu

By letting it go it all gets done.
The world is won by those who let it go.
 But when you try and try,
the world is beyond the winning.

~ Lao Tzu

"In the pursuit of learning every day something is gained.

In the pursuit of Tao, every day something is dropped."

~ Lao Tzu

"Don't seek happiness.  If you seek it, you won't find it, because seeking
is the antithesis of happiness.  Happiness is ever elusive, but freedom from
unhappiness is attainable now, by facing 'what is' rather than making up
stories about it.  Unhappiness covers up your natural state of well-being  and
inner peace, the source of true happiness."

~ Eckhart Tolle, A New Earth

"Do not search for the truth;

only cease to cherish opinions.

Do not remain in the dualistic state.

Avoid such pursuits carefully.

If there is even a trace of this and that,

of right and wrong,

the mind-essence will be lost in confusion."
~ Seng-Ts'an, The Third Patriarch of Zen
Dedication and Invocation

May the non-dualist mystic masters inspire us –
each from our unique perspective –
to prioritize spiritual rather than worldly goals,
and so to seek and find relief from belief –
relief from mistaken mental tendencies
from which we inevitably and repeatedly suffer
until we find –
beyond the mind –
our true immortal Self.
And thus discover that:
We are what we seek!

And so it shall be!

Ron Rattner


Ask and it shall be given;
Seek and ye shall find.
~ Matthew 7:7; Luke 11.9-13
"A yogi, seated in solitude and alone,
should constantly try to contemplate on the Supreme Being
after bringing the mind and senses under control,
and becoming free from desires and proprietorship.

One should sit on his or her own firm seat that is neither too high nor too low, covered with sacred Kush grass, a deerskin, and a cloth, one over the other, in a clean spot.
Sitting there (in a comfortable position) and concentrating the mind on God, controlling the thoughts and the activities of the senses, one should practice meditation for self-purification."
~ The Bhagavad-Gita – 6:10-12, Krishna to Arjuna
Introduction
My life has become filled with frequent 'miraculous' synchronistic
"Manifestation Miracles"
– noteworthy manifestations of desired circumstances or artifacts without my consciously willing them. Mostly I've been given what I wished. But sometimes the universe sent something else, which proved better than what I thought I wanted.
Here is a story about a synchronistic 'miraculous' gift from the Lone Arranger that proved more useful than what I thought I was seeking.
A Reindeer Gift For Peaceful Meditations
Before my midlife spiritual awakening, I didn't intentionally meditate and was unaware of the crucial importance of a stilled mind. Thereafter, until meeting Guruji – my spiritual master,
Shri Dhyanyogi Madhusudandas
– I sometimes experienced spontaneous meditative states with unprecedented inner experiences. But only after meeting Guruji did I begin regular meditation practice and learn of the spiritually supreme importance of a quiet mind.
Guruji gave us various Sanskrit spiritual practices, but his most important message was to
"meditate regularly"
. And inspired by Guruji I was strongly motivated to meditate.
Guruji taught that our meditations would be aided by sitting in firm but relaxed postures in places conducive to peacefulness. Also, at a meditation retreat Guruji revealed that if we sat on a deerskin its tranquil vibrations would help our meditations.
At first, I tried to follow Guruji's meditation advice by sitting and praying in quiet places with relaxed straight spine posture. But I didn't look for a deerskin on which to meditate.
Although Guruji and Krishna (in the The Bhagavad-Gita) recommended meditating on deerskins, I was reluctant to follow that advice. I'd always loved deer as beautiful, graceful, and peaceful creatures, not needed as a food source or as hunters' trophies. So I questioned hunting and killing such innocent animals as a sport, or for commercial exploitation, rather than only for necessary sustenance. *(see footnote)
In 1980, my apartment was the last place Guruji stayed before returning to India. Following his departure, I had an amazing experience of Guruji's
shakti
energy while carrying his mattress to a van in my garage. Thereupon, I realized that my living room sofa where Guruji had sat had been transformed to become a holy relic imbued with his spiritual energy. So I made it into an altar, where for over thirty years I worshiped, prayed, cried and meditated, and experienced Guruji's holy energy still emanating from it. ( see
https://sillysutras.com/experiencing-unforgettable-divine-shakti-rons-memoirs/
)
After I set up the altar my friend Kusuma gave me a small meditation rug with artistic drawings of deer on it. So instead of sitting on a deerskin
asana
(sitting place) in front of the sofa-altar, I sat there on that rug with images of deer. And rather than receiving 'spiritual tail-wind' from subtle deer vibrations, I received it from the sofa which was infused with Guruji's
shakti
.
But, with mixed emotions, I kept wondering if my meditation experience could be enhanced by a real deerskin
asana
as suggested by Guruji. By this time I had stopped eating all animal flesh and was reluctant to use clothing and other products fabricated from any animals. For example, whenever feasible I wore non-leather shoes.
Yet, because of Guruji's recommendation, I finally decided to seek from a taxidermist a small deerskin on which sit in meditation. But I didn't know how to find taxidermists. It was then long before the computer-Google-Amazon era, and no taxidermists were then listed in the San Francisco telephone directory. So I obtained a regional business telephone directory, in which I found a few California taxidermist listings.
After a couple of unsuccessful phone inquiries, I called a woman taxidermist near Yosemite national park, who pleasantly answered the phone. I explained that I wanted to buy from her a small piece of deer-hide to use for meditation.
She told me she had no deer-hide and did not foresee obtaining any soon. But then – almost as an afterthought – she told me that she had two caribou pelts which she could not use and asked if I would be interested in one of them.
At first, confused about caribou, I asked her to describe the pelts. Her response reminded me that caribou are "reindeer", like Santa's legendary helpers; that they are part of the same ruminant mammal family that includes deer, but with longer fur. After listening to a description of the pelts, I intuited that I might be able to use one, and asked what she'd charge. Surprisingly, she said she be happy to give it to me without charge, and she promptly offered to mail it to me if I wanted it. So I gave her my address, but insisted on at least paying her shipping costs. But she graciously declined.
A few days later, the postman delivered a bulky parcel containing a beautiful caribou pelt. But it was much bigger than I had imagined and was so irregularly shaped that it clearly was inappropriate for placement in front of my altar. With guilty conscience for accepting a gift I couldn't use, I wondered what to do with the caribou pelt – whether I should return it to the generous taxidermist. But she had told me she had no use for it and was happy to dispose of it.
Then suddenly – Eureka! – I had a flash of insight that the reindeer pelt might be draped over an upholstered lounge chair opposite the sofa-altar. And it worked. The pelt fit perfectly and looked great on the chair! And it was so peacefully comfortable to sit on!
Thereafter, for about twenty five years, I spent countless blissed-out hours sitting on that transformed reindeer chair, when not in
vajrasana
pose at my altar. Only after the peace-giving reindeer pelt was disintegrating from sunlight did I reluctantly dispose of it, with great gratitude for the many blessings it had brought.
Moral of this reindeer synchronicity story
For evolution, we synchronistically get what we need when we need it, whether or not we know it or think we want it.
Such synchronicities can infuse us with feelings of awe and gratitude for all miraculous and mysterious Life on this precious planet. They show that we're in the flow; that we are in harmony with Nature. And the more we are in harmony with the universe, the more blessings we receive.
Footnote
*To me, the senseless slaughter to near extinction of many precious species like buffalo and wolves has been brutally insane and emblematic of unsustainable alienation from Nature of many non-indigenous North Americans. So I didn't want to indirectly participate in such senseless killings.


Addendum, 2018

Dear Friends,

Except for extremely rare Buddha-like beings, virtually all humans are caught by ego in the karmic cycle of death and rebirth. But, depending on whether or not we use our conditioned minds to satisfy or subdue ego, we can either deter or advance our spiritual evolution toward transcendence of karmic suffering. (See https://sillysutras.com/what-is-the-human-mind-is-it-best-friend-or-worst-enemy/.)

I've theorized that there is a sort of 'cosmic law of supply and demand' which provides what we need when we need it for our spiritual evolution – a 'cosmic incentive system'. Sometimes we are given painful experiences to help us advance, and sometimes when spiritually motivated we may 'ask and receive' or 'seek and find' that which spurs spiritual evolution – as demonstrated by the foregoing A Reindeer Gift Synchronicity Story.

May all such synchronicities, whether pleasant or painful, infuse us with feelings of awe and gratitude for our miraculous and mysterious Life on this precious planet.

And so may it be!

Ron Rattner