At my death do not lament our separation
…
as the sun and moon but seem to set,
in reality this is a rebirth.
~ Rumi
"Death is truly part of life … 'what we called death is merely a concept'."
"This happens at the gross level of the mind.
But neither death nor birth exist at the subtle level of consciousness that we call 'clear light.'"
~ Dalai Lama
"Birth and death are virtual,
but Life is perpetual."
~ Ron Rattner, Sutra Sayings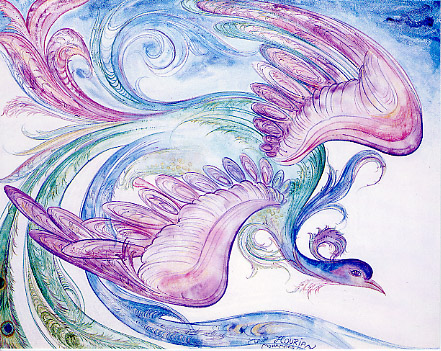 Introduction
On observing noteworthy phenomena which we can't yet explain by known natural or scientific laws, we sometimes call them "miracles" and may attribute them to a Divine power.
Like other rare saints and mystics my beloved Guru, Shri Dhyanyogi,  ("Guruji") occasionally demonstrated  "miracles"  to foster faith in the Divine.  In his writings and lectures, Guruji explained that yogic powers (siddhis) might be attained via control of life-force energies, but that they were seldom displayed; that such powers are used "sparingly and on occasion for humanitarian and other discretionary ends," but not "for self-aggrandizement."
Previously, I told you my belief that Guruji has helped me from subtle planes, like a 'guardian angel', ever since I met him when he was approximately one hundred years old, and even after he died in India sixteen years later.
I believe that Guruji left his body consciously and intentionally, using his yogic powers; that his mental body survived the death of the physical body; and, that from subtle planes he continues to help humanity.
I'd like to explain to you my reasons for this belief.
In the Hindu tradition, when a yogi who has previously experienced the highest state of samadhi intentionally leaves his body, this is not the same as death of an ordinary person who has not attained self-realization. Such a passing is called a Mahasamādhi (great and final samādhi) and is the act of consciously and intentionally leaving one's body at the time of physical death.
When I received shaktipat initiation from Guruji in 1978, I had already witnessed his yogic power to influence this level of reality from subtle planes. He had clearly appeared in my subtle inner vision when we were physically distant. Thereafter, I had other experiences of Guruji's subtle powers, which I elsewhere share with you.
In 1980 just before Guruji returned to India from four years in the USA, he stayed in my apartment for several weeks. At that time Guruji's American attendant and driver, Lackshman, recounted to me a brief conversation with Guruji following a sparsely attended public meditation program. Driving home, Lackshman had remarked to Guruji that it was too bad so few people had attended this event. Whereupon Guruji replied, "It's not important. Most of my work is on other planes."
And, once when we were alone in his room, Guruji told me that he came and went from his physical body as he pleased. [See Human Body – A Precious "Prison"? ]
Also, at Guruji's meditation programs, I heard amazing stories from others who had experienced his extraordinary yogic powers. Perhaps the most memorable of these stories was that of Rudy, a Chicago teacher who decided to travel on his motorcycle to spend time with Guruji in California. But before reaching California, and while he was in Colorado, Rudy had an unexpected and "miraculous meeting" with Guruji.
On a curvy mountain highway in Colorado, Rudy's motorcycle skidded off the road and careened three hundred feet down a steep incline. Just before hitting bottom, Rudy called out Guruji's name, remembering Guruji's assurance that "I'm always with you."
Gravely injured, Rudy became comatose. In that comatose state he had a "near death experience" (NDE), which miraculously he survived, and later recounted in detail.
There on 'the other side' to greet and guide Rudy, and to save his life was Dhyanyogi. Thereafter, at a California retreat Guruji explained to Rudy that he had saved his life because Rudy still had much more work to do in this world.
Rudy's vividly credible description of this amazing incident compellingly impressed me with Guruji's power to manifest at will on subtle planes of "reality" and to thus influence what happens in this "reality".
Besides my own extraordinary experiences with Guruji, and hearing of Rudy's experience, I learned about numerous other "miraculous" experiences of Guruji's devotees. (See eg "This House is on Fire, The Life of Shri Dyanyogi", as told by Shri Anandi Ma.)
My Experience on Guruji's Mahasamadhi
One of my most memorable mystical experiences of Guruji happened just after he left his physical body. At the end of August 1994, when Guruji was in India and I was in San Francisco, I was home asleep when I was suddenly awakened in the middle of the night.
With eyes open, I beheld in amazement an extraordinary and unprecedented vision – an otherworldly, multi-colored bird, translucent with a peacock-like tail and human-like eyes. Nothing about the bird appeared like any 'real-life' bird I had ever before seen, or might have imagined.
As I gazed in awe at this ethereal apparition, I was enveloped and transformed by a supernal aura of supreme Peace, which emanated from the bird's radiant dark human-like eyes. I awakened in the morning puzzled, and wondered about that extraordinary apparition which had enveloped me with 'peace that passeth understanding.'
The next day, still wondering about the vision, I was sitting at my dining room table when an 'inner voice' dictated to me a poem about death, a subject I hadn't then been thinking about.
Listening to my muse, I quickly and spontaneously "channeled" this poem about death:
When we come to Earth
They call it a birth
When we leave,
They say we die.

But we really don't come,
And we really don't go.
We just dream our lives
But why?

To awaken as Bliss
From all of this,
Joyous that all is
"I".


Thereafter, within a day or two, I received a rare call from one of Guruji's early US disciples, Elyse (Indu) of Sacramento. She informed me of Guruji's death – his Mahasamādhi – on August 29. Only then did I understand why I had been given this profound poem about death. And I immediately recognized it as a parting gift and message from Guruji.
So I recited the poem for Elyse. Then I told her about my puzzling otherworldly bird vision. She promptly and aptly interpreted that vision as a mythical Phoenix bird, symbol of immortality, resurrection, and life after death.
Thereupon, I realized that the bird's human-like eyes emanating supernal Peace were Guruji's eyes; and, that this unforgettable vision with experience of celestial peace was another parting gift and message from Guruji.
Epilogue
Many years have passed since that miraculous experience of Guruji's Mahasamādhi, but I still continue to feel his subtle presence and often shed tears of devotion and joy, when I think of him or gaze at his photographic image.
Recently, almost twenty years after Guruji's transition, I had a home visit from my friend Michael O'Rourke, a talented spiritual cinematographer who helped me launch SillySutras.com. I was chatting with Michael about Guruji and feeling his subtle presence, while seated in a reclining chair. After a while I had to excuse myself for a bathroom visit. When I returned several minutes later Michael reported to me his extraordinary experience of Guruji's appearance.
As Michael was gazing at me while I talked about Guruji, he went into an altered state of consciousness. He then perceived another face morphing into mine – a face without glasses and with a longer white beard. It was Guruji!
Michael said that amazingly after I got up to go to the bathroom he still perceived the image of Guruji seated in the chair, until after I returned and sat down again.
Guruji once said: "All those who came to me for Shaktipat …. are my spiritual heirs. For my energy works through them."
With utmost gratitude, I deeply feel that my continuing experience of Guruji validates his statement and supports my faith that he continues to help humanity, including Ron, even after his Mahasamādhi.

"The brain does not create consciousness,
but consciousness created the brain,
the most complex physical form on earth, for its expression."
~ Eckhart Tolle
I regard consciousness as fundamental.
I regard matter as derivative from consciousness.
We cannot get behind consciousness.
Everything that we talk about, everything that we regard as existing,
postulates consciousness.
~ Max Planck, Nobel laureate physicist, as quoted in The Observer (25 January 1931)
"The very study of the physical world leads to the conclusion that
consciousness is an ultimate reality and,
all the possible knowledge, concerning objects
can be given as its wave function"
~ Eugene Wigner, Nobel laureate physicist and co-founder of quantum mechanics


Introduction.

For millennia mystics and seers have realized experientially that our space/time/causality reality is but a play of consciousness; that all impermanent appearances, all apparent forms and phenomena – including human brains – are but holographic projections of timeless Universal Awareness.

But very few scientists have shared this revelatory mystical world view. Most scientists do not regard as "real" that which is beyond perception and conception.

Rather than recognizing consciousness as the ultimate and eternal Source of our reality, reductionistic and materialistic mainstream science says that brains generate consciousness, and that we see via our brains.

However, there have been innumerable published reports of near death and out of body experiences and other mystical experiences which contradict this mainstream brain hypothesis. (*See footnote re Near Death Experiences [NDE's].) Nonetheless, until now most brain scientists have dismissed these reports as untrustworthy "anecdotal" evidence. Rarely have mainstream brain scientists transcended their mistaken materialistic paradigm. But there have been noteworthy exceptions. (see e.g. Atlantic Monthly: The Science of Near-Death Experiences.)

Dr. Eben Alexander

Thus, in October 2012 Dr. Eben Alexander, a neurosurgeon who has taught at Harvard Medical School, went public with an autobiographical account of a life changing dramatic and vivid near death experience (NDE) of what he called "heaven" while he was in a week-long comatose state with a non-functional brain neocortex. (His best-selling first book, "Proof of Heaven", was published by Simon and Schuster on October 23, 2012.)

Dr. Alexander reported being told in "heaven":

"'You have nothing to fear. There is nothing you can do wrong.' The message flooded me with a vast and crazy sensation of relief."

He has written that prior to his NDE he did not believe in such experiences, and 'scientifically' dismissed them.

"As a neurosurgeon, I did not believe in the phenomenon of near-death experiences. I grew up in a scientific world, the son of a neurosurgeon. I followed my father's path and became an academic neurosurgeon, teaching at Harvard Medical School and other universities. I understand what happens to the brain when people are near death, and I had always believed there were good scientific explanations for the heavenly out-of-body journeys described by those who narrowly escaped death."

"According to current medical understanding of the brain and mind, there is absolutely no way that I could have experienced even a dim and limited consciousness during my time in the coma, much less the hyper-vivid and completely coherent odyssey I underwent."

"There is no scientific explanation for the fact that while my body lay in coma, my mind—my conscious, inner self—was alive and well. While the neurons of my cortex were stunned to complete inactivity by the bacteria that had attacked them, my brain-free consciousness journeyed to another, larger dimension of the universe: a dimension I'd never dreamed existed and which the old, pre-coma me would have been more than happy to explain was a simple impossibility."

Raised as a Christian, Dr. Alexander used the religious concepts of "God" and "heaven", to describe his extraordinary experience.

"Communicating with God is the most extraordinary experience imaginable, yet at the same time it's the most natural one of all, because God is present in us at all times. Omniscient, omnipotent, personal-and loving us without conditions. We are connected as One through our divine link with God."

Apart from referring to God, he also identified unconditional Love as the the ultimate Reality and "basis of everything" that exists.

"Love is, without a doubt, the basis of everything. Not some abstract, hard-to-fathom kind of love but the day-to-day kind that everyone knows-the kind of love we feel when we look at our spouse and our children, or even our animals. In its purest and most powerful form, this love is not jealous or selfish, but unconditional. This is the reality of realities, the incomprehensibly glorious truth of truths that lives and breathes at the core of everything that exists or will ever exist, and no remotely accurate understanding of who and what we are can be achieved by anyone who does not know it, and embody it in all of their actions."

With newfound openness to "anecdotal" evidence, Dr. Alexander now expresses optimism that as science and mysticism ever more agree, humankind will evolve to wonderful new states of being.

And so may it be!

Footnote

*Near Death Experiences [NDE's].

The term 'Near Death Experience' [NDE] was coined in 1975 by Raymond A. Moody, Jr., PhD, MD, in his book Life After Life which sold over thirteen million copies worldwide. Since then numerous NDE accounts have been published and discussed in mainstream media, on the internet, in films and videos, and in magazines and books. Many spiritually inspiring NDE stories have been published and researched by the International Association For Near-Death Studies [IANDS] and others. So NDE's have become widely considered, especially by those who claim to have experienced them. And some non-materialist scientists cite NDE's as evidence that consciousness survives physical death. For millions of people NDE's, and other extraordinary mystical experiences, have proven to be spiritually inspirational, and transformative events, diminishing or ending fear of death and encouraging a newly open, trusting and loving lifestyle. (see e.g. Atlantic Monthly: The Science of Near-Death Experiences.)