Posts Tagged 'transmigration of soul'

"The brain does not create consciousness,
but consciousness created the brain,
the most complex physical form on earth, for its expression."
~ Eckhart Tolle
I regard consciousness as fundamental.
I regard matter as derivative from consciousness.
We cannot get behind consciousness.
Everything that we talk about, everything that we regard as existing,
postulates consciousness.
~ Max Planck, Nobel laureate physicist, as quoted in The Observer (25 January 1931)
"The very study of the physical world leads to the conclusion that
consciousness is an ultimate reality and,
all the possible knowledge, concerning objects
can be given as its wave function"
~ Eugene Wigner, Nobel laureate physicist and co-founder of quantum mechanics


Introduction.

For millennia mystics and seers have realized experientially that our space/time/causality reality is but a play of consciousness; that all impermanent appearances, all apparent forms and phenomena – including human brains – are but holographic projections of timeless Universal Awareness.

But very few scientists have shared this revelatory mystical world view. Most scientists do not regard as "real" that which is beyond perception and conception.

Rather than recognizing consciousness as the ultimate and eternal Source of our reality, reductionistic and materialistic mainstream science says that brains generate consciousness, and that we see via our brains.

However, there have been innumerable published reports of near death and out of body experiences and other mystical experiences which contradict this mainstream brain hypothesis. (*See footnote re Near Death Experiences [NDE's].) Nonetheless, until now most brain scientists have dismissed these reports as untrustworthy "anecdotal" evidence. Rarely have mainstream brain scientists transcended their mistaken materialistic paradigm. But there have been noteworthy exceptions. (see e.g. Atlantic Monthly: The Science of Near-Death Experiences.)

Dr. Eben Alexander

Thus, in October 2012 Dr. Eben Alexander, a neurosurgeon who has taught at Harvard Medical School, went public with an autobiographical account of a life changing dramatic and vivid near death experience (NDE) of what he called "heaven" while he was in a week-long comatose state with a non-functional brain neocortex. (His best-selling first book, "Proof of Heaven", was published by Simon and Schuster on October 23, 2012.)

Dr. Alexander reported being told in "heaven":

"'You have nothing to fear. There is nothing you can do wrong.' The message flooded me with a vast and crazy sensation of relief."

He has written that prior to his NDE he did not believe in such experiences, and 'scientifically' dismissed them.

"As a neurosurgeon, I did not believe in the phenomenon of near-death experiences. I grew up in a scientific world, the son of a neurosurgeon. I followed my father's path and became an academic neurosurgeon, teaching at Harvard Medical School and other universities. I understand what happens to the brain when people are near death, and I had always believed there were good scientific explanations for the heavenly out-of-body journeys described by those who narrowly escaped death."

"According to current medical understanding of the brain and mind, there is absolutely no way that I could have experienced even a dim and limited consciousness during my time in the coma, much less the hyper-vivid and completely coherent odyssey I underwent."

"There is no scientific explanation for the fact that while my body lay in coma, my mind—my conscious, inner self—was alive and well. While the neurons of my cortex were stunned to complete inactivity by the bacteria that had attacked them, my brain-free consciousness journeyed to another, larger dimension of the universe: a dimension I'd never dreamed existed and which the old, pre-coma me would have been more than happy to explain was a simple impossibility."

Raised as a Christian, Dr. Alexander used the religious concepts of "God" and "heaven", to describe his extraordinary experience.

"Communicating with God is the most extraordinary experience imaginable, yet at the same time it's the most natural one of all, because God is present in us at all times. Omniscient, omnipotent, personal-and loving us without conditions. We are connected as One through our divine link with God."

Apart from referring to God, he also identified unconditional Love as the the ultimate Reality and "basis of everything" that exists.

"Love is, without a doubt, the basis of everything. Not some abstract, hard-to-fathom kind of love but the day-to-day kind that everyone knows-the kind of love we feel when we look at our spouse and our children, or even our animals. In its purest and most powerful form, this love is not jealous or selfish, but unconditional. This is the reality of realities, the incomprehensibly glorious truth of truths that lives and breathes at the core of everything that exists or will ever exist, and no remotely accurate understanding of who and what we are can be achieved by anyone who does not know it, and embody it in all of their actions."

With newfound openness to "anecdotal" evidence, Dr. Alexander now expresses optimism that as science and mysticism ever more agree, humankind will evolve to wonderful new states of being.

And so may it be!

Footnote

*Near Death Experiences [NDE's].

The term 'Near Death Experience' [NDE] was coined in 1975 by Raymond A. Moody, Jr., PhD, MD, in his book Life After Life which sold over thirteen million copies worldwide. Since then numerous NDE accounts have been published and discussed in mainstream media, on the internet, in films and videos, and in magazines and books. Many spiritually inspiring NDE stories have been published and researched by the International Association For Near-Death Studies [IANDS] and others. So NDE's have become widely considered, especially by those who claim to have experienced them. And some non-materialist scientists cite NDE's as evidence that consciousness survives physical death. For millions of people NDE's, and other extraordinary mystical experiences, have proven to be spiritually inspirational, and transformative events, diminishing or ending fear of death and encouraging a newly open, trusting and loving lifestyle. (see e.g. Atlantic Monthly: The Science of Near-Death Experiences.)
"We are born and reborn countless number of times, and it is possible that each being has been our parent at one time or another.  Therefore, it is likely that all beings in this universe have familial connections."
~ H. H. Dalai Lama, from 'The Path to Tranquility: Daily Wisdom"
"I died as a mineral and became a plant,
I died as a plant and rose to animal,
I died as animal and I was man.
Why should I fear ?
 When was I less by dying?
Yet once more I shall die as man,
To soar with angels blest;
But even from angelhood I must pass on …"
~ Rumi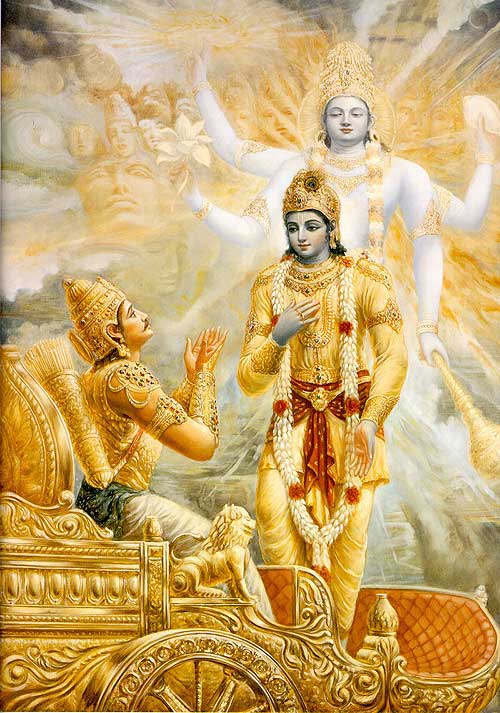 Reincarnation ~ Quotes From Famous People

"Lord Krishna said: …. The learned neither laments for the dead or the living. Certainly never at any time did I not exist, nor you, nor all these kings and certainly never shall we cease to exist in the future. Just as in the physical body of the embodied being is the process of childhood, youth and old age; similarly by the transmigration from one body to another the wise are never deluded."
~ Bhagavad Gita, Chapter 2, Krishna to Arjuna

"But know that by whom this entire body is pervaded, is indestructible. No one is able to cause the destruction of the imperishable soul. The embodied soul is eternal in existence, indestructible and infinite, only the material body is factually perishable…."
~ Bhagavad Gita, Chapter 2, Krishna to Arjuna

"The soul never takes birth and never dies at any time nor does it come into being again when the body is created. The soul is birthless, eternal, imperishable and timeless and is never destroyed when the body is destroyed. Just as a man giving up old worn out garments accepts other new apparel, in the same way the embodied soul giving up old and worn out bodies verily accepts new bodies." "The soul is eternal, all-pervading, unmodifiable, immovable and primordial."
~ Bhagavad Gita, Chapter 2, Krishna to Arjuna

"God generates beings, and sends them back over and over again, till they return to Him."
~ Koran

"Souls are poured from one into another of different kinds of 
bodies of the world."
~ Jesus Christ in Gnostic Gospels: Pistis Sophia

"Reincarnation is not an exclusively Hindu or Buddhist concept, but it is part of the history of human origin. It is proof of the mindstream's capacity to retain knowledge of physical and mental activities. It is related to the theory of interdependent origination and to the law of cause and effect."
~ The Dalai Lama (Preface to "The Case for Reincarnation")

"Rebirth is an affirmation that must be counted among the primordial affirmations of mankind. The concept of rebirth necessarily implies the continuity of personality. Here the human personality is regarded as continuous and accessible to memory, so that, when one is incarnated or born, one is able, potentially, to remember that one has lived through previous existences, and that these existences were one's own, ie, they had the same ego form as the present life. As a rule, reincarnation means rebirth in a human body."  
~ Carl Jung

"Why should we be startled by death? Life is a constant putting off of the mortal coil – coat, cuticle, flesh and bones, all old clothes."

~ Henry David Thoreau

"I cannot think of permanent enmity between man and man, and 
believing as I do in the theory of reincarnation, I live in the hope 
that if not in this birth, in some other birth I shall be able to hug 
all of humanity in friendly embrace."
~ Mahatma Gandhi

"I know I am deathless. No doubt I have died myself ten thousand 
times before. I laugh at what you call dissolution, and I know the 
amplitude of time."
~ Walt Whitman

"I have been born more times than anybody except Krishna." 

~ Mark Twain

"I look upon death to be as necessary to the constitution as sleep. 
We shall rise refreshed in the morning." And, "Finding myself to 
exist in the world, I believe I shall, in some shape or other always 
exist."
~ Benjamin Franklin

Franklin wrote this epitaph at age 22 which was never used:

"The Body of B. Franklin Printer, 
Like the Cover of an Old Book, 
Its Contents Torn Out 
And Stripped of its Lettering and Gilding, 
Lies Here Food for Worms, 
But the Work shall not be Lost, 
For it Will as He Believed 
Appear Once More 
In a New and more Elegant Edition 
Revised and Corrected 
By the Author"

"I did not begin when I was born, nor when I was conceived. I have been growing, developing, through incalculable myriads of 
millenniums. All my previous selves have their voices, echoes, 
promptings in me. Oh, incalculable times again shall I be born."

~ Jack London, author, best known for book Call of the Wild

"The theory of Reincarnation, which originated in India, has been welcomed in other countries. Without doubt, it is one of the most sensible and satisfying of all religions that mankind has conceived. This, like the others, comes from the best qualities of human nature, even if in this, as in the others, its adherents sometimes fail to carry out the principles in their lives."
~ Luther Burbank

"As we live through thousands of dreams in our present life, so is 
our present life only one of many thousands of such lives which we enter from the other more real life and then return after death. Our life is but one of the dreams of that more real life, and so it is endlessly, until the very last one, the very real the life of God."
~ Leo Tolstoy

"I adopted the theory of reincarnation when I was 26. Genius is experience. Some seem to think that it is a gift or talent, but it is the fruit of long experience in many lives". – – – –
"To me this is the most beautiful, the most satisfactory from a scientific standpoint,
the most logical theory of life. For thirty years I have leaned toward the theory of Reincarnation.
It seems a most reasonable philosophy and explains many things."
~ Henry Ford

"As long as you are not aware of the continual law of Die and Be 
Again,
you are merely a vague guest on a dark Earth."
~ Johann Wolfgang von Goethe

"Live so that thou mayest desire to live again – that is thy duty –

for in any case thou wilt live again!"

~ Freidrich Nietzsche

"The soul comes from without into the human body, as into a temporary abode, and it goes out of it anew it passes into other habitations, for the soul is immortal." "It is the secret of the world that all things subsist and do not die, but only retire a little from sight and afterwards return again. Nothing is dead; men feign themselves dead, and endure mock funerals… and there they stand looking out of the window, sound and well, in some strange new disguise."
~ Ralph Waldo Emerson

"The Celts were fearless warriors because "they wish to inculcate this as one of their leading tenets, that souls do not become extinct, but pass after death from one body to another…"
~ Julius Caesar

"Reincarnation contains a most comforting explanation of reality by means of which Indian thought surmounts difficulties which baffle the thinkers of Europe."

~ Albert Schweitzer

"Our birth is but a sleep and a forgetting; The Soul that rises with us, our life's Star, Hath had elsewhere its setting. And cometh from afar."
~ William Wordsworth

"My life often seemed to me like a story that has no beginning and no end. I had the feeling that I was an historical fragment, an excerpt for which the preceding and succeeding text was missing.

I could well imagine that I might have lived in former centuries 
and there encountered questions I was not yet able to answer;
 that I had been born again because I had not fulfilled the task given to me."
~ Carl Jung

"I am confident that there truly is such a thing as living again, that the living spring from the dead, and that the souls of the
 dead are in existence."

~ Socrates

"It is not more surprising to be born twice than once;
everything in nature is resurrection."
~ Voltaire

"He saw all these forms and faces in a thousand relationships become newly born.
Each one was mortal, a passionate, painful example of all that is transitory.
Yet none of them died, they only changed, were always reborn, continually had a new face:
only time stood between one face and another."
~ Herman Hesse, Siddhartha

"All pure and holy spirits live on in heavenly places, and in course of time they are again sent down to inhabit righteous bodies."

~ Josephus (most well known Jewish historian from the time of Jesus)

"All human beings go through a previous life… Who knows how
 many fleshly forms the heir of heaven occupies before he can be 
brought to understand the value of that silence and solitude of
 spiritual worlds?"
~ Honore Balzac (French writer)

"Were an Asiatic to ask me for a definition of Europe, I should be forced to answer him: It is that part of the world which is haunted by the incredible delusion that man was created out of nothing, and that his present birth is his first entrance into life."
~ Arthur Schopenhauer (Philosopher)

"When the physical organism breaks up, the soul survives.
It then takes on another body."
~ Paul Gauguin (French post-impressionist painter)

"Friends are all souls that we've known in other lives. We're drawn to each other.
Even if I have only known them a day, it doesn't matter. I'm not going to wait till I have known them for two years, because anyway, we must have met somewhere before, you know."
~ George Harrison

"Know, therefore, that from the greater silence I shall return…
Forget not that I shall come back to you…
A little while, a moment of rest upon the wind,
and another woman shall bear me."
~ Kahlil Gibran

"There is no death. How can there be death if everything is part of the Godhead?
The soul never dies and the body is never really alive."
~ Isaac Bashevis Singer, Stories from Behind the Stove
"All that we are is the result of what we have thought:
it is founded on our thoughts, it is made up of our thoughts.
If a man speaks or acts with an evil thought, pain follows him,
as the wheel follows the foot of the ox that draws the carriage."
~ Buddha
"A man is but the product of his thoughts; what he thinks, he becomes."
~ Gandhi
"Nothing's either good or bad,
 but thinking makes it so."
~ Shakespeare


This world is wrought 
with naught but thought.
~ Ron Rattner, Sutra Sayings
Think Before You Speak:

The thought manifests as the word.
The word manifests as the deed.
The deed develops into the habit.
The habit hardens into the character.
The character gives birth to the destiny.

So, watch your thoughts with care
And let them spring from love
Born out of respect for all beings.
~ The Buddha, as paraphrased by Mahagosananda