Posts Tagged 'transmigration of soul'
"Birth and death are virtual, but Life is perpetual."
~ Ron Rattner, Sutra Sayings


My 'Near Death' Experience

A few years after the death of his father, the famous 20th century Indian sage Ramana Maharshi was suddenly overcome with a powerful premonition that he too was about to die. Though he was then only sixteen years old and in good health, he became so fearful of his imagined imminent death that he felt impelled to investigate the bodily death experience. So he pretended that he was dying and introspectively contemplated his own death experience. Long afterwards in response to a devotee's question about his "enlightenment" he so recounted this experience:
"The shock of the fear of death made me at once introspective or 'introverted'. I said to myself mentally, 'Now that death is come, what does it mean? Who is it that is dying? This body dies'. ….The material body dies, but the Spirit transcending it cannot be touched by death. I am therefore the deathless Spirit. … Fear of death vanished at once and for ever. The absorption in the Self has continued from that moment right up to now".

In 1979 I too had an extraordinary presumed near death experience. Unlike Ramana Maharshi's pretended death experience, I really believed I was dying of a stroke and decided to observe the death process without resistance. Unlike Maharshi's experience, my supposed death experience didn't result in my instant "enlightenment" or permanent absorption in the Self. But, it was an extraordinary and unforgettable event, and it spurred my gradual transformative process of more and more identifying with spirit rather than body/mind, which had begun in 1976 with my post-divorce realization and rebirth experience.

After I received shaktipat initiation from Dhyanyogi in 1978, I began following his practices. But, also, I continued to explore spiritual mysteries by attending various other programs and lectures, with Dhyanyogi's approval. When asked about our seeking information from other teachers, Guruji would say it was OK but unnecessary.

My near death experience happened in late 1978 or 1979, the morning after I had attended an inspiring lecture and experiential program given by Sufi master Pir Vilayat Inayat Khan. At the program I whole heartedly participated in a Sufi remembrance of God ritual called Zikr, featuring repetition of names of Allah. Fervently repeating in unison with other participants: "La Ilaha Illallah" , "La Ilaha Illallah", I vigorously rotated my body, head and neck, and became quite 'high' and rapturous.

The next morning I awakened feeling fine, and prepared to attend an important Federal Appeals Court hearing. I had put on my grey pinstriped suit trousers, shirt and tie, and was in the bathroom, when suddenly I collapsed and fell onto the tiled floor and into a supine position. On the floor I was unable to move my head or body up or over. Then I discovered that I could inch along on my back like a caterpillar. In that manner with tremendous difficulty, I managed to move out of the bathroom and into my carpeted living room floor, still in a supine position.

I was not then near a phone and couldn't call for help. Lying on my back, without pain, I said to myself mentally, "I must have suffered a stroke and am about to die. Now I will see what happens when I die."
I closed my eyes and went into a deep state of relaxed awareness.

Suddenly it seemed as if I was astrally projected into the cosmos, where I was surrounded by magnificent luminescent silver, blue and gold heavenly bodies like in pictures taken by the Hubble telescope. Next, my inner vision shifted from outer space to appearances of beautiful, luminescent and intricate mandalas – like those associated with Vajrayana Buddhism, only more ethereal. As silently I was sensing these celestial scenes, thought returned. First I thought that dying was quite an interesting experience. Then, suddenly, I thought: "I never took Naomi off my life insurance policies. I can't die now." The ethereal visions immediately ended and consciousness returned to my supine body on the carpeted floor.

I don't remember how much time had passed before I so returned to body consciousness. But when that happened I found that I could move easier and managed to slither to a telephone when it rang. Synchronistically, it was a call from my friend Kusuma, who had been one of Guruji's translators and cooks. I told her what happened, and she dispatched Stan, a disciple of Dhyanyogi then living in San Francisco, to come help me. By the time Stan arrived, I was able to crawl with difficulty to the front door to let him in. He called my doctor who said my symptoms sounded like extreme vertigo from an inner ear problem, not a stroke. Later, Kusuma asked Guruji about my symptoms. He told her that they came from "shakti", intense spiritual energy activated in my head.

Following my 'near death' experience, the vertigo gradually abated. I developed a curiosity about Tibetan Buddhism, and the meaning of their mandalas, which lead to my receiving refuge, empowerments, and teachings from Kalu Rinpoche, a venerable Tibetan Buddhist master, and then from other Tibetan lamas, including H.H. the Dalai Lama – who became a living hero for me. Most importantly my conviction about immortality of the soul and my identification with spirit were immeasurably enhanced, while psychological fear of bodily death diminished.

But I didn't become "enlightened" enough to transcend the lingering psychological trauma of my contentious divorce. So, long before my dizziness had disappeared, my former wife's name was removed as a beneficiary on my life insurance policies. And I haven't yet died – again.

After my near death experience I was quite surprised at how peaceful I felt when then facing supposed death, and began wondering whether I had transcended fear of death. That question was soon answered when a deranged young driver raced his car right at me as I was walking across Broadway, the busy four lane street where I live. Instinctively and reflexively I very loudly screamed "Jesus!" as I fearfully jumped out of the way. I shouted so loudly that I probably could have been heard for a block or two up the street. Thereafter for several hours, I experienced a "fight or flight" adrenaline rush. Moreover, since then I have had several similar though less intense precarious experiences while crossing San Francisco streets.

So, despite my serenity during the near death experience, some instinctive fear of bodily death remains for me. But I now distinguish such normal physical 'fight or flight' instinct for bodily self-preservation, from fear arising from ego's illusionary self-identification with the body/mind and its story, rather than with universal spirit, its eternal Essence. And I accept inevitable – and perhaps imminent – physical death as a crucial condition of phenomenal life on this precious planet.

While yogis in other times and places could attain and maintain elevated states of awareness by taking refuge in the forests, on a mountain, or in a cave – or like Ramani Maharshi, in caves on a mountain, such stress free environments are hard to find for those living in present day US society. For me attempting to live authentically and sanely in our crazy culture has at times been quite challenging. I've found that in San Francisco courtrooms and environs midst societal insanity, without some ego I'd would have been metaphorically and actually run over while traversing my spiritual path as well as while crossing the streets. ….

Suzuki Shunryū, Roshi, who popularized Zen Buddhism in the United States, was once asked by a student: "How much "ego" do you need?" He replied: "Just enough so that you don't step in front of a bus."

So I wonder what past spiritual masters would have done when suddenly confronted with immediate bodily threat? Certainly they wouldn't have shouted "Jesus", with an adrenaline rush. Maybe, like Gandhi, they would have uttered "Ram" while stepping quietly out of harms way. What do you think?

© Ron Rattner – "From Secular Hebrew, to Born-Again Hindu, to Uncertain Undo – An ex-lawyer's spiritual metamorphosis from Litigation to Meditation – and Beyond."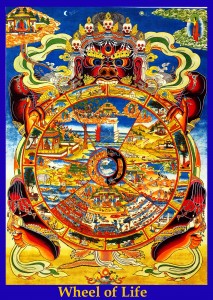 "The brain does not create consciousness,
but consciousness created the brain,
the most complex physical form on earth, for its expression."
~ Eckhart Tolle
I regard consciousness as fundamental.
I regard matter as derivative from consciousness.
We cannot get behind consciousness.
Everything that we talk about, everything that we regard as existing,
postulates consciousness.
~ Max Planck, Nobel laureate physicist, as quoted in The Observer (25 January 1931)
"The very study of the physical world leads to the conclusion that
consciousness is an ultimate reality and,
all the possible knowledge, concerning objects
can be given as its wave function"
~ Eugene Wigner, Nobel laureate physicist and co-founder of quantum mechanics


Introduction.

For millennia mystics and seers have realized experientially that our space/time/causality reality is but a play of consciousness; that all impermanent appearances, all apparent forms and phenomena – including human brains – are but holographic projections of timeless Universal Awareness.

But very few scientists have shared this revelatory mystical world view. Most scientists do not regard as "real" that which is beyond perception and conception.

Rather than recognizing consciousness as the ultimate and eternal Source of our reality, reductionistic and materialistic mainstream science says that brains generate consciousness, and that we see via our brains.

However, there have been innumerable published reports of near death and out of body experiences and other mystical experiences which contradict this mainstream brain hypothesis. (*See footnote re Near Death Experiences [NDE's].) Nonetheless, until now most brain scientists have dismissed these reports as untrustworthy "anecdotal" evidence. Rarely have mainstream brain scientists transcended their mistaken materialistic paradigm. But there have been noteworthy exceptions. (see e.g. Atlantic Monthly: The Science of Near-Death Experiences.)

Dr. Eben Alexander

Thus, in October 2012 Dr. Eben Alexander, a neurosurgeon who has taught at Harvard Medical School, went public with an autobiographical account of a life changing dramatic and vivid near death experience (NDE) of what he called "heaven" while he was in a week-long comatose state with a non-functional brain neocortex. (His best-selling first book, "Proof of Heaven", was published by Simon and Schuster on October 23, 2012.)

Dr. Alexander reported being told in "heaven":

"'You have nothing to fear. There is nothing you can do wrong.' The message flooded me with a vast and crazy sensation of relief."

He has written that prior to his NDE he did not believe in such experiences, and 'scientifically' dismissed them.

"As a neurosurgeon, I did not believe in the phenomenon of near-death experiences. I grew up in a scientific world, the son of a neurosurgeon. I followed my father's path and became an academic neurosurgeon, teaching at Harvard Medical School and other universities. I understand what happens to the brain when people are near death, and I had always believed there were good scientific explanations for the heavenly out-of-body journeys described by those who narrowly escaped death."

"According to current medical understanding of the brain and mind, there is absolutely no way that I could have experienced even a dim and limited consciousness during my time in the coma, much less the hyper-vivid and completely coherent odyssey I underwent."

"There is no scientific explanation for the fact that while my body lay in coma, my mind—my conscious, inner self—was alive and well. While the neurons of my cortex were stunned to complete inactivity by the bacteria that had attacked them, my brain-free consciousness journeyed to another, larger dimension of the universe: a dimension I'd never dreamed existed and which the old, pre-coma me would have been more than happy to explain was a simple impossibility."

Raised as a Christian, Dr. Alexander used the religious concepts of "God" and "heaven", to describe his extraordinary experience.

"Communicating with God is the most extraordinary experience imaginable, yet at the same time it's the most natural one of all, because God is present in us at all times. Omniscient, omnipotent, personal-and loving us without conditions. We are connected as One through our divine link with God."

Apart from referring to God, he also identified unconditional Love as the the ultimate Reality and "basis of everything" that exists.

"Love is, without a doubt, the basis of everything. Not some abstract, hard-to-fathom kind of love but the day-to-day kind that everyone knows-the kind of love we feel when we look at our spouse and our children, or even our animals. In its purest and most powerful form, this love is not jealous or selfish, but unconditional. This is the reality of realities, the incomprehensibly glorious truth of truths that lives and breathes at the core of everything that exists or will ever exist, and no remotely accurate understanding of who and what we are can be achieved by anyone who does not know it, and embody it in all of their actions."

With newfound openness to "anecdotal" evidence, Dr. Alexander now expresses optimism that as science and mysticism ever more agree, humankind will evolve to wonderful new states of being.

And so may it be!

Footnote

*Near Death Experiences [NDE's].

The term 'Near Death Experience' [NDE] was coined in 1975 by Raymond A. Moody, Jr., PhD, MD, in his book Life After Life which sold over thirteen million copies worldwide. Since then numerous NDE accounts have been published and discussed in mainstream media, on the internet, in films and videos, and in magazines and books. Many spiritually inspiring NDE stories have been published and researched by the International Association For Near-Death Studies [IANDS] and others. So NDE's have become widely considered, especially by those who claim to have experienced them. And some non-materialist scientists cite NDE's as evidence that consciousness survives physical death. For millions of people NDE's, and other extraordinary mystical experiences, have proven to be spiritually inspirational, and transformative events, diminishing or ending fear of death and encouraging a newly open, trusting and loving lifestyle. (see e.g. Atlantic Monthly: The Science of Near-Death Experiences.)
"All that we are is the result of what we have thought:
it is founded on our thoughts, it is made up of our thoughts.
If a man speaks or acts with an evil thought, pain follows him,
as the wheel follows the foot of the ox that draws the carriage."
~ Buddha
"A man is but the product of his thoughts; what he thinks, he becomes."
~ Gandhi
"Nothing's either good or bad,
 but thinking makes it so."
~ Shakespeare


This world is wrought 
with naught but thought.
~ Ron Rattner, Sutra Sayings
The thought manifests as the word.
The word manifests as the deed.
The deed develops into the habit.
The habit hardens into the character.
The character gives birth to the destiny.

So, watch your thoughts with care
And let them spring from love
Born out of respect for all beings.

~ The Buddha, as paraphrased by Mahagosananda