Posts Tagged 'Deuteronomy 6:4; Mark 12:29'
"Reality is merely an illusion, albeit a very persistent one."
"Our separation of each other is an optical illusion of consciousness."

~ Albert Einstein
"Objective reality does not exist" ….

"the universe is fundamentally a gigantic … hologram"

~ David Bohm, Quantum Physicist
"Every particle of the world is a mirror.
In each atom lies the blazing light of a thousand suns."
~  Mahmud Shabestari, Sufi Mystic, 15th century.
"There is an endless net of threads throughout the universe.

The horizontal threads are in space.
 The vertical threads are in time.
At every crossing of the threads, there is an individual.

And every individual is a crystal bead.
 And every crystal bead reflects not only the light
 from every other crystal in the net,

but also every other reflection throughout the entire universe."
~ Indra's Net – from the Vedas of ancient India, 7000 years old

"Reality" isn't REAL!

"Reality" is a holographic theater of the mind,
where we are microcosmic mirrors of the macrocosm.

~ Ron Rattner, Sutra Sayings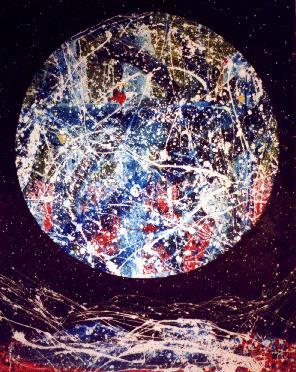 Introduction

Dear Friends,

The following written and recited poetic verses, together with explanatory comments and above quotations, supplement the related "What Is The Universe?" posting.

Both postings propose that cosmically "We Are The Universe". They are intended to help us open our hearts to all beings and all life everywhere.

Please consider them accordingly.

Ron Rattner


We Are The Universe!
The "universe" is like a cosmic hologram:

An ever changing but persistent illusion
appearing in an eternal, immutable,
infinite ocean of Awareness –

Awareness arising from pure potentiality.

Each of us is an integral, pin-point part of the whole picture,
which wouldn't be complete without us.

But, though we appear as only a speck of the Whole,
we are like parts of a hologram;

Hidden within each of us is the whole cosmic picture,
and the awareness screen
on which we envision and project the picture.

In our Essence, we and the "universe" are ONE.

So, we are the "universe".


Ron's audio recitation of "We Are The Universe"



Ron's reflections on Non-dualism and "We Are The Universe"

Dear Friends,

Today's We Are The Universe! posting together with the related "What Is The Universe?" posting propose that cosmically "We Are The Universe".

These and many more SillySutras writings pertain to non-dualism – an important philosophy which has inspired many recent Silly Sutras writings about spiritual evolution and the nature of "reality".

From childhood we have been taught to self-identify only with an illusory and disempowering ego image; with a separate body, name, gender, and story about who and what we are. We are taught that we are each born into Nature as limited mortal beings; but not that Nature is our nature, or that we are Beings of Light sharing limitless immortal cosmic consciousness with all life-forms.

Thus, for countless ages human ignorance of our true identity and immortality, has resulted in our hallucination of separation from Nature, from each other, and from our sole Self and spirit, with consequent destructive selfishness and suffering.

Yet, for millennia sages, seers and mystics have been trying to tell us that we inevitably suffer from radically mistaken self-identity; that our self-identity and reality are not what they appear to be; that it is possible to limit or avoid most suffering of ordinary human existence through experiential self-identification with the unseen Eternal spiritual Source of all space-time causality 'reality'.

Soon after my mid-life change of life, I began discovering enduring wisdom teachings about the Vedic path of Advaita, the oldest extant school of Indian Philosophy. Advaita means non-dualism, and its teachings are about experiencing non-dual Self Realization via focused self-inquiry – relentlessly asking "Who am I?".
I first found these teachings in books by or about legendary Indian sages J. Krishnamurti, Swami Vivekananda, and Shri Ramana Maharshi; also in New Dimensions Radio interviews by Michael Toms, and in KPFA radio lectures by Alan Watts, contemporary Western philosopher/teacher of Eastern spiritual wisdom, from which I learned about similar Buddhist and Taoist non-dualist philosophies.
After initial perplexity, I gradually became convinced of the ultimate Truth of non-dualistic teachings, as eloquently explained by Swami Vivekananda that:
"…this separation between man and man, between nation and nation, between earth and moon, between moon and sun . . does not exist, it is not real" ; and that
"Your own will is all that answers prayer, only it appears under the guise of different religious conceptions to each mind. We may call it Buddha, Jesus, Krishna, but it is only the Self, the 'I'."
~ Swami Vivekananda – "Jnana Yoga"

Non-dualism has even seemed quite consistent with the primary prayer of my early Jewish acculturation:
"Hear O Israel the Lord our God, the Lord is ONE"
~ Deuteronomy 6:4; Mark 12:29

Yet, while accepting Eastern non-dualism wisdom teachings, I have continuously displayed preponderantly devotional propensities of praying, calling and crying to the Divine. And in reading hagiographies I have most identified with Saint Francis of Assisi and Shri Ramakrishna Paramahansa – both extremely ascetic and devotional holy men – more than with the wisdom teachers who introduced me to non-dualism.
Until retirement, while maintaining my busy law practice I found limited time to read and reflect on non-dualism teachings, except on weekends. So I used to jestingly tell spiritual friends that on weekdays I prayed and cried as a devotional bhakta, but that on weekends I became a "Seventh Day Advaitist".
Ultimately, I've become an every day – not just a seventh day – Advaitist. So whimsically I sometimes say that I am now a devotionally open-minded "Advaitist-fundamentalist".
While accepting non-dualism, my primary path seems devotional. Over forty years since beginning to cry for God, I still frequently display devotional tendencies of spontaneously praying, singing, and calling to the Divine. Apparently, my Guruji was quite prescient in naming me Rasik – "one engrossed in devotion".
As a devotional "Advaitist-Fundamentalist" I have composed many poems and essays encouraging the heartfelt path of 'non-dualism' – including today's "We Are The Universe" quotations and poem.
May these writings help remind, encourage and inspire us to open our hearts with deep empathy and compassion for all people and all Life everywhere.
And so may it be!
Ron Rattner


We Create "Reality"

Embedded below is a helpful 10 minute YouTube video montage titled "We Create "Reality"", previously linked on the related What Is the Universe posting