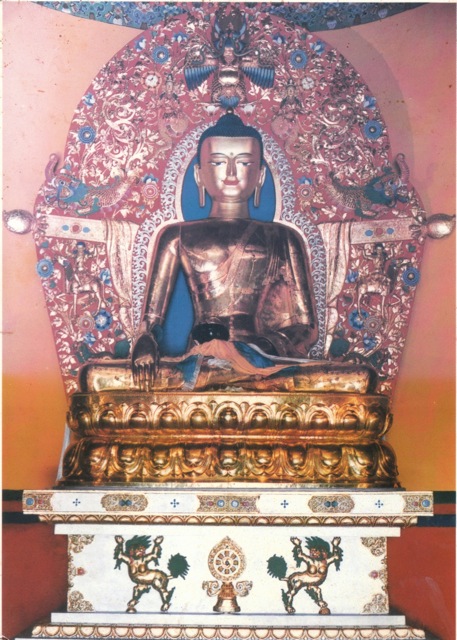 "A disciplined mind leads to happiness, and an undisciplined mind leads to suffering."
~ Dalai Lama, The Art of Happiness
"In Buddhism, ignorance as the root cause of suffering refers to a fundamental misperception of the true nature of the self and all phenomena."
~ Dalai Lama
"We must recognize that the suffering of one person or one nation is the suffering of humanity."
~ Dalai Lama
"All the misery on the planet arises due to a personalized sense of "me" or "us." That covers up the essence of who you are. When you are unaware of that inner essence, in the end you always create misery. It's as simple as that. When you don't know who you are, you create a mind-made self as a substitute for your beautiful divine being and cling to that fearful and needy self. Protecting and enhancing that false sense of self then becomes your primary motivating force."
~ Eckhart Tolle
Pain is inevitable, but suffering is optional.
~ Buddhist saying
"Pain is a relatively objective, physical phenomenon;
suffering is our psychological resistance to what happens.
Events may create physical pain, but they do not in themselves create suffering. Resistance creates suffering. Stress happens when your mind resists what is…
The only problem in your life is your mind's resistance to life as it unfolds."
~ Dan Millman
Q. "How Can We End Suffering?
A. Be a Buddha, be a Tara;
Say sayonara to samsara."
~ Ron Rattner, Sutra Sayings
"In the school of life we suffer
to learn compassion for those who suffer."
~ Ron Rattner, Sutra Sayings

"Every action, every thought, reaps its own corresponding rewards. Human suffering is not a sign of God's, or Nature's, anger with mankind. It is a sign, rather, of man's ignorance of divine law. . . .
Such is the law of karma: As you sow, so shall you reap. If you sow evil, you will reap evil in the form of suffering. And if you sow goodness, you will reap goodness in the form of inner joy."
~ Paramhansa Yogananda
"You may die a hundred deaths without a break in the mental turmoil. Or, you may keep your body and die only in the mind. The death of the mind is the birth of wisdom."
~ Sri Nisargadatta Maharaj
"All formations are 'transient' (anicca); all formations are 'subject to suffering' (dukkha); all things are 'without a self' (anatt ). Corporeality is transient, feeling is transient, perception is transient, mental formations are transient, consciousness is transient. And that which is transient, is subject to suffering. "
~ Buddha
"People have a hard time letting go of their suffering.
Out of a fear of the unknown, they prefer suffering that is familiar."
~ Thich Nhat Hanh
"Suffering is not holding you. You are holding suffering.
When you become good at the art of letting sufferings go,
then you'll come to realize how unnecessary it was
for you to drag those burdens around with you.
You'll see that no one else other than you was responsible.
The truth is that existence wants your life to become a festival."
~ Osho
"Although the world is full of suffering, it is full also of the overcoming of it."
~ Helen Keller
"Out of suffering have emerged the strongest souls;
the most massive characters are seared with scars."

~ Khalil Gibran
"[I]f the mind is attentive and does not move away from suffering at all, then you will see that out of total attention comes not only energy…but also that suffering comes to an end."
"…when you suffer, psychologically, remain with it completely without a single movement of thought… Out of that suffering comes compassion."
~ J. Krishnamurti
"When you are suffering, when you are unhappy, stay totally with what is now.
Unhappiness or problems cannot survive in the Now."
~ Eckhart Tolle
"As you would not like to change something very beautiful: the light of the setting sun, the shape of a tree in the field, so do not put obstacles in the way of suffering. Allow it to ripen, for with its flowering understanding comes. When you become aware of the wound of sorrow, without the reaction of acceptance, resignation or negation, without any artificial invitation, then suffering itself lights the flame of creative understanding."
~ J. Krishnamurti
"It is the truth that sets you free and not your effort to be free.
Suffering is but intense clarity of thoughts and feelings which makes you see things as they are."
"I maintain that truth is a pathless land,
and you cannot approach it by any path whatsoever,
by any religion, by any sect."
~ J. Krishnamurti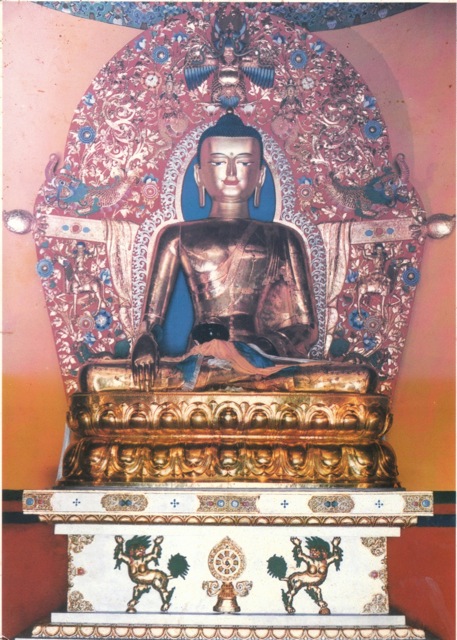 Why Do We Suffer?
Q. The Buddha taught that human life entails unavoidable suffering (duhkha), but that we can be freed from suffering. Why do we suffer, and how can we be freed from suffering?

A. We suffer from ignorance (avidyâ) of our of our true self-identity and 'reality', and from our consequent unskillful thoughts, words and deeds, which are subject to law of karma. Suffering ends when ignorance ends; ignorance ends gradually with experiential Self knowledge that we are Infinite Potentiality beyond conception, rather than merely mortal and limited persons.

Various spiritual traditions propose different paths or methods for attaining such Self knowledge. They can only point to this spiritual goal, but not bestow it.

Each person is unique, with a unique perspective and unique karmic history causing psychological suffering. An often recommended method to end such suffering is perseverant introspection for mindfully identifying, realizing and transcending our unskillful tendencies.  Such attention and realization can ultimately free us from psychological suffering.


Ron's Commentary on Why Do We Suffer ~ "No pain, no gain."

Dear Friends,

Many years ago, as I was being treated for painful left leg injuries by Taoist master and Doctor of Chinese Medicine Sifu Wei Tsuei, I had an unforgettable experience.

During an acupuncture treatment, Sifu suddenly inserted a large metal needle into my left buttock, and I loudly exclaimed in pain, "OUCH!". Whereupon Sifu responded,

"No pain, no gain!"


Then he quietly continued his treatment, which proved quite helpful.

Since then I have often reflected on the wisdom of Sifu's words, "No pain, no gain", and learned they are a popular proverb. With human bodies we experience inevitable physical pain, which can be a crucial catalyst and incentive for spiritual evolution. As stated by another popular Buddhist proverb: 
"Pain is inevitable, but suffering is optional".

Though we may not be free to choose our sometimes painful outer circumstances in life, we are always free to choose our psychological attitude about those circumstances.

Thus every painful earth life experience which induces an elevated attitude can be a disguised blessing furthering our spiritual evolution, and our ultimate transcendence of psychological suffering. And, the greater such suffering, the greater its potential blessing.

The foregoing important quotations and brief essay help explain why we suffer and how we can transcend psychological suffering. They are spiritual teachings which can help us suffer less, and live ever happier lives. So I urge our deep reflection on them.

Moreover, as mindfully we experience ever less suffering and ever more happiness, it becomes possible for some of us to realize that everything in human life is an enormous blessing. For example, renowned master mythologist, author and teacher Joseph Campbell taught that

"Nothing can happen to you that is not positive. Even though it looks and feels at the moment like a negative crisis, it is not. The crisis throws you back, and when you are required to exhibit strength, it comes."
~ Joseph Campbell

Conclusion.

May our growing experiential wisdom, often inspired by mindful suffering, help us – like Joseph Campbell – to ever,


Remember with gratitude,
life is beatitude,

even its sorrows and pain;

For we're all in God's Grace,

every time, every place,

and

Forever (S)HE will reign!

And so shall it be!

Ron Rattner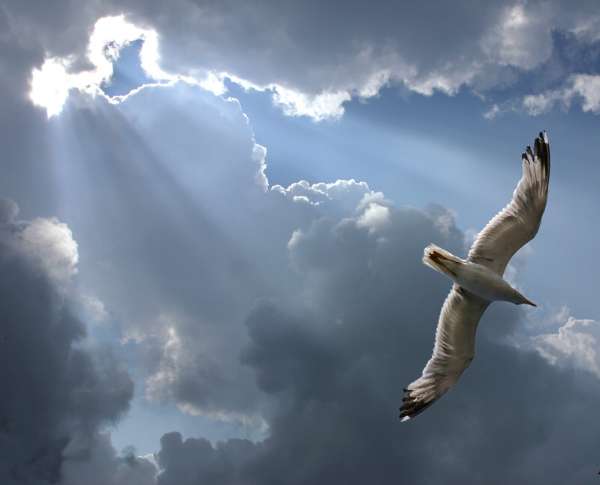 "You will know the truth,
and the truth will set you free."
~ John 8:32
"There is only one central issue, crisis, or challenge for man, which is, that he must be completely free. As long as the mind is holding on to a structure, a method, a system, there is no freedom."
~ J. Krishnamurti
"Freedom is not a reaction; freedom is not a choice.
Freedom is found in the choiceless awareness of our daily existence and activity."
~ J. Krishnamurti
"Bondage is of the mind; freedom too is of the mind.
If you say 'I am a free soul. I am a son of God who can bind me' free you shall be."
~ Sri Ramakrishna Paramahansa
"Be empty of worrying,

Think of Who Created Thought!

Why do you stay in prison

when the door is so wide open?"

~ Rumi
"The moment I have realized God sitting in the temple of every human body,
the moment I stand in reverence before every human being and see God in him –
that moment I am free from bondage, everything that binds vanishes, and I am free."
~ Swami Vivekananda
"All life is an effort to attain freedom from self-created entanglement;
it is a desperate struggle to undo what has been done under ignorance,
to throw away the accumulated burden of the past,
to find rescue from the debris left by a series of temporary achievements and failures."
~ Meher Baba
"Freedom is of the nature of the soul, it is its birthright:
.. real freedom of the soul shines through veils of matter in the form of the apparent freedom of man."
~ Swami Vivekananda
"To acquire freedom we have to get beyond the limitations of this universe;
it cannot be found here. ….
The only way to come out of bondage
is to go beyond the limitations of [natural] law,
to go beyond causation."
~ Swami Vivekananda
"Liberation is our very nature. We are that.
The very fact that we wish for liberation shows that freedom from all bondage is our real nature."
~ Ramana Maharshi
"The soul can grow only in freedom. Love gives freedom.
And when you give freedom, you are free, that's what detachment is.
If you enforce bondage on the other, you will be in imprisonment on your own accord.
If you bind the other, the other will bind you; if you define the other, the other will define you;
if you are trying to possess the other, the other will possess you."
~ Osho
"Spiritual freedom is freedom from all wanting. . . When the soul breaks asunder the shackles of wanting, it is emancipated from bondage to body, mind, and ego. This freedom brings realization of the unity of all life and puts an end to all doubts and worries."
~ Meher Baba
"True freedom and the end of suffering is living in such a way as if you had completely chosen whatever you feel or experience at this moment. This inner alignment with Now is the end of suffering."
~ Eckhart Tolle
"The most fundamental message of Gautama the Buddha is not God, is not soul… it is freedom: freedom absolute, total, unconditional. He does not want to give you an ideology, because every ideology creates its own slavery. He does not want to give you a religion, because religion binds you."
~ Osho

"We are shackled by illusory bonds of belief.
Freedom is beyond belief."
~ Ron Rattner – Sutra Sayings

"You are truly free when you are not a person."
~ Deepak Chopra – The Book of Secrets
When we let freedom ring, when we let it ring from every tenement and every hamlet, from every state and every city, we will be able to speed up that day when all of God's children, black men and white men, Jews and Gentiles, Protestants and Catholics, will be able to join hands and sing in the words of the old spiritual,

"Free at last, free at last. Thank God Almighty, we are free at last."
~ Martin Luther King, Jr. — "I Have a Dream" speech, August 28, 1963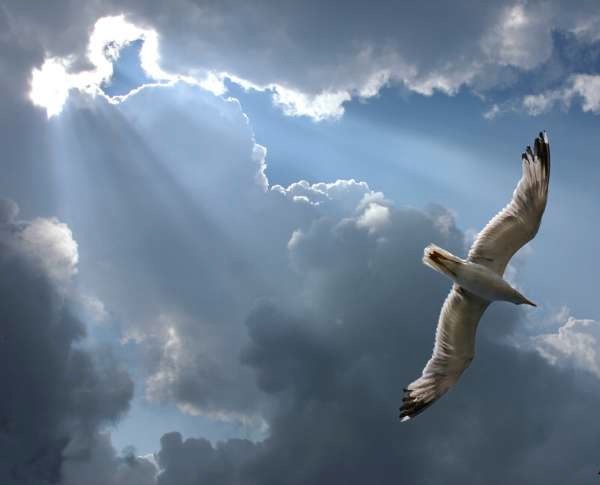 Q. What is "freedom", and how can we experience it?

A. "Freedom" is a word with different meanings.
Here we define "freedom" as an ultimate spiritual Reality beyond thought or ego – beyond human comprehension, imagination, description or belief –
which can only be known experientially, not rationally or mentally.

Ultimate "freedom" is our divine birthright, our nature and our destiny. Freedom is ever NOW, never then.

After mystically experiencing "freedom", great beings like Jesus, the Buddha and Krishna have encouraged us to aspire to this ultimate transcendent experience. Knowingly or unknowingly, all people – including atheists, non-theists, and agnostics – long for "freedom".

Mystics say that as long we self-identify only with our thoughts in ever changing space/time/causality reality we are inescapably 'imprisoned' in a state of psychological bondage, with inevitable suffering; that we experience ultimate "freedom" only in the present moment – the NOW – as we choicelessly self-identify with timeless universal awareness or spirit immanent in each of us.

Essential wisdom teachings of all enduring spiritual, mystical and mythic paths allude to spiritual "freedom".

Thus, the most important Hindu scripture, the Bhagavad Gita, is a teaching by Divine Avatar Krishna about the ultimate spiritual goal ("moksha") of liberation or "freedom" from the cycle of death and rebirth ("samsara").

Similarly, all of Gautama Buddha's teachings were aimed at ending human suffering through attainment of "freedom" from mental fetters or chains (samyojana) of mistaken self-identification with samsara.

When Jesus said: "You will know the truth, and the truth will set you free." (John 8:32) he meant that we will experience "freedom" on realizing our true self-identity as soul or spirit. And in declaring: "I and the Father are One" (John 10:30), Jesus showed that we can only find such freedom when we self-identify with ONE Divine spirit – the kingdom of heaven within – rather than as supposedly separate embodied personalities.

"Freedom" is the esoteric essence and mythical message of the biblical Passover story. Symbolically the Book of Exodus emphasizes societal rather than individual escape from bondage to a Divinely 'promised land'; viz. escape from enslavement by mistaken beliefs in false external Gods – like Pharaohs or idols – to a 'promised land' of ONE eternal Divinity immanent in each of us, beyond external Gods or goals.
"Hear, O Israel: The Lord our God, the Lord is ONE!" (Deuteronomy 6:4).

We find and experience ultimate freedom only in choiceless awareness beyond our apparent subject/object separateness, beyond our beliefs, religions, ideologies or philosophies. By recognizing and transcending illusory belief barriers which seem to imprison us, we are –
"Free at last, free at last!"
~ Martin Luther King, Jr."

NOW – ever NOW, never THEN!


Ron's Commentary on Spiritual Freedom

Dear Friends,

Spiritual freedom is an ultimate goal of all perennial wisdom paths. Most people associate "freedom" with personal, political, and economic liberty.  But spiritual freedom is an extraordinarily rare state of mind which can be inwardly attained even by those who do not enjoy external freedoms, like felons imprisoned for life.  

I first deeply reflected on philosophical concepts of  "freedom" during the 1950's when I learned about Abraham Maslow's psychological analysis of 'self-actualizing' people, and when I read "Escape From Freedom" by then prominent author-psychotherapist Erich Fromm. But after becoming a San Francisco civil litigation  lawyer I rarely reflected about inner freedom until after a memorable exchange with my beloved Guruji, Shri Dhyanyogi Madhusudandas. 

While residing in my apartment just prior to his 1980 return to India, Guruji told me: 
 
"Rasik, a yogi's body is like a baby's body. Your body is like a prison. I am like a jailer with the prison key. I come and go as I please."

Thereupon, I became intensely curious about Guruji's revelation that my body was like a prison. And I wondered how and why 'I' was 'imprisoned', and how 'I' could get out of 'jail' – free like Guruji. 

So I began deeply exploring spiritual freedom, as distinguished from personal, political, and economic freedoms.  

Soon, I was reminded of Reverend Martin Luther King, Jr.'s legendary  "I Have a Dream" speech, and wondered why his words "Free at last, free at last. Thank God Almighty, we are free at last" were so deeply powerful. 

Ultimately, I realized that those words were rooted in the biblical Exodus Passover story; and I intuited that spiritual "freedom" is the esoteric essence and mythical message of that story.  I concluded that the Passover story symbolically emphasizes escape from outer bondage to a Divinely 'promised land' within – viz. escape from enslavement by mistaken beliefs in false external Gods or goals to an inner 'promised land' of ONE eternal Divinity immanent in each of us.

"Hear, O Israel: The Lord our God, the Lord is ONE!"
~ Deuteronomy 6:4  

Later, I noted that Jesus powerfully alluded to spiritual freedom by prophesying:

"You will know the truth, and the truth will set you free."
~ John 8:32
 

And I intuited that Jesus was teaching that we will find freedom (from self-imposed worldly slavery) only when we transcend entity identity and self-identify as ONE Divine spirit – the kingdom of heaven within – rather than as supposedly separate embodied personalities.

Ultimately, I concluded that our limited and limiting ego ideas about self-identity and reality confine each of us in a kind of psychological prison in which suffering is inevitable, and which restricts realization of our infinite potentialities.  

However, the masters teach and demonstrate that we can each mentally transcend that "prison" and emerge "free at last" from our self-woven karmic cocoons, no matter what our outer circumstances.  

Thus, Rumi reminded us:

"Be empty of worrying,

Think of Who Created Thought!

Why do you stay in prison

when the door is so wide open?"

~ Rumi

The encouraging possibility of getting out of jail FREE is explained in the foregoing quotations and essay.  May they help us evolve toward precious inner freedom, our divine birthright.

And so may it be!

Ron Rattner