"Everything is determined, the beginning as well as the end,
by forces over which we have no control.
It is determined for the insect, as well as for the star.
Human beings, vegetables, or cosmic dust,
we all dance to a mysterious tune,
intoned in the distance by an invisible piper."
~ Albert Einstein
"Every Cause has its Effect;
every Effect has its Cause;
everything happens according to Law;
Chance is but a name for Law not recognized;
there are many planes of causation,
but nothing escapes the Law."

~ The Kybalion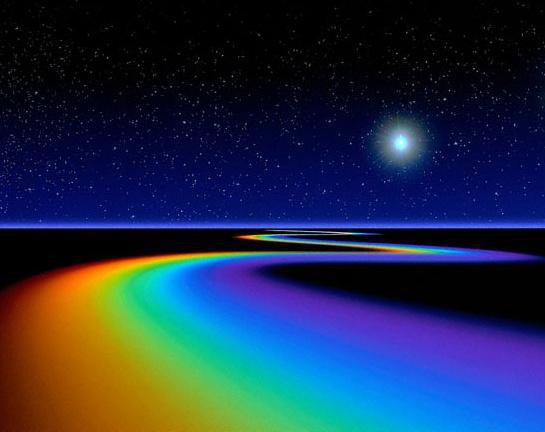 Indian Astrology, Free Will or Fate?

I have elsewhere shared how in February, 1977, I spent a week in New York City, so filled with amazing synchronistic and precognitive experiences, that I became convinced it was possible to mystically transcend serial time perception. ( Synchronicity Story: An Amazing Experiment With Time )

Later, on learning that Sri Yukteshwar, Paramahamsa Yogananda's guru, was an expert Vedic astrologer, and that the father of my Guru, Shri Dhyanyogi Madhusudandas, was also a Vedic astrologer, I became interested in astrological predictions and (for the first time in my life) was opened to possible validity of astrology – both Eastern and Western – as an esoteric science.

Indian or Vedic astrology is called Jyotish, which is Sanskrit for "light"; it is an ancient tradition going back thousands of years. Commonly, Indian astrologers (like those from other traditions) cast and interpret a personal chart based on each person's unique time and place of birth.

But, there is another very rare branch of Jyotish astrology called Nadi reading in which the astrologer, a Brahmin priest, doesn't cast a personal chart, but through analysis of one's thumb prints locates and interprets notations supposedly first written on palm bark or leaves thousands of years ago by Indian sage Bhrigu.

Few people in the world have ever heard about, much less seen, an Indian Nadi reader.  On first hearing of Nadi readers, I skeptically dismissed claims of their authenticity and accuracy as too "far out" and beyond my Western programmed paradigm. But gradually I heard credible reports which began changing my mind.

First, my Harvard trained friends Bizhan and Deborah recounted to me their amazing experience with a Nadi reader. Later, I learned that Swami Kriyananda, a well known Western teacher, author, and direct disciple of Paramahamsa Yogananda, was so impressed with the extraordinary accuracy of his Nadi reading, that in 1967 he had published a book about it, entitled India's Ancient Book of Prophecy.

Last year, I was discussing questions of free will and destiny with my long-time Jyotish astrologer friend Jackie Haller, when she mentioned Kriyananda's Nadi reader experience. Intrigued by Jackie's comments, I soon did an extended internet search and refreshed my memory about Kriyananda's experience.

The next day, while visiting at the Fort Mason Italian-American Museum, I was telling my friend Joy Massa about Kriyananda's experience with a Nadi reader, when a woman near us "coincidentally" overhead the conversation and joined us to recount lucidly and in some detail her personal amazing experience with a Nadi reading in Tamil Nadu, South India. She also told us about Deepak Chopra's amazing experience with a Nadi reader, of which I was then unaware.

Because of Chopra's high credibility, I soon searched and found the following description of his experience, in the "Book of Secrets", Chapter 13. For Deepak Chopra, it was a life changing experience. And, on reading his eloquent story, I wondered again:


"Are there really any coincidences or accidents, or is everything that happens to us predestined by laws of causation or karma?"

"Do we really have free will as most people believe?

And if so, what free will?"

Perhaps you, too, will wonder about these questions after reading Deepak Chopra's fascinating story.

"Book of Secrets", Chapter 13, by Deepak Chopra:

SEVERAL YEARS AGO IN A SMALL VILLAGE outside New Delhi, I was sitting in a small, stuffy room with a very old man and a young priest. The priest sat on the floor swaying back and forth as he recited words inked on bark sheets that looked ancient. I listened, having no idea what the priest was intoning. He was from the far south and his language, Tamil, was foreign to me. But I knew he was telling me the story of my life, past and future. I wondered how I got roped into this and began to squirm.

It had taken strong persuasion from an old friend to get me to the small room. "It's not just Jyotish, it's much more amazing," he coaxed. Indian astrology is called Jyotish, and it goes back thousands of years. Visiting your family astrologer is common practice everywhere in India, where people plan weddings, births, and even routine business transactions around their astrological charts (Indira Gandhi was a famous example of someone who followed Jyotish), but modern times have led to a fading away of tradition. I had chronically avoided any brushes with Jyotish, being a child of modern India and later a working doctor in the West.

But my friend prevailed, and I had to admit that I was curious about what was going to happen. The young priest, dressed in a wrapped skirt with bare chest and hair shiny with coconut oil—both marks of a southerner—didn't draw up my birth chart. Every chart he needed had already been drawn up hundreds of years ago. In other words, someone sitting under a palm tree many generations ago had taken a strip of bark, known as a Nadi, and inscribed my life on it.

These Nadis are scattered all over India, and it's pure chance to run across one that applies to you. My friend had spent several years tracking down just one for himself; the priest produced a whole sheaf for me, much to my friend's amazed delight. You have to come for the reading, he insisted.

Now the old man sitting across the table was interpreting in Hindi what the priest was chanting. Because of overlapping birth times and the vagaries of the calendar when we are speaking of centuries, Nadis can overlap, and the first few sheets didn't apply to me. But by the third sheet or so, the young priest with the sing-song voice was reading facts that were startlingly precise: my birth date, my parents' names, my own name and my wife's, the number of children we have and where they live now, the day and hour of my father's recent death, his exact name, and my mother's.

At first there seemed to be a glitch: The Nadi gave the wrong first name for my mother, calling her Suchinta, when in fact her name is Pushpa. This mistake bothered me, so I took a break and went to a phone to ask her about it. My mother told me, with great surprise, that in fact her birth name was Suchinta, but since it rhymed with the word for "sad" in Hindi, an uncle suggested that it be changed when she was three years old. I hung up the phone, wondering what this whole experience meant, for the young priest had also read out that a relative would intervene to change my mother's name. No one in our family had ever mentioned this incident, so the young priest wasn't indulging in some kind of mind-reading.

For the benefit of skeptics, the young priest had passed nearly his whole life in a temple in South India and did not speak English or Hindi. Neither he nor the old man knew who I was. Anyway, in this school of Jyotish, the astrologer doesn't take down your birth time and cast a personal chart which he then interprets. Instead, a person walks into a Nadi reader's house, the reader takes a thumbprint, and based on that, the matching charts are located (always keeping in mind that the Nadis may be lost or scattered to the winds). The astrologer reads out only what someone else has written down perhaps a thousand years ago. Here's another twist to the mystery: Nadis don't have to cover everyone who will ever live, only those individuals who will one day show up at an astrologer's door to ask for a reading!

In rapt fascination I sat through an hour of more arcane information about a past life I had spent in a South Indian temple, and how my transgressions in that lifetime led to painful problems in this one, and (after a moment's hesitation while the reader asked if I really wanted to know) the day of my own death. The date falls reassuringly far in the future, although even more reassuring was the Nadi's promise that my wife and children would lead long lives full of love and accomplishment.

I walked away from the old man and the young priest into the blinding hot Delhi sunshine, almost dizzy from wondering how my life would change with this new knowledge. It wasn't the details of the reading that mattered. I have forgotten nearly all of them, and I rarely think of the incident except when my eye falls on one of the polished bark sheets, now framed and kept in a place of honor in our home. The young priest handed it to me with a shy smile before we parted. The one fact that turned out to have a deep impact was the day of my death. As soon as I heard it, I felt both a profound sense of peace and a new sobriety that has been subtly changing my priorities ever since.